Sony Cyber-shot WX350 review
Intro
The Sony WX350 is a compact super-zoom with a 20x optical range, 3 inch 460k dot LCD screen and an 18.2 Megapixel CMOS sensor. So far, so ordinary you might think, but the WX350 fits all of that and more into a very, very compact body – indeed, according to Sony it's the world's smallest and lightest compact camera with a 20x optical zoom. What's more Sony has managed to squeeze in Wifi with NFC for initiating wireless connection by physically tapping it aganst another NFC-capable device. The new model replaces 2013's WX300, which at the time of its release was itself the world's smallest and lightest compact camera with a 20x optical zoom.
The WX350 is a point-and-shoot compact, it has a Program Auto mode and two fully automatic modes, though lacks ASM exposure modes and advanced features like exposure bracketing. But it's packed with features designed to appeal to casual snappers, so includes Sony's Creative controls, Picture Effects, smile/face detection, auto object framing, motion shot video, and, of course, sweep panorama.
The WX350 can shoot 1080p50 /60 HD video and can shoot continuously at 10fps. As well as being incredibly compact it has a modest price tag to match. Here I've compared and tested it against the model likely to be its biggest competitor, the Canon PowerShot SX600 HS. Read on to discover which of these two models provides the best mix of features in an ultra compact super-zoom .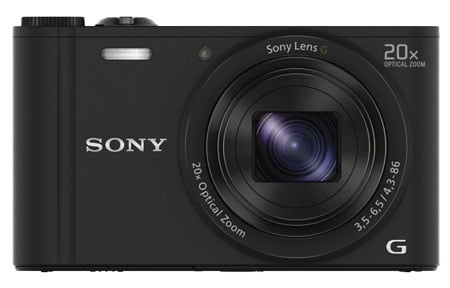 Sony WX350 design and controls
If first impressions count for anything in the world of digital cameras, the Sony WX350 makes a very positive one. It is amazingly compact and it looks beautiful. But it's the size that really takes your breath away. The physical dimensions – 96x55x26mm and 164g in weight – don't really convey the impact of its miniature dimensions when you see it and hold it in your hand. Apart from the depth, it's smaller than most phones. On its back it has a smaller footprint than my iPhone 4S – a small phone by today's standards. The WX350 feels like the word pocketable was invented for it.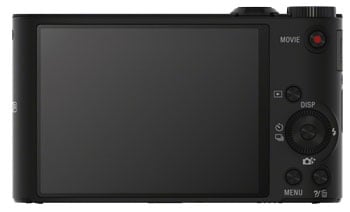 The design is simple and elegant. Viewed from the top it's a slim round-cornered rectangle. The lens bezel extends by a few millimetres from the front panel, to the right of it (as you hold the camera) is the silver Sony name badge, the small window of the built-in flash and the AF illuminator. There's a vertical ridge running the full height of the body a few millimetres from the right edge, it looks nice, but doesn't really provide any practical help to grip the WX350 – it's too close to the edge and the fingers of my quite small hand extended well beyond it. That said, the WX350 isn't hard to keep a hold of.
The Canon PowerShot SX600 HS isn't a large compact by any standards – except of course those newly defined by the Sony WX350. It measures 104x61x26mm and weighs 188g. Neither is the PowerShot SX600 HS an unattractive looking compact, but side by side with the WX350 HS it looks like its bigger, older, slightly gauche brother.
The WX350's top panel is a flat plate with two small openings for the stereo mics. The small flush mounted on/off button is the same colour as the camera, but the top quarter section is an LED charge indicator light, which a nice design touch. To the right of it is the shutter release which looks massive, but at least there's no missing it, then to the right of that a mode dial with the two auto positions, Program Auto, SCN, movie and iSweep panorama.
Most of the rear panel is occupied by the 3 inch 460k dot LCD screen. It's bright and detailed and, aside from being a little on the cool side colour-wise, I had no complaints. Well, just one actually, it's very difficult to see in bright sunlight. Now while that's a criticism you could level against any screen, I had a lot less trouble with the PowerShot SX600 HS's screen outdoors in bright light. The top position on the control dial toggles display overlays, providing detailed info, brief info, and a live histogram view. You can also display a grid, but to do that you have to access the custom settings menu.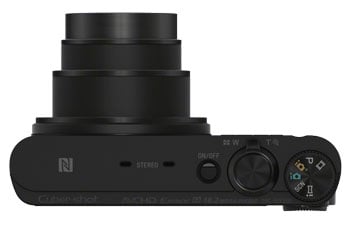 Despite the fact that they're confined to a narrow strip to the right of the screen, the controls don't feel cramped, but the buttons are quite small, so if you have big digits, you're going to find the WX350 a challenge. The control dial is easily manageable though as it's raised and sits on a disc-shaped extension to the main body, another neat design touch. There are three buttons arranged around it for playback, menu and delete, and the last of these also accesses the help system in shooting modes.
On the top left corner of the rear panel, conveniently situated for thumb operation is the movie button. Once again, the design of this has been carefully considered and it's flush mounted in a dished recess, making it easy to operate when you want to, but not by accident.
The WX350 takes an NP-BX1 battery which provides enough power for 470 shots on a full charge. That's good going by ultra-compact standards and enough to see most casual shooters through a full day. It certainly compares pretty favourably with the Powershot SX600 HS which delivers a pretty meagre 290 shots. In Eco mode you can stretch that to 430 shots, but you'll have to put up with the screen that dims after a couple of seconds and turns off after 10.
The WX350's battery is accessed via a door in the base to a compartment that also houses the memory card – as with all Sony compacts you have a choice of SD cards or Memory Stick. The other thing you'll notice on the base is a mini HDMI port for connecting to an HD TV. The USB port is located under a flap on the camera's right side.
Sony WX350 lens and stabilisation
The Sony WX350 retains the same 20x optical range of its predecessor the WX300. It has 35mm equivalent focal range of 25-500mm with optical SteadyShot stabilisation. It's a little longer than the 18x zoom on the PowerShot SX600 HS and all the extra reach is at the telephoto end, so the SX600 HS starts at the same 25mm wide angle but stops short at 450mm. The difference isn't huge, and the SX600 HS is bigger and heavier, so the WX350 lets you have your cake and eat it – a longer zoom in a smaller, lighter body. The WX350's lens is also a little brighter than the PowerShot SX600 HS's at f3.5-6.5 compared with f3.8-6.9 on the SX600 HS; it's a fairly negligible difference though.
The 25-500mm range isn't huge by todays standards, but a bigger zoom will inevitably involve a compromise in size. If you're looking for a longer telephoto from a relatively pocket model, Sony's HX60 / HX60V packs a 30x zoom, but is a bigger (though still just about pocket-sized) more advanced model with a higher price tag. Likewise the PowerShotSX700 HS extends to 750mm but is again bigger and more expensive.
| | |
| --- | --- |
| | |
| | |
| 4.3-86mm at 4.3mm (25mm equiv) | 4.3-86mm at 86mm (500mm equiv) |
So the WX350 provides a zoom range that's good for all but the most distant subjects in a form factor that, unlike most compact super-zooms, is likely to go unnoticed in your pocket.
Keeping things steady when zoomed in to a 500mm focal length is a challenge even for those with steady hands. The small size and light weight of the WX350 is likely to work against it, simply because bulk and weight adds to the stability of a camera, so stabilzation is more important than ever. The WX350 is equipped with Optical SteadyShot stabilisation which has three positions – Standard, Active and Intelligent Active – which provide progressively stronger levels of stabilisation for movie shooting.
As on most Sony compacts, Optical SteadyShot can't be turned off, so in place of my usual before and after shots, I've done something a little different. I zoomed the WX350 to its maximum 500mm equivalent focal length and took a sequence of shots in fading light with progressively slower shutter speeds. The 100 percent crops below are from two different frames both of which were shot at 1/15th. That's 5 stops slower than you'd ordinarily expect to get a sharp shot at 500mm. As you can see from the crops below one is sharp and the other isn't. I've included them both just to illustrate that shooting at slow shutter speeds is always a little uncertain, even with stabilization and often you need to make several attempts just to get one that's sharp. That said, the WX350's stabilization is certainly capable of eliminating camera shake at 1/15th.
Sony WX350 Active Intelligent ActiveSteadyShot

4.3-86mm at 86mm, 100 ISO, 1/15th, Intelligent Active SteadyShot.

4.3-86mm at 86mm, 100 ISO, 1/15th, Intelligent Active SteadyShot.
Sony WX350 shooting modes
The Cyber-shot WX350 is a point-and-shoot compact and it lacks the manual and semi-auto ASM modes of more advanced compacts, but it's far from basic and has lots of assisted shooting modes and creative features. In addition to Intelligent auto exposure mode which uses scene detection to select an appropriate scene mode, like most Sony compacts, the WX350 has a second, Superior Auto mode which shoots a burst of images to create a composite result in low light and for backlit subjects. In either of these auto modes, pressing the bottom position on the control dial activates Photo Creativity mode which allows you to adjust exposure compensation, white balance, and saturation via plain language (i.e. brightness, colour and vividness) sliders. The screen menu also provides access to some of the WX350's Picture effects from here, three of which are shown below.
Program auto is a more conventional auto mode which provides access to menu settings that are greyed out in the other two auto modes. These include exposure compensation, ISO sensitivity, metering mode and Focus area. So far, so good, but it would have been nice to have had exposure compensation on the redundant bottom position of the control dial rather than having to hunt the menu for it.
Selecting the SCN position on the mode dial allows you to select a scene mode manually from the menu rather than letting intelligent auto choose it for you. The options here include the usual Portrait, Landscape, Beach, Pet and Gourmet (Sony making the assumption that its owners have higher culinary standards than most) among others as well as composite modes like Hand-held Twilight, Anti Motion Blur and Backlight Correction HDR.
The WX350 also offers Sony's Auto Object Framing feature, which makes a duplicate image that's cropped and effectively recomposed. In practice it generally activates when shooting people in the Auto modes, recognizing people's faces and switching into a portrait scene mode and creating a duplicate image, cropped to offer an alternative composition. Once you get over the camera making decisions about the composition for you, it can be very useful and would particularly benefit novice shooters. The feature gives you a smartish scaled-up crop along with the original for good measure.
Finally, we can't talk about a Sony Cyber-shot's shooting modes without mentioning panoramas. The WX350 offers the Sweep panorama feature, which provides several panorama modes including full 360 degree panoramas measuring a maximum 11,520 x 1080. Sony was the first to include panorama features on its compacts and it remains the best. Its panorama modes are versatile, allowing you to shoot in portrait or landscape orientation in either direction and the results are excellent. This is also probably a good time to mention the lack of a panorama feature on the PowerShot SX600 HS. Panoramas are just something Canon doesn't do.
Sony WX350 movie modes
The WX350 has a choice of AVCHD or MP4 encoding that's fairly consistent across the upper end of the Cyber-Shot range. In AVCHD mode you get three options, the best quality being 1080p50/60 (region dependent) at 28Mbps. This is followed by 1080i50/60 at with two quality choices of 24 and 17Mbps. Switch to MP4 encoding and the options become 1440×1080 and 640×480, both at 25fps (or 30fps in NTSC regions).
You can start recording by pressing the movie button in the rear panel, assuming you're shooting 4:3 stills and HD video, this switches the screen to 16:9 with black bars top and bottom. If you want to accurately frame up your shot beforehand it's better to first turn the mode dial to the movie position. With the mode dial in the movie position you can choose the exposure mode from the menu. The default setting is intelligent Auto but you also get the option of selecting from a choice of individual scene modes.
The WX350 is equiped with stereo microphones and you can use the zoom during recording which is limited to the slower of the two speeds. This not only looks better, but keeps the zoom motor noise to an all but inaudible hum. Unfortunately you can't take photos while in the middle of a movie recording, something Sony seems to be moving away from on recent models.
Sony WX350sample video 1: outdoors, Sunny, handheld pan
This clip, like the others below was shot using the 1080p50 setting on the WX350. The quality is very nice and the WX350 handles the exposure very well, making small changes as necessary during the pan. The stabiization is very steady and the auto focus also performs well.
Sony WX350sample video 2: outdoors, sunny, tripod pan
Stabilization can't be disabled on the WX350, so was left in the default Intelligent Active position for this tripod pan. Again the WX350 handles the exposure well and the autofocus keeps everything sharp even during the zoom. The noise of the zoom motor is just audible though, despite the wind.
Sony WX350sample video 3: indoors, low-light, handheld pan
The quality of this indoor clip is a little noisy and the colours are a bit flat. The exposure starts well, but things get a little dark as I pan past the windows, it recovers quickly and smoothly though.
Sony WX350 sample video 4: indoors, continuous AF
To test the continuous AF performance of the WX350 I zoomed in a little and panned from the close-up coffee cup to the bar and back again several times. The WX350's continuous AF makes a good job of this, altering the focus quickly and smoothly. It's occasionally a little tardy and the coffee cup looks a bit soft, but that's probably as I'm right on the closest focussing distance.
Sony WX350 Wifi
The Sony WX350 has built-in Wi-fi as well as NFC for fast and painless Wifi connection using a suitably equipped Android phone. I tested the Wifi on the WX350 with my iPhone 4S. To transfer photos and videos to these iOS devices you first need to establish a Wi-fi connection by selecting the camera's SSID as an access point and entering the password. Then you need to launch the PlayMemories mobile app. Transferring a single image or a batch from the camera is very straightforward, you can either select them on the camera, or on the smartphone app and they transfer pretty smartly, although this will obviously depend on your own particular setup.
You can set the image size to VGA, 2M or original and I found original images took around eight seconds to transfer. When you display the contents of the camera card on an iOS device they're categorized by date which makes finding what you're looking for easier than scrolling through a forest of thumbnails. Movie files are displayed as well as stills and AVCHD files are greyed so they can't be wirelessly transferred, but MP4 transfer is supported. So it's possible for example to shoot a short movie and upload it to Youtube via your phone.
The WX350 can also be controlled remotely using a smartphone, for this, you need to run an app on the camera called Smartphone Embedded. As before, the WX350 acts as an access point and once connected you can control the camera and take shots using the PlayMemories app. Control is very basic – you can zoom the lens, adjust exposure compensation, set the flash mode and set a 2 or 10-second self-timer, but you can't, for example, switch exposure modes or tap the screen to set the focus and the camera controls themselves are all inoperative during a remote session.
The WX350 also supports transferring photos and MP4 video to your computer wirelessly with both devices connected to the same access point. To set this up you've first got to connect the camera to your computer with a USB cable and register it. The Wifi features are aren't as sophisticated as some – for example there's no direct connection to sharing sites as on the PowerShot SX600 HS, and it's a little disappointing that you can't use your phone's GPS to tag images with location data – another featured offered by the PowerShot SX600 HS. Despite that, the WX350's Wifi capabilities are well worth having.
Sony WX350 Handling and Sensor
You can't really talk about the WX350's handling without beginning with its size. Its compactness is the most compelling thing about it. There's no reason not to take it with you anywhere as, once it's in your pocket you'd hardly know it, at the same time it's a real pleasure to hold it in your hand.
Small cameras are often fiddly to operate, I never found that a problem with the WX350, but it might be an issue if you've got big hands. Certainly the mode dial is a real bonus, particularly if you're the sort that likes to experiment with shooting modes, less so if you're the kind of person who leaves the dial permanently on one of the auto modes.
The lack of a quick menu on Sony compact continues to be an issue, though now the menus are tabbed and fit the screen selecting shooting options is easier than it used to be. But it's still more difficult than it should be to, for example, set exposure compensation in Program Auto mode, especially when there's a redundant bottom position on the control wheel.
On the other hand, for point-and-shoot users the WX350 is more accessible and the on-screen help is, well, helpful – it's more comprehensive than the hints and tips provided on the PowerShot SX600 HS. So, all told the WX350 isn't a compact that's likely to delight enthusiasts or those looking for a camera they can control, but that isn't really who it's aimed at.
The Sony WX350 has an 18.2 Megapixel 1/2.3in compact sensor that produces images with a maximum size of 4896 x 3672 pixels. Its ISO sensitivity range is from 100 to 3200 ISO. It saves images as JPEG files at one of two quality/compression settings and at the best quality Fine setting image size is on average around 3 to 7MB.
To see how the quality of the Sony WX350 measures-up in practice, take a look at my Sony WX350 quality and Sony WX350 noise results pages, browse my Sony WX350 sample images, or skip to the chase and head straight for my verdict.