Intro
The Sony Cyber-shot RX10 is a high-end bridge camera with an 8.3x 24-200mm range, constant f2.8 aperture and a 20 Megapixel sensor that's larger than those in most compact cameras. Announced in October 2013, it joins the best-selling RX100 and RX100 II, sharing the latter's back-illuminated 1in sensor, but putting a longer zoom in front of it with a bright constant aperture.
At first glance the RX10 looks like a typical DSLR-styled bridge / super-zoom, and with its f2.8 constant aperture, it's hard not to make comparisons with Panasonic's similarly-styled Lumix FZ200. But while Sony's kept the constant f2.8 aperture, it's traded the 24x 25-600mm range of the FZ200 for a much shorter 24-200mm range on the RX10. Why? Because the RX10, like the RX100(II) features a 1in sensor that's roughly four times larger than the 1/2.3in sensor in the FZ200, delivering lower noise and higher dynamic range.
The RX10 also sports a large and detailed 1440k dot OLED viewfinder, 3in tilting screen, 1080p movies at 24p or 60p (25p or 50p in PAL) with manual exposure control, 10fps continuous shooting, Wifi and NFC, microphone and headphone jacks and Sony's multi-interface shoe which can accommodate accessories including an XLR microphone adapter; impressively the body is also dust and moisture sealed. It all adds up to the most highly specificed, not to mention most expensive, super-zoom / bridge camera to date, but the question is whether it's worth spending the extra over its f2.8 rivals, the Lumix FZ200 and the recently announced Olympus STYLUS 1. In my full review I'll compare the features, handling and quality of all three to help you make the right choice!
Sony Cyber-shot RX10 design and controls
The Cyber-shot RX10 is styled like a mini DSLR with a fat kit lens. Measuring 129x88x102mm and weighing 813g with battery it's actually roughly the same size and weight as an upper entry-level DSLR when fitted with a kit zoom, although the RX10's lens is fixed and sports a longer range with a brighter aperture than typical DSLR kit zooms.
The RX10 is also very similar in size to Panasonic's Lumix FZ200, previously the super-zoom of choice for demanding photographers. Despite some variations in their quoted dimensions, both models are almost exactly the same width, height and depth too, so they'll occupy pretty much the same space in your bag. The grips are roughly the same depth too, giving you a similar amount to hold onto. The big difference though is weight, with the FZ200 and battery weighing-in at 588g, making it roughly two thirds the weight of the RX10. In your hands the difference feels much greater, with the FZ200 feeling almost empty, while the RX10 feels much more solid – sometime slighter weight is desirable, but in this case the RX10's heft lends it an air of confidence that's lacking on the FZ200.

The Olympus STYLUS 1 is by far the smallest of the three. Measuring 117x87x57mm it's a little narrower from the front, but almost half the thickness of either the Sony RX10 or Lumix FZ200; it's lighter than either of them too at 402g including battery, although the smaller dimensions make it feel more solid than the FZ200. Placed side by side with the RX10 and FZ200 it looks tiny and is the only one which could squeeze into a larger pocket. Meanwhile the Sony and Panasonic really need a small bag for transportation. This portability is a key benefit of the STYLUS 1 over its rivals, although understandably the sacrifice is having less of a grip to hold onto. I've pictured the RX10 above, flanked on the left by the STYLUS 1 and on the right by the FZ200.
In terms of build quality, I'd rank the RX10 best, closely followed by the STYLUS 1, leaving the FZ200 in third place. The RX10 sports a nicely textured rubber coating around the grip like a higher-end DSLR, which coupled with its heft gives it the most confident feeling in your hands. The RX10 is also the only one of the three to boast dust and moisture sealing, which makes it the preferred choice for professional use where it could get knocked around.
The STYLUS 1 feels very solid despite its light weight thanks to the most compact body. It looks a lot like the OMD EM5, although sadly lacks its weather sealing, and to me it also felt a bit more plasticky. The coating, grip and sealing are all inferior to the RX10, although if you didn't have them side-by-side, most would be very happy with the Olympus.
This leaves the Lumix FZ200 in third place. It's the most plasticky of the three and can't help but feel hollow thanks to its large body and light weight. It's definitely the most consumery of the three and while the feature-set and zoom range are impressive for the price, it's a camera that's more comfortable in a non-pro environment.
All three cameras sport popup flashes in their viewfinder heads. The FZ200 and STYLUS 1 flash units are a little larger than the RX10's, but the latter's pops-up higher, better avoiding red-eye; meanwhile the STYLUS 1's flash pops-up only just above the Olympus logo, although since the viewfinder panel is the same as the OMD EM5, it does imply Olympus could incorporate a similar flash unit in a future model without compromising size.
All three also sport hotshoes, although with different functionality. The hotshoes on the STYLUS 1 and FZ200 are for external flashguns only (the former lacks the accessory port of the OMD and PEN cameras), but in typical Sony style the RX10's hotshoe can also accommodate other accessories, including a variety of LED lights, external microphones and even supports Sony's XLR-K1M adapter which not only includes an external microphone but XLR jacks for other professional mics. You'll need an additional bracket to mount the XLR-K1M alongside the RX10, but it's accessories like these which really place the Sony on a much higher level than its rivals, and one which will satisfy professional videographers.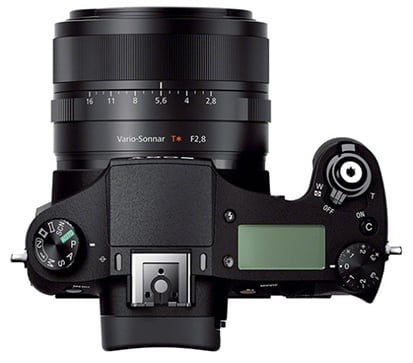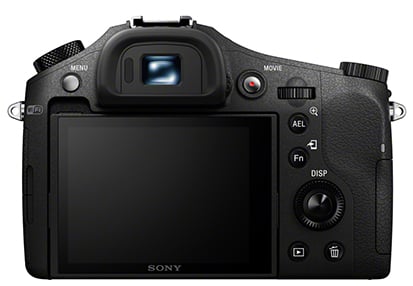 In terms of ports, the Sony RX10 is also the best equipped of the three featuring a 3.5mm jack for an external microphone (so you can connect mics here or via the hotshoe), another 3.5mm jack for headphones (to monitor audio), along with a Micro HDMI port (which I can confirm delivers a clean feed to external monitors or recorders, and can also output 4k playback of still photos on compatible TVs), and a USB / MULTI port which can support an optional cable release accessory. The STYLUS 1 has just two ports: a Micro HDMI (I'm yet to confirm the cleanliness of its feed) and a combined USB / AV port which can also support an optional cable release; there's no way to connect an external microphone to the STYLUS 1 though. Finally the FZ200 has a Mini HDMI port (larger than the Micro ports on the other two), a combined USB / AV output and a 2.5mm external microphone port, although the size of the latter means you'll need a clumsy adapter to connect standard 3.5mm accessories. The FZ200 also supports an optional cabled remote, the DMW-RSL1.
In terms of wireless connectivity, both the RX10 and STYLUS 1 offer built-in Wifi, which the former complements with NFC for one-touch negotiation with compatible handsets; meanwhile the FZ200 predates Wifi being commonplace on cameras, although as a firm believer in wireless technology, I'd expect Panasonic to equip any successor with both Wifi and NFC.
All three models take SD memory cards, although the Sony's slot can also accommodate the company's own Memory Stick Duo media. The STYLUS 1 and Lumix FZ200 house their card slots in their battery compartments underneath the body which means they become blocked when mounted on most tripods. Helpfully the RX10's card slot is on the side of its body, allowing you to swap cards when tripod-mounted, although the door is positioned so close to the actual slot, I always found it a struggle to remove cards.
All three are powered by rechargeable Lithium Ion batteries, with the quoted lifespan under CIPA conditions as 540 images for the FZ200, 420 for the RX10 and 410 for the STYLUS 1; note despite physical similarities to the OMD EM5, the STYLUS 1 battery is the smaller BLS-5 as used by the PEN range. As expected, none of the three offer an optional battery grip to extend the power. The RX10 is the only one of the three to indicate remaining charge as a percentage, which I personally find very useful.
In use all three are roughly in the same ballpark, but what separates them is how you do the charging. The STYLUS 1 and FZ200 comes with traditional external mains-powered chargers, whereas the RX10 (as supplied) charges its battery in-camera over USB and comes with a USB mains adapter in the unlikely event you don't already have one. I know lots of photographers like external chargers, but I'm a big fan of USB-charging as it lets me top-up or even completely recharge a camera using a laptop or an in-vehicle port without the need for mains power, and if I am near mains power, I can use any USB adapter I have with me rather than having to carry around another proprietary external unit. If you prefer you can buy a separate mains charger for the RX10, but for me the ability to charge in-camera over USB is a big advantage it enjoys over its rivals.
As enthusiast class cameras, all three models feature a wealth of physical controls, buttons, switches and dials. All three have exposure mode dials, and collars around their shutter releases to operate their optical zooms. All three also offer alternative means to zoom their lenses: on the FZ200 and STYLUS 1 there are rockers to the side of their lens barrels, while the RX10 can use its large lens ring.
All three also effectively offer two control dials. On the FZ200 there's a single dial on the rear, but pushing it in allows you to quickly change its function, thereby allowing it to act like twin dials. The Sony RX10 also has a little thumb-operated dial on the rear, along with a flat wheel too which rocks to offer the usual four-way navigation; and like the RX100 II I'm pleased to say the rocker aspect is sufficiently stiff for you not to accidentally press it while spinning the wheel. The RX10 also sports a dedicated aperture ring around the barrel and a dedicated exposure compensation dial on the upper surface; the latter is handy, but I often found it could turn a little when removing the camera from a tight bag. Meanwhile the STYLUS 1 has a chunky dial on the top surface and a ring around the lens, both of which can change their function.
It's worth going into more detail on the lens rings on the RX10 and STYLUS 1 as both offer a great deal of control and contribute a lot to the overall handling experience of each camera. The STYLUS 1's lens barrel is so narrow when powered-down that there's only room for one control ring around it. By default this clicks as you turn it, and is used to adjust settings like the aperture or shutter in their respective priority modes. A small lever to the side of the lens barrel allows you to swap the function of the control ring, while also switching it from clicked to smooth operation. In 'smooth' mode, you can only choose between the ring operating the manual focus or optical zoom, but I found it worked really well and still offered a great deal of flexibility.
In contrast, the RX10's considerably fatter and longer lens barrel accommodates two control rings, but one of them will only ever do one thing. The first, nearest the body, is permanently dedicated to adjusting the aperture. You can't configure it to operate anything else and it effectively becomes redundant in Shutter Priority and Program modes. Like the STYLUS 1, there's a switch which reconfigures it from clickable to smooth, but again the actual function remains the same. On the upside this lets you make smooth and silent aperture adjustments while filming movies, which pro videographers will love – something that's not possible on the STYLUS 1 – but again the downside is not being able to reconfigure it for any other function.
The second control ring on the RX10's barrel operates the optical zoom by default, but switching the camera to manual focus lets you adjust the focus with it instead. So this means you can manually adjust the aperture with one ring and the focus with the other if desired. The RX10's lens zoom ring is certainly very smooth in operation, but it can take some turning to go between each end of the zoom range.
In terms of programmable function keys, the RX10 offers two and also lets you configure the AEL and direction keys, the STYLUS 1 offers two and the FZ200 offers three. Each camera also sports a dedicated movie button which starts recording in any mode, although the RX10 and FZ200 also offer dedicated movie positions on their mode dials which allow you to pre-compose for video. The RX10 and FZ200 also offer dedicated switches to set the focusing mode, but while there's no dedicated focus switch on the STYLUS 1, you can use the lever by the lens barrel to effectively switch it between AF and manual focus if desired.
Finally the RX10 sports a backlit LCD information screen on the upper right surface, like a semi-pro DSLR. This is a curious addition, as while it'll reveal the basic exposure and drive settings, it's much less detailed than the information you'll see on the main screen or through the viewfinder. Your mileage may vary, but I never found myself using it when testing the RX10.
The control systems of each model re-confirms their target market: the FZ200 is a step-up from standard models offering greater control, the STYLUS 1 boasts a great deal of customization and some neat ideas which will appeal to enthusiasts, while the numerous dedicated controls of the RX10 will more appeal to professionals, especially pro videographers.
Sony Cyber-shot RX10 viewfinder and screen
The Sony RX10, Olympus STYLUS 1 and Panasonic Lumix FZ200 are all equipped with articulated screens and detailed electronic viewfinders, but their specification, performance and display views vary considerably. I'll compare all three models in this section.
Starting with the viewfinders, the first difference to note is when you first raise the cameras to your eye: the Sony RX10 and Olympus STYLUS 1 both feature eye-sensors which automatically switch between the screen and viewfinder, whereas the Lumix FZ200 requires you to press a button
In terms of viewfinder image size, the Sony RX10 delivers by far the largest view. It's at least 25% wider and taller than the Olympus STYLUS 1 viewfinder and approximately double the width and height of the Lumix FZ200 viewfinder. Comparing the STYLUS 1 against the FZ200, I'd say the Olympus viewfinder is about 50% wider and taller than the Panasonic.
In terms of detail, the Sony RX10 and Olympus STYLUS 1 employ OLED panels with 1440k dots, resulting in 800×600 pixels, while the Lumix FZ200 is close behind with 1312k dots. All three are 4:3 shaped which means images composed or played in each camera's native shape will fill the viewfinder on the STYLUS 1 and Lumix FZ200, but are displayed with thin letterboxing on the RX10, which captures slightly wider 3:2 shaped images. Sony uses the black bars to position shooting details.
But even with letterboxing, the physically bigger view from the RX10's viewfinder still allows it to deliver the most immersive and ultimately enjoyable compositional experience of the three. That said, the STYLUS 1 viewfinder isn't too far behind the RX10 on image size and detail, and will be familiar to anyone who's used the OMD EM5 as it's the same panel. Certainly if you didn't have the RX10 and STYLUS 1 side-by-side, you'd be very happy with the latter's viewfinder, and it represents a big step-up in size over the tiny Lumix FZ200 viewfinder. It's great to see decent viewfinders being fitted to these bridge cameras.
Moving onto the screens, all three cameras are equipped with 3in panels with some degree of articulation. The Sony RX10 and Olympus STYLUS 1 screens can tilt vertically, up by 90 degrees for comfortable waist-level shooting or down by about 45 degrees to make shooting with the camera held high overhead easier. But the ageing Lumix FZ200 trumps them both with a fully-articulated screen that can flip out and twist to any direction, including facing forward to the subject (handy for pieces to camera) or back on itself for protection; the full articulation on the FZ200 means you can also enjoy easier composition at high and low angles when you're composing in the portrait orientation.
But age means the FZ200 has the lowest resolution screen of the threesome with 460k dots delivering 480×320 pixels. The STYLUS 1 and RX10 sport 1040k and 1228k dots respectively, although actually share the same colour resolution as the Sony simply employs an additional white dot which in theory should deliver a brighter view, although in my tests the two models looked similar. In detail and brightness the RX10 and STYLUS 1 are both a step-up from the FZ200.
Another interesting difference regards the screen shape: 3:2 on the Olympus and Panasonic, and 4:3 on the Sony, which actually means none of them will fill their screens when shooting in their native resolutions which are 4:3 on the STYLUS 1 and FZ200, and 3:2 on the RX10. So in each case the active image has black bars, on the sides of the Olympus and Panasonic and at the top and bottom on the Sony.
The STYLUS 1 is the only one of the three to feature a touch-screen. This lets you tap to focus (and shoot if desired) anywhere on the screen, along with tapping to select (but not adjust) some on-screen options, along with swiping through images in playback. I think it's really useful to be able to tap to choose a focusing area when shooting, but sadly Olympus doesn't extend it to movie focusing.
Sony Cyber-shot RX10 display views
The RX10 viewfinder offers up to five different display views (depending on which you've selected in the menus), all of which share the same degree of shooting information above and below the main image. Pressing the DISP button cycles through the options: a clean image, one with a dual-axis leveling gauge, one with a live histogram in the corner, and two with additional shooting details super-imposed on the image. If desired you can also enable a choice of three alignment grids from the menus which appear on all the display views.
If you're composing with the screen, the RX10 offer up to six views, again depending on which you have selected in the menus: one with lots of shooting information and the shutter and aperture indicated on scales superimposed on the image, one with detailed shooting information superimposed over all four sides of the image, another view that's clean, a fourth with a live histogram, a fifth with a dual axis leveling gauge, and a sixth which dispenses with the live image and swaps it for a screen filled with detailed shooting information along with a dual-axis leveling gauge and a very large live histogram. Like the viewfinder you can also superimpose a choice of alignment grids over all the display views, apart from of course the full-screen information option.
The RX10 also offers Zebra patterns with seven threshold levels between 70 and 100% (in 5% increments), with an addition 100+ option. When enabled these appear on all display views on the screen or viewfinder and help you judge exposure – they're especially popular with videographers, and not available on the STYLUS 1 or FZ200.
Switch the RX10 to manual focus and more display options become available. First is focus peaking, which surrounds the subject in-focus with a coloured fringe; on the RX10 you can choose from three sensitivity levels and three colours, and the view is available whether composing with the screen or viewfinder. There's also manual focus assistance which enlarges the view as you focus for a closer look; coupled with peaking, this allows you to confirm whether the subject is in focus very effectively.
When set to its movie mode, the RX10 can additionally display very generously sized stereo level meters and lets you manually adjust them if desired from the menus.
Zebra patterns and focus peaking also remain available while filming movies, although sadly the magnified view is not available in the movie mode which has caught me out a couple of times when attempting to pull-focus.
During playback you can cycle between a clean view, one with shooting information and a third page which displays a thumbnail with flashing highlights and shadows, surrounded by more detailed shooting details and RGB plus brightness histograms; if your photo is in the portrait orientation, it'll automatically fill the screen if the camera is turned on its side during playback.
The STYLUS 1 viewfinder offers six display views if you have everything enabled in the Custom menu, and pressing the INFO button cycles through them. You start with a clean image, followed by a choice of two dual-axis leveling gauges (one using scales at the bottom and right side of the image and the other using a central heads-up style graphic), followed by a page with more detailed shooting information, one with a live histogram (with adjustable saturation points in a Custom menu) and finally one which indicates saturated shadow and highlight details. You can also enable one of four alignment grids chosen from a Custom menu which appear on all display views. The STYLUS 1 also superimposes its shooting information over the active image. The exact same views are replicated on the main screen.
Set to manual focus the STYLUS 1 offers a full-screen magnified view at 5x which you can adjust using the lens ring or the up and down buttons; this view is replicated through the viewfinder. There's an on-screen distance scale and the magnified view lets you nail the focus most times, but sadly there's no focus peaking available. You can adjust the focus manually while filming a movie, but annoyingly the magnified view is disabled, which coupled with the lack of peaking makes it hard to get the focus spot-on; you can't use the touch-screen to tap to pull focus either. In many of these respects the STYLUS 1 has inherited the older feature-set of the OMD EM5 rather than the newer one of the EM1.
During playback, the STYLUS 1 offers five views: clean, basic info, a thumbnail with RGB and brightness histograms surrounded by detailed shooting info, then back to a full screen view overlaid with a large brightness histogram, and finally one with flashing highlights and shadows. Portrait-oriented images rotate to fill the screen when the camera is turned on its side.
The Lumix FZ200 offers two main shooting views, replicated on the screen and viewfinder: one is clean and the other has shooting information super-imposed. To either of these you can add a choice of three alignment grids and or a live histogram, but as a camera of this age there's no focus peaking. Set to Manual Focus you can adjust the focusing distance using the rear thumb dial and a magnified view on-screen.
During playback the FZ200 offers three views, one clean, one with basic shooting info and a third with more shooting information and, if enabled in the menus, a brightness histogram. Sadly like most Panasonic cameras, portrait oriented images do not rotate to fill the screen during playback when the camera is turned on its side.
Sony Cyber-shot RX10 lens
A super-zoom camera's most important specification is its lens, and this is where the Sony RX10, Olympus STYLUS 1 and Panasonic Lumix FZ200 really differ. They may all sport constant f2.8 apertures, but each has a different range, different power-up speed, different depth-of-field capabilities, even different lens caps. In this section I'll compare all of these aspects from each model.
I'll start with the startup times. In my tests the STYLUS 1 and Lumix FZ200 both powered-up and were ready to take photos in about two seconds, while the RX10 was closer to three. Interestingly though, the total time to action worked-out considerably longer for the RX10 and FZ200 as both employ clip-on lens caps which you'll need to remove and put somewhere before shooting. In contrast, the STYLUS 1 is equipped with a set of four large spring-loaded petals which are pushed out the way when the lens extends at power-up, and flip closed again when powered-down. This is the first time I've seen an automatic lens covering on a camera of this class and while you may scoff, it really does make a big difference to the speed at which you can get the camera out and start shooting, not to mention eliminating the chance of losing a separate lens cap. When closed the petal cap also felt fairly robust, certainly more so than the thin sliding covers on point-and-shoot models. So a hearty slap on the back for Olympus for engineering this neat solution, although I should note it prevents the direct mounting of filters or hoods without additional accessories.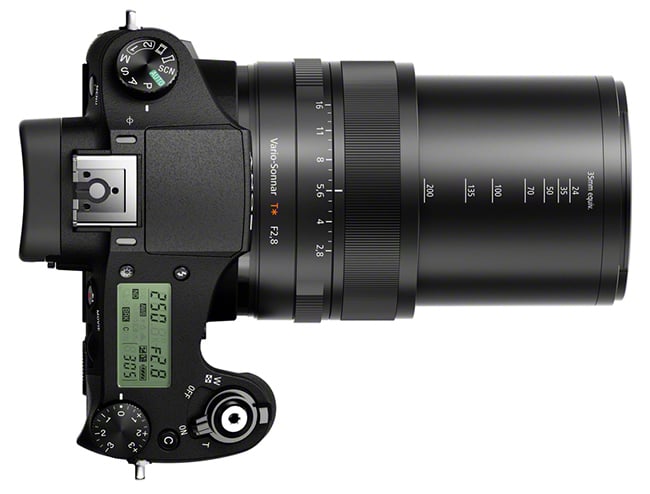 I'll now move onto their effective focal ranges: the Sony RX10, Olympus STYLUS 1 and Panasonic Lumix FZ200 offer 24-200mm (8.3x), 28-300mm (10.7x) and 25-600mm (24x) optical ranges respectively. So the RX10 and FZ200 both start a little wider than the STYLUS 1, but the latter zooms 50% tighter than the RX10 and the FZ200 zooms twice as long as the Olympus. Clearly the Panasonic has the by far the longest range at its disposal, allowing you to get really tight views of small or distant subjects. The range of the Olympus and Sony are lower, but while the STYLUS 1 appears to enjoy the advantage at the long end, the higher resolution of the RX10 means you could crop one of its 20 Megapixel images at 200mm and end up with a 12 Megapixel image sporting roughly the same coverage of the STYLUS 1 when set to 300mm.
Talk is cheap though, so let's see some real-life examples, all photographed from the same location moments apart. Remember the RX10 employs a wider 3:2 aspect ratio than the STYLUS 1 and FZ200 which has an impact on the effective coverage. First up, here's the range of the Sony RX10 in isolation.
Sony Cyber-shot RX10
coverage wide

Sony Cyber-shot RX10
coverage tele

8.8-73.3mm at 8.8mm (24mm equivalent)
8.8-73.3mm at 73.3mm (200mm equivalent)
As you can see above, the RX10 may have the shortest zoom of the three models, but the 24-200mm range is still very useful, capturing a broad view at wide angle and getting pretty close at the long end to capture details. Now let's see how it compares side-by-side against its rivals.
Sony Cyber-shot RX10
coverage wide

Olympus STYLUS 1
coverage wide

Panasonic Lumix FZ200
coverage wide

24mm equivalent

28mm equivalent
If you take the buildings at either side of the frame as a reference, the RX10 is clearly capturing a wider field of view than the STYLUS 1. Interestingly the FZ200 comes close in horizontal coverage, but is capturing a taller picture height. Bottom line? The STYLUS 1 may have the least wide coverage of the three here, but they're all fairly close in practice and are capable of capturing nice big views. Now let's compare them when zoomed-in.
Sony Cyber-shot RX10
coverage tele

Olympus STYLUS 1
coverage tele

Panasonic Lumix FZ200
coverage tele

200mm equivalent

300mm equivalent
Above you can see how close each of the three cameras can zoom from the same spot, and again it's clear the FZ200 enjoys by far the longest reach. If you want this sort of coverage from an f2.8 super-zoom, then it's your natural choice. For me though, the really interesting comparison is between the RX10 and STYLUS 1 when they're both at their maximum focal lengths. When their native images are resized to the same size for reproduction above, the STYLUS 1 enjoys the advantage of a 50% longer effective focal length, but this doesn't take resolution and potential to crop into account. The RX10 features 20 Megapixels to the STYLUS 1's 12 Megapixels, and if you were to take a 12 Megapixel crop from the RX10 image when zoomed-in, you actually end up with something that's pretty close to the STYLUS 1 in coverage. I've done just that below.
Sony Cyber-shot RX10
coverage tele with 12 Megapixel crop

Olympus STYLUS 1
coverage tele with native 12 Megapixel resolution

8.8-73.3mm at 73.3mm (200mm equiv) / with 12MP crop
6‑64.3mm at 64.3mm (300mm equiv)
Above you can see the STYLUS 1 at 300mm on the right and a 12 Megapixel crop from the RX10 at 200mm on the left. So both images share the same number of pixels, and as you can see the difference in coverage is much closer. When viewed at 100% I can also tell you the RX10's cropped image contained roughly the same degree of real-life detail as the STYLUS 1, which to me eliminates any focal length advantage the Olympus has for stills. When filming video, the STYLUS 1 will still deliver a tighter view, although if you're simply after a motorized crash zoom from one end to the other, then their total ranges of 8.3x and 10.7x aren't too far apart.
Before moving on, the STYLUS 1 and Lumix FZ200 both allow you to mount conversion lenses to extend their ranges further; unusually for Sony, the King of accessories, there's no conversion lens officially supported on the RX10, although I wouldn't be surprised if a third party option comes along. You can extend the STYLUS 1's maximum reach to 510mm by fitting the optional CLA-13 and TCON-17x adapters and the f2.8 aperture is maintained. Panasonic offers its DMW-LT55 which extends the range by 1.7x to 1020mm, albeit with the maximum aperture reduced to f4. Panasonic also offers the DMW-LC55 close-up lens which lets the FZ200 focus as close as 33cm compared to 1m without.
Staying on the subject of attaching things to the lenses, the RX10 and FZ200 both feature filter threads which you can directly screw filters onto: 62mm and 52mm respectively. If you want to use a Neutral Density filter to allow larger apertures in bright conditions (for a shallow depth of field and also to avoid diffraction) or achieve long exposures to blur motion, both the RX10 and STYLUS 1 offer handy built-in options good for 3 stops each. This is usually more than enough to allow shooting at the maximum f2.8 under bright conditions, but while it'll also allow longer exposures, three stops isn't enough for hugely long exposures unless you're in very dim conditions. Later in the review you'll see an example I shot at f16 and 80 ISO with the ND filter applied, to result in a 20 second exposure. A minute or two would have been better, but it's a start and the good news is the built-in ND filter had no visible impact on the image sharpness in my tests.
Staying with mounting accessories for one more moment, Sony and Panasonic supply the RX10 and FZ200 with clip-on lens hoods which can be reversed over their barrels for transportation, although Olympus does not.
Now a quick note on macro capabilities: the Sony RX10, Olympus STYLUS 1 and Lumix FZ200 have closest focusing distances of 3cm, 5cm and 1cm from the fronts of their lenses when zoomed-out to wide. This is pretty difficult to quantify though as the distance to the sensor plane and focal length all play a role in the maximum reproduction. What I did do though was make a macro comparison between the three, primarily for evaluating their depth of field, but it also serves to show all could focus very close to the subject with their lenses set wide. You can see this in the second of my depth of field comparisons below.
One of the big selling points of the RX10, STYLUS 1 and FZ200 are their constant f2.8 apertures. Regardless of sensor format and actual focal length, f2.8 is f2.8 when it comes to exposures, so having this aperture across the focal range will help you maintain faster shutter speeds and lower sensitivities than cameras with slower apertures. But don't be fooled when it comes to depth-of-field. If you're interested in an f2.8 super-zoom for its ability to blur the background, you may be disappointed. The sensor size and actual focal length mean all three of these cameras deliver a much larger depth of field than a mirrorless or DSLR camera when fitted with an f2.8 lens. So what can you expect in practice?
I took three different compositions with the RX10, STYLUS 1 and FZ200, starting with a typical portrait at an equivalent focal length of around 100mm, followed by macro and telephoto shots at their respective widest and longest focal lengths respectively. Each was of course with the aperture set wide-open to f2.8.
Sony Cyber-shot RX10
Portrait at approx 100mm equiv

Olympus STYLUS 1
Portrait at approx 100mm equiv

Panasonic Lumix FZ200
Portrait at approx 100mm equiv

f2.8, approx 100mm equiv, full image

f2.8, approx 100mm equiv, full image

f2.8, approx 100mm equiv, full image

crop from image to show depth of field

crop from image to show depth of field

crop from image to show depth of field
Looking at the reduced full images in the upper row above, you can just about see the RX10 is delivering the shallowest depth of field of the three as expected. This is confirmed by taking a crop of the coffee machine in the background. But you wouldn't describe it as significantly blurring the background. This is the big problem with smaller sensor cameras even when equipped with bright aperture lenses. They just can't deliver the kind of shallow depth of field effects you can enjoy with bigger sensor cameras coupled with lenses sporting longer actual focal lengths. If you really want to blur the background with these bridge cameras you either need to get very close to your subject or zoom-into longer focal lengths – or ideally do both. Here's what happens in a macro environment.
Sony Cyber-shot RX10
Macro at 24mm equiv

Olympus STYLUS 1
Macro at 28mm equiv

Panasonic Lumix FZ200
Macro at 25mm equiv

f2.8, approx 24mm equiv, full image

f2.8, approx 28mm equiv, full image

f2.8, approx 25mm equiv, full image

crop from image to show depth of field

crop from image to show depth of field

crop from image to show depth of field
Again if you compare the reduced full images in the upper row above, you can just about see the same results as with the portrait: the Sony RX10 delivers the shallowest depth of field, followed by the STYLUS 1 and leaving the Lumix FZ200 in third place. Comparing the crops taken from the middle of the image confirms this, but also illustrates how even in a macro composition, you're not going to enjoy a massively blurred background with any of the three cameras. So how about zooming all of them into their maximum focal lengths? Find out below!
Sony Cyber-shot RX10
Telephoto at 200mm equiv

Olympus STYLUS 1
Telephoto at 300mm equiv

Panasonic Lumix FZ200
Telephoto at 600mm equiv

f2.8, approx 200mm equiv, full image

f2.8, approx 300mm equiv, full image

f2.8, approx 600mm equiv, full image

crop from image to show depth of field

crop from image to show depth of field

crop from image to show depth of field
The comparison above with all three cameras zoomed-into their maximum focal lengths is more interesting as it shows their differences for the first time at different focal lengths: 200mm, 300mm and 600mm equivalent for the RX10, STYLUS 1 and FZ200 respectively. If all three shared the same sensor size then the FZ200 would be the winner here for shallowest depth of field, but the models with the longer effective focal lengths have progressively smaller sensors, which counteracts the blurring effect. Another thing to note is the perspective difference between them: as the focal length is increased, I've had to stand further from the beer taps to maintain their size and position on the frame. This also has the effect of rendering the background larger, hence the drinks cabinet on the left becoming bigger across the sequence.
But we're talking depth of field here and in terms of background blurring on the full images in the upper row above, I'd say the Lumix FZ200 enjoys a slight lead over the RX10, with both models slightly beating the STYLUS 1. This is confirmed by the crops in the lower row, proving that if you can shoot with a massive focal length, you can overcome the small sensor behind it to deliver a slightly shallower depth of field than a camera with a bigger sensor. The numbers also add up, as the maximum actual focal lengths of the FZ200, RX10 and STYLUS 1 are 108mm, 73.3mm and 64.3mm respectively.
But it isn't particularly convenient to shoot anything much closer than infinity at a focal length equivalent to 600mm. I found this shot extremely hard to line-up with the FZ200, but it does at least prove a point. But it also shows that even with an effective focal length three times shorter, the RX10 can come pretty close to matching the FZ200's shallow depth of field at their maximum zooms thanks to its bigger sensor and an actual lens focal length that's close to the same figure.
So what about a best-case sceario for the RX10? What's the shallowest depth of field you can achieve if you zoom into the maximum focal length and get as close as the camera will focus? That's what I did for the shot below, and while there is finally some nice blurring, remember the required conditions. If you're into blurring the backgrounds you still can't beat a big sensor and a lens that's both bright and has a longer actual focal length.
4.85MB, Ap Priority, 1/160, f2.8, 400 ISO, 8.8-73.3mm at 73.3mm (200mm equivalent)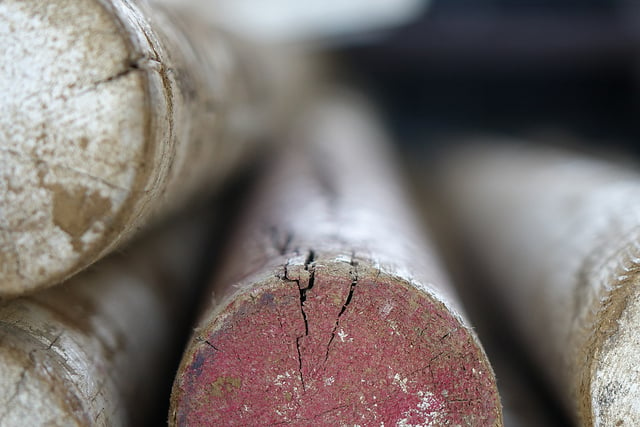 Click image to access original at Flickr
Moving on, Sony has equipped the RX10 with optical SteadyShot stabilisation to iron-out the wobbles. To test it I took a series of shots at the maximum effective focal length at progressively slower shutter speeds 1EV apart until shake appeared. I performed the test twice, with stabilisation disabled followed by stabilisation enabled.
Sony Cyber-shot RX10 Optical SteadyShot Off / On

100% crop, 8.8-73.3mm at 73.3mm (200mm equiv) 800 ISO 1/6 Optical SteadyShot Off.

100% crop, 8.8-73.3mm at 73.3mm (200mm equiv) 800 ISO 1/6 Optical SteadyShot On.
Under the conditions of the day I found I needed a shutter speed of 1/200 to handhold the RX10 without stabilisation at its maximum equivalent focal length of 200mm, as traditional wisdom advises. With optical stabilisation enabled, I found I could achieve an almost perfectly sharp result at 1/6 (as seen above), definitely at 1/13, corresponding to four to five stops of compensation. This is very impressive performance and makes the RX10 very usable in low light even at its longest focal length. I also found the stabilisation was very effective for movies, as demonstrated later in the review.
Sony Cyber-shot RX10 focusing
The RX10 is equipped with a small switch next to the lens barrel on the front, which can be turned to select Single AF, Continuous AF or Manual focus. The choice of Single or Continuous has no effect in the movie mode where it's either Continuous AF or Manual focus only.
The main menu lets you choose from three focus areas: Wide, which automatically chooses from a 25 area system, Center, and Flexible Spot, which lets you choose one of three AF frame sizes and move them to almost anywhere on the screen apart from a border around the edges. If you're likely to reposition the AF area frequently, I'd recommend assigning it to one of the function or custom keys, then you can get to it in a single press. But even then, I still wish Sony offered touch-screens like the Olympus STYLUS 1 where you can just tap where you'd like the AF area to be. It's so much quicker and easier. Unfortunately it's not possible to select an AF area when filming movies – the camera decides for you.
I tested the AF performance of the Sony RX10, Olympus STYLUS 1 and Panasonic Lumix FZ200 side-by-side and actually found all three to be roughly similar in speed. Set to Single AF modes, all three would snap-onto the subject almost instantly with the lenses set wide, even in low light.
When zoomed-into longer focal lengths, the AF on all three models slowed down, but remained swift in good light. Under dimmer conditions though, the AF typically took a second or so to lock-on at longer focal lengths. For particularly challenging subjects in low light at long focal lengths the AF acquisition could slow down even further, but while all three took different approaches under such conditions – for example quickly hunting back and forth or simply slowing down – all three still took roughly the same amount of time to finally lock-on. The good news is I rarely found a time when any of the three cameras refused to focus. At worst, they'll slow down, but almost always nail it.
Note the RX10 offers a Pre-AF feature which starts focusing as you compose, although I found it only gave a speed benefit if you were dwelling on the subject for any length of time.
In terms of continuous AF I found the RX10 delivered a similar experience to other 100% contrast-based systems – that is to say, fairly unconvincing for any subject in fast motion. With its bright lens, useful zoom range, good low light performance, fast burst shooting and weatherproof body, it'd be nice to think you could take the RX10 to the side of a track, pitch or court and grab some great sports action. But you're unlikely to enjoy much success if the subject is in fast motion. I found the Olympus STYLUS 1 enjoyed a slightly higher hit rate, but this could be as much to do with its deeper inherent depth of field being more forgiving on AF.
If the subject isn't moving too quickly though the RX10 will do a fair job at keeping it sharp, and that could be sufficient for action that takes place across a short distance, such as an extreme sports trick. But if you want to successfully track a fast-moving athlete (or even child) on a track, pitch or court, you'll be better off with a DSLR and exploiting their predictive phase-detect AF systems when composing through the optical viewfinder.
Sony Cyber-shot RX10 shooting modes
The Cyber-shot RX10's mode dial offers the usual PASM and Auto modes, along with SCN, Sweep Panorama, Movie and two custom positions. You can start filming in any relevant mode by simply pressing the red record button, but by first putting the camera into the Movie mode, it'll preview the composition frame and fire-up the audio level meters if enabled.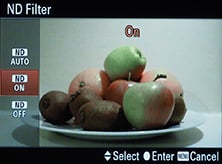 The RX10 offers shutter speeds between 1/3200 and 30 seconds with a Bulb option. The Olympus STYLUS 1 offers a range of 1/2000 to 60 seconds plus a Bulb for as long as 15 minutes. The Panasonic Lumix FZ200 offers 1/4000 to 60 seconds, but with no Bulb. At the fast end of the scale I frequently found myself bumping up against the 1/3200 and especially the 1/2000 maximum shutter speeds of the RX10 and STYLUS 1 respectively when shooting at f2.8 in bright conditions, even with the lowest ISO sensitivities. Luckily both cameras offer built-in Neutral Density filters which can be enabled using the on-screen interface. Both absorb three stops of light, which may not be enough for very long exposures at dawn or dusk, but certainly allowed me to shoot or film at f2.8 outdoors.
At the slow end of the scale, I shot several exposures as long as 30 seconds using the ND filters during dusk, but nothing longer due to the mild brightness of the scene and my reluctance to use the smallest apertures due to the softening effect of diffraction. The RX10 has the benefit for long exposures as when both are set to, say, f8, the RX10 can still deliver reasonably crisp images whereas the STYLUS 1 is operating at its minimum aperture and the results softened due to diffraction. It also means if you are willing to suffer from some softening through diffraction on the RX10, you could close it down much further to f16 and enjoy exposures four times longer than the STYLUS 1 under the same conditions. The RX10 also offers a slightly slower expanded sensitivity of 80 ISO, again extending potential exposure times over the STYLUS 1. Here's an example I took at f16 and 80 ISO using the ND filter to achieve an exposure of 20 seconds; not huge in long exposure terms, but enough to blur the sea in this shot shortly after sunset.
4.72MB, Manual, 20 secs, f16 + ND, 80 ISO, 8.8-73.3mm at 11.4mm (31mm equivalent)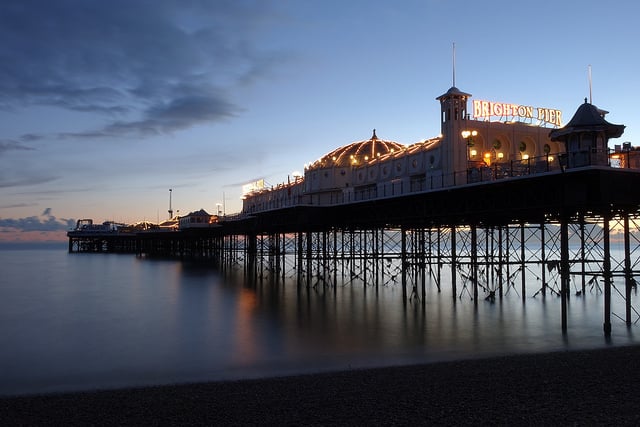 Click image to access original at Flickr
Auto Exposure Bracketing is available on the RX10 for three frames at 0.3, 0.7, 1, 2 or 3EV increments, or for five frames in 0.3 or 0.7 EV increments. You can set the drive mode to Single or Continuous for any of these bursts, although for the latter you will need to keep the shutter release held. White Balance and DRO bracketing is also available. The STYLUS 1 isn't as well-equipped for AEB, offering two or three frames as 0.3, 0.7 or 1EV increments. The FZ200 is also limited to three frames, although at increments up to 3EV apart.
The RX10's picture effects are greyed-out if you're shooting RAW or RAW+JPEG, which is daft as it'd be nice to only have the effect applied to a JPEG and keep a RAW as backup. Olympus does this much more sensibly with its ART filters on the STYLUS 1, which are only applied to JPEG files, leaving the RAW file (if enabled) as a backup, and even lets you grab all (or a selected bunch) of the ART filters in one go with ART filter bracketing.
Anyway, back to the RX10. With RAW disabled, you can choose from Toy Camera (with five different filters), Pop Colour, Posterisation (in Colour or Black and White), Retro, Soft High Key, Partial Colour (with the choice of red, green, blue and yellow), High Contrast Mono, Soft focus (with the choice of Low, Mid or High), HDR Painting (with the choice of Low, Mid or High, or as I like to call them, awful, horrendous or appalling), Rich Tone Mono, Miniature (with the stripe of focus variable between Auto, Top, Middle Horizontal, Bottom, Right, Middle Vertical or Left), Watercolour, or Illustration (with the choice of Low, Mid or High). Here's how a bunch of them look given the same real-life subject.
Sony Cyber-shot RX10
Toy Camera

Sony Cyber-shot RX10
Retro

Sony Cyber-shot RX10
High Contrast Mono

Sony Cyber-shot RX10
Soft Focus

Sony Cyber-shot RX10
HDR Painting (High)

Sony Cyber-shot RX10
Illustration (High)
The D-R menu is where you'll find the Dynamic Range Optimiser (DRO) and in-camera HDR options, the former available in Auto or set Levels of one to five, and the latter available as Auto or in increments of one to six EV. The HDR mode actually takes three images at the desired interval and combines them in-camera into a single JPEG file. If you have RAW or RAW+JPEG selected, the HDR options are greyed-out.
Sony Cyber-shot RX10
DRO and HDR mode off

Sony Cyber-shot RX10
DRO Level 5

Sony Cyber-shot RX10
HDR 6EV

DRO / HDR off, f4, 0.4secs, 125 ISO

DRO Level 5, f4, 0.4secs, 125 ISO

HDR 6EV, f4, 0.4secs, 125 ISO
The SCN mode on the dial lets you choose from nine presets, including the usual suspects like Portrait, Landscape and Sunset, but also including the composite Handheld Twilight and Anti Motion Blur modes which take a burst and combine them to reduce shake and noise.
The Sweep Panorama mode enjoys its own dedicated position on the mode dial, and selecting it unlocks two options on the first menu page (although why Sony doesn't let you set things in advance while you're in other modes remains beyond me). Like previous Sony cameras you can choose between Standard and Wide for the size, and Right, Left, Up or Down for the direction. After that it's just a case of holding the shutter release button down as you pan the camera in the selected direction, sometimes being told to do it again in case you were too slow or fast. Note you're not allowed to adjust the optical zoom in the panorama mode – it sets itself to wide automatically and stays there.
Sony Cyber-shot RX10 panorama mode (wide)

Horizontal panning mode. Click image to access original at Flickr

Vertical panning mode. Click image to access original at Flickr
Like other Sony cameras, the Sweep Panorama works fairly well and gives the RX10 a fun advantage over the Olympus STYLUS 1 which, like other Olympus cameras, won't automatically stitch panoramas in-camera. Note the FZ200 offers in-camera panoramas, captured in any of four directions, as a scene preset. I would however say that from my experience with the RX10, the panoramas generally came out with a 50% success rate in terms of decent stitching and sharpness, so I'd always suggest taking two or three per view to maximize your chances of generating a good one.
Sony Cyber-shot RX10 movies
All three cameras compared here can film movies, but the Sony RX10 is the only one to take it really seriously with an array of features which will impress many professional videographers. It offers a wealth of frame rates with downsampling from the full image size, full manual control over exposures, external microphone and headphone jacks, built-in ND filter, focus peaking and zebra patterns, smooth aperture control, clean HDMI output for external monitors and recorders, and the chance to connect XLR mics via an optional accessory. Coupled with the 24-200mm f2.8 zoom, tilting screen, large high resolution viewfinder and weatherproof body, it could arguably be the ultimate small documentary video camera.
Drilling-down into the specifications, the RX10 for NTSC regions offers Full HD 1080 video at 60p (28Mbps), 60i (24 or 17Mbps) or 24p (24 or 17Mbps), all encoded using AVCHD at the stated bit rates. If you switch the encoding to MP4 you can film at 1440×1080 or VGA, both at 30fps. In PAL regions, the 60p and 60i frame rates are swapped for 50p and 50i, while the 24p is swapped for 25p. There are no slow motion options available which is a shame as having, say, 720p at 100fps would have made the RX10 more useful to some productions, although at least there's 60p and 50p options which can provide slow motion for slower frame rate projects.
Interestingly the RX10 takes a different approach to reducing the full sensor resolution to a video frame. Rather than the traditional technique of skipping lines, the RX10 takes the full 20 Megapixel image and uses its considerable processing muscle to downsample it to the desired size even at 60fps, which Sony reckons delivers fewer artefacts. I didn't perform any tests to deliberately seek out moire, but found little evidence on my sample clips, although some of my pro videographer friends commented on scaling and compression artefacts – ultimately you should download mine – and other's – sample movies and see whether they meet your expectations. The ability to capture and process 20 Megapixel images 60 times a second does suggest the RX10 might be capable of capturing and recording 4k, but this is not offered as yet – it would be fantastic if Sony could offer it as a firmware upgrade, but I'm not holding my breath. Likewise for slow motion – both could transform the RX10 from desirable to must-have.
There's the chance to film in Program, Aperture Priority, Shutter Priority or Manual exposure modes, and a neat control allows you to switch the aperture ring from stepped to smooth, and while it still looks like it's working in discreet steps, at least there's no noise or vibration as you turn it.
Focus peaking is available while filming, although there's no magnified view once you start rolling; I found the high resolution viewfinder was sufficiently detailed to allow fairly confident focus-pulling with the aid of peaking, but I didn't always nail it. The RX10 also offers Zebra patterns with seven threshold levels between 70 and 100% (in 5% increments), with an addition 100+ option. All the overlays and guides are available whether filming with the viewfinder or screen, although I'm pleased to report you can output a clean feed from the HDMI port for use on external monitors or recorders, while still displaying information on the camera's own screen.
There's built-in stereo mics or the chance to connect an external one to the 3.5mm jack, or even XLR models using the optional XLR-K1M accessory. The RX10 offers generous on-screen level meters with the chance to make fine adjustments and you can also monitor the audio through the headphone jack, complete with a small delay if preferred.
The screen can tilt for easier framing at high or low angles, but I'd still refer full articulation, allowing you to face the screen forward for composing pieces-to-camera by yourself. The absence of a touch-screen means there's also no chance to pull-focus by tapping the desired subject, but you can still set the camera to manual focus and use the generously-sized focusing ring to make adjustments. Strangely the autofocus seems the most limited part of the package though, by only offering continuous AF once you start filming movies, and also without any opportunity to manually choose an AF area – so if you're using AF while filming, there's no way of instructing the camera where you want it to focus, other than to dwell on the subject and hope it takes the hint.
You can zoom the lens while filming, but as a fly-by-wire system, you're at the mercy of the motor and the dial that controls it. As it stands, the zooming is very leisurely while filming, which may be good for nice and relaxing zooms, but will frustrate any video journalist who needs to quickly react to something happening around them. On the upside though, the optical stabilisation works very well and I was able to handhold the RX10 fully zoomed-in for extended periods with virtually no visible wobble.
But compared to the STYLUS 1 and FZ200, the overall video capabilities remain much more sophisticated albeit with the absence of any high speed modes or any means to apply a miniature effect to movies. Which only leaves me to share a selection of clips to demonstrate the capabilities.
Sony Cyber-shot RX10 sample video 1: optical zoom in daylight (1080 / 50p)
My first clip demonstrates the optical zoom range of the Cyber-shot RX10. The 24-200mm range may not be anywhere near as powerful as rival super-zooms, but as you can see it allows you to capture a broad field of view before going-in tighter for details. The motorized zoom is nice and smooth and there's no issues with the focus hunting. A good start for the RX10.
Sony Cyber-shot RX10 sample video 2: optical zoom in daylight (1080 / 60p)
Here's another example of the RX10's optical zoom while filming, and again there's no issues to report with quality or autofocusing. I should however note the RX10's motorised zoom slows down to a single speed while filming which can only be described as leisurely. It's fine for nice, relaxing reveals, but potentially very frustrating if you're a news or documentary film-maker who needs to quickly react during an event. This one simple thing could put many people off it. Maybe a faster zoom option should be availble even if it means the AF goes awry for a moment.
Sony Cyber-shot RX10 sample video 3: handheld pan in low light at 1080 / 60i and 1600 ISO
My next clip is a handheld pan in low light with the sensitivity bumped up to 1600 ISO and the quality reduced from 1080 / 60p to 1080 / 60i. At 1600 ISO most rival super-zooms would be delivering noisy or smeared footage, but the larger 1in sensor in the RX10 holds it together pretty well with plenty of details. The stabilisation does a good job too, but at the widest 24mm focal length it doesn't need to try that hard. Likewise for the AF which doesn't drift during the clip.
Sony Cyber-shot RX10 sample video 4: manual focus pulling
The RX10 offers a wide array of manual focusing assistance including focus peaking. Here I've set the camera into manual focus and used the ring on the lens barrel to bring the street into focus, using peaking as a guide. As you can see it's possible to smoothly adjust the focusing manually, but I didn't quite nail the focus at the end of the clip. I actually repeated this a few times and found the peaking wasn't always as accurate as I'd hoped, at least when viewing the entire frame.
Sony Cyber-shot RX10 sample video 5: continuous AF at 400 ISO (1080 / 60p)
My fourth clip demonstrates the continuous focusing capabilities of the camera by walking towards a tree in relatively low light (it was raining at the time). The RX10 was zoomed-into 100mm and set to its largest aperture of f2.8. There's inevitably some wobbles as a result, but the stabilisation does a good job at ironing out most of them as I walked over unsteady ground. Meanwhile the continuous AF manages to keep the bark on the tree in sharp focus throughout most of the clip without much visible searching. This is impressive performance for a contrast-based system. The sensitivity was set to 400 ISO here where it delivers good, crisp results.
Sony Cyber-shot RX10 sample video 6: 'dolly' continuous AF at 200 ISO (1080 / 50p)
In this next clip I've simulated a 'dolly' move by pushing the RX10 on my hat across a smooth table, closer to the subject and away again; I zoomed the lens into approximately 50mm and set the aperture open to f2.8. The dolly move tests the continuous AF capabilities of the camera in a more demanding environment, and as you can see in the clip, the RX10 is performing a series of adjustments rather than offering true continuous autofocusing. As such the image goes in and out of focus regularly, although the camera does at least manage to retrieve the subject quickly.
Sony Cyber-shot RX10 sample video 7: continuous AF with auto focus pulling at 400 ISO (1080 / 60p)
In my seventh clip I've tested the continuous focusing capabilities once more, but this time by standing still and recomposing between a nearby tree and the distant branches behind it. To make it particularly tricky for the RX10 I zoomed the camera into its maximum 200mm focal length and again opened the aperture to f2.8. As you can see though the camera happily and smoothly refocused between the foreground and background as I recomposed the shot, and again there's little or no of the visible hunting or searching common with contrast-based AF systems. It's a very confident performance. Unfortunately though there's no way to manually select an AF area when the RX10 is set to AF in movies. Instead the camera guesses for itself, which means it doesn't always get it right. Why Sony couldn't let you manually set the AF area for movies is beyond me.
Sony Cyber-shot RX10 sample video 8: continuous AF with auto focus pulling at 400 ISO (1080 / 50p)
In my eighth clip I've tested the continuous focusing capabilities again, but in a more demanding environment with a macro subject at close range. This time I had the focal length set to approximately 50mm equivalent, and the aperture was wide open to f2.8. As I move the RX10 back and forth between the close subject and the distant background, it refocuses smoothly as above, but again the big problem here is the inability to specify what part of the frame you want the camera to monitor. Is it the middle? Is it the side? Who knows, as the camera chooses automatically. You also can't choose a single AF option when filming, using a button to trigger the AF process. So not only does the camera guess where it should focus, but also when, greatly limiting its scope for professional videographers who'll instead turn to manual focusing for some degree of control.
Sony Cyber-shot RX10 sample video 9: handheld concert footage at 3200 ISO
With its long bright lens and larger than average sensor, the RX10 could be an ideal camera for concert footage. I had a chance to use it in several live music environments and it did pretty well in all of them. For this clip I was in a dark and noisy bar on a balcony overlooking the stage. I had the aperture wide open to f2.8 and had to increase the sensitivity to 3200 ISO for a balanced exposure. From that point on though I let the RX10 do everything for me as I merrily zoomed in and out and panned across the stage, all handheld and all automatic. The stabilisation has done a great job considering much of the footage was filmed handheld at 200mm on a platform where people were dancing, and there's no evidence of focus hunting or searching despite the lighting, subject and regular zooming. There's some blown highlights on the singer's face, but it's not bad considering the sensitivity was at 3200 ISO – certainly it's a lot better than super-zooms with smaller sensors could have managed. The audio is also saturated, but with manual levels it would be possible to better keep it under control. So based on this and the other clips I filmed, I'd say the RX10 is an ideal camera to record bands and concerts – so long as you keep an eye on potential blown highlights and audio levels. I was certainly very impressed with the overall performance which delivered better quality results than rival super-zooms and was more practical than using a DSLR or mirrorless camera with an equivalent lens.
Sony Cyber-shot RX10 sample video: low light at 800 ISO (1080 / 25p)
Finally I filmed a series of clips at the higher end of the sensitivity range, between 800 ISO and the maximum 12800 ISO, all at 1080 / 25p. You can download the other clips at the following links: RX10 video at 1600 ISO, RX10 video at 3200 ISO, RX10 video at 6400 ISO and RX10 video at 12800 ISO, all at 1080 / 25p. These will let you evaluate the RX10 for use in very low light situations. Unfortunately I can't share the same samples from the Olympus STYLUS 1 as it automatically selects the sensitivity for video, and doesn't tell you what the value is. But based on the RX10's bigger sensor and my results for still images, I'm fairly confident it'll deliver lower noise for video than either the Olympus STYLUS 1 or Panasonic Lumix FZ200.
Sony Cyber-shot RX10 Wifi
The Sony RX10 and Olympus STYLUS 1 both feature built-in Wifi, although it's not available on the Lumix FZ200 as that model was launched before the technology was widespread on cameras; given Panasonic's fondness for Wifi though, any successor to the FZ200 is sure to feature it.
Wifi on the RX10 and STYLUS 1 allow you to wirelessly browse and transfer JPEG images onto an iOS or Android smartphone using a free app, and also remote control the cameras with your handset or tablet, but their capabilities vary considerably.
The RX10's Wifi implementation is essentially the same as the RX100 II before it, and as such is fairly basic. You first choose from a menu whether you'd like to copy images to a smartphone or remote control the camera, at which point the camera becomes a wireless access point. If you have an NFC-compatible handset, simply hold it against the camera and the two should sort out the SSID and password for you and automatically start the Play Memories app (which you'll need to have pre-installed) – it worked just fine on my Samsung Galaxy S4, although if you don't have an NFC handset, it's not a big deal to browse and select the desired SSI then manually enter the password displayed by the camera.
If you opted to transfer images, you'll be presented with a thumbnail view, after which you an simply tick the desired image(s) then copy them with a single press. The app lets you choose whether to copy images in VGA, 2 Megapixel or original formats, and like most remote control apps, RAW files and movies are ignored.
If you opted to remote control the camera, you'll be presented with a Live image on your handset, featuring a slider to operate the optical zoom and a button to capture the image, but nothing else. Regardless of the exposure mode on the camera, it becomes fully automatic when remote-controlled by a phone or tablet, with no option to adjust the exposure, white balance or anything else; you can't even tap on the live image to move the AF area. Actually I tell a lie, you can adjust the flash mode and self-timer, but that's it. This represents very basic functionality in today's world of Wifi-equipped cameras and a bit of a disappointment considering the higher-end nature of the camera. There's not even the chance to record a log of GPS positions using your handset and tag your images later. The RX10 also offers the chance to save images wirelessly to a connected computer, but I was never able to get this working with my MacBook Air.
In contrast, the STYLUS 1 inherits the powerful smartphone of the flagship OMD EM1. So in addition to copying images at a variety of resolutions including the valuable original, the remote control section lets you change the exposure mode between PASM and Auto, adjust the aperture, shutter, ISO, white balance and self timer, while also allowing you to change the AF area by tapping on the desired part of the live image.
Additional sections in the app let you make and apply a GPS log, and even perform a variety of image adjustments on any images stored in your handset, including applying the popular ART filters or creating a composite Photo Story. While neither the STYLUS 1 or RX10 let you trigger a movie remotely, the fact is the Olympus implementation remains much more powerful and useful than the basic Sony controls. I hope this is something Sony can improve with a new version of the Play Memories app, rather than requiring new camera hardware or firmware instead.
Sony Cyber-shot RX10 continuous shooting
The Sony Cyber-shot RX10 offers two continuous shooting speeds, the faster rated at 10fps, although Sony's specifications make no claims of burst depth. Olympus quotes the STYLUS 1 as offering 7fps for a burst of up to 200 frames, while Panasonic quotes the FZ200 as offering speeds up to 12fps for a 12 frame burst or at 5.5fps for unlimited capture while memory remains.
To put their capabilities to the test I fitted each with a freshly-formatted SanDisk Extreme Pro UHS-1 SD card, set the shutter speed to 1/500 and the sensitivity to 400 ISO, before firing-off a series of bursts.
Using the standard Continuous option with the quality set to Fine JPEG, the Sony RX10 fired-off 36 frames in 12.25 seconds, corresponding to a speed of 2.94fps, and seemed happy to continue shooting while I had memory remaining. Switching to the faster Speed option let me capture 25 frames in 2.45 seconds, corresponding to a speed of 10.2fps, but after 25 frames, the rate slowed down considerably.
With the RX10 set to RAW and normal Continuous shooting, I fired-off 12 frames in 4.31 seconds before the rate slowed down considerably; this corresponded to a speed of 2.8fps. Switching to the Speed option let me capture eight frames in 1.1 seconds, corresponding to a speed of 7.3fps, and again the camera slowed right down afterwards.
So when shooting JPEGs, the RX10 could deliver the quoted 10fps speed for a decent 2.5 second burst of 25 frames, and while I measured a slower 7.3fps for RAW files, it was still fairly quick and recorded a second's worth of action. If you want longer bursts of JPEGs you can choose the slower speed, but approximately 3fps is nothing to get too excited about.
I tested the Olympus STYLUS 1 next. The STYLUS 1 only offers one continuous shooting option, rated at 7fps. With the camera set to Large Fine JPEG, I captured 21 frames in 2.53 seconds, corresponding to a speed of 8.3fps; after this the camera was happy to continue shooting while memory remained, but at a much reduced speed of 2.5fps. I then changed the quality to RAW and fired-off 27 frames in 3.54 seconds, corresponding to a speed of 7.62fps, again after which the speed fell to around 2.5fps.
So the STYLUS 1 slightly exceeded its quoted speed for both JPEG and RAW shooting, and impressively could capture equally large bursts of either format, although I didn't get anywhere near the quoted 200 frame burst at the top speed.
Finally I measured the speed of the Lumix FZ200. When set to the 12fps mode with best quality Fine JPEGs the FZ200 fired off a burst of exactly 12 frames in 0.9s – just over 13fps. That's a very impressive performance in terms of speed, but under one second of action is a very short timeframe to capture and, even when things are moving quickly you usually need a two or three second burst to capture all the action with a bit of a buffer at the beginning and end of your sequence.
The 5.5 fps mode looks like it might be more useful for capturing longer sequences so that was my next test. With the same large fine JPEG setting I reformatted the card and switched to 5.5fps with single AF. This time the FZ200 fired fifteen frames before slowing appreciably, but continuing to shoot. The first 15 frames took 2.6 seconds, corresponding to 5.76fps, after which the rate slowed to around 2fps. So you can get a burst of about two and a half seconds at the 5.5fps speed which might actually be a more useful option than the faster one second burst. For a comparison I then switched to the continuous AF 5.5fps mode and fired a burst of 15 frames which sounded slower and more erratic, a fact born out by the numbers – just over 4fps.
Of the three cameras, the most impressive burst came from the Sony RX10 when capturing JPEGs in its Speed mode. In my tests it shot at 10fps for two and a half seconds, allowing you to capture a decent burst of action at high speed. What makes it more impressive is the RX10 is shifting 20 Megapixels of data compared to 12 on both the STYLUS 1 and FZ200.
Whether it's going to be useful to you is another matter though. None of the three cameras was particularly good at continuous AF, and struggled to keep moving subjects in focus. As such, I wouldn't recommend them for capturing sequences of subjects in fast motion, like field or court sports. But if your action takes place over a short distance, such as a bike, skate, water or snow trick, then you'll stand a good chance of recording some good moments.
Sony Cyber-shot RX10 sensor
The Sony RX10 is fitted with the same 20.2 Megapixel '1-inch' Exmor R CMOS sensor as the RX100 II. This delivers images with a 3:2 aspect ratio and a maximum size of 5472 x 3648 pixels; two lower resolutions are available, along with 16:9 4:3 and 1:1 crops, and the camera lets you record images in JPEG (using a choice of three compression levels), RAW or both, although for the latter the JPEG quality is fixed at Fine.
The RX10's sensor size is one of the key selling points over its rivals. The STYLUS 1 and Lumix FZ200 are equipped with 1/1.7in and 1/2.3in type sensors respectively, both packed with the same 12 Megapixel resolution, delivering 4:3 shaped images with 3968×2976 and 4000×3000 pixels respectively. From the figures it's relatively easy to conclude the RX10 has the biggest sensor area, followed by the STYLUS 1, leaving the FZ200 in third place with the smallest, but it can hard to visualize the actual physical difference in practice. So below I've made a diagram showing the relative sizes of all the most common sensor types, highlighting the RX10, STYLUS 1 and FZ200 in green, red and blue respectively.
Sensor sizes compared, Sony RX10 indicated in green

The RX10 actually boasts 2.7 times the surface are of the STYLUS 1 sensor and around four times that of the FZ200, which allows it to deliver lower noise levels and a higher tonal dynamic range, even with its higher pixel count. It also allows the RX10 to deliver a slightly shallower depth of field as illustrated earlier, although the flipside is a higher price and a shorter focal range than its rivals with smaller sensors. As always there are pros and cons to sensor size.
The RX10's sensitivity runs from 125 to 12800 ISO, with extended 80, 100 and 160 ISO options at the low end proving handy for anyone who wants to shoot with the largest aperture in bright conditions or achieve longer exposures to blur motion.
Sharpness, contrast and saturation are applied using a selection of Creative Styles, all of which can be adjusted as desired. I used the default Standard Creative Style for all my sample images which delivered the usual punchy style of a Sony consumer camera, although again you can tone it down or bump it up if preferred.
So how much difference does sensor size and resolution make in practice to the image quality? Find out in my Sony RX10 quality and Sony RX10 noise results where I'll comoare it directly against the STYLUS 1 and Lumix FZ200, or check out my Sony RX10 sample images, or skip to the chase and head to my verdict.