Intro
One of four entry-level Cyber-shot compacts announced in January 2011, the Cyber-shot DSC-W510 is a 12 Megapixel model with a 4x optical zoom and a 2.7 inch LCD screen. The next model up the range, the W530 has a 14.1 Megapixel sensor, then comes the W560 which adds a larger 3 inch screen and 720p HD video. Finally there's the W570 which has a 5x optical zoom and 16.1 Megapixel sensor.
One of the Cyber-shot W510's strong selling points is it's 4x optical zoom which starts at a very impressive 26mm equivalent wide angle extending to 104mm equivalent at the telephoto end of the range. Optical image stabilisation is a rare commodity at this end of the price range and, like Nikon, Sony provides a digital processing alternative in the form of SteadyShot.
The W510 provides a good range of beginner features like face and smile detection as well as more advanced options including exposure compensation, manual ISO selection and metering and focus modes. It also features Sony's Sweep Panorama mode which, along with its superb wide angle performance, makes it an obvious choice for landscape and travel photography. The W510 is powered by a Sony lithium-Ion battery and is slim and light, another point in its favour as a holiday camera.
It's a crowded market at this price point, with plenty of differentiation between models costing roughly the same, so it's worth shopping around to get exactly what you're looking for from a budget point-and-shoot. The Canon PowerShot A1200 and Nikon's COOLPIX L24 share a similar price tag to the W510, but in other respects are very different cameras. Read our full review to discover which of them come closest to your ideal budget compact.
Sony Cyber-shot W510 design and build quality
Compared with AA-powered compacts like the PowerShot A1200, PowerShot A800 and Nikon COOLPIX L24, the first thing that strikes you about the Cyber-shot W510 is its slimness. At only 20mm wide it's around a third slimmer and weighing 119 grams well over a third lighter than the Canon and Nikon Models.
The lightness does make it feel little insubstantial, but it's a solidly engineered product, everything fits precisely and there are no shakes or rattles. The on/off switch and shutter release are flush mounted on the ridged top panel. The shutter button is a slim rectangular shape and if you've got big fingers you'll find it a bit fiddly compared with the big round button used on the PowerShot A1200 and COOLPIX L24.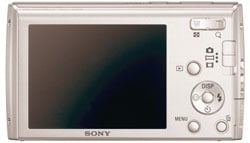 On the rear panel to the right of the 2.7 inch LCD screen the controls are arranged in a way that looks and feels quite spacious. At the top in the thumb position is the zoom rocker and below that on the right edge is a three-way mode selector with positions for still, movie and Sweep panorama modes. This is nicely thought through, Sony clearly wanted to put Sweep Panorama somewhere accessible, rather than burying it away on a scene mode menu. Putting it in the middle position on the mode selector means you can get to it easily, but it doesn't get in the way of the more mainstream stills and movie modes; to select those you just push the switch all the way up or down. Below the playback button is a four-way control disc for menu navigation and one-touch access to display, flash, self-timer and smile shutter controls and and below that are menu and delete buttons.
A small panel on the right covers and protects the USB / AV port. The W510 includes a USB cable to transfer your photos to a PC, but no AV cable for TV viewing. This is the same deal as on the Canon PowerShot A1200 and Nikon COOLPIX L24. If you want to connect the camera to a TV you'll need the VMC-15CSR1 cable available as an optional extra.
On the bottom of the camera is the combined battery and memory card compartment. Like all recent Sony compacts the W510 takes SD cards as well as Sony Memory Stick Pro Duo cards. It's compatible with SDHC cards but not the newer SDXC fast high-capacity cards. The tripod bush is on the left end of the bottom panel and to the right of it is a mono speaker for audio output when playing back video clips.
The Cyber-shot W510 has a built-in flash unit with a quoted maximum range of 4.8 Metres at the wide angle lens setting. The flash provides bright and fairly even illumination and though there's a slight drop off at the frame edges, you have to be looking for it to notice it, that's quite an achievement given the 26mm field of view of the W510's lens.
The flash is fairly quick to recharge between shots, and depending on the amount of power used it can be instantaneous or take up to three to four seconds. If the flash isn't ready when you press the shutter release all the way down an icon flashes on the screen indicating that it's charging, then the shutter fires (even if you've taken your finger of the button by now) as soon as the flash is charged up.
This is the opposite of what the COOLPIX L24 does, which is to flash the icon, but not fire the flash unless you release the button and try again when the flash is ready. The Sony approach is better, because you get a shot as soon as possible, but it'd still be nice to have the option to abort if the flash isn't ready.
The flash has four modes, Off, (always) On, Auto and Slow Synchro. In Auto mode it fires only in low light and Slow Synchro provides fill-in illumination for natural light shots. There's a red-eye reduction option on the Shooting Settings menu which pre-fires the flash to reduce the risk of red-eye and if you forget to turn this on there's a software filter in the playback menu you can use to post-process photos..
The Cyber-shot W510 uses a proprietary Sony Lithium Ion NP-BN1 battery which provides enough power for 220 shots using the CIPA (Camera Imaging Products Association) standards for testing. That's on the low side and a long way short the 450 or so shots you could expect with the PowerShot A1200 or COOLPIX L24 with a pair of AA NiMH rechargeables. The former will get you even further if you rely solely on its optical viewfinder, but it's not all good news, the AA-powered cameras are significantly bulkier and heavier than the Cyber-shot W510. Remaining battery power is shown on a three-segment icon and if you buy an info-lithium battery you get a more detailed readout of remaining power.
Sony Cyber-shot W510 lens and stabilisation
The Cyber-shot W510 has a 4x optical zoom lens with a focal length range of 4.7 – 18.8mm, giving a 35mm equivalent range of 26 – 105mm. The 26mm wide angle is exceptionally wide for a budget compact and is ideally suited to interior and group shots. It's also good for panoramic landscapes and if you want to take in a really wide field of view you can switch to Sweep Panorama mode, about which more later.
| | | |
| --- | --- | --- |
| Sony Cyber-shot W510 coverage wide | | Sony Cyber-shot W510 coverage tele |
| | | |
| 4.7-18.8mm at 4.7mm (26mm equivalent) | | 4.7-18.8mm at 18.8mm (105mm equivalent) |
The 105mm telephoto doesn't inspire the same enthusiasm, but, at this price level at any rate, you can't have your cake and eat it. It's good for portrait shots and framing scenes, but it won't get you anywhere near close enough to distant action like wildlife or sports. Having said that, the same could be said of the Nikon COOLPIX with its slightly longer 134mm reach, and that doesn't have anything approaching the W510's wide angle field of view.
Press the on/off switch and the two-segment lens barrel extends by around 18mm. The camera is ready to shoot in around two seconds. The zoom travels the full distance available quietly and smoothly in just under a couple of seconds. We managed to nudge it through eight steps in either direction, which is more than enough control over a 4x range.
The W510's zoom is disabled during video shooting, you can't even use the digital zoom, though you can, of course, zoom to frame your shot before you start.
Sony Cyber-shot W510 Program mode / SteadyShot mode

100% crop, 4.7-18.8mm at 18.8mm, 1/20, 100 ISO, Program mode.

100% crop, 4.7-18.8mm at 18.8mm, 1/125, 800 ISO, SteadyShot mode.
The W510 doesn't have Sony's Optical SteadyShot image stabilisation, for that you need to head-up the range to the W560. It does have SteadyShot though, which post-processes the image to reduce or ideally eliminate blur caused by camera shake. On higher end Cyber-Shot compacts Optical SteadyShot tends to be enabled by default with no option to disable it. On earlier budget Cyber-shots like the W310 it was activated from the settings menu. On the Cyber-shot W510 SteadyShot gets a more up-front role with its own exposure mode.
To produce the crops above we shot the same scene hand-held with the Cyber-shot W510 with the lens set to its maximum 105mm (equivalent) focal length. We took one shot in Program mode with the sensitivity manually set to 100 ISO and another in SteadyShot mode which sets the ISO sensitivity automatically.
The crop on the left is from shot taken in Program mode and the one on the right from the shot taken in SteadyShot mode. Neither crop shows much evidence of camera shake, but the one on the right actually looks less sharp, possibly at least partly because of the higher sensitivity. One interesting thing that this demonstrates is that it's possible to hand-hold the Cyber-shot W510 at 1/20th of a second even without SteadyShot.
Because SteadyShot sets the ISO automatically and raises it in low light to provide a faster shutter speed, it's impossible to determine how much affect the processing alone has on the image. In this instance, which is fairly typical, we'd say Program mode produces the best result. Ideally you'd be able to enable SteadyShot with manually selectable ISO. But let's not forget the Cyber-shot W510 is essentially a point-and-shoot compact. For casual snappers, having the sensitivity set for you and Steady-shot processing to clean up any residual camera shake is a useful option to be able to rely on.
Sony Cyber-shot W510 screen and menus
The Cyber-shot W510's 2.7inch LCD screen has 230k pixels and provides a reasonably bright and punchy view of proceedings, but the illumination drops off rapidly when you tilt it at an angle so it's not the best for overhead shooting or reviewing photos with a crowd of friends.
The top button on the control disc activates a menu with three screen display options, normal, bright with info and bright image only. Brightening the image can help in some circumstances, though not bright sunlight which is the nemesis of all LCD screens. We're a bit peeved that the only way to get detailed exposure info in playback is on the brighter than normal screen option, but at least you can view things like ISO setting, which is more than you can do on the COOLPIX L24. The W510 has one other display feature, you can select a lower resolution option to save on battery power.
The W510 has an extremely straightforward and easy to use menu system that overlays the screen image in two strips one that runs down the left side of the screen and a horizontal fly-out strip that provides options for the current menu selection.
The topmost item is the record mode with intelligent Auto, Program, SCN (scene modes) and SteadyShot options. The next one down provides an Easy option which disables a lot of the buttons and menus and enlarges the menu font, after that come the exposure mode-specific settings, but even intelligent Auto mode provides a fair few options including burst shooting, exposure compensation, scene recognition, smile detection sensitivity and face detection. Switch to Program exposure mode and you can add ISO sensitivity, white balance, focus mode, metering mode and DRO (Dynamic Range Optimiser) to that list.
At the very bottom of the menu is the familiar Sony toolbox icon that links to a more conventional four-tab menu with shooting settings, main settings, Memory card tool and clock settings. Aside from card formatting this is mostly stuff you're only likely to need access to on rare occasions. These include the display resolution setting mentioned earlier, digital zoom, red-eye reduction and a 3×3 grid overlay. In Playback mode there are options for a slideshow (without the music option often provided on more expensive Cyber-shots), basic editing including resizing and red-eye removal and DPOF printing functions.
Sony Cyber-shot W510 exposure modes
Support this site by shopping below

The Cyber-shot W510 has two main exposure modes – intelligent Auto is the point-and-shoot mode and Program Auto provides additional manual control over some settings as outlined earlier. Scene detection is employed in intelligent Auto mode to attempt to produce a more suitable exposure by identifying the subject and lighting conditions and selecting the appropriate scene mode. The W510 recognises Twilight, Twilight portrait, Twilight using a tripod, Backlight, Backlight Portrait, Landscape, Macro and Portrait scene types.
Sony goes a step further with its scene detection than many competitors, with an advanced mode that shoots two consecutive images using different settings, you can then choose which of the two you prefer. It does this in an intelligent way that really does increase your chances of getting a perfect shot. If it recognises Twilight mode, for example, it takes the first shot with the flash in Slow Synchro mode and the second with the ISO sensitivity boosted.
On the Cyber-Shot W510 SteadyShot gets its own mode as opposed to being always on or an option buried in the shooting setting menu.
The Cyber-shot W510 has nine scene modes including High Sensitivity, Soft Snap, Landscape, Portrait, Pets, Waterside and Snow. While it's good to have scene modes, Scene detection renders them if not superfluous at least less useful. The Cyber-shot W510's Sweep Panorama mode on the other hand is something that you would never want to be without once you've tried it.
Selected using the mode switch on the rear panel Sweep Panorama makes the taking of ultra-wide angle panoramic images, once the preserve of enthusiasts with specialised equipment, as simple as pressing the shutter release and panning. The results are truly impressive. There are two size options the widest of which measures 7152 x 1080 pixels. You can shoot vertical as well as horizontal panoramas and automatically scroll the images during playback. The COOLPIX L24 has a Panorama Assist mode which helps you align individual shots for subsequent stitching using supplied PC software, but Sony is the only compact manufacturer that can lay claim to foolproof pan-and-shoot panoramic photos. You can see an example of the field of view provided by the wide size panorama below – click it to view a high res version. We also have another W510 panorama sample and another W510 panorama sample.
Sony Cyber-shot W510 focusing and face detection
As you'd expect on an entry-level compact, the Cyber-shot W510 has face detection. It can be activated in intelligent Auto or Program modes and detects up to eight faces in the frame. Like the Canon PowerShot A1200 you can toggle the priority face, not with a dedicated Face button, but by pressing the central button on the control disc. Face detection on the Cyber-shot W510 is pretty effective in good lighting and holds onto faces reasonably well. It's certainly a lot better than on the Nikon COOLPIX L24, but we think that the Canon PowerShot A1200 has the fastest and most responsive system.
When no faces are in the frame the Cyber-shot W510 defaults to 9-area autofocus which is is quick and accurate even in low light, though in very poor lighting, for example in a club, the lack of an AF assist lamp is felt. In Program mode you have the option to switch to centre AF which uses only the central area. Again this is quick and decisive and can be used to focus on a central object then, keeping the shutter button half-pressed, recomposing your shot. But the W510 doesn't share the PowerShot A1200's AF and AE lock functions, which allow you to lock focus and exposure and neither does it have an AF tracking option.
Sony Cyber-shot W510 movie mode
The Cyber-shot W510 can shoot 640 x 480 pixel (standard definition VGA resolution) video at 30 frames per second and also has a QVGA 320 x 240 pixel option again at 30fps. Footage is saved using a Motion JPEG codec at an average bit rate of 9Mbps and saved with mono audio in an AVI wrapper.
The white balance and exposure compensation can be adjusted for video as can the metering mode with the choice of Multi or Centre modes. You can't use the optical zoom while shooting and the digital zoom is also disabled, though given the awful quality that results on compacts that have it, that's no great loss. The lack of HD quality is a little disappointing and puts the Cyber-shot W510 in the shadow of the similarly priced PowerShot A1200. If you must have HD and like what the W510 has to offer, you could consider the W560, though it is significantly more expensive. The final thing the W510 has going for it as a video camera is that you can switch into movie recording mode at a flick of the shooting mode switch.
Sony Cyber-shot W510 sample video 1: outdoors, sunny conditions, handheld panning with digital zoom
The Sony Cyber-shot W510's standard resolution video isn't wide screen format, but the 26mm lens gives you a wider field of view than many budget compacts.
Sony Cyber-shot W510 sample video 2: outdoors, sunny, tripod panning with digital zoom
On this tripod panning shot the Cyber-shot W510 picks up a lot of wind noise, but copes reasonably well into the light. No digital zoom, but you're probably better off without it.
Sony Cyber-shot W510 sample video 3: indoors, low-light, handheld panning
The Cyber-shot W510 never really gets to grips with this interior hand-held panning shot. The focus is wandering as is the exposure. The camera adjusts the exposure for the outside light, but not enough, then opens up again as we turn to the bar but too much.
Sony Cyber-shot W510 drive modes
In Burst mode the Cyber-shot W510 can shoot at a little over 1 frame per second. Sony claims 1.17fps, and the best we managed was 1.13fps but the difference is academic. At these rates you won't be able to capture fast action like sports, but you can get some nice short sequences providing your subject doesn't move around too much. The screen keeps up fairly well, displaying the previous shot a fraction of a second after it's been taken, but it's still pretty difficult to frame a moving subject using anything other than guesswork
Sony Cyber-shot W510 sensor
The Cyber-shot W510 has a 1/2.3in CCD sensor with a maximum image size of 12 Megapixels producing 4:3 shaped pictures with maximum dimensions of 4000 x 3000 pixels. There are three lower resolution 4:3 settings plus two cropped 16:9 options at 9 and 2 Megapixels. All images are saved as JPEGs with no control over the amount of compression. Full resolution JPEG file sizes are typically around 4.5MB in size. The ISO sensitivity ranges from 80 to 3200 ISO and the shutter speed range goes from 2 seconds (1s in Program Auto mode) to 1/1500th. To see how the quality of the Cyber-shot W510 measures-up in practice, take a look at our real-life resolution and high ISO noise results pages, browse the sample images gallery, or skip to the chase and head straight for our verdict.