Intro
Sony's Cyber-shot DSC-W350 is an ultra-slim 14.1 Megapixel point-and-shoot camera with a 4x optically-stabilised zoom lens and a 2.7in screen.
Announced in January 2010, it builds upon the previous year's W2xx models, packing Sony's latest technologies into one of the smallest bodies in the current range. Indeed, measuring just 90.7×51.5×16.7mm, the Cyber-shot W350 is one of the smallest cameras from any manufacturer, and will easily slip into any pocket. This is a camera you'll never leave at home on grounds of inconvenience.
Despite its compact size, Sony's packed-in a 4x optical zoom range, starting at a wider-than-average equivalent of 26mm. The camera also squeezes-in a decent-sized 2.7in screen, along with 720p HD movies, a clever fully automatic mode with scene detection, and of course a healthy serving of Sony's gadgetry including smile detection and a mode which generates panoramas in-camera with a mere sweep of the body. Indeed it's one of the first Sonly CCD-based models to offer the Sweep Panorama function.
While these add up to a solid specification for a point-and-shoot camera, the W350's unique selling point is of course its tiny size, which doesn't fail to impress in person. It's an impressive technical achievement which photos just don't do justice.
But Sony's not the only company to offer a good-looking ultra-slim compact with 14 Megapixels, a 4x zoom, 720p movies and 2.7in screen. Canon's IXUS 130 / PowerShot SD1400 IS shares the same key specifications albeit at a slightly higher price. So the big question is whether it's worth spending the extra on the Canon or does the Sony have it all at a lower price? Find out right here!
In our full review of the Sony Cyber-shot DSC-W350 we'll examine all its features and test both the image and video quality, comparing it with its arch rival from Canon every step of the way. If you're shopping for a great-looking ultra-slim compact that's easy-to-use, you're in the right place!
Sony Cyber-shot DSC-W350 design and build quality

Measuring 90.7×51.5×16.7mm and weighing 117g with battery and card, the Cyber-shot W350 is a very small and light camera; photos really don't do justice to its tiny dimensions, which allow it to slip easily into any pocket and never be left at home. Indeed it's even a little smaller than its arch rival from Canon, the IXUS 130 / SD1400 IS. At 92.2×56.1×17.8mm, the Canon is a little bigger in every dimension, most noticeably in height, and at 133g with battery and card, a few grams heavier too.
Support this site by
shopping below
Where Canon has opted for an organic shape with rounded corners though, Sony's gone for a more traditional angular design. There may not be any sharp edges on either model, but we personally felt the Canon was a classier design, feeling almost like a smooth bar of soap in your hands and lacking the slightly raised lens housing of the Sony. As always we'd recommend handling the cameras in person to see which looks and feels best to you.
Both cameras may share smooth front panels, but the W350 features a cross-hatched Sony logo which gives some purchase for your middle finger, reducing the chance of slipping. Meanwhile your thumb rests naturally against the zoom rocker and mode switch on the rear, allowing you to hold the camera fairly securely with one hand if required. Interestingly though, despite lacking any purchase for your middle finger on the front surface, the Canon IXUS 130 / SD1400 IS proved equally easy to grip.
On the top surface you'll find just two controls: the circular power button and a lozenge-shaped shutter release. Turning to the rear, there's the zoom rocker at the top and mode switch on the upper right side, the latter setting the W350 into record, panorama or movie mode.
Below these you'll find the Play, Menu and Trash buttons roughly surrounding a four-way rocker dial. Along providing general navigation, the rocker offer direct access to the display, flash, self-timer and face detection sub-menus, while pushing the button in the middle confirms actions. Pressing and holding the Play button for a couple of seconds can power the camera-up to display the last image, after which a half-press of the shutter release will bring it into record mode if desired.
The Cyber-shot W350 is powered by a rechargeable NP-BN1 Lithium Ion battery pack, which Sony claims is good for 240 shots under CIPA conditions – roughly the same as the 230 quoted by Canon for the IXUS 130 / SD1400 IS. It's not one of Sony's Info Lithium models, so you won't see the exact time remaining; instead there's a four segment indicator.
The battery is housed in a compartment along with the memory card slot, and we're pleased to report the W350, like most 2010 Sony compacts, can take common SD memory along with the company's own Memory Stick PRO Duo format. Sony claims the W350 is also compatible with the latest SDXC cards for large capacities, but for most people, the important thing is being able to use affordable SD and SDHC cards. The dual-format capabilities of the card slot ironically make it a little fiddly to insert the smaller Memory Stick PRO Duo format, but again we're just happy there's the option to insert SD if preferred.
If using SD memory, Sony recommends using Class 4 or faster models for shooting movies. We confirmed the best-quality 720p HD mode worked fine with affordable SanDisk Ultra II cards.
Like most Sony compacts these days, you won't find a flap or door hiding the W350's various ports. Instead there's a single proprietary port on the underside of the camera, which connects to a variety of equally proprietary cables. Sony supplies the W350 with one such cable, ending with conventional AV outputs and a USB plug. The company offers an alternative cable ending in Component outputs for making HD slideshows on a compatible HDTV. Lose any of these cables though and you'll be heading to Sony for a potentially pricey replacement as these are non-standard connections at the camera-end.
Ultimately we prefer the use of standard ports on cameras which work with third party cables. The Canon IXUS 130 / SD1400 IS for example offers not just an HDMI port over the W350, but delivers it with a standard Mini HDMI connector.
Finally, the W350's metal tripod thread is located towards the left side of the body (as you view the screen), which may allow access to the battery compartment when using smaller tripod plates, but makes it harder to level than a camera with a more centrally-located thread – like the Canon.
Sony Cyber-shot DSC-W350 lens and stabilisation

The Sony Cyber-shot DSC-W350 is equipped with a 4x optical zoom lens, delivering equivalent coverage of 26-105mm. This allows the W350 to zoom-out wider than most cameras, squeezing in a little more than those starting at 28mm, like the Canon IXUS 130 / SD1400 IS. Since both models share 4x ranges though, this means the Canon can zoom-in a little closer, to an equivalent of 112mm compared to 105mm on the Sony.
In practice they're pretty close though. Wide-angle connoisseurs may find the Sony range preferable, but there's not much in it for everyone else. Both are great ranges to have on such small cameras. Completing the W350's lens specifications are a focal ratio of f2.7-5.7 (roughly the same as the f2.8-5.9 of the Canon), and a closest focusing distance of 4cm in macro (compared to 3cm on the Canon). You can see an example of the W350's coverage below, and further examples of how you can use it in our sample images Gallery.
| | | |
| --- | --- | --- |
| Sony Cyber-shot DSC-W350 coverage wide | | Sony Cyber-shot DSC-W350 coverage tele |
| | | |
| 4.7-18.8mm at 4.7mm (26mm equivalent) | | 4.7-18.8mm at 18.8mm (105mm equivalent) |
The Sony lens extends fairly quickly upon power-up with the camera ready for action in around 1.6 seconds – about a third of second slower than the Canon IXUS 130 / SD1400 IS, but never holding you back. As described earlier, the zoom is operated by a rocker with the Cyber-shot W350 offering eight steps between wide and telephoto, coincidentally the same as the Canon.
The Cyber-shot W350 is equipped with optical SteadyShot stabilisation to counteract camera shake, but like other recent Sony compacts, there's no settings nor any means to actually turn it off manually – this makes our usual 'before and after' comparisons impossible. When set to fully automatic, the camera may be able to detect when it's mounted on a tripod (or somewhere equally steady), and automatically disable stabilisation, but that doesn't help us make a direct comparison here.
| | |
| --- | --- |
| | |
| Sony Cyber-shot DSC-W350 Stabilisation: default | |
| | |
| 1/13, 80 ISO, 4.7-18.8mm at 18.8mm (105mm equivalent) | |
| | |
| | |
So what we have here is a single image illustrating SteadyShot in action. It's a 100% crop taken from an image of a distant building with the lens fully zoomed-in, where traditional photographic wisdom would recommend an exposure of one over the equivalent focal length to avoid camera-shake – so a shutter speed of around 1/100.
The shot here was actually taken at 1/15 in the available light, which corresponds to just under three stops below the recommended figure. We took several images at this time and found the shutter speed of 1/15 was at the threshold of success and wobble, so are confident to rate the stabilisation as offering around three stops of compensation.
That's three stops over what traditional wisdom would suggest though, as we had no real-life figure to compare it with – after all, if we could successfully handhold at, say, 1/50 without stabilisation under the same conditions, the compensation would become closer to two stops. But either way, the SteadyShot system allowed us to handhold shots at slow shutter speeds and remains a valuable ally, although remember like all stabilisation systems it'll only iron-out wobbles, not freeze a subject in motion.
Sony Cyber-shot DSC-W350 screen and menus

The Sony Cyber-shot W350 is equipped with a 2.7in screen with 230k resolution. It's a decent-sized screen for a camera of this size and dominates the rear surface of the camera. Coincidentally it's the same size and resolution as the screen on the Canon IXUS 130 / SD1400 IS, but it's important to look beyond the specifications and compare them in person as there's quite significant differences in use.
The Sony screen looked fine when viewed face-on, but became harder to see at an angle, until the image was rendered almost invisible with the camera held low or high overhead. This made photographing at high or low angles very difficult as you were almost shooting blind. It's in some contrast to the screen on the Canon IXUS 130 / SD1400 IS, which was not only more vibrant and colourful in normal use, but remained clearly visible even with the camera held high or low. The Canon screen was also less susceptible to direct sunlight. It's a pricier camera, but clearly the screen is of a much higher standard.
An interesting option on the Sony allows you to change the display resolution from the default Standard setting to High. Sony couldn't provide technical details behind each setting, but the High mode certainly appeared to deliver an on-screen image that was little less coarse during composition and playback, although Sony warns of higher battery consumption as a result – something we certainly noticed in our tests. Note: this setting only affected the screen quality, not the image quality; sadly it didn't improve the viewing angle.
The default screen view shows a fairly clean image with a handful of icons at the top indicating the battery life, shooting mode, image shape and quality, and photos remaining. If you're in a 'more sophisticated' shooting mode like Program, you'll see the ISO sensitivity in the lower left corner and additional icons indicating the DRO, face detection and focusing modes. A half-press of the shutter release tells you what shutter and aperture will be sued, although as discussed below, there's no manual control over either.
Pushing the disc rocker upwards adjusts the display options, cycling through three layouts. The default Normal mode shows the details listed above with normal brightness. The second layout shows the same information, but increases the screen brightness for greater visibility in direct sunlight. The third layout keeps the increased screen brightness, but loses most of the icons and information for a cleaner view. A menu option allows you to superimpose a three-by-three alignment grid, but like most cameras in its class, there's no live histogram.
Pressing the Menu button superimposes a number of settings running vertically down the left side of the screen; this selection of settings varies with the shooting mode. As each setting is highlighted, the various options available pop out to the right, although like most Sony compacts this interface can feel a little sluggish compared to Canon or Panasonic's controls.
With the camera's mode switch set to Record, the first option in the vertical menu list lets you choose between Intelligent Auto Adjustment (with scene detection), Program or SCN, the latter allowing you to subsequently choose from ten presets. With the camera set to Auto or Program, the second option on the list lets you select an EASY mode which increases the text size and eliminates all menu options other than the image quality.
With the W350 set to Program, the most menus are unlocked, allowing you to adjust the image quality, burst mode, burst speed, exposure compensation, sensitivity, white balance, focus area, metering, smile detection sensitivity, face detection and DRO mode.
Like other Sony compacts, the last setting in the vertical list, indicated by an icon of a briefcase, takes you to a series of vertically tabbed menu pages. Again with the camera set to Program, you'll see tabs for Shooting Settings, Main Settings, Memory Card Tool, and Clock Settings; the Main Settings tab has four pages, the clock setting has one, while the remaining two have two pages each. We'll highlight some of the options throughout the review.
During playback, pushing the rocker upwards gives you the choice of four views: as recording: normal brightness with basic shooting info, increased brightness with the same shooting info, increased brightness with extra details (albeit sadly not including a brightness histogram) and finally, a clean view again with increased brightness.
Unlike the Sony, the Canon IXUS 130 / SD1400 IS offers a histogram view during playback, and also rotates portrait images to fill the screen when the camera's turned on its side. These are handy features, although some will prefer the W350's ability, like most Sony compacts, to play music during slideshows, from a handful of built-in tunes, or those you've uploaded into the camera yourself.
Sony Cyber-shot DSC-W350 exposure modes

The Sony Cyber-shot W350's mode switch has three positions: Still Image, Sweep Panorama and Movie. We'll discuss the first two options in this section and detail the movie capabilities lower on this page. As explained above, setting the switch to Still Image lets you choose between three shooting modes from an on-screen menu: Intelligent Auto Adjustment, Program or SCN.
All three have access to shutter speeds between 1/1600 and two seconds, along with two aperture settings at any focal length (such as f2.7 or f8 when zoomed-out). There's no way to manually adjust the aperture or shutter in any mode, although to be affair, few of the W350's target audience will be that bothered, and thankfully the auto modes work very well in practice.
Intelligent Auto Adjustment employs scene detection in an attempt to figure out what you're photographing and adjust the settings accordingly. Depending on the subject, the camera can automatically switch between Twilight, Twilight Portrait, Twilight using a tripod, Backlight, Backlight Portrait, Landscape, Macro and Portrait.
Point it at a distant subject under reasonable lighting and the W350 is likely to select the Landscape preset, and if the sky is bright it'll go for backlit instead. Point it at a person and it'll select Portrait, and again if they're on a bright background it'll switch to the Backlight Portrait mode and use the flash as a fill-in. Take a shot under dim conditions and Twilight mode will be activated, and if the camera doesn't detect any wobbling, it'll assume you've got it mounted somewhere steady and choose the 'Twilight using a tripod' mode.
Recognising backlit and twilight shots don't always come out as intended, the W350 offers further insurance with its iSCN Advanced option, which when enabled will take two shots with different settings under these tougher conditions. So in backlit portrait situations, it'll use the fill-in flash on its first shot as usual, but then try a second using the Dynamic Range Optimiser (DRO) to boost the brightness and contrast instead. If 'Twilight using a tripod' is detected, it'll first shoot in Slow Synchro mode, then try a second shot with a lower sensitivity and longer exposure.
This is a clever approach which increases your chances of getting the desired result. So while the Sony may 'only' have eight scenes to choose from compared to 22 conditions on Canon's IXUS 130 / SD1400 IS, it makes very sensible use of them and didn't feel restricted in use. Both cameras certainly did a very good job when set to their fully automatic modes and we'd be happy using either for casual shots. We've also included an image at the bottom of our Sample Images Gallery, taken in dim conditions with the camera balanced on a wall. The W350 automatically selected 'Twilight using a tripod' mode and delivered a good-looking night shot, although like the Canon under the same conditions, chose a relatively high ISO in order to use a quickish shutter speed. Shame neither camera unlocked longer exposures at lower ISOs, knowing they were in a steady location.
| | |
| --- | --- |
| | |
| | |
If you like the automatic life, but prefer to point the camera in the right direction, the SCN Still Image option offers 8 presets including High Sensitivity (for shooting in low light without flash), Soft Snap, Landscape, Twilight Portrait (which captures people in front of city lights), Twilight, Gourmet (basically macro with a boost in saturation to make food more 'appetising'), Pet, and Beach (which accentuates blues).
The third Still Image option is Program, which remains fully automatic in terms of exposure, but skips scene presets or detection in favour of letting you decide if, say, the subject is backlit and what to do about it. As mentioned above, Program mode lets you adjust the image quality, burst mode, burst speed, exposure compensation, sensitivity, white balance, focus area, metering, smile detection sensitivity, face detection and DRO mode, but again the shutter and aperture remain automatically selected by the camera.
The last Sony compact we tested prior to the W350 was the Cyber-shot HX5, which exploits its CMOS sensor and fast burst shooting to offer a variety of innovative modes which stack multiple images to reduce noise or minimise camera shake. Sadly none of these modes are present on the CCD-equipped W350, but we were pleased to find Sony managing to implement arguably the most fun of its other unique modes here: the Sweep Panorama. Indeed the W350 is one of the first Sony cameras with a CCD sensor to offer the facility.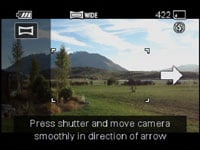 Sweep Panorama grabs a series of images as you pan the camera sideways or vertically, before then automatically stitching them into a panoramic photo. While many cameras, including Canon's IXUS 130 / SD1400 IS, offer panorama assistance, they expect you to then stitch the photos together using software on your computer afterwards. Not Sony's Sweep Panorama though which actually stitches them together in-camera all by itself – so just a few seconds after panning the camera, you've got yourself a nice wide panoramic image.
This feature sounds great in theory but potentially fraught with problems in practice; thankfully though that's not the case. In our tests, the camera easily guided us through the framing and capture process, before successfully stitching a number of panoramas despite panning the camera at variable speeds and wobbling it while doing so. Here's an example with 100% crops for closer inspection.
On the whole the W350 does a pretty good job at stitching together panoramas, although it's important to note the capability on offer here is the basic version which lacks the motion handling of the latest iSweep Panorama mode on the HX5. As such it's not quite as good at managing subjects which move during the shot, and there can be more stitching errors upon close inspection than the HX5.
Like other models with the facility, the sweep mode also doesn't employ anywhere near the sensor's full resolution. The Standard and Wide Panorama options offer maximum recorded sizes of 4912×1080 or 7152×1080 pixels (representing 184 or 268 degree sweeps respectively) when panned horizontally or 3424×1920 or 4912×1920 pixels (representing 128 or 184 degree sweeps respectively) when panned vertically. When viewed at 100% the image can also look patchy and noisy.
But to be fair, think about what's going on here: the W350 is grabbing a load of images as you roughly swing the camera from one side to the other and within a few seconds assembles them into a pretty respectable looking panoramic image. It may not be perfect, but it remains an impressive capability and one which gives the W350 an edge over rivals like the Canon IXUS 130 / SD1400 IS.
Sony Cyber-shot DSC-W350 focusing and face detection

The Sony Cyber-shot DSC-W350 has three main focusing options for general-use: Multi-AF which automatically picks from nine areas, Centre AF which only considers the middle area, and Spot AF which concentrates on an even smaller area in the centre of the frame. Note neither Centre AF nor Spot AF modes can be adjusted to consider other areas of the frame. In use the focusing is fairly quick and rarely made us wait.
As a Sony camera, it's not surprising to find the Cyber-shot W350 packed with the company's latest face detection technology. Along with Off and Auto options, the W350 allows you to actually choose whether to prioritise Adult or Child faces, and amazingly it works too. If face detection is enabled, but no faces are detected, the camera reverts to the nine-area Multi-AF mode.
The W350 also features Sony's Smile Shutter technology, enabled by pushing the rocker control to the left. This actually measures the size of your subject's smile, indicating their apparent cheeriness on a scale on the left. It's surprisingly effective at doing it too, and fun to watch as the bar rises and falls as their expression changes. Then when the user-selectable trigger point is reached, the camera automatically takes a photo. There's three trigger options, with the mildest firing the shot with little more than a demure raise of the lips, while the strongest requires full-on toothy grins.
Sony Cyber-shot DSC-W350 Movie Mode

The Sony Cyber-shot W350 allows you to record video at either 640×480 pixels (Standard Definition VGA) or 1280×720 pixels (720p High Definition), the latter in a choice of Fine or Standard compression.
Support this site by
shopping below

All three video modes shoot at 30fps which is then encoding into MPEG-4 with AAC audio and wrapped in an MP4 file. The '720 Fine' mode encodes at an average bit rate of 9Mbit/s, while the '720 Standard' mode operates at a reduced rate of 6Mbit/s, leaving the VGA mode to record at 3Mbit/s. Note the VGA mode delivers a cropped view so misses out on the wide angle coverage possible in the HD modes; conversely though, the crop allows it to deliver a tighter field of view.
In our tests, the 720 Fine mode consumed just over 1 Megabyte per second, so a one minute clip would work out around 65MB. On a freshly-formatted 2GB card we squeezed-on just over 29 minutes of footage in 720p Fine mode in a single clip before running out of memory.
If you'd like to use either of the 720p HD modes, you'll need to fit the W350 with either a Memory Stick PRO Duo card or an SD card rated at Class 4 or higher; luckily this includes a variety of affordable models including SanDisk's Ultra II range.
We're pleased to report that unlike the Canon IXUS 130 / SD1400 IS, you can optically zoom the lens on the W350 while filming video. This is a welcome benefit, although at the risk of sounding churlish, it would have been better if Sony slowed down the zoom while filming. As it stands, the lens zooms at the same fairly swift rate as when shooting stills, which is really too fast for anything other than crash-zoom effects when filming – and suffice it to say the motor is also quite audible, so you may prefer to leave the zoom fixed once you start filming.
You can see (and hear) an example of the optical zoom in action towards the end of the clip opposite, and we think you'd agree it's far from a gentle experience. But again we complain enough about Canon not offering it on most of its compacts so we'll thank Sony for leaving it unlocked here.
Like most cameras which employ CCD sensors, including the Canon IXUS 130 / SD1400 IS, the video is susceptible to vertical streaks in areas of gross over-exposure. You'll notice this when shooting indoors with a brightly backlit window, or when sunlight sparkles on rippling water. You can see an example of this in our video sample here, and while it's annoying, it's par for the course for cameras which use CCD sensors. To avoid this effect you'll need a model with a CMOS sensor, such as Sony's Cyber-shot HX5.
As for the overall quality of the video, the 720 Fine mode delivers fairly good results. The output looks a little flat and restrained in terms of processing compared to the more vibrant-looking samples from the Canon IXUS 130 / SD1400 IS, but examine clips from both side-by-side and they record a similar degree of real-life detail.
Registered members of Vimeo can check out the quality for themselves by downloading the original video file. We also have a tripod-based sample here, and a low-light sample here. If you'd like to compare the movie quality against the Canon IXUS 130 / SD1400 IS, we have equivalent sample clips taken moments apart here, here and here. We recommend using VLC Player under Windows if the QuickTime Player isn't delivering smooth results.
Sony Cyber-shot DSC-W350 Drive Modes

The Sony Cyber-shot W350 offers one burst shooting mode which can capture up to 100 full resolution images while you keep the shutter release button held, at a claimed rate of around 1.45fps. In our tests with the W350 though, we only managed to fire-off four shots before the camera slowed significantly. It started promisingly at a rate of around 1.6fps, but from the fifth shot onwards fell dramatically to a speed of one frame every 1.8 seconds. We tried it with DRO disabled, and also with both Memory Stick PRO Duo and SD cards, but the same applied. Maybe there was another setting which was slowing down the camera, but it wasn't obvious.
While the initial speed was double that of the Canon IXUS 130 / SD1400 IS, the W350 remains too slow for serious action photography and that's before even considering the slowdown after the first four frames in our tests. If you want very fast continuous shooting from a compact camera at a relatively affordable price-point, we'd recommend Sony's Cyber-shot HX5 which can fire-off bursts of ten frames at up to 10fps.
Moving-onto the self-timer, you'll find standard ten and two second countdowns, along with two further modes which exploit face detection to start the timer when either one or two new faces are detected in the shot. While undoubtedly inspired by Canon's Face Timer on recent models, they're nice to see none-the-less and genuinely useful. Now there's no need to rush back to the camera during self-timer shots as it'll simply wait for you (and another person if desired) to come into view, before then giving you a couple of seconds to get your pose right.
Sony Cyber-shot DSC-W350 sensor

The Cyber-shot W350 is equipped with a 14.1 Megapixel CCD sensor which measures 1/2.3in and delivers 4:3 shaped images with a maximum resolution of 4320×3240 pixels. This matches the resolution of the Canon IXUS 130 / SD1400 IS and allows both cameras to make good-looking prints (at 300 dpi) up to 14.4×10.8in. Check out our results pages for a direct comparison between the Canon IXUS 130 / SD1400 IS and Sony W350.
The Cyber-shot W350 offers three lower resolutions along with a pair of cropped 16:9 options, although there's no control over the amount of compression applied at any setting.
Best quality 14M JPEGs measure around 5.5MB each, and Sony provides 45MB of internal storage to get you started, although you'll want to fit a card sooner rather than later. As discussed above, the Cyber-shot W350 is compatible with Memory Stick PRO Duo cards, along with SD, SDHC and the latest SDXC cards, with Class 4 or faster models required to support the HD movie mode.
The sensitivity ranges from 80 to 3200 ISO at the full resolution; there's no adjustments for noise reduction. To see how the quality of the Cyber-shot W350 measures-up in practice, take a look at our real-life resolution and high ISO noise results pages, browse the sample images gallery, or skip to the chase and head straight for our verdict.