Sony Cyber-shot DSC-W270 / W290
Intro
Launched in February 2009, the Sony Cyber-shot DSC-W270 is a 12.1 megapixel compact with a 5x optically stabilized zoom lens and a 2.7in screen. Launched at the same time, the Cyber-shot DSC-W290 is identical in every respect but with a slightly larger 3in LCD panel. Neither model has an optical viewfinder. For this review we tested the W270 model, but beyond the screen size, everything you see here, including image quality, applies to the W290.
The camera features three still image shooting modes, a fully automatic Easy mode for point and shoot snapping, Intelligent Auto' with automatic scene detection and Program Auto which provides some control over ISO and other settings but falls well short of full manual operation. There's also a 720p HD movie mode.
As well as face detection, the Cyber-shot W270 / W290 has a smile shutter feature which automatically fires the shutter when a smile is detected in the frame. Like all Sony compacts, it uses Sony's proprietary Memory Stick Duo storage. It also eschews a standard USB port in favour of a proprietary connector on the bottom of the camera for connecting to your PC and downloading photos as well as connecting to a TV via a composite video cable.
On the face of it the Sony Cyber-shot DSC-W270 / W290 offers great all-round features and a sensible zoom range in a compact, stylish format at an attractive price, but is it a true all-rounder? How does it measure up in terms of image quality and ease of use, and how does it compare to similar models from other manufacturers like the Canon Powershot A2100 IS and Panasonic's Lumix DMC-FS25? Find out in the following review!
At 23mm thick, the Cyber-shot DSC-W270 doesn't share the super-slim profile of the Cyber-shot T-Series, but at 167g including the battery it's nonetheless small and light enough to fit in your jacket or trouser pocket. Available in black, silver, bronze and red, it looks and feels solidly stylish in that typically Sony way.
But looks aren't everything and in use the camera can sometimes feel a bit fiddly. There are few natural resting places for fingers and thumbs and the only time you really feel you've got a proper grip on things is when using both hands to support the camera at all four corners with index fingers on top and thumbs below. Despite this, it's almost impossible to place a digit somewhere it might cause a real problem. The flash is located near the top of the front panel just under the shutter release and the rear panel controls, on top of which your thumb rests, require positive action and are unlikely to be activated accidentally.
The battery compartment which also houses the Memory Stick is accessed from a door on the bottom of the camera. Though mounted to one side, the metal tripod bush is directly beneath the lens and this means you can switch memory sticks and batteries without having to first remove the camera from most tripods.
The top panel houses the built-in mic, a recessed on/off button, a lozenge-shaped shutter release and the smile button. Recessing the on/off button is a good idea as it can't be activated accidentally, but having all the buttons flush with the top panel means, to begin with at least, you often have to look to find the shutter release. On a few occasions we actually managed to turn the camera off whilst attempting to take a shot – irritating to say the least.
As mentioned above, the only difference between the W270 and the W290 is the size of their screens, with the former using a 2.7in model and the latter boasting a slightly larger 3in version, although both share the same 230k pixel resolution. We've pictured both versions opposite, with the W270 above the W290.
To the right of both screens you'll find the zoom rocker, mode dial, playback button, control wheel, menu and delete buttons. All of these controls are metal and have a reassuringly positive feel about them. The mode dial has a finely knurled edge and four positions for each of the three still shooting modes and movie capture.
The control button is a four-position disc with options for display, flash, self-timer and macro at the 3, 6, 9 and 12 o'clock positions. Further options for each of these are selected from the LCD screen. The control button is also used for forward and reverse playback.
The camera's flash is located on the top of the front panel to the left of the lens. With a quoted range of 3.9 metres it works well for individual and small group portraits, but there's a noticeable drop in illumination at the edge of the frame when shooting at the widest zoom setting.
The flash is reasonably quick to recycle with a delay of about two seconds between shots and despite trying we were unable to shoot a portrait with any evidence of red-eye. In Program auto mode you can adjust the flash intensity to one of three levels which could be useful for close ups and interiors.
A fully-charged NP-BG1 3.6V Lithium Ion battery provides enough power for around 330 images based on the CIPA (Camera and Imaging Products Association) standard. For most people, that's easily enough for a day trip, or an event such as a wedding. The CIPA standards are quite demanding, so if you don't use the flash or zoom much you'll might find you can exceed them, at least while your battery is relatively new. CIPA figures are useful in that they enable you to make a meaningful comparison between camera models.
The Sony Cyber-shot DSC-W270 / W290 has a 5x optical zoom lens with an equivalent range of 28-140mm (5-25mm actual), with a maximum aperture of f3.3-5.2. While 5x is never going to manage an impressive performance at both ends of the zoom range, Sony has made the right choice in providing respectable wide-angle coverage that extends through general purpose focal lengths to encompass portraiture and a short telephoto.
This may not be the camera to take on safari, or for close-up sports action from the stands, but it'll do for just about everything else. A 140mm maximum zoom may look a little short compared with the 216mm of the Canon Powershot AS2100 IS, but crucially that camera lacks the Cyber-shot's useful wide angle coverage. Often when you're some distance from the action you have the option of moving closer, but when you're shooting inside or trying to fit in a large group, it's not always so easy to put more distance between yourself and the subject – so wide angle coverage is arguably more useful than a slightly longer zoom.
On pressing the start button, the lens immediately extends from the body and the camera is ready for use in about a second. With the rocker switch held down the full zoom range is covered swiftly and smoothly. We managed to find ten discrete steps between the two extremes, but to do so it was necessary to give the rocker the briefest of taps – any longer and it would travel a couple of steps. At the widest setting the lens extends 16mm from the camera body and at the maximum telephoto setting it extends to 30mm.
The closest focussing distance for macro photography is 10cm which in general terms and by comparison with similar models like the Canon Powershot A2100 IS (1cm) and the Panasonic Lumix DMC-FS25 (5cm) is not terribly impressive. It's OK for flower close-ups, but not serious macro subjects like, for example, insects.
Support this site by shopping at Amazon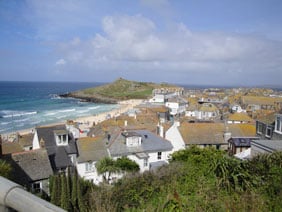 Sony Cyber-shot DSC-W270 / W290 coverage

5-25mm at 5mm (28mm equivalent)

5-25mm at 25mm (140mm equivalent)
The Cyber-shot DSC-W270 / W290 features Sony's optical SteadyShot stabilisation. It can be turned off, enabled continuously, or activated on the initial press of the shutter release, but there's no option to disable horizontal stabilisation for panning shots as on the Canon Powershot A2100 IS. See the Blurring Action tutorial at our sister site DSLR Tips for how you might use this.
The two cropped images below were shot at the maximum zoom of 140mm (equivalent) in Program Auto mode with the ISO set to 80 resulting in an exposure of 1/20s at f5.2. The image on the left was taken with stabilisation off and as you'd expect shows quite pronounced camera shake. The stabilised image on the right has pretty much eliminated the camera shake.
This is right on the edge of what SteadyShot can achieve. Images shot at 1/15s when fully zoomed-in weren't sharp, so depending on how steady your hands are and maybe whether there's a wall to lean on not everything you shoot this slow will be sharp. At 140mm the minimum non-stabilised 'safe' shutter speed would be around 1/140s, so SteadyShot managed around two and a half stops of stabilisation in our test.
Sony Cyber-shot DSC-W270 / W290: SteadyShot off / continuous

100% crop, 5-25mm at 25mm, 1/20, SteadyShot off

100% crop, 5-25mm at 25mm, 1/20, SteadyShot on
The W270 / W290's face recognition functions well in most circumstances and can detect up to eight faces. It occasionally loses a moving face and has trouble holding onto faces once they turn beyond three-quarter profile. But for group shots facing the camera it works very well. You can set face detection to prioritise adult or child faces, or turn it off altogether.
Smile detection is activated by a small button next to the shutter release. When activated, first pressure on the shutter button will release it when a smile is detected. You can adjust the sensitivity of this feature to detect slight, 'normal' or big smiles. In practice it worked well most of the time, but did have a problem recognising the smiles of some individuals.
For shots where people aren't the focus there's a choice of three AF modes, multi-point AF, centre AF and spot AF. Additionally you can manually set the focus to one of five presets, the last of which is infinity.
Though smaller than the 3in screens of the Canon Powershot A2100IS, the Panasonic Lumix DMC-FS25 and its sibling the W290, the W270's 2.7in screen still delivers a good image. With 230k pixels it provides a a clear and detailed view of the scene. Like every other compact LCD on the market though, once the sun comes out you'll find it hard to see what you're doing. There is an option to brighten the screen and while this will shorten your battery life, it is a big help in bright conditions.
What's displayed on the screen during capture depends on the exposure mode. In Easy mode this is limited to battery life, Scene selection and the number of shots remaining. Intelligent Auto mode displays those plus image size and aspect ratio, the recording folder and medium, number of shots remaining, flash mode and face detection setting. Program Auto displays all this plus the DRO (shadow recovery) setting, AF mode and the ISO setting.
Pressing the display button on the control disc allows you to brighten the display and activate the live histogram which appears in both Intelligent Auto and Program Auto modes.
Pressing the menu button activates the on-screen menu system. Again, the options here depend on the selected capture mode. Pressing the menu button in playback mode presents a number of image organisation and display options including a slideshow with music, a choice of view modes (Date, event, favourites and folder view), some basic retouching tools, resizing and print options.
In easy mode you're restricted to large or small image size and flash auto/off (although it's simpler to set this using the dedicated flash button).
Scene selection offers a choice of ten modes including low light portrait with flash, low-light scene with tripod, gourmet, beach, snow, fireworks and underwater. For the last of these you'll of course need the optional Sony MPK-WE underwater housing.
Program auto mode provides access to the widest range of menu options. These include image size, exposure compensation, ISO, White balance, metering mode, and SteadyShot mode.
A shooting settings sub-menu provides access to AF illumination, digital zoom settings and configuration controls for when a converter lens is attached. You can also overlay a nine square grid on the screen by selecting it from here, but it would make more sense and be easier to get to if it was on the display menu.
That minor complaint aside, all of the menu options are easily accessible and logically laid out so you can get to them in a matter of seconds. Using the control disc to select settings from a list on the left, then clicking the right (flash) button on the control disc to select from the available options.
Assuming you reserve Easy mode for when you pass the camera to strangers to take a photo of you, or let the kids have a go, the two modes you're likely to make most use of are Intelligent Auto and Program. Scene selection is useful for when you find yourself in unusual situations like underwater, or shooting at night.
The Cyber-shot's intelligent Auto mode worked well in the conditions we tested it in. It was quick to make decisions about the scene before it and was particularly effective at recognising backlit scenes and adjusting the exposure accordingly. It switched into macro mode whenever the camera was less than a foot or so from the subject.
In Program Auto mode control over exposure is limited to adjusting the ISO setting, but you do have the choice of three metering modes as well as a choice of AF modes and fixed focus presets. The W270 / W290's longest shutter speed is a mere 2 seconds, which might rule it out if you do a lot of night photography.
The Cyber-shot can shoot video in three formats – VGA, 720p Standard and 720p fine; all three are at 30fps (frames per second). The VGA format has a bit rate of approximately 3Mbps, 720p standard is 6Mbps and 720p fine runs at around 9Mbps. Annoyingly you cannot optically adjust the zoom once you start filming.
At the 720p Fine setting, 15 minutes of video occupies 1GB of Memory Stick space, on the Standard setting you can fit around 20 minutes into the same space. You need a Memory Stick PRO Duo to record in 720p fine mode and the maximum continuous recording time in the HD modes is just under half an hour. We've included a clip here shot at the camera's 720p Fine mode, and registered members of Vimeo can download the original here.
The quoted continuous shooting interval is 1.8 seconds, but that's obviously an average as the actual interval is dependent on the selected image size. At the full 12 megapixel resolution the camera takes six shots fairly rapidly (in 4 seconds), then the buffer is full and there's a pause of about two seconds bafore it takes another two shots and so on. At 3MP resolution the camera can shoot continuously at a rate of approximately 1.5 frames per second. So providing you keep bursts short, you can just about manage a respectable sequence.
The Cyber-shot's Bionz processor delivers a maximum image size of 4000×3000 pixels with a range of smaller options and aspect ratios down to 640×480. The same level of JPEG compression is applied at all sizes with no option to adjust it. 12 Megapixel images occupy around 3.5 to 5MB each, depending on the subject. The ISO range runs from 80 to 3200 and the shuter speed range from 1/1600 to 2 seconds. The camera has 11MB of internal memory – enough for about two full resolution images, so you'll be wanting to buy a Memory Stick Pro Duo card as soon as possible. To see how the quality of the W270 / W290 measures-up in practice, take a look at our real-life resolution and high ISO noise results pages, browse the sample images gallery, or skip to the chase and head straight for our verdict.