Sony Cyber-shot DSC-W200 lens coverage
Sony Cyber-shot DSC-W200 features
Lenses / Screen and menus / Sensor and processing / anti-shake
The Sony Cyber-shot DSC-W200 is equipped with a Carl Zeiss 3x optical zoom delivering an equivalent range of 35-105mm with a focal ratio of f2.8-5.5; the actual focal length is 7.6-22.8mm and we counted a relatively coarse eight steps when zooming from wide angle to telephoto. The closest focusing distance is 5cm in Macro mode with the lens zoomed all the way out.
The W200 is pictured above powered-down on the left, switched on in the middle and zoomed-in on the right. As mentioned in the Design section, the housing around the lens protrudes from the main casing by 5mm when the camera's powered down. Switch the W200 on and the lens barrels extend by 17mm in just under 1.5 seconds; the camera's ready for action about half a second later. Zoom the lens in and it physically retracts a little before extending fully to just over 21mm at its longest focal length.
To illustrate the W200's 35-105mm equivalent coverage we mounted it on a tripod and shot the same scene fully zoomed-out, then fully zoomed-in. We then shot the same scene from exactly the same position moments later using the Panasonic Lumix DMC-FX30 which is equipped with a 28-100mm equivalent range.
Support this site by shopping via these links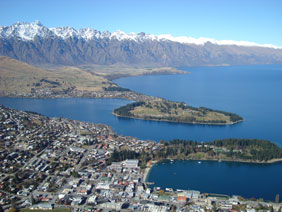 | | | |
| --- | --- | --- |
| Sony Cyber-shot W200 coverage wide | | Panasonic Lumix FX30 coverage wide |
| | | |
| 7.6-22.8mm at 7.6mm (35mm equivalent) | | 4.6-16.4mm at 4.6mm (28mm equivalent) |

The examples above were taken with the Sony and Panasonic models zoomed-out to their widest equivalent focal lengths of 35 and 28mm respectively. It's clear to see the Panasonic captures a comfortably wide field of view, fitting in much more of this landscape. Having a 28mm wide angle equivalent is useful not just for big landscape shots, but equally for small interiors, squeezing everybody into a big group shot or simply when you can't step back any further.
We applaud Panasonic for gradually updating all its compacts to 28mm and simply wonder why Sony, Canon and the rest don't follow-suit. An equivalent of 35mm (not to mention a basic 3x range) is just a bit pedestrian these days and a disappointment for the W200 as a premium compact.
Below are examples taken with each camera zoomed-into their maximum equivalent focal lengths of 105 and 100mm respectively. Despite starting off wider, the Panasonic's slightly longer 3.6x range allows it to almost catch-up with the Sony, but not quite. As such, the Sony W200 manages to capture a slightly tighter field, but there's not a lot in it and frankly we'd trade it for the Panasonic's wide angle facilities any day.
| | | |
| --- | --- | --- |
| Sony Cyber-shot W200 coverage tele | | Panasonic Lumix FX30 coverage tele |
| | | |
| 7.6-22.8mm at 22.8mm (105mm equivalent) | | 4.6-16.4mm at 16.4mm (100mm equivalent) |

If you feel the W200 doesn't zoom wide or long enough though, Sony does at least let you do something about it. One of the reasons the lens housing extends a little more than usual from the body is to accommodate the use of optional extenders – yep, on a slim compact. After attaching the VAD-WD Adapter ring, you can mount either the VCL-DH2637 2.6x tele or VCL-DH0737 0.7x wide conversion lenses, or a choice of filters – all of these are optional accessories.
These converter lenses extend the W200's range to an equivalent of 24.5mm or 273mm at the wide and tele ends respectively. They also somewhat extend the size of the camera itself, and we'd wonder who'd go for these rather than buying, say, a super-zoom model in the first place, but at least the option's there. They add to the already impressive array of accessories for the W200.
Sony Cyber-shot DSC-W200 focusing

The Sony Cyber-shot DSC-W200 offers the choice of three auto-focusing modes: Multi-AF, Center AF and Spot AF, the last two concentrating on increasingly smaller areas on the frame. There's additionally face detection which can track up to eight subjects, but annoyingly this is only available in the fully Automatic and Portrait scene presets.
Unlike most compacts which don't allow manual focusing – including the Panasonic FX30 – we're pleased to report the W200 offers a basic selection of preset focusing distances. So after pressing the Menu button and scrolling down to the focus section, you've got the option of pre-selecting a focusing distance of 0.5, 1.0, 3.0 or 7.0m, along with infinity. The W200 also has macro facilities which can focus down to a distance of 5cm.