Intro
The Sony Cyber-shot DSC-TX7 is a slim 10.2 Megapixel compact with a 4x optical zoom lens and a wide 3.5in touch-screen LCD. Announced in February 2010 alongside the Cyber-shot HX5, both models feature the same Sony Exmor R CMOS sensor which claims superior low light performance. It also allows both the TX7 and HX5 to shoot Full HD video along with very fast bursts, the latter exploited in a variety of innovative modes including one which self-assembles Panoramas and another which stacks multiple images for better results in dim conditions.
The TX7 replaces the Cyber-shot TX1, maintaining its slim body shape with integral lens and sliding front cover. The zoom range remains at 4x but starts at a much wider 25mm (equivalent) and the LCD panel is bigger and packs in a lot more pixels. As well as Sony's proprietary Memory Stick Duo media, the Cyber-shot TX7 also takes SD and SDHC (albeit not the latest SDXC) cards.
We tested the Cyber-shot DSC-TX7 alongside Canon's Digital IXUS 210 / PowerShot SD3500 IS. This is Canon's second touch-screen compact and while priced below the Cyber-shot TX7, has a longer zoom and a higher resolution 14.1 Megapixel sensor. If you're thinking of buying a touch-screen compact there's a good chance that these two models will be at the top of your list. Read-on to find out how they compare. Note, this review is designed to be read alongside our Cyber-shot HX5 review for more details on the unique shooting modes shared between it and the TX7.
| | |
| --- | --- |
| | |
| | |
| | |
The Cyber-shot TX7 is styled like a flat tablet, and when the cover's slid-up and closed the front is featureless but for the name badges. Sliding the cover down switches the camera on and reveals the lens, flash unit, AF illuminator and stereo microphones. The 3.5 inch touch-screen LCD occupies almost the entire rear surface with only a ridged narrow bezel on the far right side as a grip. At just 18mm thick, the TX7 will comfortably slide into and out of the tightest of pockets. Put it this way, if your phone will fit, you'll have no problem with the TX7.
Support this site by shopping below
While it might feel comfortable in your pocket, the TX7 is a difficult camera to get to grips with. First, there's the need to keep your fingers and thumbs away from the screen to avoid accidental activation of touch controls, that really only leaves the four corners for support with index fingers and thumbs. The ridged extended bezel to the right of the screen just isn't wide enough to allow a decent grip with your thumb. The position of the lens on the extreme top left corner means it's easily obstructed by fingers and the zoom rocker on the top right corner is tiny, as are the shutter release and on/off button.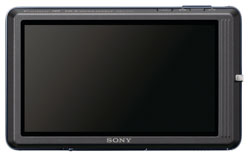 The only other physical controls are a playback mode and shooting mode button on the angled top surface of the display bezel. The mode button toggles between the currently selected still and movie shooting modes. As these functions are replicated on the touch-screen display, you wonder why Sony included them, although you can turn the camera on in playback mode with the lens cover closed by using the playback button. All other controls are accessed via the touch-screen
A spring-loaded door on the bottom of the camera opens to reveal the battery and card compartments (again supporting both Memory Stick and SD(HC) cards) and to the right of it a proprietary connector plugs into the supplied docking station which delivers DC-in, USB, HDMI and A/V (composite video and stereo audio) ports.
The integral flash unit has a maximum range of 3.8 metres at the wide angle lens setting. The flash takes just under four seconds to recycle between shots. In auto mode it automatically fires in low light, although you can also turn it off, force it on and set it to provide fill-in illumination at low shutter speeds using slow synchro mode.
An NP-BN1 Lithium Ion Battery provides enough power to shoot 230 still images under CIPA (Camera Imaging Product Association) standard conditions, just 10 shots more than the IXUS 210 / SD3500 IS.
The Cyber-shot DSC-TX7 has a 4x optical zoom which ranges from 4.43mm to 17.7mm (25-100mm equivalent). Its predecessor also sported a 4x range, but started at a far less wide (and less useful) equivalent of 35mm. The new range on the TX7 makes a lot more sense, providing a very capable wide angle at the cost of 40mm (equivalent) on the telephoto end – a trade most people would be happy to make.
| | | |
| --- | --- | --- |
| Sony Cyber-shot DSC-TX7 coverage wide | | Sony Cyber-shot DSC-TX7 coverage tele |
| | | |
| 4.43-17.7mm at 4.43mm (25mm equivalent) | | 4.43-17.7mm at 17.7mm (100mm equivalent) |
Sliding down the front cover switches the camera on, and with no lens to physically extend you'd expect the camera to be ready to shoot pretty quickly. In fact it's ready in about a second and a half – just a little bit faster than the IXUS 210 / SD3500 IS. The zoom travels the full range in about a second and a half and does so smoothly and in virtual silence. We managed to nudge it through 10 discrete steps, but although the mechanics work flawlessly, the tiny zoom rocker and tenuous grip you always feel you have on the camera, makes this a a bit of a fiddly operation.
The Cyber-shot DSC-TX7 has Optical SteadyShot image stabilization which moves lens elements to compensate for camera movement that would result in camera shake at slow shutter speeds. Optical SteadyShot on the Cyber-shot TX7 appears to be totally automated. The only reference to it is the Optical SteadyShot badge on the front of the camera. There's no mention of it in the manual and it doesn't appear in any of the menus, so you can't turn it off, although we believe it will do so automatically if it detects its mounted on a tripod or another stable surface.
It does, however, do an excellent job and we managed to get exposures as slow as 1/10th of a second at the maximum zoom focal length of 100mm which showed no evidence of camera shake. The conventional rule says you'd normally need a shutter speed of 1/100 to avoid camera-shake at 100mm, so doing so at 1/10 indicates just over three stops of compensation – at least over the traditional rule anyway.
The Cyber-shot TX7 exploits its very quick continuous shooting to offer four unique modes. First is the Anti Motion Blur mode, which grabs six frames in quick succession and combines the sharpest elements of each into a single image. Second is the Handheld Twilight mode which again grabs six frames in quick succession, but this time stacks them to reduce visible noise. Third is the iSweep Panorama which grabs a series of images as you pan the camera sideways or vertically, before then automatically stitching them into a panoramic photo. Finally, there's the Backlight Correction HDR mode, which grabs two frames with different exposures before combining them into a single image with a theoretically broader dynamic range.
Since the same four modes are also offered by the similarly-specced Cyber-shot HX5, we've gone into detail on their operation and effectiveness in our HX5 review. But just for now, a quick look at the Handheld Twilight mode, along with an example which illustrates the normal stabilisation in action.
Sony Cyber-shot DSC-TX7: Optical SteadyShot and Hand Held Twilight mode

100% crop, 4.43-17.7mm at 17.7mm, 1/10, 125 ISO, Program mode

100% crop, 4.43-17.7mm at 17.7mm, 1/60, 400 ISO, Hand Held Twilight

The two shots above were taken with the Cyber-shot DSC-TX7 with the lens set to its maximum focal length setting of 17.7mm (100mm equivalent). Because you can't turn the TX7's optical SteadyShot image stabilization off, it's not possible to show side-by-side images with it enabled and disabled. Instead, the shot on the left shows a 1/10th of a second exposure shot in Program mode at the minimum ISO sensitivity setting of 125. The shot on the right was taken in Hand-held Twilight mode which takes six exposures in rapid succession and processes them to produce a single sharp image. Apart from being slightly under-exposed, the 60th of a second exposure at 400 ISO looks to have a clear edge in terms of sharpness and noise. Once again, we have detailed reports on both the Handheld Twilight and Anti Motion Blur modes in our Sony Cyber-shot DSC-HX5 review, so if these interest you, please check it out; but now back to its touch-screen counterpart, the TX7.
The Cyber-shot TX7 has face detection auto focusing which also influences the flash, exposure, white balance, and red-eye reduction settings. Face detection can be configured to work automatically, or when you touch the screen to focus. Up to eight faces are detected and tracked and the priority face, indicated by an orange border, can be changed by touching another face on the display. The TX7 cleverly remembers the priority face and selects it for subsequent shots if it appears in frame again.
The Cyber-shot TX7's face detection and tracking is fast and accurate and manages to hold onto subjects pretty well. Like all Face AF systems its performance deteriorates as the light drops and it's better with subjects that are closer to and facing the camera.
The TX7 retains the Smile Shutter option of previous models which automatically fires the shutter when a grin is spotted. A smile meter at the bottom of the screen provides a live indicator of the acuteness of detected smiles and you can select a threshold setting simply by clicking on a smiley face icon in one of three positions on the meter. These might be said to correspond to mild smirk, self-conscious grin and full-beam. Past incarnations of the smile shutter have had mixed reviews, it is, after all, a bit of a gimmick, but it has now developed to the point where it actually works pretty well and, whatever you think of its usefulness or otherwise, is quite good fun.
In the absence of faces and in Program mode the TX7 defaults to a nine-area auto focus system. There are two alternatives, Centre AF and Spot AF, both of which designate a central portion of the screen as the focussing area. Half pressure on the shutter release activates and locks the focus on whatever is in that central area and you can then recompose before shooting.
By virtue of its touch-screen the TX7 has one other focusing option, which turns out to be one of the simplest, most accurate and intuitive ways to focus a compact, and the one thing a touch-screen model can, without doubt, do better than one with physical controls. In any of the AF modes you can focus on an object anywhere in the frame simply by touching it. It's quick, simple and it works every time. It's also a key advantage the TX7 has over its counterpart the HX5, which doesn't allow you to move its spot AF area.
Which brings us neatly on to the Cyber-shot TX7's touch-screen. Aside from being touch-sensitive there's a number of things that set this screen apart form the norm. First, there's the wide 16:9 aspect ratio. This is perfect for shooting HD movies, and while stills shot in the normal 4:3 mode will have black bars running vertically down either side, the space isn't wasted with the TX7 filling them with an array of touch controls. You can alternatively fill the screen by switching to one of the cropped 16:9 modes, during which the side control icons are superimposed over the image. Note the Canon IXUS 210 / SD3500 IS shares a screen with the same size, shape and approach to controls.
Where the TX7's screen differs from its rival though, not to mention most compacts, is the actual resolution: with 920k dots in a stretched grid measuring 640×480 pixels, it boasts twice the number of dots as the 460k Canon screen, making it one of the highest resolution screens on any compact. There's no denying it looks good, particularly for playback of HD movies. It also has a very wide viewing angle both horizontally and vertically, with none of the illumination fall-off typical in lower cost panels. In bright sunlight though, it fairs little better than lower resolution LCD panels and was in fact marginally more difficult to use than the 460k pixel screen on the IXUS 210 / SD3500 IS
Inevitably, it also picks up more than the usual amount of finger prints and smears and, because it occupies the entire rear panel, there's a tendency, when starting out at least, to accidentally activate the touch icons. But they don't go off at the merest hint of a touch, you need positive contact. Here, Sony has done a good job, as a touch-screen that doesn't respond as reliably as physical buttons quickly becomes nothing more than a frustrating irritant, but the TX7's screen-based controls almost always respond first time. A plastic stylus is provided but we didn't find it necessary.
In still shooting modes the screen view is flanked by columns of touch controls. These vary depending on the shooting mode and include a menu icon, shooting mode selector, flash, self-timer and burst mode selector, a one-touch movie record button and a playback mode selector.
The menu system is itself icon-based, Regardless of the mode, the first menu option is always the same – Easy mode. This puts the camera into an auto shooting mode with limited access to settings and a simpler menu system with enlarged text.
Support this site by
shopping below
Other options include image size, exposure compensation, ISO sensitivity, white balance, AF mode and metering mode. The Sony menu system, though linear in nature gets the job done fairly swiftly. To change the ISO sensitivity in Program mode, for example, requires three clicks, the same as on the IXUS 210 / SD3500 IS. That said, we felt the information was better presented on the Canon which makes it feel more accessible in use – this is entirely personal though.
A second-level shooting settings menu is displayed in a more conventional list format divided into four sections, including Movie format, digital zoom, red-eye reduction, LCD brightness, card formatting and date and time settings.
Finally, there's a playback mode icon which mimics the function of the physical mode button. Cleverly when you enter playback the icon changes to indicate shooting mode so you can easily switch back. Alternatively just press the physical play button or give a half-press on the shutter release to return to shooting mode. In playback another of the advantages of substituting screen icons for physical controls becomes apparent – you get a brand new set of touch icons dedicated just to playback functions.
The obvious ones are there – next and previous navigation buttons, delete and index view. You can, of course, navigate through images by dragging with your finger, scrolling back and forth through a folder or in date view by dragging left or right. Double-tapping an image zooms in and you can then pan around by dragging with your finger.
As in shooting mode, you can choose a full-screen view which shows a vertically cropped image with icons overlayed on the edges. There are also buttons for a calendar view and to initiate a slide show with a choice of four (pretty dreadful, but replaceable) music backing tracks.
The playback menu also provides basic editing and retouching tools including the ability to paint, stamp and frame photos, along with direct printing and display settings. As with the shooting menu, you can customize the playback menu by adding frequently used controls to the those that appear on the main playback screen.
In Intelligent Auto and Easy modes the Cyber-shot TX7 sets the exposure automatically, using multi-pattern exposure metering in combination with scene recognition. There are nine recognized scene modes – Twilight, Twilight Portrait, Twilight using a tripod, Backlight, Backlight Portrait, Landscape, Macro, Close Focus, and Portrait. The camera generally does a quick and accurate job of identifying a scene and the appropriate scene icon is displayed in the top right corner of the screen.
In advanced scene recognition mode, the camera can take two shots with different settings. For example in twilight mode the first shot is made with the flash in slow synchro mode and a subsequent one with increased ISO sensitivity. This is a clever extension of the scene recognition idea that improves your chances of getting the desired shot in situations where artificial intelligence does the bulk of the work, but you get to make the final call. Or if you prefer, you can manually select a scene preset from the choice including High Sensitivity, Soft Snap, Landscape, Gourmet, Pet, Beach, Snow, Fireworks, Underwater and High Speed Shutter.
In Program mode the default multi-pattern metering is employed, which takes readings from all regions of the frame. You can also select centre-weighted and spot metering for situations where they would provide a more accurate exposure (backlit subjects for example). Although there are no manual exposure controls outside of exposure compensation, you can manually set the ISO sensitivity in Program mode.
The Cyber-shot TX7 is a very capable video camera which sports nothing less than Full HD capabilities when most compacts max-out at 720p.
You can choose to encode files in the AVCHD or MP4 formats. The AVCHD mode offers 1080i HD resolution at two quality options, 17Mbps (1920×1080) and 9Mbps (1440×1080, stretched to 16:9 during playback like the HDV camcorder format). Both AVCHD options deliver interlaced video at 50Hz for PAL regions or 60Hz for NTSC regions.
Switching to MP4 mode records progressive video at 25fps in PAL regions or 30fps in NTSC regions, with the choice of 1080p (again at 1440×1080, stretched to 16:9 during playback), 720p (1280×720) and VGA (640 x 480). Our test video here was shot in 1080p MP4 mode, and registered members of Vimeo can download the original file for evaluation on their own computers. See our Sony Cyber-shot DSC-HX5 review for samples filmed in the AVCHD mode – this camera has the same sensor and image processing as the TX7, so while the optics are different, the basic video characteristics are comparable.
We're pleased to report the TX7 permits use of the optical zoom during shooting, which coupled with the fact it's virtually silent means you can zoom to your heart's content without having to worry about motor noise – a key advantage over its rival the Canon IXUS 210 / SD3500 IS which like most Canon compacts locks the optical zoom once you start filming.
Another key advantage over the Canon, and indeed most compacts, is the TX7's impressive burst shooting capabilities, which can take up to ten full resolution frames at speeds of 2, 5 and 10 frames per second. The 10fps mode lives up to its claim and can genuinely capture very fast action sequences, although like the Cyber-shot HX5 which has the same capability, the camera's locked-up for some time following the burst as the images are written to the card. You can find out more about the burst shooting capabilities in our Sony Cyber-shot DSC-HX5 review.
The Cyber-shot DCS-TX7 and HX5 employ the same 10.2 Megapixel 'Exmor R' CMOS sensor, which employs a technology first introduced on the Cyber-shot HX1 and TX1 in March 2009. The Exmor R sensor is back-illuminated which places the photo detectors above the wiring layer on the chip, with claims of better sensitivity as a result – you can see for yourself how it measures-up in our High ISO Noise results page.
The 10.2 Megapixel sensor produces images with a maximum size of 3648×2736 pixels. There's a fixed JPEG compression ratio which delivers best-quality files measuring around 4MB in size. The sensitivity ranges from 125 to 3200 ISO at the full resolution and the shutter speed ranges from 2 seconds to 1/1600th of a second. The camera has 45MB of internal memory.
To see how the quality of the Cyber-shot TX7 measures-up in practice, take a look at our real-life resolution and high ISO noise results pages, browse the sample images gallery, or skip to the chase and head straight for our verdict.