Sony Cyber-shot DSC-T70 versus Canon Ixus 860 IS / PowerShot SD870 real-life noise
Sony Cyber-shot DSC-T70 results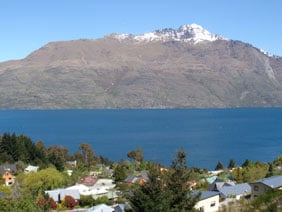 Outdoor resolution / Studio resolution / Real life Noise
To compare noise levels under real-life conditions we shot this scene with the Sony Cyber-shot DCS-T70 and the Canon Ixus 860 IS / PowerShot SD870 within a few moments of each other using each of their ISO settings in Auto modes. The lenses on each camera were adjusted to deliver the same field of view.
The image left was taken with the Sony Cyber-shot DCS-T70 at 7mm f5.6 and with a sensitivity of 80 ISO; the original JPEG measured 2.49MB. The crops are taken from an area just below and to the left of the centre and presented here at 100%.The Sony Cyber-shot DSC-T70 exhibits noise and image processing artefacts throughout its sensitivity range. There's already evidence of smearing in foliage areas even at the lowest 80 ISO sensitivity. The next steps up from 100 to 200 ISO aren't significantly worse in this particular example, but there's a big drop at 400 ISO. The situation gets noticeably worse at 800 ISO and beyond there the quality is really suffering.
The interesting thing is comparing it to the Canon Ixus 860IS / PowerShot SD870 IS crops alongside. These were taken moments apart on a still day with consistent illumination. Both cameras share the same 8 Megapixel resolution and the same-sized 1/ 2.5in sensors. Now as discussed in our Canon 860IS / SD870 IS review, this model does apply greater amounts of sharpening and contrast, giving its images a punchier appearance than most, but even with this taken into account and the chance to tweak later, there's few who'd prefer the Sony's images. And even if you did post-process them to give a similar effect, there's no denying the Canon is delivering far superior results at 400 and 800 ISO.
We've seen similar image processing artefacts on previous Sony compacts and wish they'd tone it down a little, or at least give you the opportunity to do so. Of course this is just one example, so to see more real-life examples across its sensitivity range, check out our Sony T70 sample images page.
| | | |
| --- | --- | --- |
| Sony Cyber-shot DSC-T70 | | Canon Ixus 860 IS / PowerShot SD870 |
| | | |
| 80 ISO | | 80 ISO |
| | | |
| | | |
| 100 ISO | | 100 ISO |
| | | |
| | | |
| 200 ISO | | 200 ISO |
| | | |
| | | |
| 400 ISO | | 400 ISO |
| | | |
| | | |
| 800 ISO | | 800 ISO |
| | | |
| | | |
| 1600 ISO | | 1600 ISO |
| | | |
| | | |
| 3200 ISO | | 3200 ISO not available |