Sony Cyber-shot DSC-T70 lens and stabilisation
The Sony Cyber-shot DSC-T70 is equipped with a 3x optical zoom delivering an equivalent range of 38-114mm with a focal ratio of f3.5-4.3; the actual focal length is 6.33-19mm and we counted 25 very fine steps when zooming from wide angle to telephoto. The closest focusing distance is an impressive 1cm in the extreme Macro mode.
Like other Cyber-shot T-series models, the T70's lens never extends outside the body, even when zooming. This keeps the camera neat and slim, although you'd hope it would also result in quicker startup times – sadly you're still looking at an average 1.5 seconds between sliding the cover down and being able to take a shot.
Of bigger concern though is the T70's coverage, which is equivalent to 38-114mm. Not only is this an unremarkable 3x range, but it's really missing out on decent wide angle coverage. It's bad enough when compacts start at an equivalent of, say, 35mm, but with 38mm Sony really has to widen up its act.
To illustrate the Cyber-shot T70's coverage we mounted it on a tripod and shot the same scene fully zoomed-out, then fully zoomed-in. We then shot the same scene moments later from the same position using the Canon Ixus 860IS / PowerShot SD870 IS which is equipped with a 28-105mm 3.8x equivalent range.
Support this site by shopping at Amazon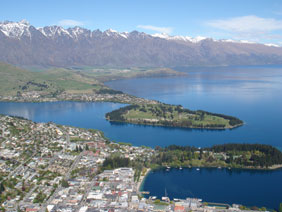 | | | |
| --- | --- | --- |
| Sony Cyber-shot T70 coverage wide | | Canon 860IS / SD870 IS coverage wide |
| | | |
| 6.33-19mm at 6.33mm (38mm equivalent) | | 4.6-17.3mm at 4.6mm (28mm equivalent) |
It's immediately clear from the coverage examples above how the 28mm equivalent of the Canon 860IS / SD870 IS can capture a much wider field of view than the 38mm of the Sony. This is not just useful for big landscapes, but equally handy for interiors, big group shots or situations when you can't step back any further.
The examples below taken with each camera fully zoomed-in show a slight advantage to the T70 with its 114mm to the Canon's 105mm, but it's not going to give you many day to day advantages. Offering wider angle coverage when zoomed-out gives models like the Canon 860IS / SD870 IS a big advantage in everyday use. We wish all compacts offered 28mm coverage, but right now it's mainly Panasonic and a handful of Canons acting as pioneers.
| | | |
| --- | --- | --- |
| Sony Cyber-shot T70 coverage tele | | Canon 860IS / SD870 IS coverage tele |
| | | |
| 6.33-19mm at 19mm (114mm equivalent) | | 4.6-17.3mm at 17.3mm (105mm equivalent) |
The Sony Cyber-shot T70 features Super SteadyShot optical stabilisation which can be enabled in the Menu system with three options: Shooting mode applies stabilisation when you half press the shutter, On stabilises all the time, and Off disables the system for when you have the camera mounted on a tripod.
Sony Cyber-shot DSC-T70 Super SteadyShot off / on

100% crop, 6.33-19mm at 19mm, 1/25, 100 ISO, SSS off

100% crop, 6.33-19mm at 19mm, 1/25, 100 ISO, SSS on
As seen above, the T70's stabilisation allowed us to handhold some shots when fully zoomed-in at shutter speeds of 1/25, although in other situations we found it slight less effective than rival systems. That said, while Canon's and Panasonic's systems proved slightly superior in practice, it's still a highly valuable facility to have. See our Sony T70 sample images page for more examples or our video tour for a demonstration.
Sony Cyber-shot DSC-T70 focusing

The Sony Cyber-shot T70 offers three AF modes: 9 area Multi-Point AF, Center AF and Spot AF; in the latter you can tap anywhere on the screen and the T70 will focus on it. Impressively for a mostly automatic compact, there's also a selection of manual focusing distances to choose from: 0.5, 1, 3 and 7m, along with infinity and two macro options.
The Cyber-shot T70 of course features face detection and can track up to eight human subjects –you can also tap on the subject which you'd like to take priority over the others. Sony takes face detection one step further with the T70 though by offering a mode which only takes the photo when your subject is smiling.
With the T70 set to Smile Shutter mode, you simply point the camera at the subject, press the shutter release button all the way down, then let go. As soon as the subject smiles, the camera takes a photo. It'll keep doing this for up to six photos – or until you run out of memory.
There are of course a number of caveats. The T70 can only recognise one smile at a time, so in a shot with multiple faces will only monitor the primary subject; it'll also need to have locked onto the subject first using face detection. And while it's possible to set three different smile levels, the camera places priority on open mouths and eyes which narrow when smiling.
In practice the system really does work, although you'll need big toothy grins to reliably set it off – so refrained smilers may be out of luck. It's also debatable how often you'd use the system as most people are still used to posing and the photographer deciding when the actual shot is taken. But seeing the camera wait for your subject to smile, then automatically take the shot is undeniably a very neat bit of technology, and great fun to play with.
Sony Cyber-shot DSC-T70 sensor and processing

The Sony Cyber-shot T70 is equipped with an 8.1 Megapixel CCD sensor, measuring 1/ 2.5in. This generates 4:3 images with a maximum resolution of 3264×2448 pixels, and there's the choice of five lower resolutions including cropped 3:2 and 16:9 modes. Sadly like most Sony models these days, there's no choice over the compression level. This level is also relatively high, with best quality 8M JPEGS measuring around 2MB each. The T70 is equipped with 31MB of internal memory and unsurprisingly for a Sony product, the T70 uses Memory Stick Duo cards only.
| | |
| --- | --- |
| | |
| | |
The sensitivity is easily adjusted in Program mode by tapping the ISO 'button' at the bottom of the screen. The T70 offers settings from 100 to 3200 ISO and all are recorded at the full resolution, although one look at images taken with the higher sensitivities will convince you pixel binning is taking place with a subsequent loss in detail. We have examples taken across the T70's entire sensitivity range in our results pages, and more real life examples in our Gallery.
Sony Cyber-shot DSC-T70 movies

The Sony Cyber-shot T70 can record movies with three main modes: 640 Fine, 640 Standard and 320. The 640 modes operate at 640×480 pixels with Fine and Standard at 30 and 16.6fps respectively. The 320 mode operates at 320×240 pixels at 8.3fps. In the best quality mode you're looking at about 1.3MB per second and impressively you can adjust the optical zoom while filming.

Sony Cyber-shot DSC-T70 burst shooting

The Sony Cyber-shot T70 offers just one Continuous shooting option which according to Sony fires two frames per second for up to 100 shots – we verified this rate using a Sony memory Stick Pro Duo card. The camera also offers three bracketing options which each fire three frames at either 0.3, 0.7 or 1EV exposure differences.