Sony Cyber-shot RX100 review
Intro
The Sony Cyber-shot RX100 is a pocket-sized compact with a large 20.2 Megapixel sensor, a 3.6x Carl Zeiss optical zoom, and a 3 inch LCD screen with 1.2 million pixel resolution. It has a bright f1.8 maximum aperture (when zoomed-out), 10fps burst shooting, RAW recording and 1080p HD video. As well as fully manual control it also has intelligent Auto for point-and-shoot operation and includes a multitude of of stacking modes in addition to Sony's famous Sweep panorama.
Attempts to incorporate all the best features of DSLR and mirrorless interchangeable lens cameras into a pocketable form factor with a fixed lens aren't new. But all of them have fallen short of the dream ticket in one respect or another, be it dimensions and weight, sensor size, maximum aperture, or handling.
The recent slew of enthusiast compact releases has taken a step closer to the ideal though, with models like Canon's PowerShot S110, the Olympus XZ-2 iHS, and the Panasonic LX7 all offering larger sensors than most point-and-shoots coupled with bright lenses. Meanwhile Canon's PowerShot G1 X offers large-sensor performance on a par with APS-C DSLRs albeit in a slightly larger form factor than most compacts.
The RX100 is Sony's attempt to strike the right balance in this now quite crowded market. With a 20.2 Megapixel 1 inch sensor, bright f1.8 lens and an emphasis on physical controls all squeezed into a genuinely pocketable form factor, on the surface at least, Sony appears to have cracked it. Read my full review to discover if the Cyber-shot RX100 really does deliver on its promise and to see how it compares with two other models looking to catch the eye of enthusiasts – the Panasonic Lumix LX7 and Canon PowerShot G1 X.
Sony Cyber-shot RX100 Design and controls
The Sony Cyber-shot RX100 is slimmer, smaller and lighter than both the Panasonic Lumix LX7 and the Canon PowerShot G1 X. In terms of both its size and appearance it resembles nothing more closely than the PowerShot S110. It shares the same flat top and bottom panel with rounded verticals, and many of the same controls in the same positions, from the programmable lens ring, to the mode dial and rear control dial.
The RX100 measures 102 x 58 x 36mm and weighs 240g including card and battery. Compare that with S110's dimensions of 99 x 59 x 27mm and 198g weight and you begin to appreciate what an amazing feat of miniaturisation Sony has pulled off. The RX100 is 20 percent heavier and just short of a centimetre thicker than the S110, a camera employing a 1/1.7in sensor with roughly a third the surface area.
Put the RX100 next to the Lumix LX7 and its diminutive proportions look even more impressive. The LX7 shares the same 1/1.7in sensor size as the PowerShot S110, yet is significantly bigger and heavier than the RX100, measuring 111 x 67 x 46 and weighing 298g. The LX7's lens is nearly a stop brighter than the RX100's and has a wider field of view, plus it has a built in hotshoe, but the size difference is crucial and the reason is this. There's a point at which compactness means you can fit a camera comfortably into your shirt or jeans pocket; the Sony RX100 is on the right side of that line and the Lumix LX7 is on the other. The PowerShot G1 X is bigger and heavier still, more than double the weight of the RX100, though it packs a 1.5in sensor, an articulated screen, optical viewfinder and a hotshoe. But I think compactness in this category of camera is more important than almost all of those things (though the LX7's f1.4 aperture can't be underestimated). If I want to use an external flash, or really feel the need for a viewfinder I'll probably pick up my system camera and I think most people in the market for one of these cameras probably feel the same way. Compactness is the number one priority.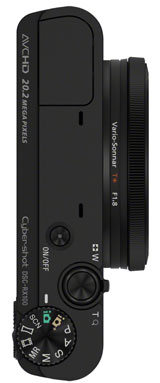 The RX100 has the clean lines and well-engineered finish you'd expect and the aluminium body gives it a sturdy feel without adding to the weight. Compared with the The LX7 and G1 X the lens bezel is very narrow and only extends from the camera body by 11mm which is one of the design factors that succeeds in making the RX100 so easily pocketable. The control ring is mounted at the front edge of the lens making it easy to lay your hands on without having to look for it and there's an integrated lens cover, another plus for portability.
On the top panel the shutter button is surrounded by a zoom rocker with a nipple that extends into a cutout at the front, a thoughtful design touch which works well in practice. The mode dial sits flush in the top panel and extends backwards into a small dropped ledge so you can operate it with your thumb. The only other interruptions to the smooth flat expanse of the top panel are the recessed on/off button, the outline that betrays the location of the pop-up flash and two small slots for the stereo microphones.
To the right of the screen on the back panel the RX100's control layout looks like that of a typical high end compact with a four-way control wheel (it's actually five-ways, I'll talk about that in the handling section below) flanked by function, menu, help and playback buttons. The dedicated movie record button is slightly recessed into the edge of the thumb pad which makes it easy to find but, at the same time, hard to activate accidentally, another nice design touch.
The combined battery and card compartment occupies the front portion of the right side of the base. The door is hinged over the tripod bush, so is inaccessible when the camera is on a tripod or has a quick release plate attached. The RX100 is compatible with SD, SDHC and SDXC cards and of course the various Memory Stick formats. Unlike the Lumix LX7, it lacks any built-in memory so if you forget to pop a card in you won't be taking even a handful of shots. There's another tiny flap on the base just behind the tripod bush and this covers the mini HDMI connector. The USB port is more conventionally situated on the right side of the camera near the top.
The RX100 takes a 3.6V Sony NP-BX1 Lithium Ion battery with enough power to last for 330 shots under CIPA standard conditions. Though the Sony website states this is an 'infoLITHIUM' type battery, capable of providing time remaining information on the display, there's no infoLITHIUM label on the battery itself and the display was limited to the four-segment battery icon to indicate remaining power.
The battery is charged in the camera, either with the supplied mains charger or by connecting the camera to your computer with the USB cable. While charging, a small orange LED in the centre of the on/off button is illuminated. The mains charger has an output rating of 1500mA which means it will charge the camera faster than if connected to your computer.
The Sony RX100 has a built-in flash which has a maximum quoted range of 17.1 metres at the wide angle lens setting. If that sounds pretty powerful, then it only shows that you need to be cautious when interpreting these figures. The equivalent figure for the Lumix LX7 is 8.5 metres and for the PowerShot G1 X it's 7 metres. The problem with these figures is that they're quoted not for a specific ISO sensitivity setting, but with the camera set to auto ISO. Given that the maximum default auto ISO setting for the RX100 is 3200 ISO whereas it's only 1600 ISO on the LX7 and and G1 X is clear to see that a comparison of these distances is a little misleading. If you adjust the RX100 distance for 1600 ISO it reduces to 12 metres, still fairly impressive, especially when you consider the brighter maximum aperture of the Lumix LX7.
All this is just numbers though, the best way to test the effectiveness of a flash is to try it out. And I can report that RX100 lived up to its claims with fairly powerful bright and even illumination. Unlike the built-in flash on the LX7 and G1 X, the unit on the RX100 pops up automatically when required if set to auto mode. In this respect it operates pretty much as on any point-and-shoot compact. In addition to auto you can force the flash off, set it to provide fill-in illumination and there are two slow-sync modes.
Sony Cyber-shot RX100 Screen
The Sony RX100 has a 3 inch LCD screen with VGA resolution and 4:3 proportions. A small strip below the 3:2 full resolution image view displays exposure information. The RX100 is the first model to use Sony's 'Whitemagic' display technology first introduced on the company's Experia P smartphone. Whitemagic adds a fourth white pixel to the red, green and blue matrix hence the increase in resolution from 921,600 to 1,228,800 pixels.
It works automatically to adjust the display brightness, the benefit being either a brighter display or improved battery life. The RX100 also has a 'Sunny Weather' mode which increases the display brightness considerably and makes it easier to see outdoors in sunlight. Normally when you increase the brightness on an LCD display, the highlights are washed out and the contrast drops, but this doesn't happen with Whitemagic and the result is a bright screen that really is a big improvement outdoors in bright sunlight. Sony deserves to be congratulated for the first really practical move to address the problem of screen visibility in sunny weather..
Sony Cyber-shot RX100 lens and stabilisation
The Sony RX100's has a 3.6x optical zoom lens with an equivalent range of 28 – 100mm. Its maximum aperture is f1.8 – 4.9. The zoom runs from a respectably wide 28mm which is the same as the PowerShot G1 X. If you like a wider angle field of view look at the Lumix LX7 or the PowerShot S110 both of which start at 24mm. In terms of range, 3.6 to 4x is fairly typical and strikes a good balance which is ideal for landscape and interior photography as well as portraits, while keeping everything small, lightweight and portable.
| | | |
| --- | --- | --- |
| Sony RX100 coverage wide | | Sony RX100 coverage tele |
| | | |
| 10.4-37.1mm at 10.4mm (28mm equivalent) | | 10.4-37.1mm at 37.1mm (100mm equivalent) |
Next to the sensor, the lens is the most critical component in a pocketable large sensor compact. But the most important specification is not the zoom range but the aperture. A wide maximum aperture is good for low-light shooting, of course, but combined with the larger sensor in the RX100 it should also allow you take shots with a shallow depth of field, something that's been very difficult to achieve up to now. Apart from smaller sensors other factors that work against compacts are that when zoomed in the maximum aperture gets smaller and they can't focus very close – depth of field becomes shallower the longer the lens focal length and the closer you are to the subject. So how does the RX100 cope in this respect?
To find out I carried out three tests to see how well the RX100 manages to create shots with a shallow depth of field and how well it compares with the Lumix LX7, which has a smaller sensor, but brighter lens, and the PowerShot G1 X, with its larger, near-APS-C-sized sensor, but smaller maximum aperture.
Below are two comparisons of the macro capabilities and depth of field characteristics of the three models. For the first I set the lens to the widest angle position and maximum aperture and got as close as I could to the subject. Getting in close doesn't just allow you to capture larger detail, the depth of field becomes much shallower. As you can see from the examples below, the Lumix LX7 allows you to get very close – the flower was almost touching the lens for this shot – with the result that the background foliage just a few inches behind the subject is nicely blurred. The Cyber-shot RX100 does a reasonable job, but at 5cm can't quite match the LX7. Close ups aren't really the PowerShot G1 X's forté.
| | | | | |
| --- | --- | --- | --- | --- |
| Panasonic Lumix LX7 | | Sony Cyber-shot RX100 | | Canon PowerShot G1 X |
| | | | | |
| 24-90mm at 24mm f1.4 | | 28-100mm at 28mm f1.8 | | 28-112mm at 28mm f2.8 |
For the shots below I zoomed in to the maximum focal length and shot the subject from the closest possible distance, again with the maximum avaliable aperture. All three cameras manage to blur the backround to a degree, but the closer focussing distance and the wider maximum aperture of the Lumix LX7 gets the best result.
| | | | | |
| --- | --- | --- | --- | --- |
| Panasonic Lumix LX7 | | Sony Cyber-shot RX100 | | Canon PowerShot G1 X |
| | | | | |
| 24-90mm at 90mm f2.3 | | 28-100mm at 100mm f4.9 | | 28-112mm at 112mm f5.8 |
Okay, so how about portraits taken from a typical distance? Can any of the three take a lead in blurring the background? The following shots below were all taken at their maximum focal lengths and maximum apertures. As you can see, there's actually not a lot in it. The two large sensor models are essentially neck-and-neck, while the LX7 is fractionally less defocused in the background. But I'd certainly say none takes a decisive lead, so if you were planning on buying a compact with a large sensor and fixed lens just to achieve a shallow depth of field, you should start rethinking. For typical portraits the three cameras here delivered a similar depth of field, but when it comes to macro the LX7 has the greatest potential thanks to the combination of a much closer focusing distance and a brighter aperture. I think these results may surprise many.
| | | | | |
| --- | --- | --- | --- | --- |
| Panasonic Lumix LX7 | | Sony Cyber-shot RX100 | | Canon PowerShot G1 X |
| | | | | |
| 24-90mm at 90mm f2.3 | | 28-100mm at 100mm f4.9 | | 28-112mm at 112mm f5.8 |
The Sony RX100 has Optical steadyShot image stabilisation. Often on Sony compacts SteadyShot is enabled by default and there's no way to turn it off, but it can be disabled on the RX100 and it's a good idea to do so if you've got the camera on a tripod or are taking panning shots. Unlike the PowerShot G1 X's Intelligent IS, SteadyShot doesn't have automatically engaged special stabilisation modes suited to particular shooting situations.
To test the RX100's stabilisation, I zoomed the lens to its 100mm position and took a sequence of shots in Shutter priority mode at progressively slower shutter speeds with SteadyShot both on and off. As you can see from the crops below, SteadyShot enables hand holding at speeds down to 1/10, a little over three stops slower than convention would suggest is safe without stabilisation. It's worth noting that the RX100's stabiliation isn't quite as impressive as the Lumix LX7 or PowerShot G1X, and I'm almost certain that's a consequence of its small size. One advantage of the bigger, heavier models is it's easier to hold them steady.
Sony Cyber-shot RX100 Optical SteadyShot Off / On

100% crop, 10.4-37.1mm at 37.1mm 100 ISO 1/15 Optical SteadyShot. Off.

100% crop, 10.4-37.1mm at 37.1mm 100 ISO 1/15 Optical SteadyShot. On.
Sony Cyber-shot RX100 shooting modes
The scope of The RX100's shooting modes could seem overwhelming to anyone who hasn't owned an advanced Sony compact or system camera before. The RX100 includes most, if not all of them, but I'll start with the basic exposure modes before delving into the more exotic stuff. The RX100 has full manual and semi-auto exposure modes designated by the PASM positions on the mode dial. I'll talk about how these operate with the physical controls in the handling section.
There are two automatic modes, Intelligent Auto and Superior Auto. The first of these uses scene detection to help work out the best exposure. Superior Auto, combines scene recognition and multi-shot compositing to produce a superior result. Superior Auto is designed to get better results in low-light conditions and effectively automatically activates Hand-held Twilight, Anti Motion Blur or HDR stacking modes. Each of those modes can of course be selected manually in any of the PASM modes.
The RX100 includes a wealth of stacking modes designed to get optimum results in low light and from high contrast subjects. It's no surprise that the RX100 includes Handheld Twilight and Anti Motion blur modes as these are included as standard on all but the most basic Cyber-shot models. Next up is auto HDR which automatically takes three shots up to 6EV apart and composites them to produce an HDR result. But the most exciting inclusion is that of Multi-frame noise reduction which, like Handheld Twilight is a noise reduction stacking mode, but crucially allows you to choose the ISO setting manually. I've included examples of Handheld Twilight and Multi-frame Noise Reduction mode on the high ISO noise result page.
Below I've included examples of the Auto HDR mode. While many system cameras and DSLRs provide an auto bracket feature, the ability to combine images in-camera to produce an HDR composite is a real bonus for those who have neither the time, expertise nor inclination to create HDR composites using software. I should make it clear here that the HDR results produced by the RX100 are not the heavily tone-mapped creations that we've all seen and admired (for those you can use the HDR Painting Picture Effect), but are aimed at increasing the recorded tonal range – in other words more detail in the shadows and highlights than you could get with a single exposure.
You can let Auto HDR set the exposure range for the three shots automatically, or set it manually yourself up to 6EV in 1EV increments. The RX100 shoots three frames in quick succession before combining them in the camera.
| | | |
| --- | --- | --- |
| | | |
| | | |
| HDR off | | |
| | | |
| HDR +1 | HDR +2 | HDR +3 |
| | | |
| HDR +4 | HDR +5 | HDR +6 |
The table above shows my high ISO noise test scene shot using Auto HDR at each of the 6EV intervals at 400 ISO. There are some limitations that might disappoint HDR aficionados. Only the 0EV frame is saved in addition to the HDR composite – you don't get all the bracketed exposures; the RX100 can auto bracket, if you want to do your own HDR processing, or just want to be on the safe side with your exposures, but only at 0.3 and 0.7EV increments for a three-frame burst. You can't use Auto HDR in RAW +JPEG mode and the burst is limited to three frames. Despite that Auto HDR remains a very powerful and worthwhile in-camera feature. If you're not keen on multiple exposure stacking modes, but still want to make the most of the RX100's ability to record high dynamic range you can take advantage of the Dynamic Range Optimiser (DRO) feature. Auto DRO is enabled by default, you can manually select one of five levels, or switch it off altogether.
The RX100 also has a scene mode position on the mode dial providing access to 13 conventional scene modes which select the optimum exposure, focus, flash and drive mode settings for specific subjects. On a handling note, the choice of the lens control ring to select scene modes seems to be a case of using it because it's there; the rear control dial would be a much better choice.
Finally, it wouldn't be a Sony compact without a Sweep Panorama position on the mode dial. In Wide mode Sweep panorama produces images that are 12,416×1,856 or 5,536×2160, depending on whether you shoot with the camera in portrait or landscape orientation. Sony's Sweep panorama is the in-camera panoramic feature that everyone else copied and it's still one of the best. It produces pretty flawless panoramic landscapes and all you have to do is press the shutter release and turn while it captures a 180 degree view. It's not flawless though and, as with any panoramic shooting, you need to avoid objects in the near foreground and too much subject movement. Here's an example of what it can do.
Sony RX100 Sweep Panorama wide

4.7-17.7mm at 4.7mm Sweep panorama original 5536 x 2160 pixels
The RX100 includes the Picture Effects found on other Sony models with 13 filters to turn your images into something a little less ordinary. Whereas most in-camera filters simply post-process a single image some of the RX100's Picture effects are multi-exposure stacking modes. HDR Painting is one example, Rich BW provides a less stylized result – an HDR monochrome image with beautiful rich tones. Some examples are shown below.
| | | |
| --- | --- | --- |
| | | |
| | | |
| Toy warm | Posterization colour | Retro |
| | | |
| Rich BW | HDR painting mid | Illustration Mid |
Sony Cyber-shot RX100 movie modes
The RX100 can shoot full HD progressive video at resolutions up to 1920 x 1080 at 50 or 60fps depending on region. You get the choice of two encoding formats. AVCHD options are 1080p50/60 at an average bit rate of 28Mbps, 1080i50/60 at 17Mbps and 1080i50/60 at 24Mbps. Switch to MP4 encoding and there are two further options, 1440×1080 at 12Mbps and VGA (640 x 480) at 3Mbps, both at 30fps or 25 fps depending on region.
The RX100's zoom can be used during movie recording, but the digital zoom can't be disabled, which is a real problem. Even if you disable the Digital zoom and Clear image zoom features from the menu, when you switch to movie mode – using either the mode dial or direct movie recording button, the digital zoom is activated. And it's difficult to ignore because when the optical zoom reaches its limit, after a momentary pause the digital zoom kicks in. The on-screen zoom bar is divided into two so why not just stop zooming when you reach the end of the optical zoom? Easier said than done as the zoom continues for a fraction of a second after you release the rocker. With practice you might be able to pull it of consistently, but it's a distraction you shouldn't have to deal with and I really can't understand why Sony's hampered the zoom in this way.
Full PASM exposure control is available for movie shooting, you can select the mode you want from the movie menu tab. Once recording has started it's possible to alter the exposure settings in any of the modes. The aperture ring fulfils a useful role here, switching between shutter and aperture control depending on the exposure mode, and Sony has thoughtfully disabled the audible click sound when video recording is in progress.
Stabilisation for movie shooting can be set separately from SteadyShot for stills shooting. The default setting is Active SteadyShot which employs additional stabilisation specifically targeted at ironing out the kind of camera movement caused when you're walking. You can elect to do without this and just use the plain SteadyShot optical stabilisation, or turn it off altogether for movie shooting.
The RX100 will also allow you to take stills during movie recording in all but the 1080p50/60 mode. Stills are recorded in 16:9 proportions at a maximum 17 Megapixel resolution with the option of smaller 4.2 Megapixel shots also on offer. The RX100 has built-in stereo mics and a digital wind noise reduction filter, but like the Lumix LX7 there's no socket for attaching an external microphone.
You can use all of the RX100's focussing modes during movie shooting the default being continuous AF. Tracking AF can be activated before, or during recording buy pressing the centre button on the control wheel once to activate tracking focus then a second time to lock focus on the subject.
Sony Cyber-shot RX100 handling
The RX100 is ready to shoot in a fraction over two seconds after pressing the on/off button, not lightning fast, but a fairly average startup time for a compact, albeit slower than the Lumix LX7. Like the LX7 the handling is hugely influenced by the presence of a lens-mounted control ring, but unlike the LX7's dedicated aperture ring, the RX100's Control ring can be assigned one of a multitude of functions.
In PASM exposure modes, the ring is used to control the aperture or shutter speed, depending on the mode. As you'd expect, in Aperture priority mode it's the aperture, in Shutter priority mode the shutter speed. In Program auto mode the ring controls exposure shift. In all three of these modes, the rear control wheel mimics the function of the lens-mounted ring, which is a bit of a waste. It would be handy to be able to customise the control wheel function so that that it could be used for exposure compensation. Switch to manual mode and things behave more sensibly with the ring used for aperture selection and the wheel for shutter speed.
The Control wheel does have one feature that sets it apart: there are five, rather than the usual four push-positions. In addition to Display, Flash and Exposure compensation (which doubles up with Picture Effects in Auto) at the 12, 3, and 6 o'clock positions respectively, Drive modes and Self-timer modes have separate positions at 8 and 10 oclock.
The RX100 provides no shortage of customisation options. The function buttons acts a little like a customisable quick menu with up to seven positions for your own choice of settings – Exposure compensation, ISO sensitivity, White balance, DRO/Auto HDR and Picture effects are added by default, but they can be changed and you can add two more of your own. This effectively makes the RX100 the first Sony compact to offer a quick menu and about time too!
Which brings us onto the RX100's menu system which is lengthy but reasonably well organised into tabs for shooting settings, movie settings, camera settings, playback, memory card, date/time and setup. There are five pages of shooting settings, but at least the paged format means you can see everything that's available without ever having to scroll – a chore you encounter on virtually every other Cyber-shot compact. And, as I mentioned earlier, the Fn button means you need to access the full menu less often.
I've been critical of the control wheel's lack of customisation, but there's some justification for it in that the lens control ring is itself customisable, you can assign one of eight functions including ISO, White balance, and Exposure compensation or use it to power the zoom. If you do that, you can still use the control wheel in PASM modes for exposure control. Customisation of both these physical controls could lead to a situation where there's no physical control available for exposure settings. While that's easily avoided if you know what you're doing, it's easy to see why Sony has avoided such complications.
On the subject of complication, the RX100 is an advanced compact and I question Sony's decision not to include a full manual either in electronic or printed format in the box – or at least in my box. The only manual available on the company's website is a short PDF quick start-style operating guide that gives no clue as to the existence, let alone operation of the more advanced features.
Sony Cyber-shot RX100 Focusing
The RX100 has four focus modes for stills and movie shooting: Single-shot AF, Continuous AF, Manual focus and Tracking focus. The AF modes provide three focus area options – 25-area multi, centre and flexible spot, plus there's a tracking focus mode which can be activated directly while in any focus mode by pressing the centre button on the control wheel..
The AF performance on the RX100 is good, though not especially fast and it can struggle in poor light. Having said that, in optimal conditions there's only the briefest of delays before the area indicators light up and you hear the confirmation beep. And though Area AF can struggle in low light – the church in which I carry out the high ISO noise tests is always a challenge for Sony compacts and the RX100 is no exception – there are plenty of alternative options to turn to.
Manual focus is one, and the inclusion of Sony's focus peaking system which highlights in-focus high contrast edges is a real plus. It would have been easy for Sony to have argued themselves out of this one, on the grounds that peaking isn't an appropriate option for a fixed lens compact, but I won't be the only one glad to see it included here. Manual focusing on any compact is something of a challenge and anything that makes it easier is to be welcomed. The other manually assisted focusing option on offer is DMF which stands for Direct Manual Focussing and allows you to manually fine tune the focus having first used AF to acquire it.
The RX100 also has what Sony calls Face Priority Tracking, which is essentially face detect AF. This is activated from the main menu and functions independently of the exposure mode, so you can use it in the PASM exposure modes as well as Auto. It also works in Movie modes, though it's use is a bit limited as, in practice, I found it was slow to pick up on faces until they were quite close to the camera. Nonetheless it's a useful additional tool to have.
Sony Cyber-shot RX100 Continuous shooting
The RX100's Speed Priority continuous mode can shoot at 10fps with focus and exposure determined on the first frame. There's also a 'normal' continuous shooting drive mode that runs at 2.5fps with continuous focus and exposure adjustment. To test the RX100's continuous shooting I fitted it with a freshly formatted 8GB Sandisk Extreme UHS-1 card, set it to Fine JPEG mode and set the shutter speed to 1/500. In Speed priority continuous mode the RX100 fired off a burst of 12 frames in 1.1 seconds – a fraction faster than the quoted 10fps speed.
After the first 12 frames the RX100 doesn't stop (like the Lumix LX7) but continues shooting at a reduced rate of around 2.5fps once the buffer is full. If you take your finger off the shutter release the screen goes blank and reappears in a little under four seconds ready for another full burst. You don't have to wait though, the RX100 will happily fire off a shorter burst before the buffer is completely emptied.
Replacing the UHS-1 card with a Sandisk Extreme speed class 10 card didn't affect the continuous shooting frame rate, but it lengthened the buffer write time marginally by a little over a second, so there's a small advantage to be gained by using the faster UHS-1 cards.
Sony Cyber-shot RX100 Sensor
The Cyber-shot RX100 is fitted with a '1-inch' Exmor CMOS sensor measuring 13.2×8.8mm. This is exactly the same size as the sensor in the Nikon 1 (CX-format) system and both share the same 3:2 aspect ratio. The maximum image size in the native 3:2 shape measures 5472 x 3648 pixels and two lower resolutions are available, along with 4:3 or 16:9 crops.
Like Nikon's CX-format, the RX100's sensor size applies a 2.7x field-reduction to the lens focal length. This is smaller than the 17.3x13mm and 2x reduction of Micro Four Thirds sensors, as used in Olympus and Panasonic CSCs, or the 23.4×15.6mm and 1.5x reduction of APS-C sensors as used in Sony NEX CSCs and most DSLRs, including Nikon's DX format models. Meanwhile, Canon's G1 X employs a '1.5in sensor' which measures 18.7x14mm.
Sensor sizes compared, Sony RX100 indicated in red

What all these sensors have in common though is a considerably larger surface area than those housed in traditional compacts. The 1/1.7in sensors in the Canon S110 and Lumix LX7 measure 7.4×5.6mm, which means even though the RX100 and Nikon 1 models share one of the smallest sensors of their peer group, they still boast 2.8 times the surface area.
Images can be saved as Fine JPEGs or RAW files. The average file size for Fine quality JPEGs is 3 to 6MB. The native sensitivity range runs between 80 and 6400 ISO. With Multi-frame NR enabled the RX100 unlocks 12800 and 25600 ISO options. The shutter speed range in Program auto mode is 1 second to 1/2000 and 30s to 1/2000 plus Bulb in Manual exposure mode.
To see how the quality of the Sony RX100 measures-up in practice, take a look at my Sony RX100 quality and Sony RX100 noise results pages, browse my Sony RX100 sample images, or skip to the chase and head straight for my verdict.