Intro
The Sony Cyber-shot HX9V is a 16.2 Megapixel pocket super-zoom with a 16x stabilised optical zoom lens, 24mm wide angle coverage and a 3in LCD screen. With a new 16.2 Megapixel back-illuminated Exmor-R CMOS sensor, which it shares with the jointly-announced HX100V 30x super-zoom, the Cyber-shot HX9V is capable of full resolution fast burst shooting and full HD 1080p60 video.
Like the earlier HX5, the Cyber-shot HX9V has a built-in GPS receiver which appends lat, long, and altitude information to the image EXIF data. Sony has introduced some new panoramic and 3D shooting modes in addition to the composite modes – Hand-held Twilight and Anti motion Blur – for which its Exmor-based models are now well-known. The Backlight Correction HDR mode has been upgraded to use three rather than just two shots and, like the earlier HX5, the HX9V provides full manual control (albeit still with only two apertures) in addition to Program, two intelligent Auto and a variety of scene exposure modes.
While there's a lot of new stuff to talk about the two things that will occupy most people's attention are the new 16x zoom range and the performance of the new 16.2 megapixel CMOS sensor. For existing Sony compact super-zoom owners and those new to the market the question will be how does the Cyber-shot HX9V improve on the HX5 and how does it compare with this year's models from Panasonic, Canon and Nikon: the Lumix TZ20 / ZS10, PowerShot SX230 HS and COOLPIX S9100 respectively. For the answers to those questions all you need do is read our full review.
Sony Cyber-shot HX9V Design and controls

Compared with 'conventional' compacts, super-zooms tend to be chunkier and heavier, and the Cyber-shot HX9V is no exception. It looks and even feels like the Panasonic Lumix TZ20 / ZS10 with very similar body styling and control arrangements. The HX9V has a bigger, textured grip on the right side of the body which, along with a thumb pad on the rear, provides a secure and comfortable grip.
The other main differences between the two models are that the Cyber-shot HX9V's mode dial is mounted at the right end of the top panel and the dedicated movie button is just above the thumb pad on the rear. Next to the on/off button at the rear of the top panel is a custom button to which you can assign one of five settings – the default is exposure compensation.
The rear panel has a four-way control wheel for menu navigation and one-touch activation of display, flash, self-timer and continuous shooting controls. There's a playback button, a menu button and a delete button that also activates Sony's excellent In-Camera Guide which provides detailed information and tips on all of the HX9V's functions including an interactive icon guide.
The 920k pixel screen has a 4:3 aspect ratio which makes it the same shape as the Lumix TZ20 / ZS10 and COOLPIX S9100. It's ideal for shooting stills but when shooting 16:9 HD video you'll only be using part of the screen with black horizontal bars top and bottom. So if you're more a movie than stills shooter the Canon PowerShot SX230's 16:9 screen may be a better fit. In bright daylight conditions the screen is quite difficult to see, that's a criticism that can be applied to most compact screens, but Sony screens generally seem less contrasty than those of other manufacturers and it was harder to make out detail on the Cyber-shot HX9V screen than on the Lumix TZ20 / ZS10, PowerShot SX230 HS or COOLPIX S9100.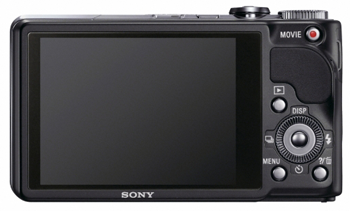 The HX9V, like the PowerShot SX230 HS and COOLPIX S9100 has a pop-up flash, but it only pops up when needed, i.e. when forced on or in low-light when set to Auto. The quoted flash distance with the ISO sensitivity set to Auto is 5.6 metres and the flash recharges pretty quickly in around three seconds. You need to be careful when using the flash not to obscure it with your index finger which naturally wants to rest right in front of it. The flash retracts automatically when you select a 'non-flash' exposure mode, for example, Movie, or you can push it back in when you're done.
Like the earlier HX5, the Cyber-shot HX9V uses a proprietary connector on the base to connect to a computer and download images, but there's also a mini HDMI port behind a door on the right of the camera body. The NP-BG1 battery is charged in the camera using the supplied charger, or you can charge it while connected to a USB port. The battery has sufficient power for an impressive 415 shots using the CIPA standard measurements, though that will diminish with use of the GPS.
The GPS can be switched off when not in use to conserve battery power. When activated a satellite symbol appears on the screen and when sufficient satellites have been aquired latitude and longitude positional co-ordinates are displayed. However, in use we weren't able to get the HX9V's GPS to provide location data for any of our test or gallery images which was, to say the least, somewhat disappointing. We hope to retest another unit in the future to report on this functionality.
Sony Cyber-shot HX9V lens and stabilisation

The Cyber-shot HX9V has a 16x stabilised optical zoom with a (35mm equivalent) range of 24 – 384mm. That's a big step up from the 10x zooms of the earlier HX5 and the other current pocket super-zoom the HX7V and, probably no coincidence, exactly matches the range (and maximum aperture) of the Panasonic Lumix TZ20 / ZS10.
| | | |
| --- | --- | --- |
| Sony Cyber-shot HX9V coverage wide | | Sony Cyber-shot HX9V coverage tele |
| | | |
| 4.28 – 68.48 mm at 4.28mm (24mm equivalent) | | 4.28 – 68.48mm at 68.48mm (384mm equivalent) |
What can you say about a compact camera with a 16x zoom range that encompasses a super wide-angle and a long telephoto, except that there are unlikely to be too many situations where you find you can't frame your subject exactly the way you want.
The Cyber-shot HX9V's lens has Optical SteadyShot image stabilisation and, as on most other Cyber-shots, it's always on and has no configuration options. There's one exception to this which is that you can choose the more aggressive Active SteadyShot stabilisation in movie mode. The crops below are from handheld shots of the same scene taken at the full zoom extent of 384mm equivalent in Manual exposure mode at 1/10th of a second on the left and Anti Motion Blur mode on the right. Since you're unable to switch it off, there's no way of showing a with and without comparison.
Sony Cyber-shot HX9V, IS Off / Continuous

100% crop, 68.48mm at 68.48mm, 100 ISO 1/10th, Manual exposure mode (with Optical SteadyShot).

100% crop, 68.48mm at 68.48mm, 500 ISO 1/250th, Anti Motion Blur mode.
Sony Cyber-shot HX9V shooting modes

The Cyber-shot HX9V's intelligent Auto mode with scene recognition will be familiar to anyone who owns a recent compact from any manufacturer. Intelligent Auto mode detects the shooting conditions and sets a scene mode accordingly. It's able to recognise 'conditions' as well as scenes, i.e. whether the camera is mounted on a tripod or if the subject is moving, it's very sure-footed and produces great results.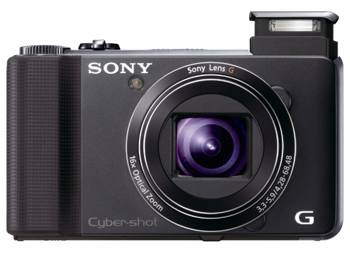 But the Cyber-shot HX9V goes beyond bog-standard scene recognition in two ways. The first, iSCN Recognition Advanced mode, is not new and takes a couple of shots using different settings from which you can then choose the best one. A new position on the mode dial, Superior Auto, combines scene recognition and multi-shot compositing to produce a superior result. Superior Auto is designed to get better results in low-light conditions and effectively automatically activates Hand-held Twilight, Anti Motion Blur or Backlight Correction HDR modes. Each of those modes can of course be selected manually with the mode dial in the SCN position.
Background Defocus, another new addition to the mode dial, processes the image to produce a shallow depth of field effect that isn't usually possible on compacts even when, as with the CyberShot HX9V, they offer fully manual exposure control. Three levels of defocus are provided and the examples below show the strong setting alongside the same image shot using manual exposure with the lens at its 24mm (equivalent) focal length and the maximum aperture of f3.3.
Sony Cyber-shot HX9V, Background Defocus / Manual

4.28-68.48mm at 4.28mm, Background defocus strong f 3.3.

4.28-68.48mm at 4.28mm, Manual f 3.3.
It's inconceivable that the Cyber-shot HX9V wouldn't include Sony's unsurpassed iSweep panorama mode and in fact it adds a new high resolution mode which produces a 43 Megapixel image measuring 10480 x 4096 pixels. This is fast image processing on a large scale and the results are pretty impressive though, as you can see from the full resolution example on the gallery page, there can still be one or two small stitching errors.
Another new position on the Mode dial, 3D, supports shooting of 3D still images and panoramas for viewing on a 3D TV as well as Sweep multi-angle panoramas that can be previewed on the cameras screen.
That just leaves the M position for manual exposure control, Program auto an and MR position for recalling one of three custom setups. Given that there are only two aperture settings – f3.3 and f8 at 24mm and f4.9 and f14 at 384mm, Manual doesn't offer the scope you might expect, but you can at least set the shutter speed anywhere from 30 seconds to 1/1600th. This means you can grossly under or over-expose for special effects way beyond the standard compensation scale, and of course control motion blurring within the constraints of the aperture and ISO range.
Sony Cyber-shot HX9V movie modes

With every other 2011 pocket super-zoom offering full HD video recording it would be a surprise if the Cyber-shot HX9V didn't and its best quality delivers 1080p at 50 or 60 fps depending on region. There's also a 1080i (again, 50 or 60 interlaced frames) option. The 1080p mode encodes in AVCHD format at 28Mbps and there are two quality options, 24Mbps and 17Mbps, for the 1080i setting. Finally, there's a 1440 x 1080 mode which is encoded at 9Mbps. Switching to MP4 (H.264) encoding provides three further options, 1440 x 1080, 720p and VGA (640 x 480). Using the best quality mode you'll fit around 15 minutes of footage on a 4GB card, if you have a larger card fitted the maximum recording time is limited to 29 minutes.
You can use near-silent zoom while recording movies and shoot still images in all but the 1080p50/60 mode. In AVCHD modes stills are recorded in a 16:9 format measuring 2304 x 1296 pixels.
As I mentioned earlier, the Cyber-shot HX9V has two movie image stabilisation modes, Active Movie SteadyShot being a 'stronger' version of the standard SteadyShot. And it works, it's particularly useful for shots where you're walking, or even running while shooting.
Sony Cyber-shot HX9V sample video 1: outdoors, sunny, handheld pan with optical zoom
Optical SteadyShot stabilisation irons out most, but not all of the wobbles in this hand-held panning shot, the stronger ACT SteadyShot wasn't activated for these clips. The zoom is silent and focus doesn't waver at all.
Sony Cyber-shot HX9V sample video 2: outdoors, sunny, tripod pan with optical zoom
On this tripod-mounted panning shot the quality of the Cyber-shot HX9V's best 1080p50 video mode is hard to fault. Once again the focus remains rock solid throughout the zoom.
Sony Cyber-shot HX9V sample video 3: indoors, low-light, handheld pan
Good results from the Cyber-shot HX9V indoors. You can set intelligent Auto or scene modes for movie shooting and use exposure compensation, but you can't lock off the exposure as with the PowerShot SX230 HS.
Sony Cyber-shot HX9V handling

The Cyber-shot HX9V is ready to shoot in a little over two seconds after pressing the on/off button, not lightning fast, but fairly average for a compact super-zoom. The dual-speed zoom rocker provides a good combination of speed and control and, as I've said before, is almost totally silent.
I've already talked about face detection, which can be prioritized for adult or child faces, if you're shooting things rather than people there's nine-area AF, Centre AF and Flexible spot AF which lets you reposition the AF area anywhere in the frame. There are also two new semi and fully manual focussing modes, though in practice I found it quite difficult to tell, even from the magnified screen, when objects were precisely focussed and, in any case, the auto focussing does a very good job in virtually all conditions.
Continuous shooting is one of the Cyber-shot HX9V's great strengths. Like the earlier HX5 it can shoot a 10-frame burst at 10fps. One of the minor drawbacks is that you then have to wait a while for the data to be written to the card, but the good news is that the HX9V speeds this process up significantly compared with earlier models, taking around eight seconds before it's ready for another burst.
The Cyber-shot HX9V has a 16.2 Megapixel backlit Exmor R CMOS sensor that produces still images with a maximum size of 4608 x 3456 pixels. Files are saved as jpegs and there are no quality/compression options. File sizes are typically around the 5MB mark. The shutter speed range is from 30 to 1/1600th of a second and the ISO sensitivity can be set from 100 to 3200 ISO.
To see how the quality of the Sony Cyber-shot HX9V measures-up in practice, take a look at our real-life resolution and high ISO noise results pages, browse the sample images gallery, or skip to the chase and head straight for our verdict.