Sony Cyber-shot DSC-HX5 Real-life sharpness when zoomed-out (Manual mode)
Support this site by
shopping below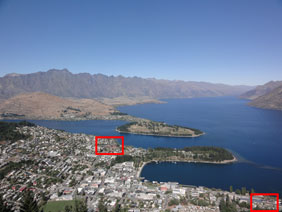 To compare real-life performance when zoomed-out, we shot this scene with the Sony Cyber-shot DSC-HX5 in Manual mode at both f-numbers; only two are available at any focal length.

As before, the Cyber-shot HX5 was set to its lowest sensitivity and best-quality JPEG settings. The crops below are taken from the areas marked with the red rectangles and presented here at 100%. Note this image was shot on a different day to our first results page.
The Cyber-shot DSC-HX5 may sport full manual control, but only offers two aperture settings at each focal length. With the lens fully zoomed-out, these aperture values are f3.5 and f8, so below you'll see crops taken from the corner and centre portions of images shot with each of the two settings. There's no Aperture Priority option on the HX5, so in both cases we manually adjusted the shutter speed until the camera's metering system reported 0 EV.
As discussed on the previous page and in the main review, we understand the Sony HX5 actually employs a neutral density filter to simulate its smaller aperture settings, and hence the image quality and characteristics shouldn't change between f3.5 and f8 here. While this means the camera has no control over depth-of-field, it does have the advantage of avoiding diffraction at smaller apertures – an effect which plagues compacts that use a traditional physical iris to adjust the aperture.
So the results below at f3.5 and f8 should be identical, but in fact there are some visible differences. At f3.5, there's some softening and darkening in the corners which appears to be reduced at f8 – the result you'd expect with a physical iris. Strangely though, the f8 version is also slightly crisper in the middle, which defies what you'd expect from diffraction with a physical aperture.
Before you think the HX5 defies the laws of optics though, remember it's only letting us see the results at two aperture values. Had the camera offered a broader range, we may have seen the image quality peak at an intermediate value.
But again this discussion only applies for a camera which employs a physical aperture, whereas Sony's user manual implies the HX5 uses a neutral density filter. It's certainly a confusing result, and annoyingly Sony has (so far) been unable to supply a definitive answer as to what's really happening under the hood when you change the aperture. But clearly from the samples below, there is a difference in the optical quality when the lens is zoomed-out, with the f8 version preferred overall.
Now let's see if the same approach works for the HX5 when it's fully zoomed-in to its maximum focal length. Alternatively skip straight to our High ISO Noise results, or our Verdict.
Sony Cyber-shot DSC-HX5
Corner sharpness at 25mm equivalent

Sony Cyber-shot DSC-HX5
Centre sharpness at 25mm equivalent

f3.5, 125 ISO

f3.5, 125 ISO

f8, 125 ISO

f8, 125 ISO