Intro
Sony's Cyber-shot DSC-HX5 is the company's first truly pocketable super-zoom camera. Announced in January 2010 it features a 10x optical zoom with impressive wide-angle capabilities, Full HD video recording, very fast continuous shooting, a built-in GPS receiver which records your position, altitude, compass heading and local time onto images, and a 10 Megapixel CMOS sensor which claims great low light performance. Sony's earlier Cyber-shot DSC-H20 may have also sported a 10x zoom, but it wasn't anywhere near as small, nor did it share the HX5's impressive array of additional features.
The HX5's zoom offers an equivalent range of 25-250mm, taking you from seriously wide-angle to pretty powerful telephoto coverage in a compact body that'll squeeze into most pockets. This allows you to capture expansive landscapes, cramped interiors or big group-shots at one moment, before zooming-in to grab distant detail in the next. It's a powerful and compelling range to have at your disposal in a pocketable camera.
While most compacts seem happy to stick with 720p video, Sony's equipped the HX5 with nothing less than Full HD at 1080i, along with the ability to zoom while filming. There's also stereo sound, the choice of encoding formats and a dedicated record button.
GPS looks set to be a headline feature of 2010, and the HX5 actually becomes the first super-zoom camera to offer it built-in. The HX5 will record the latitude and longitude co-ordinates into the headers of your images, along with the altitude and compass heading, the latter also shown on-screen in real-time as you compose. Then when you get home you can plot your movements on mapping software.
Going far beyond the capabilities of most compacts, not to mention most DSLRs, the HX5 also boasts continuous shooing speeds of up to 10fps at the full 10 Megapixel resolution. It may only record ten frames in a burst, but this still allows you to capture action sequences which are traditionally out-of-reach for anything other than a professional DSLR.
Support this site by shopping below
It all adds-up to a very impressive package that's clearly targeted directly at Panasonic's enormously popular Travel Zoom series. But Panasonic hasn't stood still and the company's latest Lumix TZ10 / ZS7, announced shortly after the HX5, also sports GPS capabilities along with HD video and a long optical zoom range. Canon's also now onto its second generation pocket super-zoom with its PowerShot SX210 IS, and Nikon's additionally joined the fray with its COOLPIX S8000. All are brand new 2010 models and after the same buyer who wants the convenience of a long optical zoom range in a pocketable camera.
In our full review of the Cyber-shot HX5 we'll examine its features and image quality to see how it compares against the competition. You'll also see how the video mode measures-up and find out how well the built-in GPS works in practice. So if you're in the market for a pocket super-zoom, you're in the right place! Read on to discover which model will be best for you.
Note: Many thanks to Queenstown Cameras for the loan of an additional Cyber-shot HX5 during our tests. If you're in Queenstown, New Zealand, and need any photographic equipment or prints, head on over to their store on Camp Street.


Sony Cyber-shot DSC-HX5 design and build quality

Measuring 103x58x29mm and weighing 200g with battery and card, the Cyber-shot HX5 is on the chunky side of today's compacts, and therefore better-suited to trouser or coat pockets rather than one on the front of your shirt. But it's important to put this into perspective as unlike most compacts, the HX5 packs-in a 10x optical zoom and GPS receiver. It also manages to be 2mm shorter, 4mm thinner and 18g lighter than its arch rival, the Panasonic Lumix TZ10 / ZS7, although in your hands, both models look and feel roughly the same size.
Viewed from above, you'll notice the HX5's rounded right-end dips in ever-so-slightly, before joining the flat front surface. This discreet dip, which runs the full height of the camera, actually provides surprisingly good purchase for your middle finger, which coupled with another dip on the rear for your thumb, allows you to hold the camera fairly confidently with one hand. So while the surface of the camera is pretty slippery without any raised dots or rubber sections, Sony's design team have created a grip that's comfortable and secure to hold without spoiling the look. It's a smart-looking camera, and if you don't like the black finish pictured here, some regions will alternatively sell it in gold. As far as we understand though, there's no underwater housing available for the HX5.
Like many Sony compacts, the HX5 also doesn't like to spoil its exterior with any pesky doors for ports. Instead there's a single proprietary connector on the underside of the camera, positioned roughly in the middle. This connects to a variety of equally proprietary cables and adapters. The camera's supplied with one cable which ends with composite video, stereo audio and USB outputs, along with an adapter dongle which transforms the connector into an HDMI port. An optional cable provides component outputs for those with older HD displays lacking HDMI. It's certainly flexible and avoids having a door on the side of the camera, but this proprietary approach means you'll be forced to buy potentially expensive accessories from Sony alone. Ultimately we'd have preferred standard USB, TV and HDMI outputs, like its rival, the Panasonic TZ10 / ZS7.
It should also be noted the camera is forced to lie on its front or back when the cable or HDMI dongle are connected. The port may be positioned to work well with docking stations, but feels a little inconvenient when used with a cable alone. Its position in the middle of the body also forces the tripod thread to the far corner, and unlike the TZ10 / ZS7, we frequently found it hard to ensure the camera was 100% level when mounted on a tripod.
The Cyber-shot HX5 also supports Transfer Jet for short-range wireless data transfer between compatible devices, although we understand you'll also need a compatible Memory Stick. Unfortunately other Transfer Jet devices were not available in our location, so we were unable to test it.
On the opposite side of the camera you'll find the combined battery and memory card compartment. The HX5 is powered by an NP-BG1 battery, rated at 910mAh, and good for 310 shots under CIPA standards according to Sony. Bear in mind this doesn't include any movie recording or GPS reception though, so if you're using the full features of the camera, be prepared for it to deplete a great deal quicker. Battery life is indicated by a four-segment icon in the top left corner. It's not an Info Lithium model, so you won't see the actual minutes remaining, but it seemed fairly accurate in use.
As a Sony camera, it's not surprising to find the HX5 takes Memory Stick Pro Duo cards, although in a welcome addition to the 2010 range, it'll alternatively handle SD cards. Unlike most 2010 models from other manufacturers though which have embraced the latest SDXC standard, the HX5 doesn't support anything newer than SDHC, but at least you have some choice other than Memory Stick. Note you'll need Class 4 cards or quicker to fully support the Movie mode. There's also 45MB of internal memory to get you started, although since you'll only squeeze-on about ten images in the best quality mode, you'll want to fit a card sooner rather than later.


Sony Cyber-shot DSC-HX5 lens and stabilisation

The GPS, 1080 HD movies and quick continuous shooting are all major features for the Cyber-shot HX5, but its headline capability remains packing a 10x super-zoom range into a pocketable compact body. The HX5 employs a 10x optical zoom with an equivalent range of 25-250mm and a focal ratio of f3.5-5.5.
The HX5's broad optical zoom range gives you enormous compositional flexibility in practice, taking you from serious wide-angle to pretty powerful telephoto coverage. The difference between 25 and 28mm equivalent focal lengths may not sound like much, but the HX5, like the Panasonic TZ10 / ZS7, really can capture a comfortably larger field-of-view than cameras which start at 28mm, making it invaluable when shooting big landscapes, buildings, cramped interiors, large group shots or in situations when you literally can't step back any further. Then a push of the zoom ring takes you to 250mm where you can grab distant details in close-up. The closest focusing distance is 5cm. You can see an example of the coverage below, and further examples of how you can use it in our Sample Images Gallery.
| | | |
| --- | --- | --- |
| Sony Cyber-shot DSC-HX5 coverage wide | | Sony Cyber-shot DSC-HX5 coverage tele |
| | | |
| 4.25-42.5mm at 4.25mm (25mm equivalent) | | 4.25-42.5mm at 42.5mm (250mm equivalent) |
The HX5's 10x coverage may be impressive for a compact which can squeeze into your pocket, but it's actually the shortest range of its immediate rivals. Panasonic's Lumix TZ10 / ZS7 features a 12x zoom which starts at the same 25mm equivalent, but ends slightly longer at 300mm. Canon's PowerShot SX210 IS starts a little less wide at an equivalent of 28mm, but its broader 14x range means it maxes-out at a much more powerful 392mm. Some will find the wider coverage of the Sony and Panasonic invaluable, while others will prefer the more powerful reach of the Canon, which works out one third longer than the TZ10 / ZS7 and over 50% longer than the HX5. Either way, all are pretty remarkable considering their compact form factors.
The HX5's lens extends upon power-up with the camera ready for action in around 2.3 seconds – not the quickest by any means, but roughly the same time as the Panasonic TZ10 / ZS7 and rarely do either hold you back. A rocker around the shutter release operates the dual-speed zoom with 24 steps between wide and telephoto. Push the rocker gently and the HX5 will take about eight seconds to zoom from full wide to tele, while a full push will do it in three and a half – again similar to the TZ10 / ZS7. Note to minimise the sound of the zoom motor while filming, the HX5 locks itself to the slower of the two speeds in the Movie mode, taking around eight seconds from one end of the range to the other; see more details in our Movie mode section below.
The Cyber-shot HX5 is equipped with optical SteadyShot stabilisation to counteract for camera shake, an essential feature on a camera which can zoom-into an equivalent of 250mm. Strangely though like other recent Sony compacts, there's no settings nor any means to actually turn it off manually, which makes generating our usual 'before and after' comparisons impossible. The camera can however detect when it's in a very steady place, like on a tripod, and automatically disable the system to avoid introducing any wobbles, but that doesn't help us make a direct comparison.
| | |
| --- | --- |
| | |
| | |
| Sony Cyber-shot DSC-HX5 Stabilisation: default | |
| | |
| 1/10, 400 ISO, 4.25-42.5mm at 42.5mm (250mm equivalent) | |
| | |
| | |
So what we have here is a single image illustrating SteadyShot in action. It's a 100% crop taken from an image of a distant building with the lens fully zoomed-in, where traditional photographic wisdom would recommend an exposure of one over the equivalent focal length to avoid camera-shake – so a shutter speed of 1/250.
The shot here was actually taken at 1/10, and while there's a small amount of camera-shake visible, it's not a bad result considering the slow shutter speed and long focal length. Increase the shutter speed to 1/20 and we almost always enjoyed perfectly sharp results. We'd have done that here, but it would have required boosting the sensitivity from 400 to 800 ISO with a further reduction in quality.
So the HX5 allowed us to handhold shots approximately four stops slower than traditional wisdom would suggest, although annoyingly we have no real-life figure to compare it with – after all, if we could successfully handhold at 1/125 without stabilisation under the same conditions, the compensation would become three stops. But either way, the SteadyShot system allowed us to handhold shots at very slow shutter speeds and remains a valuable ally.
While there aren't any SteadyShot options for normal still photography, there are two when you switch the camera to Movie mode. Here the HX5 offers the choice of Standard or Active options, the latter simply being described as delivering a more powerful effect. See our Movie mode section for more details.
Sony Cyber-shot DSC-HX5 screen and menus

The rear surface of the Cyber-shot HX5 is dominated by a 3in screen with 230k resolution. This matches the size of the size and shape of the screen on the Panasonic TZ10 / ZS7, but has half the number of total pixels. The Sony's screen resolution works out at 320×240 pixels compared to 480×320 on the Panasonic. This means images and menus look a little crisper on the TZ10 / ZS7 than the HX5, although of course the screen resolution doesn't make a difference to the actual quality of the recorded photos – it just looks nicer when it's more detailed.
The default screen view shows a fairly clean image with a handful of icons at the top indicating the battery life, shooting mode, image shape and quality, GPS status, photos remaining and flash mode. The ISO sensitivity is displayed in the lower left corner, and with a half-press of the shutter release the active AF areas are shown in green and the exposure details at the bottom.
Pushing the rocker upwards cycles through four display options, with the second view matching the first but with increased brightness. This makes it easier to view under bright conditions, although like all screens, intense direct sunlight can still render the screen difficult to see. Another press of the rocker brings the third view which maintains the increased brightness but now adds a live histogram in the lower right corner. Finally the fourth display option again keeps the increased brightness, but removes almost all icons for a clean view.

Annoyingly the live histogram option isn't available without also boosting the screen brightness, with its negative impact on battery life. Delving into the main menus gives you the option to enable an alignment grid.
Pressing the Menu button superimposes a number of settings running vertically down the left side of the screen; this selection of settings varies with the shooting mode. As each setting is highlighted, the various options available pop out to the right. In Program mode you'll be able to change the image quality, burst mode, burst speed, bracketing, exposure compensation, sensitivity, white balance, focus area, metering, smile detection sensitivity and face detection mode.
Like other Sony compacts, the last setting in the list, indicated by an icon of a briefcase, takes you to a series of vertically tabbed menu pages. Again with the camera set to Program, you'll see tabs for Shooting Settings, Main Settings, Memory Card Tool, and Clock Settings; the Main Settings tab has four pages, while the others have two each. We'll highlight some of the options throughout the review.
During playback, pushing the rocker upwards gives you the same choice of views as recording: normal brightness with basic shooting info, increased brightness with the same shooting info, increased brightness with extra details and finally, a clean view again with increased brightness. This time the third view with the extended details includes a brightness histogram along with the recorded GPS co-ordinates and compass direction.
Sony Cyber-shot DSC-HX5 exposure modes

The Sony Cyber-shot HX5's mode dial offers the fully automatic Intelligent Auto Adjustment and Easy modes (the latter greatly simplifying the display layout and menus), a SCN position which accesses 11 presets from a menu, the Movie mode, Program, full Manual (but no Aperture or Shutter Priority), and four additional modes which exploit the camera's quick continuous shooting rates: Anti Motion Blur, Hand-held Twilight, iSweep Panorama and Backlight Correction HDR. We've seen the first three of these before on the earlier HX1 super-zoom, but the Backlight Correction HDR mode is new here.
We'll discuss the Movie mode in detail below, and concentrate on the still photography options here. Starting with the auto modes, Intelligent Auto Adjustment and Easy both employ scene recognition which attempts to figure out what you're photographing and adjust the settings accordingly. Depending on the subject, the camera can automatically switch between Twilight, Twilight Portrait, Twilight using a tripod, Backlight, Backlight Portrait, Landscape, Macro and Portrait.
In practice it really works too. Point it at a distant subject under reasonable lighting and the HX5 is likely to select the Landscape preset. Point it at a person or a very close subject and it'll switch to Portrait or Macro respectively. Take a shot under dim conditions and Twilight mode will be activated, and cleverly if the camera doesn't detect any wobbling, it'll assume you've got it mounted somewhere steady and choose the 'Twilight using a tripod' mode before safely unlocking longer exposures. And if you want to be absolutely safe, consider enabling the iSCN Advanced option, which takes two photos with different settings to maximise its chances. It's a neat system which works very well.
| | |
| --- | --- |
| | |
| | |
If you like the automatic life, but prefer to point the camera in the right direction, the SCN position offers 11 presets including High Sensitivity (for shooting in low light without flash), Soft Snap, Advanced Sports Shooting (with AF tracking), Landscape, Twilight Portrait (which captures people in front of city lights), Twilight, Gourmet (basically macro with a boost in saturation to make food more 'appetising'), Pet, Beach (which accentuates blues), Snow and Fireworks.
The Manual mode allows you to select the shutter speed and aperture of your choice, by first pressing the centre button in the rocker, then up and down to change the shutter or left and right to change the aperture. Like most compacts though, there's some limitations.
First the good news: the shutter speed can be set between 1/1600 and 30 seconds without any obvious restrictions. Now for the bad news: there's only two aperture values at any given focal length. Zoom the camera completely out and you can choose between f3.5 and f8, while zooming it all the way in gives you the choice of f5.6 and f13.
If the choice of only two apertures wasn't bad enough, we're not even sure the HX5 employs an entirely traditional way of implementing them. The user manual mentions a Neutral Density filter for the bigger f-numbers, which suggests a filter is used to simulate a smaller aperture rather than a physical iris. To find out if the camera offered any control over depth-of-field we set up a still-life composition and photographed it using Manual mode with both aperture settings; at the focal length of 13mm (76mm equivalent), the two aperture values available were f4.5 and f10. We've shown each image at a reduced size below for comparison.
Sony Cyber-shot DSC-HX5: Depth-of-field in Manual mode

Manual: 1/8, f4.5, 4.25-42.5mm at 13mm (76mm equiv)
Manual: 0.62 secs, f10, 4.25-42.5mm at 13mm (76mm equiv)
Support this site by shopping below
Can you see any difference in the depth-of-field? Nope, not us either, and the results above certainly suggest the absence of a physical iris in the HX5, although to be fair most compacts have such an inherently large depth-of-field to start with, that even the presence of full Aperture Priority and a true iris control won't necessarily guarantee meaningful control over the depth-of-field.
But as our sharpness results pages show, when zoomed-out, the HX5 managed to reduce corner softness at its smaller aperture value, while also delivering a slightly crisper overall result. The former implies the presence of a physical iris, although the latter defies what we'd expect from diffraction if a physical iris were employed. Of course had the HX5 offered any intermediate aperture values we may have seen the image quality peak somewhere in the middle, like its rival the Panasonic Lumix TZ10 / ZS7. Maybe the HX5 employs an iris of sorts combined with an ND filter, but in the absence of a full explanation from Sony, we're left guessing.
What we can tell you is changing the aperture doesn't appear to make any difference to the depth-of-field, although when zoomed-out, it will allow you to select a setting which seems to deliver a slightly crisper overall result. The ability to change the shutter is theoretically more useful though as you could choose a slow speed to deliberately blur water or moving action, as explained in this tutorial and this tutorial. Having only two aperture values though may result in further adjustments to the shutter to find a combination which delivers a properly exposed image. Finally of course, the Manual mode will allow you to make massive under or over-exposures way beyond what's possible with normal metering and exposure compensation, and it is nice to be able to make long exposures.
So we're still pleased to find a Manual mode on the HX5, but it's not as flexible as the multiple and true aperture values of the TZ10 / ZS7, along with its additional Aperture and Shutter Priority modes.
Where the Cyber-shot HX5 really stands out amongst the competition though are the additional modes which exploit the camera's quick burst shooting for some very cunning tricks. First is the Anti Motion Blur mode, which grabs six frames in quick succession and combines the sharpest elements of each into a single image.
Second is the Handheld Twilight mode which again grabs six frames in quick succession, but this time stacks them to reduce visible noise. Third is the iSweep Panorama which grabs a series of images as you pan the camera sideways or vertically, before then automatically stitching them into a panoramic photo. Finally, there's the Backlight Correction HDR mode, which grabs two frames with different exposures before combining them into a single image with a theoretically broader dynamic range. Let's look at each in turn.
To put the Anti Motion Blur and Handheld Twilight modes to the test we photographed a distant building under very dim conditions shortly after sunset with the lens fully zoomed-in. Both shots were taken moments apart, so illustrate how each mode handles the same subject and lighting conditions. Below you'll see 100% crops taken from the same area of each image, showing a section of the roof and chimney.
| | | |
| --- | --- | --- |
| Sony Cyber-shot DSC-HX5: Anti Motion Blur mode | | Sony Cyber-shot DSC-HX5: Handheld Twilight Mode |
| | | |
| 100% crop: 1/40, f5.6, 3200 ISO, 4.25-42.5mm at 4.25mm (25mm equiv) | | 100% crop: 1/25, f5.6, 2000 ISO, 4.25-42.5mm at 42.5mm (250mm equiv) |

The Anti Motion Blur and Highlight Twilight modes delivered images reporting similar exposures of 1/40 / f5.6 / 3200 ISO and 1/25 / f5.6 / 2000 ISO, although with quite different looking results. The crop from the Handheld Twilight mode looks softer, perhaps partly down to a little camera-shake, although in earlier tests we found the HX5 could be successfully handheld at slower speeds.
We've used the Handheld Twilight mode before on the earlier Cyber-shot HX1 and found it managed to visibly reduce the amount of visible noise without compromising detail with noise reduction. The stacking technique certainly has a solid foundation in specialist fields like astro-photography.
In this particular occasion though, the Anti Motion Blur mode delivered the preferred result with a fairly sharp and detailed result. Both samples do however look better than if you shot in any of the normal modes at similar sensitivities, and the bottom line is they allow you to grab half-decent looking results on occasions when most compacts would deliver a mess.
NEW: By popular demand we've updated our High ISO Noise results page to include new comparisons taken with these modes in our standard low light scene. We've also added new results pages showing the Handheld Twilight and Anti Motion Blur modes in greater detail. So for more samples of each mode in action, be sure to visit our Handheld Twilight results and Anti Motion Blur results pages.
| | | |
| --- | --- | --- |
| Sony Cyber-shot DSC-HX5: Backlight Correction HDR | | Sony Cyber-shot DSC-HX5: Backlight Correction HDR take 2 |
| | | |
| 1/13, f3.5, 400 ISO, 4.25-42.5mm at 4.25mm (25mm equiv) | | 1/25, f4, 400 ISO, 4.25-42.5mm at 7mm (41mm equiv) |
Moving on we have the Backlight Correction HDR mode, new to the HX5, but seen in a similar guise on recent Alpha DSLRs. This employs the popular High Dynamic Range (HDR) technique of combining multiple images with different exposures to increase the tonal range.
While traditional HDR techniques would recommend a minimum of three images though, the HX5 takes just two. This seems a little odd, since the camera is capable of grabbing several frames very quickly as illustrated in the previous two modes. It does however suggest a similar approach to the Alpha DSLRs though as models like the A550 also only took two images in its Auto HDR mode.
Unlike the Alpha DSLRs though, the HX5 doesn't give you any control over (or indication of) the actual exposures it's going to use for the two frames – you just press the button and wait for the data to process. We've pictured two examples taken with the Backlight Correction HDR mode on different occasions here which include dark shadowy and bright highlight areas.
In the first example, above left, we let the camera meter the scene as composed. The HDR mode has boosted the shadows a little over a normal shot, but the windows remain blown-out. Since this result proved unremarkable, we decided to retest the HX5 at a later date to see if we could achieve anything better. With the camera metering normally on the composition above right, we saw a similar result to the first shot with saturated windows. But to give the HDR mode a better chance, we then tried metering the bright windows first, before locking the exposure with a half-press of the shutter release. With the exposure locked, we then recomposed and took the shot. The result can be seen above right, and this time the detail within the bright windows has been recorded, without compromising dark shadow detail.
So if you're hoping for better highlight protection from the HDR mode on the HX5, we'd suggest first metering for those bright areas, before recomposing and taking the shot. You can then let the HX5 worry about ensuring shadow details are also recorded.
While the HDR mode requires a little more effort than the HHT and AMB modes, all three show Sony thinking carefully about the issues which face cameras with small sensors. Indeed they're a key advantage the HX5 has over the competition, so once again be sure to check out our new Handheld Twilight results and Anti Motion Blur results pages for more examples.
Finally we have the iSweep Panorama, a feature which sounds great in theory but potentially fraught with problems in practice; thankfully though that's not the case. In our tests, the camera easily guided us through the framing and capture process, before successfully stitching a number of panoramas despite panning the camera at variable speeds and wobbling it while doing so. Here's a couple of examples and you can see crops from each in our Sample Images Gallery.
Sony Cyber-shot DSC-HX5: iSweep Panorama samples


4.25-42.5mm at 4.25mm (25mm equivalent)

The last time we tested Sony's automatic panorama feature was on the Cyber-shot HX1, and despite a few minor stitching errors, it did a very good job. The new HX5 claims to do better though with enhanced processing designed to better cope with subjects which move during the sweep. This certainly worked in our test shots – for example, in the first of our two panoramas here, the person taking the photo on the far right side turned and began to move away as we completed the sweep from left to right, but there's no obvious motion or stitching artefacts to worry about. In the second example we were much closer to our subjects, but again there were no parallax errors to mention. It really works very well indeed.
Before you get too excited though, the mode still doesn't employ anywhere near the sensor's full resolution. The Standard and Wide Panorama options offer maximum recorded sizes of 4912×1080 or 7152×1080 pixels when panned horizontally or 3424×1920 or 4912×1920 pixels when panned vertically. The presence of 1920 and 1080 in those dimensions implies the mode uses an extension of the HD movie mode. Look closely at 100% and you'll also notice some rough edges.
But to be fair, think about what's going on here: the HX5 is grabbing a load of images as you roughly swing the camera from one side to the other and within a few seconds assembles them into a pretty respectable looking panoramic image. It may not be perfect, but it's very impressive. Auto panoramas and image stacking may initially smack of Sony's typical gadgetry, but there's some genuinely useful functionality here, and the company should be commended for continuing to think out-the-box.
Sony Cyber-shot DSC-HX5 focusing and face detection

The Sony Cyber-shot DSC-HX5 has three main focusing options for general-use: Multi-AF which automatically picks from nine areas, Centre AF which only considers the middle area, and Spot AF which concentrates on an even smaller area in the centre of the frame. Note neither Centre AF nor Spot AF modes can be adjusted to consider other areas of the frame. In use the focusing is pretty quick and rarely made us wait.
As a Sony camera, it's not surprising to find the Cyber-shot HX5 packed with the company's latest face detection technology. Along with Off and Auto options, the HX5 allows you to actually choose whether to prioritise Adult or Child faces, and amazingly it works too. If face detection is enabled, but no faces are detected, the camera reverts to the nine-area Multi-AF mode.
The HX5 also features Sony's Smile Shutter technology, enabled by pushing the rocker control to the left. This actually measures the size of your subject's smile, indicating their apparent cheeriness on a scale on the left. It's surprisingly effective at doing it too, and fun to watch as the bar rises and falls as their expression changes. Then when the user-selectable trigger point is reached, the camera automatically takes a photo. There's three trigger options, with the mildest firing the shot with little more than a demure raise of the lips, while the strongest requires full-on toothy grins.
Sony Cyber-shot DSC-HX5 GPS

Sony's Cyber-shot DSC-HX5 was the first pocket super-zoom to feature a built-in GPS receiver, although Panasonic's Lumix TZ10 / ZS7 followed soon afterwards. Both models use GPS to record location and local time details for each image and store them in their standard EXIF headers. This information can subsequently be read by mapping software on your computer to show exactly where and when your photos were taken – and the clock is also automatically updated by GPS to the local time, regardless of where you travel to.
Both cameras may feature built-in GPS receivers, but their implementation is quite different in a number of respects. In terms of raw details, the Sony HX5 takes the lead by recording the altitude and heading in addition to the latitude and longitude co-ordinates stored by the Panasonic. The direction is also shown on-screen with a compass which rotates in real-time to indicate North, and there's a calibration process which involves turning the camera in a figure eight for more accurate results. The Panasonic may uniquely record the number of satellites it had locked-onto when the photo was taken, but in terms of overall raw details, the Sony has the advantage.
But while the Sony takes the high ground in information recorded, the Panasonic makes more use of the details in-camera. So while the Sony HX5 simply displays the compass heading while composing, complemented by the latitude and longitude during playback, the Panasonic looks the co-ordinates up in real-time against an internal database of locations and actually tells you where you are in words while you're composing the shot. The country and town names are displayed on the TZ10 / ZS7 during capture or playback, and the camera even has over half a million landmarks it can name if you're nearby. Sports centres, churches, golf courses, tourist attractions – they're all there.
This database may not be upgradeable, so landmarks – or indeed actual places – created after February 2010 won't be named on-screen, but you'll still have the country and nearest town displayed, along with the raw co-ordinates recorded in the image header for later reference. To be fair, the HX5's supplied Picture Motion Browser software will plot the position of photos (along with their direction) on maps later (see below), but it's not the same as seeing actual place names displayed on-screen when you take the photo.
Sony Cyber-shot DSC-HX5: GPS Mapping with Picture Motion Browser

Recorded location in EXIF header: 45 1 35.75 S, 168 38 59.26 E
Recorded location in EXIF header: 45 1 58.19 S, 168 39 35.86 E

The Panasonic TZ10 / ZS7 is also more cunning when it actually comes to updating its location throughout the day, although to be fair, in the absence of a full explanation from Sony, the HX5 could be doing more behind the scenes than we realise. As far as we understand it though, the Sony GPS receiver is either on or off, as selected in a menu. If enabled, the HX5 will attempt to find its location when the camera's powered-up, but will stop the process when powered-down.
The positioning status on the HX5 is indicated by a satellite icon alongside a three-bar 'strength' meter which looks a little like it's measuring mobile phone reception. Once you have between one and three bars, the location has been found, although the more bars present, the more accurate the reading. Like handheld GPS units, tall buildings, dense foliage or simply being indoors will reduce or even prevent reception.
If you haven't moved too much since the camera last locked-on, the HX5 can reconfirm its position in ten to 15 seconds, or 30 at a push. If you have moved some distance though, you could be looking at a couple of minutes for a confirmed position. It can be frustrating to wait for a lock when you simply want to take a photo, and in some situations you may find yourself just taking the photo and not bothering with accurate or updated co-ordinates – but if you've used a GPS before, you'll know this delay while the satellites are being tracked is par for the course. If you want accurate co-ordinates, you'll simply have to wait.
Or do you? While Sony's GPS implementation seems fairly sensible, Panasonic has taken a more cunning approach which attempts to resolve the delay issues. So in addition to the same on and off modes as the HX5, the TZ10 / ZS7 offers a third option which attempts to a take a reading every few minutes even when the camera's switched off. This allows the camera to already have a pretty good idea of where it is when you power it back up again to take a photo, and in practice it really works well in situations such as hiking or exploring a city. In side-by-side tests, we found the Panasonic TZ10 / ZS7 typically locked-onto locations quicker than the Sony HX5 when using this mode. Obviously there's concerns over battery life, but the TZ10 / ZS7 is clever enough to give up the search if it's been unable to lock-onto a signal for a while or when the battery is running low. Indeed Panasonic's so confident of this mode that it's the default option on the TZ10 / ZS7.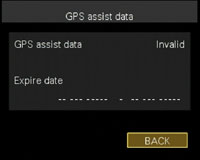 Again to be fair to Sony, the HX5 offers a 'GPS-assist' option which claims to accelerate the positioning process. This first involves connecting the camera (or card) to your computer and updating the GPS-assist data using the supplied Picture Motion Browser utility. We're vague about the details as Sony couldn't provide any and we couldn't get it to work either. Should this situation change in the future though, we'll update this section.
So in the absence of an internal database of place-names and with nothing more sophisticated than basic on or off modes, the Sony HX5 is missing both the fun and the quicker re-positioning of its arch rival, the Panasonic TZ10 / ZS7; indeed in casual use, it's hard not to be won over by the Panasonic implementation. But in Sony's defence, the HX5 additionally records altitude and compass details which are missing from the Panasonic, and these give it the edge when you're back at base and using mapping software.
So you'll need to think carefully about which implementation will best-suit your own requirements. It's also important to remember that if all you want are co-ordinates embedded in your images, you could achieve the same results by using a separate handheld GPS with geo-tagging software later (see our forum tutorial), but like the TZ10 / ZS7, the HX5 has the convenience of doing it all in-camera. A final warning: beware when sharing or uploading images which contain GPS tags if you don't want other people knowing where the picture was taken; you may prefer to disable the GPS when taking photos around your home.
Sony Cyber-shot DSC-HX5 Movie mode

The Sony Cyber-shot HX5 offers a wide variety of movie modes, impressively boasting a best quality option of 1080i Full HD when its rivals seem happy to stick with 720p; indeed it's one of the few true compacts at the time of writing with 1080i capabilities.
The camera also features stereo microphones, a dedicated record button which starts filming in any mode, and the ability to adjust the zoom while recording, although like most of its rivals, there's no manual control over exposures.
You should successfully record video using any Memory Stick Pro Duo card, although if you're using SD memory, you'll need a card rated as Class 4 or quicker – this should include affordable models like SanDisk's older Ultra II range, although we were unable to confirm compatibility ourselves.
Interestingly the HX5 offers two different video encoding formats, with different resolution and frame rate options for each. With the Movie recording format set to AVCHD in the main menu options, the HX5 offers the choice of filming at 1920×1080 pixels at 17Mbit/s or 1440×1080 pixels at 9Mbit/s, the latter stretched to a 16:9 frame during playback, just like the HDV camcorder format. Both these modes capture interlaced video at 60 or 50 fields per second depending on your TV region, and encode it using AVCHD with Dolby Digital audio wrapped-into an MTS file; our sample came from a PAL region, so our clips were filmed at 50i.
Support this site by
shopping below

Switch the Movie recording format to MP4 and you'll have the choice of filming at 1440×1080 pixels at 12Mbit/s (again stretched to 16:9 for playback), 1280×720 pixels at 6Mbit/s or 640×480 pixels at 3Mbit/s (with a crop delivering a magnified view). This time the video is encoded using MPEG-4 in a progressive format at 30 or 25fps depending on your region with AAC audio and wrapped-into an MP4 file.
Videophiles will know AVCHD is actually a subset of the MPEG-4 format, and Sony's not completely clear on the actual difference between shooting in AVCHD or MP4 modes beyond the frame rates and audio formats, although the former is more compatible with Blu Ray. Sony suggests using the AVCHD modes for playback on HDTVs or creating Blu Ray discs, and the MP4 modes for web uploads and email attachments. The Picture Motion Browser software supplied with the HX5 can generate a variety of discs with your footage including Blu Ray if you have a suitable burner.
The maximum recording time in any mode or format is 29 minutes and 59 seconds, but if you're shooting in MP4 format, an additional restriction is when the file reaches 2GB. In the best-quality 1920×1080 AVCHD mode, you're looking at about 2 Megabytes per second, so to reach the half hour limit, you'll be pretty much filling a 4GB card.
You can start recording in any mode by simply pressing the dedicated red button on the rear, although you may need to recompose when guidelines for 16:9 widescreen footage subsequently appear on the screen. Alternatively you can switch the mode dial to Movie, at which point the framing guides permanently appear (if shooting in anything other than the 640×480 VGA mode), allowing you to properly compose the shot. Pressing the shutter release to start filming in this mode can also avoid the initial wobble induced by pressing the button on the rear.
As mentioned earlier, the HX5 offers two stabilisation options when shooting movies: Standard and Active. The latter is simply described as delivering a more powerful effect. Having suffered from stabilisation systems which often jerk back and forth while panning at high magnification, our initial videos with the HX5 were filmed with the Standard mode. However we later switched to the Active mode full-time as it proved more effective at eliminating wobbles without too many jerking artefacts. Note there's no way to disable the stabilisation manually, but the camera will detect if it's mounted on a tripod or somewhere steady and do it automatically.
In use, the Cyber-shot HX5 delivers a very good video recording experience. The best quality AVCHD 1920×1080 mode produces great-looking footage, albeit with the sharpening and contrast a little high at times. You can see a sample here which includes a zoom throughout the full optical range, and as always, registered members of Vimeo can download the original file for evaluation on their own computers. We also have two other videos you may find interesting here and here.
As you'll see on the clip, the HX5 manages to keep the subject continuously in focus while you zoom-in, although as it zooms-out from the maximum focal length it drifts slightly for a moment before locking-on again; we found this happened on all of our sample footage. Impressively though, the lower zoom speed while filming ensured the motor was essentially silent, or at least undetectable under the ambient noise levels.
The stronger Active stabilisation mode also proved effective for most our handheld footage, avoiding much of the jerkiness seen on rival models when zoomed-in and panning. It wasn't completely immune, but seemed superior to the Panasonic TZ10 / ZS7 in this regard.
| | | |
| --- | --- | --- |
| Panasonic Lumix DMC-TZ10 / ZS7: HD video grab | | Sony Cyber-shot DSC-HX5: HD video grab |
| | | |
| 720p AVCHD Lite frame reduced in size | | 1080i AVCHD frame reduced in size |
| | | |
| | | |
| 100% crop taken from video grab above | | 100% crop taken from video grab above |
Speaking of the Panasonic, we were able to compare frame grabs from similar videos filmed with each camera (albeit on different days), and the 1080i mode of the HX5 certainly captured finer detail than the 720p modes of the TZ10 / ZS7. Numerically this may come as no surprise, but in reality you can't always assume it to be the case. You can see the full frames and 100% crops above.
Sony Cyber-shot DSC-HX5 drive modes

Like the Cyber-shot HX1 before it, the HX5 boasts very impressive continuous shooting capabilities which actually let you fire-off ten frames at the full resolution at up to 10fps. This capability may be limited to ten frames, but it still far exceeds what's possible with almost any other compact we can mention. Indeed it's in the same ballpark as professional sports DSLRs. Understandably proud of this capability, Sony's even fitted a dedicated button on top of the HX5 just to switch it in and out of burst mode.
There are of course some restrictions though. As mentioned above, you can only fire-off ten frames at a time before the buffer fills. At this point, the camera essentially locks-up for around 17 seconds as the images are written to the card. So you'd better get your timing right as your ten frame 'budget' will be spent in just one second and you'll have to wait a while before you can take any more (although you can cancel the recording process if you spot a better opportunity coming-up).
While these sound like significant limitations, the HX5's continuous shooting is actually quite usable. Most action sequences for which you'd want 10fps are generally over pretty quickly, and if you need any longer, the HX5 also offers slower rates operating at 5 or 2fps – albeit still for only ten frames. And in a market when most fast burst modes on other compacts significantly reduce the resolution, it's worth reiterating the HX5 offers these impressive speeds at its full 10 Megapixel resolution.
We verified the 10fps shooting speed in the lab, but the big question of course is how well it works in practice. To put this to the test we headed to the World-famous Shotover Jet in Queenstown where the boats travel at up to 85kph and perform 360 degree spins. Impressively the HX5 managed to keep the subject in focus as it approached, while capturing dramatic action sequences when the shutter was held. We've included a sequence of ten images below and have 100% crops from another in our Sample Images Gallery. Even with a wait of up to 20 seconds after each burst, it's a fantastic capability and one which will see the HX5 shortlisted by many action fanatics.
Sony's also had fun with the self-timer facilities, which in addition to the usual ten and two second countdowns, include two further modes which exploit face detection to start the timer when either one or two new faces are detected in the shot.
While undoubtedly inspired by Canon's Face Timer on recent models, they're nice to see none-the-less and genuinely useful. Now there's no need to rush back to the camera during self-timer shots as it'll simply wait for you (and another person if desired) to come into view, before then giving you a couple of seconds to get your pose right.
Sony Cyber-shot DSC-HX5 sensor

The Cyber-shot HX5 is equipped with a 10.2 Megapixel sensor which measures 1/ 2.4in and delivers 4:3 shaped images with a maximum resolution of 3648×2736 pixels. While the sensor size and resolution is comparable to most compacts this size, the actual technology isn't: rather than using a conventional CCD sensor, the HX5 employs one of Sony's 'Exmor R' CMOS models. It's the high-speed data readout from this sensor which makes the Full HD video and fast continuous shooting possible, the latter in-turn allowing the innovative Sweep Panorama and low-light stacking modes.
Sony also claims its Exmor R CMOS sensors boosts sensitivities while reducing noise, although in our tests the HX5 performed similarly to other compacts with the best results below 400 ISO and significant smearing above – see our High ISO Noise results for a full report.
In addition to the best-quality 10 Megapixel mode, the HX5 also offers 4:3 images at 5 Megapixels or VGA resolution, along with 16:9 images at 7 Megapixels or 1920×1080 (approximately 2 Megapixels). Note like most compacts, but unlike the Panasonic TZ10 / ZS7, the HX5 crops the vertical resolution of its 16:9 images, so the best-quality 16:9 mode delivers images with 3648×2056 pixels. Speaking of the Lumix TZ10 / ZS7, the Panasonic sports two extra Megapixels over the Sony, and again you can see for yourself what, if any, difference this made in our Real-life Resolution tests. Note the HX5 offered no control over the compression settings and in our tests had the ratio turned-up quite high for relatively small file sizes.
Set to the best quality 10M mode, you're looking at about 3.5 to 4MB per image, and the camera provides about 45MB of internal storage to get you started. You'll obviously want to fit a memory card sooner rather than later though, especially as one is required to support the full movie and burst shooting experiences. As mentioned above, the HX5 can handle Memory Stick Pro cards or SD cards, with Class 4 models required for the movies.
The sensitivity ranges from 125 to 3200 ISO, all at the camera's full resolution. Unlike the Panasonic TZ10 / ZS7, there's no way to adjust the noise reduction, which like most Sony cameras is unfortunately set a bit too high.
To see how the quality of the Cyber-shot HX5 measures-up in practice, take a look at our real-life resolution and high ISO noise results pages, browse the sample images gallery, or skip to the chase and head straight for our verdict.