Intro
The Sony Alpha SLT-A77 is Sony's flagship SLT camera. Announced in August 2011 alongside the simpler A65 it features a 24.3 Megapixel APS-C sensor, 12fps continuous shooting with AF, full 1080p HD video at 50 or 60 frames per second and a 2.4 million pixel ultra high resolution OLED electronic viewfinder.
Like all SLT models, the A77 has a fixed semi-transparent mirror which diverts some of the light entering the lens to a new 19-point phase-detect AF array. Unlike traditional DSLRs where the phase-detect AF system is bypassed during live view and movies, it uniquely remains active on the SLT at all times, allowing fast and continuous auto-focusing whatever you're shooting.
The SLT architecture negates the need for a flip up mirror, so the optical viewfinder found in conventional SLRs is replaced by an EVF with full-time live view. The 2.4 million pixel OLED EFV that the A77 shares with Sony's flagship NEX-7 compact system camera pushes EVF performance to a new level, overcoming many (though not all) of the criticisms made of earlier attempts both by Sony and other manufacturers.
There's also a cantilevered 3 inch LCD screen that's more versatile than conventional hinged screens and a backlit LCD top panel. Sony has also introduced a classy new kit lens for the SLT-A77 which moves away from the ubiquitous 18-55mm f3.5-5.6 offerings, for a 16-50mm f2.8 model that's both wider and brighter.
A built-in GPS receiver, along with a variety of stacking modes and the inclusion of Picture Effects, Face recognition and other consumer-friendly features combine to make the SLT-A77 an attractive proposition for both serious photographers and gadget enthusiasts alike. But can its innovative technology, wealth of features and solid build quality persuade Canon and Nikon fans away from semi-pro and mid-range models like the EOS 7D and D7000? Or are the compromises inherent in the SLT design still too high a barrier for potential Nikon and Canon defectors to overcome? Read my full review to find out.
Sony Alpha SLT-A77 Design and controls

The Sony Alpha SLT-A77 measures 143x104x81mm and weighs 732g with the battery. This makes it noticeably larger and heavier than the SLT-A55 before it, which measured 124x92x85mm and weighed 492g with the battery. Much of this is due to the A77's tougher build, which includes magnesium alloy components and weather-sealing on what Sony describes as key controls.
For the record, the A77 is a little narrower and shorter than Canon's EOS 7D, which measures 148x111x74mm, and a comfortable 168g lighter. One of the closer matches for the A77's vital statistics is actually Nikon's D7000 which measures 132x105x77mm and weighs 780g with battery, making the Sony a little lighter, but a little wider and thicker too.
Side-by-side with the Canon EOS 7D fitted with the EF-S 15-85mm f3.5-5.6 IS USM, the SLT-A77 with the new 16-50mm SSM kit lens looks remarkably similar. It's just a little smaller all round and appreciably heavier in the hand – the two kit lenses weigh almost exactly the same.
Moving onto the A77 body itself, other than in very general terms it's hard to draw a continuous line from the styling of the A700 DSLR and given the three year gap that's not surprising. Neither does the A77 share much in common with the A35 announced earlier in the year.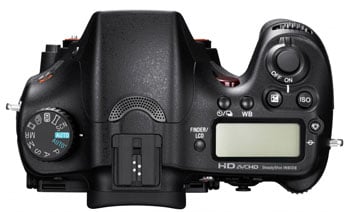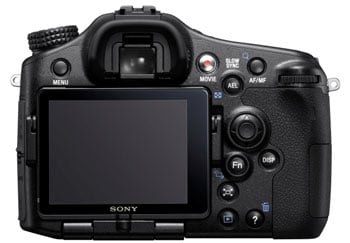 As I've said, In terms of overall shape, probably the nearest match is Canon's semi Pro EOS 7D, though there are a lot of differences where controls are concerned. The right side of the body and the handgrip are coated in soft textured plastic and the grip itself is highly moulded with a deep indent for your second finger. At the top of the grip, positioned for index finger operation is the first of two control dials. The on/off switch is on a collar surrounding the shutter release behind which, in a shallow recess, are buttons for exposure compensation and ISO sensitivity, then to the left of those a further two buttons activate drive mode and white balance options. Further back, above the EVF there's a button to manually switch between the viewfinder and screen and on the other side of the top LCD panel there's a backlight button.
Moving over the hump housing the built-in flash there's a horseshoe-shaped grille covering the stereo microphones and the proprietary hotshoe is protected with a clip-on plastic cover. The left side of the top panel is exclusively occupied by the large mode dial with a professional looking knurled rubberised outer ring.
The front of the SLT-A77 also has its fair share of controls. Starting on the left of the lens mount as you look at the camera there's a remote sensor where your finger would be if you were holding the camera. This is for operating the camera with the RMT-DSLR1 wireless remote control. There's a large LED AF illuminator lamp and at the bottom of the body to the left of the lens mount a depth-of-field preview button. Moving on to the other side of the lens mount is the lens release button and a small focus mode dial with positions for Manual, continuous and single AF. There's also an A position which selects either C-AF or S-AF depending on whether the subject is stationery or moving.
The rear of the SLT-A77 has no fewer than eleven controls, but doesn't feel cramped and there's ample room for a contoured thumb rest. Part of the reason for this is the absence of a conventional four-way controller of the type found on the SLT-A35. On the A77 it's replaced by what Sony calls a Multi-selector – a small nub of a joystick operated with your thumb.
Aside from the Multi-selector, the most significant rear-mounted controls include a second control dial, AF/MF selector button, a direct movie record button, AE lock, Fn button, display overlay, and menu buttons. I'll go into these and some of the other rear-panel controls in a little more detail in the handling section later.
The SLT-A77's ports are located on the left side of the body under four small plastic-hinged flaps. Behind the first there's a pc flash sync terminal and a connector for the RM-L1AM cable remote. Below that is a label denoting the location of the GPS receiver and under that a DC-in power connector. Further back the topmost cover conceals an external microphone connector and below that are mini-HDMI and USB ports.
The SLT-A77's NP-FM500H Lithium Ion battery pack provides enough power for 470 shots using the EVF or 530 shots if you use the LCD screen. That's around half what you'll get with the Canon EOS 7D with it's optical viewfinder alone, although switching the 7D to live view will greatly reduce its battery life. Remaining battery life is shown as a four segment graphic along with a percentage readout. Other than for casual use, a single battery is unlikely to be enough, in which case you could carry a spare, but the C77AM accessory grip which holds two batteries and provides additional portrait controls might be a better option. 500 shots is an easy number to rack up quickly, particularly if you make full use of the SLT-A77's continuous, bracketing and stacking modes.
The SLT-A77 has a built-in flash with a Guide number of 12 Metres at 100 ISO giving it a range of just over 4 metres – exactly the same as the EOS 7D. The flash operates in Auto, Fill, Rear (curtain) sync, Slow sync and wireless mode in which it's used to wirelessly activate suitably-equipped remote units like the HVL42AM and HVL-58AM. The fastest flash sync speed is 1/250 and with the flash in the raised position the camera prevents you from selecting anything faster.
The built-in unit is fine for fill flash or in emergencies but for serious flash work you'll want to fit an external flash to the hotshoe or make use of the pc connector. The proprietary hotshoe is compatible with most units in the Sony range including the HVL42AM and HVL-58AM. Flash compensation and auto bracketing is available up to +/-3EV.
Sony Alpha SLT-A77 Screen and EVF

In a camera that's fairly packed with innovative features the SLT-A77's ultra high resolution OLED electronic viewfinder is not only a technology first, it's central to the way the camera works. Electronic viewfinders are not new, but they've so far not made it into high end models because of their inferior performance compared with optical viewfinders. So the only question that really matters is how does the SLT-A77's EVF compare with optical viewfinders on other APS-C models. And the answer is better in some respects and worse in others.
The Viewfinder is surrounded by a soft plastic shield that's a comfortable fit even if you're wearing glasses. A sensor mounted just above the eyepiece detects when your face is close and switches the view from the screen to the EVF. There's a slight delay, but after a while you hardly notice it.
The first obstacle (literally) that the A77's EVF must cope with is the fixed mirror. In Sony's SLT models, a fixed semi-reflective mirror allows around 70% of the light to pass through to the sensor for full-time live view composition, but reflects the remaining 30% or so to the phase change AF system, allowing quick and continuous autofocusing in Live View and movie modes. 30% is, however, too little for a traditional optical viewfinder, so Sony doesn't bother, instead using the main sensor to deliver a live image to an electronic viewfinder in addition to the main rear screen for composition.
Despite the fact that the sensor is only receiving 70 percent of the light passing through the lens, it's bright and responsive and in normal outdoor shooting you quickly forget that you're using an EVF rather than an optical one. The A77's EVF has 2.4 million pixels, substantially more than in comparable high end EVFs like those on the Panasonic Lumix G3 and the Olympus VF-2 accessory. There's no noticeable pixellation and it's free of rainbow and tearing artifacts to my eyes.
There are circumstances in which it readily becomes apparent that you're looking at an electronic representation and that's in low light and high contrast scenes. In the former, amplification results in a slightly noisy view, and although this is of course unrelated to image quality it is intrusive all the same. And when you're shooting against the light or other high contrast scenes it can become difficult to make out detail in darker parts of the scene.
Compared with these drawbacks there are numerous positives though. The SLT-A77's EVF is big, providing a 100 percent view with no cropping that's much closer in size to the viewfinder of a full frame DLSR like the EOS 5D Mark III than that of the EOS 7D. Another advantage that's easy to overlook is that the EVF is configured to display any current effects settings (you can turn this off) so if you have the white balance incorrectly set, or if you set the Black and White Creative style it's obvious – what you see is what you get.
It's not just effects that can be displayed on the EVF, other information can be overlayed. Pressing the display button toggles between a clean view, electronic level gauge and live histogram. Exposure, shooting mode and other information is displayed on thin bands above and below the image area.
You don't have to rely solely on the EVF as the SLT-A77 has a 3 inch flip out LCD panel. The screen has 921,600 pixels, the same as the screen on the EOS 7D. The 7D's screen is fixed though, if you want a flip-out screen on a Canon DSLR you'll have to look to the EOS 60D. That model's side-hinged screen is versatile and allows front-facing operation but Sony has taken a radically different approach with the A77's screen which has a horizontally cantilevered hinge coupled with a rotating flange. This makes it possible to pull the screen away from the camera and rotate it 90 degrees up or down. It can also be set to face the front above the camera body – an arrangement that works well providing there's nothing mounted on the accessory shoe.
You have to wonder whether it wouldn't have been simpler for Sony to copy Canon and put a side hinge on the screen. In it's favour, the Sony screen mechanism is functional and there's something to be said for having the screen behind the camera rather than to the side – it doesn't foul on a neck strap and it just feels right.
As on the NEX-7, Sony has gone to some effort to ensure that the EVF and screen complement each other and as well as using the screen as a live view alternative to the viewfinder you can just show a graphical readout of exposure and other camera information. More on that in the handling section a bit later.
Sony Alpha SLT-A77 lens and stabilisation

The SLT-A77's body features SteadyShot Inside sensor-shift image stabilisation providing stabilisation for any lens you attach, including the new 16-50mm f2.8 kit lens which sports a number of features that put it a notch above what you might expect from a kit lens in terms of build quality and performance.
First let's look at the specification. The 16-50mm lens provides an equivalent field of view of 24-75mm on the A77. I personally find that a much more useful range than the bog-standard 18-55 range widely deployed by Canon, Nikon and Sony itself on many models. At the wide-end, an equivalent of 24mm captures a wider view than most kit lenses, while the telephoto end is just about fine for portraiture and you're not sacrificing a great deal compared with the 88mm equivalent of an 18-55mm on a Canon APS-C body.
Arguably more importantly, the 16-50mm f2.8 is also a very bright lens, no bad thing given that a significant proportion of the light it transmits never reaches the sensor, but the other neat trick this lens has up its sleeve is that the maximum aperture remains constant throughout the zoom range. So at 50mm it's still wide open at f2.8, making it significantly faster than the f5.6 aperture of most other kit lenses when zoomed-in.
| | | |
| --- | --- | --- |
| Sony Alpha SLT-A77 SAL-1650 SSM coverage wide | | Sony Alpha SLT-A77 SAL-1650 SSM coverage tele |
| | | |
| 16-50mm at 16mm (24mm equivalent) | | 16-50mm at 50mm (75mm equivalent) |
The 16-50mm Sony kit lens looks and feels like a solidly engineered professional piece of equipment. The zoom and focus rings feature wide rubberised grips and the zoom action is very smooth with a degree of resistance that allows for reasonably smooth zooming during video recording but doesn't prevent you getting quickly from one end to the other if the situation demands it. There's an AF/MF selector switch on the barrel and on top a window with distance scales in metres and feet. On the right side of the barrel there's a lock switch which prevents any movement of the zoom ring – handy if you want to shoot at a a fixed focal length and don't want any accidental movement of the barrel. Like the A77 body, the kit lens is weather resistant with interlocking seals to protect against dust and moisture.
To test the SLT-A77's stabilisation I set the 16-50mm lens at its maximum telephoto zoom of 50mm (75mm equivalent) and took a series of shots at progressively slower shutter speeds with the stabilisation off and on. As you can see from the crops below, the SLT-A77 can eliminate camera shake down to 1/8 – a little over three stops more than you'd expect to be able to handhold unstabilised.
Sony Alpha SLT-A77 with SAL-1650 SSM SteadyShot Off / On

100% crop, 16-50mm at 50mm, 50 ISO 1/8, OSS off.

100% crop, 16-50mm at 50mm, 50 ISO 1/8, OSS on.
Sony Alpha SLT-A77 shooting modes

The SLT-A77's mode dial provides PASM shooting modes, two fully auto exposure modes, a range of scene presets, panorama and 3D shooting, high speed continuous shooting and movie recording. Additionally there are further continuous, bracketed and stacking modes available .
I'll talk in more detail about the using the PASM modes in the handling section later. The two auto modes, Auto and Auto+ set the exposure automatically with the latter employing scene detection to aid correct exposure. In these Auto modes Face detect AF is activated and most of the camera's buttons are disabled, but you can still shoot continuously and use the self-timer. Sweep panorama and 3D sweep panorama offer the same hi resolution modes as the NEX7 with a maximum image size of 5536×2160 pixels in portrait mode and 12,416×1856 in landscape.
The SLT-A77 has a number of stacking modes designed to increase dynamic range or reduce noise or both. First there's the Hand-held Twilight Scene mode that's a staple of many Sony models right down to the mid-range compacts. Hand-held Twilight takes a fast burst of six shots and produces a single composite image with less noise than would be possible with a single high ISO shot – see the noise results page for examples .
Multi-frame noise reduction, like hand-held Twilight mode also combines six frames into a single low noise image. The difference though is Hand-held twilight sets the ISO automatically, whereas Multi-frame Noise Reduction lets you set the ISO manually and extends the 16000 ISO upper limit to 25600 ISO. It's a valuable advantage the A77 enjoys over its traditional DSLR rivals and you can see examples of it on the Hand-held Twilight noise test page.
As you'd expect, the SLT-A77 also offers the full range of DRO (Dynamic Range Optimiser) contrast enhancement settings. There's no dedicated DRO button on the A77, instead Auto DRO (the default) and five other presets are available from the Fn menu or you can turn it off altogether. You can also shoot bracketed DRO shots.
In addition to DRO enhancement another composite mode produces in-camera HDR composites from a sequence of three images. You can set the EV difference between the three exposures between one and six stops or have it determined automatically. Though it's not a shooting mode, the MR position on the mode dial allows you to instantly recall a custom setup including exposure mode and settings, metering mode, AF area setting and any of the still shooting menu items.
Like the NEX-7, the SLT-A77 has a front curtain electronic shutter. On cameras with live view the mechanical shutter's first curtain must close to prepare the sensor for the exposure. The first curtain then opens, followed by the second curtain to make the exposure at the set shutter speed. The SLT-A77's electronic first curtain negates the need for the mechanical first curtain to close prior to an exposure, thus decreasing the time between pressing the shutter release and the actual exposure. Sony quotes a shutter lag of just 0.05 seconds, not quite as fast as the NEX-7, but swift nonetheless. As a result of there being no mirror and no first curtain mechanical shutter movement, the SLT-A77's shutter release action is very quiet compared to conventional DSLR's like the EOS 7D. If you're the kind of person that equates a hefty mechanical clunk with quality it can take a little getting used to, but less noise and vibration can only be a good thing, particularly in continuous shooting modes.
Sony Alpha SLT-A77 2D Sweep Panorama samples with SAL-1650 SSM


Top: 16mm in landscape orientation. Bottom: 16mm in portrait orientation.
The SLT-A77 includes The same Picture Effects as on the NEX-5N and NEX-7 including Pop Colour, Posterisation, Retro, several Partial Colour modes, Soft Focus, HDR Painting and a versatile Miniature faux tilt / shift effect. Picture Effects can be used during video recording with the exception of Soft Focus, HDR Painting, Rich-tone Mono and Miniature. It's a shame you can't use the Miniature effect for video, as it's one of the better ones around, using the AF to determine the blurred area or allowing selection in both horizontal and vertical bands. The other drawback is they can't be used with RAW+JPEG so you can't produce both an effect and straight version. On the up side, you can do this with Creative styles if you want to shoot, say, black and white in camera, but still have a RAW colour backup.
Sony Alpha SLT-A77 movie modes

The SLT-A77 can shoot full HD 1080p movies at 60 or 50 frames per second depending on region. HD movies are encoded in AVCHD2 format at an average bit rate of 28Mb/s. Other modes are 1080p25 at 24Mb/s or 17Mb/s and 1080i50 at 24Mb/s or 17Mb/s. At 1080p resolution the Canon EOS 7D's best frame rate is 30fps and even the new EOS 5DS Mark III doesn't better that, offering 50/60fps only for the lower 720p HD resolution. To be fair, this is probably only going to be an issue for those who want to take advantage of the slow motion potential that a fast progressive frame rate offers, slowing the action down by two to two and a half times at 24 or 25 frames per second, but it's revealing Sony has stolen a lead on Canon and Nikon in this regard.
Audio is recorded using the built-in stereo mics, alternatively you can plug an external microphone, such as Sony's ECM-CG50 shotgun mic, into the 3.5mm jack on the right side. There's a wind noise reduction filter and you can turn the audio off for movie recording, but you can't manually set the audio recording levels.
Pressing the dedicated movie record button in a stills shooting mode records movies in Program Auto exposure mode, but turn the mode dial to the movie shooting position and you get three further exposure modes – aperture priority, shutter priority and manual. There's only one drawback though: you can't use these semi auto and manual exposure modes in combination with AF, which thanks to the phase-change AF system, needs the aperture wide open in order to maintain continuous autofocus.
The SLT-A77's fixed semi-reflective mirror always reflects a small portion of the incoming light to a phase-change AF sensor, while allowing the rest to pass through to the imaging sensor. This allows the camera to continuously autofocus using its quick and accurate phase-change system while filming video – a pretty unique capability. Only the Nikon 1 models join the SLTs to offer this capability while filming video (or operating in live view). All other mirrorless CSCs, along with traditional DSLRs employ contrast-based AF systems which in most cases isn't anywhere near as quick or confident. The latest Micro Four Thirds models are making good progress in this regard, but compared to a traditional DSLR, the movie AF on the SLTs is nothing short of miraculous.
You can alternatively manually focus the A77 during movies, which is made very easy thanks to the focus-peaking assistance; the manual focusing ring on the 16-50mm kit lens is also very smooth. It's just a little disappointing that you can't have your cake and eat it by taking advantage of continuous AF and manual exposures modes concurrently. Once again the continuous movie AF on the A77 demands that the aperture be wide open, so there's no chance of combining movie AF with a large depth of field (using a big f-number).
The maximum continuous recording time in all modes is 29 minutes and the manual warns that at ambient temperatures above 20C That may be reduced further. I didn't personally experience the camera overheating and was able to record for the full 29 minutes at temperatures around 20 degrees C. Here's a few examples to show the camera in action. All the sample videos below were shot in the SLT-A77's best quality 1080p50 28M mode.
Sony Alpha SLT-A77 sample video 1: outdoors, sunny, handheld pan with optical zoom
With SteadyShot enabled, the A77 provides a stable platform for this hand-held panning shot. Continuous AF while zooming lags a little, but then does a quick catch-up.
Sony Alpha SLT-A77 sample video 2: outdoors, sunny, tripod pan with optical zoom
The SLT-A77's CMOS sensor copes well with against the light in shots like this. The big-barelled zoom on the 16-50mm is easy to control, but again the AF loses it during the zoom albeit catching up, quickly, accurately and noiselessly.
Sony Alpha SLT-A77 sample video 3: indoors, low-light, handheld pan
Indoors in the low light the continuous AF works well to smoothly transition from near to middle distance subjects, but the exposure isn't particularly responsive.
Sony Alpha SLT-A77 sample video 4: Continuous movie focusing
This outdoor handheld example shows just how well the SLT-A77's continuous focus can work, smoothly transitioning from very close focus to infinity and back again in a natural way. The only criticism I'd make is that it's a little too efficient and ironically a slightly slower transition might be preferable.
Sony Alpha SLT-A77

handling

Overall, the SLT-A77 is a pleasure to use. The physical controls are logically organised and fall easily to hand, while the front and back control dial system is both intuitive and effective. It provides a high degree of customisation which is just as well because like all Sony cameras there's room for improvement both in the function of the physical buttons and the organisation of the menus.
My main gripe with the controls is that Sony hasn't configured them the most sensible way. In PASM shooting modes the front and rear control dials do the same thing. Only in Manual do they differ with one controlling the aperture and the other the shutter speed. There is an option to set either dial for exposure compensation and this is the first thing most people will do, so why not make it the default with the option to make one dial a useless duplicate in the unlikely event somebody likes it that way?
Pressing the display button cycles though overlays for the EVF and screen – whichever is currently active. There are five in all – a graphic slider display for exposure settings, a clean view, 'All info', an electronic level gauge and a live histogram. Unfortunately you can't combine any of these so if you want the histogram you have to make do without the level. All of these options can be set independently for the EFV and screen and while it's not very practical to have, say, the histogram in the EVF and the level on the screen, a 'For Viewfinder' screen option displays information without the live view so you can check settings in an instant if you're using the 'No info' viewfinder. It's worth mentioning that even with the no info overlay, the EVF still displays shooting mode, exposure, battery life and quality settings.
The menu system on the SLT-A77 is organised into seven tabbed groups. Here the two control dials have been used sensibly with one controlling horizontal movement through the tabs and the other downward navigation through menu items, the Multi-selector, as its name implies, goes both ways.
Frequently used functions, including Drive mode, Flash mode, AF area selection, Object tracking, Face detection, ISO sensitivity, Metering mode, White balance, DRO, Creative Styles and Picture Effects, can be accessed via a quick menu by pressing the Fn button. This is one menu that really would have benefited from customisation and it's quite disappointing that Sony has overlooked the opportunity.
Sony has, however, provided plenty of opportunities for customisation elsewhere, specifically the AEL, ISO, AF/MF, Preview and as already mentioned, the front and rear dials can all be assigned custom functions. You could well think of the first three as custom buttons which can be assigned any one of a range of functions including AE lock, AF lock, AF/MF control, Focus magnification, Metering mode, DRO, Creative Styles and Picture Effects. Frustratingly though, Sony maintains its reluctance to add SteadyShot to a custom button.
The SLT-A77 employs a 19-point Phase detection autofocus sensor of which eleven are cross-type sensors. Its fixed mirror with full time live view gives it some significant advantages when it comes to focussing, primarily the ability to focus continually during high speed continuous shooting and movie recording. I'll talk about that in greater detail shortly, but how does the SLT-A77's focussing perform for general stills work?
Single and continuous AF are selectable from a dial located near the bottom right side of the lens mount and an auto position switches between the two depending on subject movement. There's also a manual option and the AF/MF button allows quick switching between the two in either a hold or toggle configuration. Focus peaking which outlines in-focus contrasting edges with a coloured halo and two levels of focus magnifier combine to make manual focussing on the SLT-A77 both an effective and genuinely enjoyable process.
With the 16-50mm kit lens attached and in good light, the SLT-A77 is fast, quiet and pretty sure of itself. The number of AF sensors in use can be limited by region or you can select the central 'spot' sensor and this seems to speed up the AF response time marginally. Eye-Start AF improves autofocus performance by engaging the AF servo when the EVF proximity sensor detects your eye, but the constant motor activity and consequent battery drain combined with the viewfinder instability that results make it quite hard to work with.
Sony Alpha SLT-A77 Continuous shooting

The SLT-A77 provides a number of continuous shooting options, but the thing that sets it apart from most other current semi-pro and pro DSLRs is its ability to shoot at 12 frames per second with 'full time' autofocus. Few DSLRs can match these speeds, faster than the 10fps of Canon EOS 1D Mark IV which costs over four times more. Sony's cheaper SLT-A65 may be slower than the A77, but even it manages to squeeze out a top speed of 10fps. Sony really is continuing to redefine what we can expect from bodies at these price points in terms of speed.
This is such a standout feature that the 12fps 'Continuous Priority AE' shooting mode gets its own position on the mode dial, it isn't included along with slower Continuous Shooting and bracketing modes on the Drive mode button. For the record the SLT-A77 has two slower continuous shooting modes, Lo at 3fps and Hi at 8fps.
As with movie shooting, Continuous Priority AE mode imposes some exposure mode restrictions: both focus and exposure are controlled automatically, you can set the ISO, but not the aperture or shutter speed. The reason for this is in order to focus between shots the aperture has to be wide open, or close to it (f3.5 or the maximum aperture, whichever is smaller) and at 12fps there isn't sufficient time to close the aperture for the shot then open it up again to focus.
Then there's the buffer depth, which is fairly modest with room for only 13 Extra Fine JPEG or RAW files in a burst, increasing only slightly to 17 frames if you increase the compression to Fine or Standard. At 12fps, that only gives you between one and one and a half seconds per burst, which doesn't provide a great margin for error and places the A77 firmly in the mid-range category. Interestingly the buffer depth of the A77 appears to be identical to that on the A65. The sequence below shows the final 10 frames of a 13-frame sequence shot with the A77 in Continuous priority AE mode with continuous autofocus.
To test the continuous shooting performance of the SLT-A77 I fitted it with a freshly formatted Sandisk Extreme Pro 8GB UHS-1 SDHC card. I timed the Lo and Hi continuous shooting performance with the AF set to continuous and quality set to large Extra fine JPEG. AF area mode was set to Wide, using all sensor points and DRO was left on the default auto setting. In Lo mode the SLT-A77 recorded 3fps and in Hi mode a burst of 10 frames at 8 fps before the buffer filled and the rate slowed to give an average over a 5 second burst of 4.3fps.
In Continuous Priority AE mode the SLT-A77 shot a burst of 14 Large Extra fine JPEGs at exactly 12fps. Once the buffer is full the rate drops to a fairly useless one frame per second or so. So you're limited to a 14 frame (or 1.16 second) burst, but how long do you have to wait before you can shoot another burst? For the buffer to empty takes 9 seconds with the Sandisk UHS-1 card. Of course you don't have to wait for it to empty completely before you start shooting again. If you hold off shooting for around half that time you can fire off another seven frame burst, if you wait only a couple of seconds, there's sufficient free space in the buffer for a three frame burst. Switching to Raw+JPEG saw the burst drop to 13 frames and the buffer write time increase to 14.5 seconds
Bear in mind that these timings are with a UHS-1 card. It's well worth investing in these faster cards to make the most of the SLT-77s fast continuous shooting. Replacing the card with a Class 10 Sandisk Extreme card saw the buffer write time for JPEGs increase to nearly 17 seconds – almost twice as long – and I had to wait more than 26 seconds for the buffer to empty of RAW+JPEG files with the slower card.
The SLT-A77 is equipped with the same 24.3 megapixel CMOS sensor as the NEX-7, delivering images with 6000 x 4000 pixels. The sensitivity range is 100 to 16000 ISO with a 50 ISO expanded option and a 25600 with Multi-frame Noise Reduction. The shutter range is 1/8000 to 30 seconds plus Bulb and the flash sync speed is 1/250.
Images can be recorded in Sony's .arw RAW file format or as JPEGs at one of three compression settings – Standard, Fine and Extra fine. Extra Fine JPEG files are between 10 and 16MB in Size.
To see how the quality of the Sony A77 measures-up in practice, take a look at my Sony A77 quality and Sony A77 noise results pages, browse my Sony A77 sample images, or skip to the chase and head straight for my verdict.