Intro
The Sony Alpha NEX-5N is one of three new NEX models announced by Sony in August 2011. The NEX mirrorless ILC range is built around a large 'APS-C' sensor (the same in many DSLRs) which allowed the original NEX-3 and NEX-5 establish a reputation for quality and superb low noise performance.
The NEX-5N builds on that reputation with a new 16.1 Megapixel CMOS sensor providing a number of enhancements including 10 frames per second continuous shooting and a sensitivity range that goes all the way up to ISO 25600. It supports 1080p60 video with fully manual exposure control and focus can be set with your finger on the 3 inch LCD display – the 5N is the first NEX model with a touch-screen.
Like earlier NEX models the NEX-5N has an accessory port for the supplied screw-on flash accessory, but unlike earlier models it's also compatible with the new optional FDA-EV1S OLED viewfinder. Fit the new LA-EA2 adaptor and you can also take advantage of any full-sized Alpha A-mount lenses with the addition of phase-detect auto focus.
All of this will undoubtedly make the NEX-5N a much more attractive proposition to photo enthusiasts than the earlier NEX-3 and NEX-5, but it retains the ease-of-use features – Intelligent Auto exposure mode, Photo Creativity, Picture effects, Smile shutter and Sweep panorama – that made those earlier models a compelling choice for compact upgraders. Find out if this is the ILC for you in my full review!
Sony Alpha NEX-5N Design and controls

At first glance, there's little to tell the Sony NEX-5N from it's predecessor, the NEX-5: measuring 111 x 59 x 38mm it has exactly the same dimensions and weighs a little less at 269g with the battery. The top panel is slightly angled and the playback and movie record buttons are positioned on the back half of it. The on/off switch, now with a silver surround, is positioned on the top and the shutter release is on the sloping front section of the generous hand grip. It doesn't feel radically different to the NEX-5, which is to say, solid and comfortable.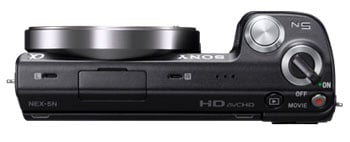 On the back there's the same uncluttered control layout with a four-way control wheel with a central button flanked top and bottom by two further buttons. One of these activates the menu system, the other is programmable but in the default setting accesses the help system. The NEX-5N has two other programmable buttons – the centre and right buttons on the four-way controller. The other three are disp, to toggle the various display overlays, self-timer and drive modes, and exposure compensation.
To the right of the control wheel, most of the rear panel is occupied by the 3 inch 921k pixel touch-screen. The screen has a 16:9 aspect ratio which is ideal for shooting HD movies though less so for 4:3 stills which have a black bar to the right overlayed with touch icons and labels for the physical buttons. The screen flips up 90 degrees so you can easily compose at low angles and also flips down by about 45 degrees so you can get a decent view at high angles.
The big news about the screen of course is that it's touch sensitive. Sony has taken quite a subtle approach to touch functions, one that focuses on augmentation rather than replacement of physical controls. So you can use the touch-screen to navigate menus, control playback functions and for some focusing activities. I'll talk more about that later.
In day-to-day use the the screen is very practical and I found the ability to flip it made it much easier to shoot from all angles not to mention helping keep it out of the sun. The view is bright and contrasty from most angles as well as straight-on, if a little on the cool side. If you prefer to use an eye-level viewfinder the NEX-5N is compatible with Sony's new FDA-EV1S electronic viewfinder (EVF). This is a great new accessory, although puts the 5N in line with the Olympus E-P3 and Panasonic GX1.
The NEX-5N is supplied with a small add-on flash unit which, rather awkwardly, screws into the accessory port on the top panel directly above the lens mount. The supplied unit has a guide number of 10 at 200 ISO which gives it a maximum range of 2.85 metres with the 18-55mm kit lens at its wide angle setting and maximum aperture. Sony produces a more powerful external flash for NEX models with a guide number of 20, however, you can use any external flash in the standard hotshoes of the Olympus E-P3 and Panasonic GX1, whereas the Sony port is proprietary and can only take one accessory, so you can't use the flash and optional viewfinder, or shotgun mic at the same time. The flash flips up to activate and has Auto, Fill, Slow-Sync, Rear-Sync and Off modes, the last being a little superfluous as all you need do is flip it back down. As you can see if you take a look at the interior flash shot on the gallery page, the voluminous dimensions of the 18-55mm kit lens plus the lens hood can cause a shadow.
The NEX-5N has mini HDMI and USB ports under hinged plastic flaps on the left side of the camera body. The battery/card compartment is in the grip section, accessed from a door on the base which remains accessible when the camera is mounted on a tripod. The supplied info Lithium battery provides enough power for a very respectable 410 shots and the remaining battery power is shown as a percentage on the screen.
Sony NEX-5N lens and stabilisation

The NEX-5N is available as a body only, or with the 18-55mm f3.5-5.6 kit zoom. There are two additional options which add either the 16mm f2.8 pancake prime or the 55-210mm f4.5-6.3 zoom. You can also use A mount lenses with the LA-EA1 and LA-EA2 adaptors, the latter effectively turning the NEX-5N into an SLT camera with 15-point phase detect AF. When comparing ILC body sizes, it's important to take the lenses into account. The NEX-5N body may be smaller than most rivals, but thanks to its larger sensor, the native E-mount lenses are correspondingly broader, and so far Sony has resisted producing a collapsing kit zoom.
| | | |
| --- | --- | --- |
| Sony Alpha NEX-5N coverage wide | | Sony Alpha NEX-5N coverage tele |
| | | |
| 18-55mm at 18mm (27mm equivalent) | | 18-55mm at 55mm (82mm equivalent) |
I tested the NEX-5N with the 18-55mm zoom which, with the APS-C crop factor of 1.5 has an effective focal length range of 27 – 82mm. Though Optical Steady Shot (OSS) stabilisation is built into the lens and not the body you can turn it on and off from the NEX-5N's setup menu, though, disappointingly, you can't assign it to a custom menu. To test the stabilisation performance of the 18-55 kit zoom with the NEX-5N I zoomed it to its maximum 55mm (83mm equivalent) telephoto position and took a series of hand-held shots at a range of shutter speeds with OSS enabled and turned off.
Sony Alpha NEX-5N 18-55mm f3.5-5.6 OSS Off/On

100% crop, 18-55mm at 55mm, 100 ISO 1/5th, OSS off.

100% crop, 18-55mm at 55mm, 100 ISO 1/5th, OSS on.
With the NEX-5N to shutter priority mode I took a series of exposures at progressively slower shutter speeds with OSS turned off and on. As you can see from the crops above, OSS can produce blur-free shots down to 1/5th of a second, the equivalent of four stops better than conventional wisdom dictates is advisable without stabilisation.
Sony Alpha NEX-5N shooting modes

In Intelligent Auto mode the NEX-5N uses compact-style scene recognition for enhanced exposure and Autofocus. It of course features PASM exposure modes and it also includes the recently enhanced high resolution Sweep panorama modes that feature on Sony's compact models. There are a number of composite modes that take several shots and combine them to produce a single composite image; Anti-motion Blur appears on the shooting mode dial (a virtual dial which you can rotate with the control wheel or using your finger on the touch screen) and Handheld Twilight mode appears on the scene mode menu. Then, tucked away on the Brightness/colour menu along with the Dynamic Range Optimiser settings is Auto HDR mode which takes three bracketed exposures and combines them into a single HDR image.
| | | |
| --- | --- | --- |
| Sony Alpha NEX-5N Program Auto | | Sony Alpha NEX-5N Auto HDR |
| | | |
Sony Alpha NEX-5N HDR Painting High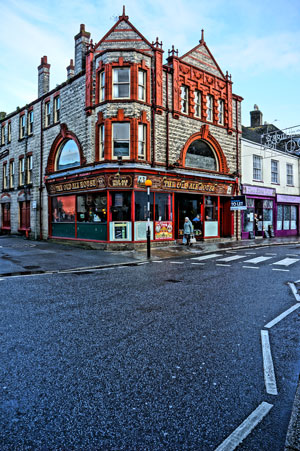 The NEX-5N does a pretty good job of implementing features that make the most of its technology whether you're shooting in Intelligent Auto or the PASM modes. Photo Creativity is the term Sony uses to describe a set of results-based controls that are activated by pressing the centre button on the control wheel in Intelligent Auto mode. They include Background defocus, Brightness, Colour (white balance) and Vividness. In each case the respective control is set using the wheel (or screen) to adjust a radial slider between the two extremes which are represented by icons – orange and blue squares for colour, a rainbow and grey square for vividness and so on.
Picture effect modes are an additional option on the Photo Creativity screen with the same modes as the NEX-C3 – Pop-Color, Retro Photo, Posterization, Toy Camera, High-Key and several partial colour modes which desaturate the image leaving only a single colour. But there's a very important difference which is that the NEX-5N offers Picture effects in the PASM modes as well. But in PASM modes not only are there more of them, many have options allowing more creative choice.
First, lets look at the new additions. There are four: Soft Focus, HDR painting, Rich Tone Mono and Miniature. HDR painting has three settings: Low, Mid and High and produces an HDR composite from three shots taken in quick succession. It differs from Auto HDR in that the results are aggressively tone mapped to produce an HDR painting effect that will be familiar to users of Photomatix and similar applications. You can see an example opposite.
It's not new, but Sony's implementation of the faux tilt-shift miniature mode has a clever twist. You can set the focus zone to a horizontal or vertical band in the middle or at the frame edges, but the really clever part is the Auto mode which uses the autofocus areas to decide which parts of the image to blur. With the exception of Soft Focus, HDR Painting, Rich-tone Mono and miniature, picture effects can also be used during video recording. Few will mourn the lack of the first three, but not being able to use the miniature mode for movies is a real shame, as well as a disadvantage compared with the latest Olympus and Panasonic models.
Sony Alpha NEX-5N movie modes

With a best quality video mode of 1080p50/60 (depending on region) the NEX-5N is a big step up from earlier NEX models and twice the progressive frame rate available on any DSLR. The NEX-5N goes further in other ways, like full exposure control – you can shoot video in any of the PASM modes altering exposure during recording if necessary and use some of the Picture Effects (but again not Miniature).
1080p50/60 HD footage is encoded using AVCHD version 2 at 28Mbps with two 25/30p and two 25/30i recording options at 24Mbps and 17Mbps respectively. Switch to MP4 recording and you have 1440×1080 at 24/25 fps and 30fps VGA (640 x 480).
Sony hasn't published any information on maximum continuous recording times for the NEX-5N, but I inserted a new Lexar Professional 16GB 133x SDHC card with a class 10 speed rating, set 1080p50 mode and pressed the record button. The NEX-5N stopped recording after 29 minutes and 10 seconds though this was most likely due to a restriction imposed on European models to comply with tax regulations.
The large zoom ring on the 18-55mm kit lens makes it possible to zoom reasonably smoothly during video recording and the stereo mics work as well as any inbuilt mics with the added benefit of a digital wind noise filter. There's no standard microphone input but you can connect the optional accessory ECM-SST1 microphone.
Sony alpha NEX-5N sample video 1: outdoors, sunny, handheld pan with optical zoom
Great quality 1080p50 video from the Sony NEX-5N. A little bit of wobble when you operate the manual zoom is inevitable, but the stabilisation does a good job otherwise.
Sony alpha NEX-5N sample video 2: outdoors, sunny, tripod pan with optical zoom
Other than a little bit of focus wander during the zoom and some wind noise it's hard to fault this tripod-mounted panning shot, good exposure control and nicely rendered colours.
Sony alpha NEX-5N sample video 3: indoors, low-light, handheld pan
This interior low light panning clip was shot in Program Auto mode and looks a little dark, particuarly on the window section, but the exposure is responsive without stepping.
Sony alpha NEX-5N sample video 4: Touch focus
You can use the NEX-5N's touch screen to 'pull' focus during video recording. The results are pretty impressive with a nice smooth focus transition that fixes accurately on the subject first time.
Sony NEX-5N

handling

With minimal physical controls and touch screen the NEX-5N will undoubtedly appeal to anyone moving up from a compact, but anyone used to handling a DSLR might need a bit more of a settling-in period. Sony has done an excellent job of integrating the touch screen, in most circumstances you can use it as an alternative to the control wheel and, though it lacks a touch shutter, the touch focus feature, particularly for movies, makes a big difference. And if the touch screen doesn't appeal, you can turn it off and get by perfectly well without it.
The NEX-5N provides plenty of opportunities for customisation. The central button of the control wheel can be assigned to a custom menu to which you can add your choice of functions from a list that includes Drive mode, AF/MF, AF mode, AF area, ISO, White balance, Metering mode and Picture Effects. The disadvantage of assigning the centre button to the Custom menu is that it no longer fulfils its default function of selecting the shooting mode. To do that you'd subsequently need to select the shooting mode menu via the main menu. Alternatively you can assign the shooting mode to one of the other soft keys or customisable control wheel buttons, but then, of course, you'll have to sacrifice whatever custom function you might have otherwise wanted to use it for – it's a bit like custom button musical chairs. The other drawback is that in non-PASM modes the shooting mode menu reverts to the centre button.
The menu structure can at times be a bit daunting. The NEX-5N has nothing like the Live Control and Super Control panels on the Olympus PENs and, even when you know where they are, getting to menu options can take a fair bit of clicking and scrolling. That makes the Custom button setup something you can't afford to ignore, it really pays to make the effort to customise the controls and work at familiarising yourself with the location of the more frequently used settings.
The NEX-5N is ready to shoot in about a second and a half after you switch it on. In good light the contrast detect AF works very well and it has face detect AF as well as the face recognition features common on Sony compacts. In poor light the area AF is less sure of itself, bit with the touch screen providing Flexible Spot and Object Tracking there are plenty of alternatives.
The NEX-5N has three continuous shoting modes; Bracket Continuous shoots three bracketed exposures, Continuous shoots at approximately 4fps with focus and metering for each frame and Speed Priority Continuous shoots at 10fps with focus and exposure locked from the first frame. I tested the NEX-5N's in Speed Priority Continuous mode with a freshly formatted Lexar Professional 16GB SDHC card with a class 10 speed rating. The image quality was set to Large Fine JPEG and the exposure mode was set to Shutter priority with a speed of 1/500. The NEX-5N fired of a burst of 10 frames in just under a second and then slowed to a rate of around 2fps. In RAW+JPG mode the NEX-5N managed a 5 frame burst before slowing to less than 1fps.
The NEX-5N has a 16.1 Megapixel CMOS sensor with a sensitivity range of 100 – 25600 ISO. Images can be saved as RAW files in Sony's ARW raw format or as JPEGs using one of two compression settings, Fine and Standard. There's also a RAW+JPEG mode which saves a fine quality JPEG in addition to the RAW file. Fine quality JPEG compressed files are around 3 to 5MB in size. The shutter speed range is 1/4000 to 30 seconds plus Bulb.
To see how the quality of the Sony NEX-5N measures-up in practice, take a look at our NEX 5N quality and NEX 5N noise results pages, browse the NEX 5N sample images, or skip to the chase and head straight for our verdict.