Sony Alpha DSLR-A900 - Sony Alpha DSLR-A900 verdict
Sony Alpha DSLR-A900 verdict
Sony's Alpha DSLR-A900 feels like it's been with us for a long time – after all, the prototype was first shown back in March 2007 and its sensor unveiled in January 2008. So unlike its rivals which are often sprung with little notice, we've long-known what Sony's flagship DSLR would look like and speculated how its new 24 Megapixel full-frame sensor may perform in practice.
Despite this advance information though, using the A900 in person is still quite a surprise in a number of respects. First, it's larger and heavier than it looks, and once equipped with a quality lens like the Carl Zeiss 24-70mm f2.8, you certainly know you're carrying it around. This is not a combination for anyone who wants to travel light, but it does feel well-balanced in your hands and like most heavier cameras, this heft instils a degree of confidence. It should also be said, the A900's very distinct styling comes across better in the flesh than in photographs – it's a unique but smart-looking camera.
The second surprise is the optical viewfinder, which is one of the largest, brightest and most enjoyable we've used in a long time; even in full-frame terms, it's of a very high standard. Rather than feeling you're looking down a tunnel at a framed view, you actually find yourself looking around the A900's viewfinder image.
The third surprise is the speed of handling and operation. 24.6 Megapixels is a great deal of data to process, but the A900 rarely feels like its breaking a sweat. It's very responsive and attacks continuous shooting, firing at only a fraction below 5fps in our tests – remember Nikon's D700 may also offer 5fps, but is only handling 12.1 Megapixel images, while Canon's EOS 5D Mark II shoots at a relatively modest 3.9fps.
Fourth is the resolution. It comes as no surprise to discover 24.6 Megapixels can potentially capture a lot of detail, but taken under the right conditions, the A900's images still have the ability to impress with how far you can zoom-in before reaching a 100% view.
When you consider the A900 also sports built-in anti-shake facilities which work with any lens you attach, along with a detailed VGA screen, HDMI output and accurate battery feedback, it's clear Sony has a very impressive package for the money.
But it's not all good news. Sony's taken its retro styling a bit too far with the upper information screen, which is so unnecessarily basic it's almost insulting compared to those from Canon and Nikon. Then there's the lack of Live View which may not bother conservative photographers, but remains a serious omission in a modern DSLR, let alone a flagship model. We're not suggesting anyone should hold the A900 at arms length just to compose with the screen, but Live View is invaluable when it comes to achieving precision focus in technical or product photography. By not offering it on the A900, Sony's alienating potential buyers who'll go to Canon or Nikon instead – it's a daft strategy.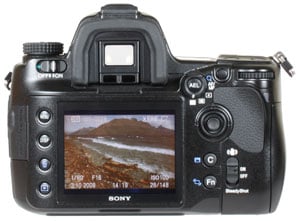 The presence of Live View and a Live Histogram may have also prevented any nasty surprises concerning metering – in our tests, the A900 had a habit of underexposing, especially given already dark scenes and many required subsequent compensation. The new Intelligent Preview facility may allow you to see the effect of some adjustments, but by forever losing the original which could have captured the perfect moment, it has the potential to infuriate.
In terms of quality, the A900's 24.6 Megapixel images certainly contain a lot of detail, but in our tests there wasn't much difference between them and those from 21.1 Megapixel Canon EOS 1Ds Mark III. Up until September 2008 this would still have been a great result for Sony, as a single Canon 1Ds Mark III could buy you two and a half A900s.
But now Canon has its EOS 5D Mark II which shares the same 21.1 Megapixel resolution as the 1Ds Mark III at a launch price that's 10% less than the A900. We can't comment on the 5D Mark II's quality until we test a final production model, but given the 1Ds Mark III delivered cleaner images than the A900 at 400 ISO and above, it bodes well. See our Sony A900 High ISO results page for the full story.
Indeed the biggest issues facing the A900 are tough competition from its arch rivals. There's two other 'affordable' full-frame DSLRs on the market and both are coming-in at a lower price, so before wrapping-up, let's see how Sony's flagship Alpha measures-up.
Compared to Canon EOS 5D

Canon's EOS 5D has recently been succeeded by the Mark II version (see below), but until that model becomes widely available, the original 'affordable' full-framer remains a rival for the A900. Indeed current online discounts for the EOS 5D mean you can enjoy full-frame benefits at around 30% less than the A900's launch price. But lower price aside, the 5D body really doesn't have any advantages over the A900.
The A900 sports double the total pixel count, built-in anti-shake which works with any lens you attach, quicker continuous shooting (5fps vs 3fps), a bigger and more detailed screen (VGA vs QVGA), a viewfinder with 100% coverage and built-in curtain, twice the maximum sensitivity (6400 ISO vs 3200 ISO), HDMI output, and while both cameras have a 9-point AF system, the A900's is backed-up by an additional 10 assistance points. Neither has Live View or a popup flash.
Obviously access to lenses is an important consideration when buying any DSLR, and some may prefer the selection of Canon models to those from Sony, but in terms of the body itself, the 5D is showing its age and is comfortably out-featured here. Then again if you prefer the Canon lens system and aren't bothered by the frills of a new body, the 5D remains an option worth considering – it's certainly the cheapest full-frame DSLR today, and as soon as the Mark II hits the shops it will almost certainly become cheaper still. Check our Canon EOS 5D review for more details and see how its image quality compares against modern bodies in our Nikon D700 results pages.
Compared to Canon EOS 5D Mark II

Canon's EOS 5D Mark II is likely to be one of the main two rivals for the Sony A900, with the other being the Nikon D700 below. The EOS 5D Mark II and Sony A900 have several things in common including full-frame sensors, 3in VGA monitors and HDMI output – and neither have popup flashes. In its favour, the Canon EOS 5D Mark II additionally features Live View, movie recording in Full HD, a maximum sensitivity of 25,600 ISO to the Sony's 6400 ISO, supplied software with remote live view and focusing, a shutter block rated for 50% more cycles, in-camera vignette correction, an optional Wifi accessory, and a lower price tag at launch of £2299 GBP / €2499 EUR / $2699 USD.
While the 21.1 Megapixel EOS 5D Mark II matches Canon's highest resolution DSLR to date though, the Sony A900 goes three and a half Megapixels better. It also has quicker continuous shooting at 5fps, an optical viewfinder with 100% coverage and a built-in curtain, along with the not inconsiderable facility of built-in anti-shake facilities which work with any lens you attach.
While the A900 is lacking gadgetry like Live View and video recording, its core photographic features of very high resolution, quick continuous shooting, a 100% viewfinder and built-in anti-shake all add up to a compelling feature-set. As always you'll need to weigh-up which feature-set, not to mention which manufacturer's lens system better suits your requirements. It remains to be seen how the new Canon's image quality measures-up against the Sony, but the EOS 1Ds Mark III compared well against the A900 in our tests and Canon claims its new model will have the best image quality in its range. Find out more in our Canon EOS 5D Mark II preview.
Compared to Canon EOS 1Ds Mark III

Canon's current flagship DSLR, the EOS 1Ds Mark III will inevitably be compared to the A900 since the new Sony leapfrogs it to become the highest resolution DSLR to date. Both bodies share 100% optical viewfinders, 5fps continuous shooting and dual image processors, but the A900 additionally boasts built-in anti-shake which works with any lens you attach, a larger and more detailed 3in VGA screen, HDMI output and crucially comes in a whopping two and a half times cheaper. Neither has Live View or a popup flash.
It's a slam dunk for the Sony, right? Well not quite. In its favour, the EOS 1Ds Mark III features a more sophisticated 45-point AF system, greater durability of 300,000 cycles compared to the A900's 100,000, and a built-in portrait grip (although some may prefer being able to remove it on the A900 for greater portability). Ultimately the 1Ds Mark III is a bigger, tougher, weatherproof camera that will physically appeal more to professionals, and we didn't measure a great deal of difference in real-life resolution between the two.
But once again in terms of sheer value for money, the A900 looks very strong. It has three and a half extra Megapixels, built-in anti-shake, a superior VGA screen and HDMI output – and for the price of one EOS 1Ds Mark III you could buy two A900s and a nice zoom lens.
Compared to Nikon D700

Nikon's D700 will be the other main rival for the Sony A900, as both bodies are priced at roughly the same point. Both have full-frame sensors, 5fps continuous shooting, 3in VGA screens and HDMI outputs, but there the similarities end. Nikon's opted for high-sensitivity performance on the D700 and kept its resolution at 12.1 Megapixels – obviously this is much lower than the 24.6 Megapixels of the A900, but the D700 has a much higher maximum sensitivity of 25,600 ISO. You can see in our results pages how the D700's noise and resolution measures-up against the Sony.
In terms of physical advantages, the D700 features a more sophisticated 51-point AF system, Live View capabilities, a popup flash which can be used as a controller, on-demand grid lines in the viewfinder, in-camera vignette and chromatic aberration correction, a shutter block rated for 50% more cycles, a virtual horizon facility and a more detailed upper information screen; there's also an optional Wifi accessory.
In its favour, the A900 boasts double the total pixel count, built-in anti-shake and a 100% viewfinder. That's a big triple-whammy and arguably more than makes up for the absence of Live View, a 51-point AF system or a popup flash. But in our tests, the D700 resolved a higher degree of detail than you might think, while also delivering lower noise at higher sensitivities – even if its top two settings aren't particularly usable. So despite having 'only' 12.1 Megapixels, the D700 remains a contender, and many will also ultimately prefer its build and ergonomics, not to mention the Nikon system; it's also now gradually becoming the most affordable of the three main rivals. See our Nikon D700 review for more details.


Sony Alpha DSLR-A900 final verdict

Support this site by price checking below
There's no doubt the Sony Alpha DSLR-A900 delivers an impressive specification for the money, and one which stands-up well against its rivals. You get very high resolution images, quick continuous shooting, a superb viewfinder and built-in image stabilisation which works with any lens you attach. This is all packaged-into a unique-looking DSLR which has a superb match in the form of the excellent Carl Zeiss 24-70mm f2.8 lens.
But while the A900 does have HDMI and a VGA screen, it's lagging behind in other modern features. There's no Live View, and hence also no movie mode. There's no Wifi accessory, nor a GPS option that's dedicated to the A900. Then there's that incredulous top information screen which doesn't do a flagship model any favours. All are odd decisions and omissions given Sony's reputation as an electronics giant and gadget leader.
Then again you may not care for modern gadgetry on a DSLR and find Sony's approach with the A900 refreshingly traditional. Certainly if you're in the market for a full-frame DSLR at this price point and aren't bothered about these additional features, then the A900 potentially heads to the top of your list – although if you shoot at higher sensitivities, you may prefer the output from one of its rivals.
As always it's crucial to honestly weigh-up which features you really need while also handling each model in person and considering the system as a whole. If you don't need Live View and are happy to shoot at lower sensitivities, then the A900 could be your best choice of the three, while uniquely also boasting built-in anti-shake facilities.
Ultimately Sony has created a worthy flagship for the Alpha range that not only boasts high resolution full-frame performance, but delivers it with a responsive and enjoyable photographic experience. It's also managed to produce the first and so far only full-frame body with built-in image stabilisation, and some of the latest Sony lenses are also looking very strong. As such we can award the A900 our Highly Recommend rating, although again compare very closely with its rivals – both Canon and Nikon have very compelling alternatives that need to be carefully considered.
This is all great news for anyone in the market for an 'affordable' full-frame model, as unlike the Canon EOS 5D for much of its lifespan, there's now three models competing for your money – and that has to keep their pricing keen.
Support this site by shopping at Amazon
---

Good points
Technically highest resolution to date.
Built-in image stabilisation.
Superb viewfinder with 100% coverage.
Quick handling and 5fps shooting.

Bad points
More noise than rivals above 400 ISO.
No Live View or movie function.
Upper information screen very basic.
Tendency to underexpose in our tests.

Scores
(relative to 2008 semi-pro DSLRs)


Build quality:
Image quality:
Handling:
Specification:
Value:

Overall:



18 / 20
19 / 20
19 / 20
19 / 20
15 / 20

90%



Support this site by checking prices above or shopping via our affiliate stores