Sony Alpha DSLR-A550 focusing, sensor and drive
The Sony Alpha DSLR-A550 employs an A-mount for lenses and is compatible with the complete range of Sony lenses and third party models designed for the Sony or Minolta AF systems, including Sony's DT models. Like the most recent Alphas, the polished metal surface of the lens mount extends a few millimetres beyond the trademark Alpha orange ring.
All lenses attached to the A550 can exploit the camera's built-in SteadyShot stabilisation, and since the A550 employs the same physically sized sensor as previous cropped-frame Alphas, all lenses effectively have their field of view reduced by 1.5 times.
Support this site by
shopping below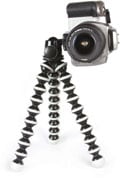 Depending on your region, the Alpha A550 is available body alone, or in one of two bundles with either the DT 18-55mm f3.5-5.6 SAM alone or this and the DT 55-200mm f4-5.6 SAM in a twin lens kit. Both lenses are new models introduced alongside the A230 and its siblings, with the DT 18-55mm SAM replacing the ageing DT 18-70mm inherited from the original Konica Minolta merger.
The new DT 18-55mm SAM looks, feels and operates much like rival 18-55mm kit lenses. As you zoom from wide to telephoto, the barrel retracts and extends again, with the physically shortest position around the 35mm focal length. There's no manual focusing ring to speak of, so like other kit lenses, you'll be grabbing and rotating the narrow end section. This section therefore also rotates during autofocus, which means users of polarising filters may need to readjust after focusing.
The big new feature of these latest lenses is the SAM designation, short for Smooth Autofocus Motor. This means there's an AF motor built into the lens, which suggests future Alpha bodies may dispense with their own AF motor to save money and weight, like Nikon's entry-level models.
Don't expect equivalent speed and operating noise to Sony's higher-end SSM lenses though – in terms of focusing speed and mechanical noise the DT 18-55mm SAM is pretty much the same as Canon's EF-S 18-55mm IS. See our results and gallery pages to see how this new kit lens copes with the 14 Megapixel demands of the A550. If you fancy a classier general-purpose zoom from day-one, we'd recommend the Carl Zeiss DT 16-80mm f3.5-4.5, a lens which delivers excellent image quality albeit without a fast and quiet SSM focusing motor. The recent DT 50mm f1.8 SAM is also a great additional lens if you're into portraits or low light work.
Sony Alpha DSLR-A550 SteadyShot Stabilisation

Like all Alpha DSLRs, the A550 is equipped with sensor-shift image stabilisation to combat camera-shake. This moves the entire sensor platform in two axes and is branded by Sony as SteadyShot. Sony claims the system is good for between 2.5 and 4 stops of compensation depending on the lens and shooting conditions, and like the entry-level Alphas it's enabled or disabled from a menu option rather than with the physical switch of earlier models.
As with all sensor-shift stabilised solutions, the major benefit is that it works with any lens you attach, new or old, wide or long, prime or zoom. The downside is that you won't see the stabilising effect through the optical viewfinder, which can be annoying when framing at longer focal lengths. And due to the way Sony has implemented Live View on the A550, you won't see a preview of the stabilising effect on-screen either – even in the new MF Check LV mode. Like other Alphas, there are at least indicators in the viewfinder (and on-screen in Live View) which show how hard the system's working, or when it's gone beyond its capabilities.
To test the effectiveness of the A550's built-in stabilisation we took a serious of photos with the 18-55mm zoomed-into an equivalent of 83mm where traditional photographic advice would recommend a shutter speed of approximately 1/80 to eliminate camera shake. Our sequence started at 1/80 and reduced by one stop each time until 1/5.
Sony Alpha DSLR-A550 with DT 18-55mm SAM: SteadyShot off / on

100% crop, 18-55mm at 55mm, 1/10, 200 ISO, IS off

100% crop, 18-55mm at 55mm, 1/10, 200 ISO, IS on
Under the conditions of the day, we required the recommended 1/80 shutter speed to avoid camera-shake with stabilisation disabled. With stabilisation enabled, we achieved a similar result at a shutter speed of 1/10, corresponding to three stops of compensation. You can see the shots taken at 1/10 with and without stabilisation enabled above, and the difference is clear.
This is a good result for the A550, and while you won't see the reassuring stabilising effect through the viewfinder – or on-screen during Live View – it remains a highly valuable facility. Remember the stabilisation applies to any lens you attach, including shorter primes – a key advantage over rival systems which tend not to optically stabilise these lenses.
Sony Alpha DSLR-A550 focusing

The Alpha A550 is equipped with what appears to be the same 9-point AF system as the entry-level models with a centre cross sensor. Like earlier Alphas, the system can be kick-started by proximity sensors as you bring your eye (or indeed anything) towards the viewfinder, but while this can save time, many DSLR traditionalists will prefer to switch it off and go for a half-press of the shutter release instead.
Like the A230, A330 and A380, you have the choice of single-shot AF-S, continuous autofocus AF-C, or the default AF-A mode which automatically switches between AF-S and AF-C. Unlike the higher-end A700, there's no AF clutch on the back of the A550, so unless you're using a lens with full-time manual focusing capabilities, you'll need to switch from AF to MF manually. If the lens is a SAM model like the kit models, you'll need to use the switch on the side of the lens barrel, otherwise you'll use the switch by the lens mount.
There's three AF areas to choose from: Wide (where the camera automatically selects from the nine AF points), Spot (where only the centre point is used) and Local (where you can manually select one of the nine AF points using the eight-way rocker on the rear). Pressing the AF button in the middle of the rocker automatically focuses using the centre point.
In use with the kit lenses, the A550's AF performance felt similar to rival DSLRs fitted with their kit lenses. It's certainly adequate for general use, but nothing above the norm, and like rival models you'll need to upgrade to a higher-end lens to enjoy quicker and quieter auto-focusing. In this case one of Sony's lenses with SSM focusing.
But where the A550 excels is when it comes to auto-focusing in Live View: since the same phase-change AF system is used, the performance is effectively identical to composing with the optical viewfinder. Subjects snap into focus quickly, quietly and without interruption to the image, and you also get to use Continuous AF. This is in sharp contrast to Live View systems on most other DSLRs, where contrast-based systems are slow, phase-change systems involve noise and interruption to the image, and neither support Continuous AF.
It really works in practice too. We took the Alpha A550 to the shores of Queenstown's Shotover River to photograph jetboats approaching head-on at speeds up to 85km/h and conducting 360 degree spins. This represents a challenge for the tracking on any Continuous AF system, and would be totally out of the question for Live View on most DSLRs.
Not a problem for the A550 though which was equally happy tracking the boats in Continuous AF whether shooting through the viewfinder or on-screen in Live View. The A550's continuous shooting rate may be slower in Live View than when using the viewfinder, but at 4fps in the primary mode, it's still quite usable for capturing action sequences – you can see a sequence shot with Live View in our Sample Images Gallery and in our Sony A550 Video Tour. So while the A550's Continuous AF wasn't as quick as the best mid-range DSLRs when using their viewfinders, the fact the A550 can do it at all in Live View is a unique and big selling point for the Sony.
Sony Alpha DSLR-A550 metering, exposures and bracketing

Support this site by
shopping below
The Sony Alpha DSLR-A550 offers the same three metering modes as the entry-level models: 40-zone Multi-Segment, Centre Weighted and Spot. As before, we used Multi-Segment metering for all our sample images and found very few occasions when we needed to apply compensation, although it wasn't quite in the same league as Nikon's latest metering systems.
The Alpha A550 offers shutter speeds from 1/4000 to 30 seconds plus a Bulb option; the fastest flash sync speed is 1/160. Like most non-pro bodies, there's no figures quoted for the longevity of the shutter block.
Exposure bracketing is available with three frames at either 1/3 or 2/3 EV apart. This is pretty basic, as while most affordable DSLRs also don't offer more than three frames, they generally allow steps up to 2EV apart. In this respect the A550 is the same as the A230, A330 and A380, which is a little disappointing for the higher-end photographer it's targeting. On the upside, it does have a fairly unique in-camera HDR mode which can combine two exposures up to 3EV apart, so it's not all bad news – we have more details lower down this page.
In terms of exposure modes, the A550's dial offers the usual PASM and full Auto, alongside six scene presets and a forced flash-off option. The Manual, Aperture and Shutter Priority modes of course allow you to select the desired exposure settings, although it's worth noting there's strangely no Program Shift. So when shooting with the A550 in P mode, you have to accept its exposure settings as oppose to tweaking the aperture and shutter combination with a finger dial like most DSLRs – not to mention many higher-end compacts.
Sony Alpha DSLR-A550 anti dust

Like all Alpha DSLRs to date, the A550 uses its sensor-shifting mechanism to double-up as an anti-dust system. This vibrates the sensor during power-off in an attempt to shake-free any foreign particles. The sensor filter also has an anti-dust coating.
Following our usual DSLR torture-test we left our A550 face-up without a lens, inside and outside for ten minutes each, before powering it up and down twice, then searching for dust; we can't know how much dust entered the body during this time, nor even how much was present to start with, but we know such a process would result in dust being a problem for most models.
We then took a series of photos at every aperture setting of a plain white surface at close range with the DT 18-55mm lens zoomed-in and focused to infinity. Dust marks normally become most apparent at the smallest apertures (eg f16 and f22), but it's also important to test at more common apertures.
Sony Alpha DSLR-A550 dust example at f22 / f8

100% crop, 18-55mm at 55mm, f22

100% crop, 18-55mm at 55mm, f8
At f22, two fairly large dust marks were quite visible, and we've shown a 100% crop of one of them here – there's no need to do a levels adjustment to see it. At f16 and f11, these grew larger and more diffused, but didn't become truly hard to see until you were working at apertures of f8 and above.
So like previous Alphas, we'd say the A550's anti-dust systems are far from infallible and if you change lenses regularly, you'll need to rely on the manual cleaning technique of opening the shutter and using a blower – we recommend the Giotto's Rocket from our DSLR Accessory Guide.

Sony Alpha DSLR-A550 sensor and processing

The Alpha A550 is equipped with a brand new 14.2 Megapixel CMOS sensor, measuring 23.4×15.6mm and delivering 3:2 aspect ratio images with a maximum resolution of 4592×3056 pixels. This may be the same resolution as the Alpha A380, but while that camera recycled an older CCD sensor from the A350, the chip in the A550 is a new CMOS design.
Resolution is one of the key differences between the A550 and the A500: both models employ new CMOS sensors, but the cheaper A500's has 12.3 Megapixels with a maximum image size of 4272×2848 pixels. This allows the A550 to output its images approximately one inch bigger than the A500 at 300dpi, although of course the slightly lower pixel density of the A500 may give it an advantage in terms of noise. We hope to test both bodies side-by-side in the future and will update this review with our results.
The Alpha A550 offers two lower resolutions at 7.4 and 3.5 Megapixels respectively, along with a cropped 16:9 mode with three resolutions at 12, 6.3 and 2.9 Megapixels.
Images can be saved with Standard or Fine JPEG compression, or recorded as a RAW file either by itself or accompanied with a JPEG. Best quality Large Fine JPEGs typically measure between 6 and 7MB each, while RAW files typically measure 15MB each. There's no dedicated button for the quality setting, but it's easy to adjust it using the main menu as it's the first item on the first page.
The sensitivity runs between 200 and 12,800 ISO, with High ISO noise reduction applied at 1600 ISO and above with the choice of Normal or High levels (unlike the A900, there's no Low or Off options). Long exposure noise reduction is also enabled by default, applying to exposures of one second or longer, although this can be disabled if preferred. There's no expansion to the ISO range, so 200 is both the base and lowest setting, although the top option of 12,800 ISO is the highest from a Sony DSLR to date; you can see how the A550 performs across its sensitivity range in our High ISO Noise results.
Colour, contrast and sharpness are applied using a number of Creative Styles, chosen from the Fn menu system.
Along with the default Standard setting, you can choose from Vivid, Portrait, Landscape, Sunset and Black and White; in the colour modes you can adjust contrast, saturation and sharpness in a range of +/-3 steps, but there's still no additional filters for Black and White.
Like other Alphas, the A550 is equipped with Sony's D-Range Optimiser (DRO) feature which can adjust the tonal range as you record the image; you can access this through the Fn menu or by pressing the dedicated D-Range button on top of the camera. On the A550 you have the choice of Off, Auto (the default), or one of five levels from weak to strong. This represents a broader selection than the entry-level Alphas and is closer to the A900, A850 and A700. We used the default Auto setting for our gallery shots, but disabled it for our High ISO results as it can artificially increase noise levels.
New to the Alpha A550's D-Range menu is Auto HDR, where two photos are automatically taken with different exposures, then combined in-camera to form a single image with a higher tonal dynamic range. The two images are taken in very quick succession and the exposures can be set between 1 and 3EV apart in 0.5EV steps, or you can let the camera decide in HDR Auto.
In-camera HDR is also available on the Pentax K-7 and K-x, albeit with three frames allowing a greater tonal range to be captured. Pentax does however require the K-7 and K-x to be mounted on a tripod to ensure proper alignment, whereas Sony can correct a little motion in-camera for handheld usage.
To see the impact of DRO and HDR in practice we've presented two examples here, each with three images: from left to right are the image taken normally in Program mode, followed by DRO Level 5, then HDR with the maximum 3EV difference between frames; the histograms for each image are shown below.
Sony Alpha DSLR-A550
Aperture Priority

Sony Alpha DSLR-A550
Aperture Priority with DRO Level 5

Sony Alpha DSLR-A550
Aperture Priority with HDR 3.0EV

1 second, f8, 200 ISO

1 second, f8, 200 ISO

1 second, f8, 200 ISO (Exif data)

Luminance Histogram

Luminance Histogram

Luminance Histogram
In the example above, both the DRO and HDR shots have brightened the shadow areas, while the HDR version has greatly boosted the mid-tones – these effects are clearly seen on the histograms below each image. Both have certainly retrieved some shadow detail previously lost on the original, for example in the hanging cross in the upper left corner, but sadly the highlights in the windows remain saturated. When viewing the images in their entirety though, both the DRO and HDR versions look artificial, especially the latter, and ultimately the original is preferred – this is of course personal preference though, and choosing milder DRO and HDR settings may deliver better results.
Sony Alpha DSLR-A550
Program

Sony Alpha DSLR-A550
Program with DRO Level 5

Sony Alpha DSLR-A550
Program with HDR 3.0EV

1/320, f13, 200 ISO

1/320, f13, 200 ISO

1/320, f13, 200 ISO (Exif data)

Luminance Histogram

Luminance Histogram

Luminance Histogram
In our second example with an overcast sky, the A550 has employed a similar approach to that above with a reduction in shadow values and a boost in mid-tones – again the HDR version in particular has applied a large boost to the mid-tones, as seen on the histograms.
In this particular composition though, there doesn't seem to be any benefit to the DRO and HDR versions. Both have reduced the contrast to deliver a flatter-looking image, and again the original is preferred.
The concept of in-camera HDR is certainly compelling, but while the A550 has successfully taken and merged two handheld images, it hasn't delivered the results many would hope for in either composition. Fans of traditional HDR images will prefer to combine multiple exposures by hand.
Sony Alpha DSLR-A550 drive modes and remote control

The Sony Alpha A550 offers three continuous shooting speeds: 3fps in Lo, 5fps in Hi, and 7fps in the Speed Priority mode, albeit with the latter fixing the focus and exposure at the first frame. The A550 is also pretty quick in Live View, shooting at up to 4ps in Hi mode.
Note the cheaper A500 does not have the Speed Priority option, so shoots at a maximum of 5fps. The A550 also has a larger buffer, with Sony quoting 32 Fine JPEGs or 14 RAW files compared to 12 Fine JPEGs or 6 RAW files on the A500.
To put this to the test we fitted the A550 with a high-speed Lexar Professional 8GB SDHC card. We fired-off 50 Fine JPEGs (200 ISO / DRO Auto / AF-S) in a fraction over 10 seconds using the optical viewfinder, corresponding to a rate that was essentially 5fps. Switching to Live View saw us capture the same 50 frames in 13 seconds, corresponding to a rate of 3.85fps. In RAW mode using the optical viewfinder we fired-off 14 frames in just under three seconds before the A550 stalled – this worked out at a fraction under 5fps. In Live View we managed the same 14 RAW frames in 3.5 seconds, working out at 4fps. Beyond the 14 frame buffer, the A550 continued to shoot RAW frames at around 1fps, although this and the eventual flush time will depend on the speed of your card.
Since the main Live View mode on the A550 is effectively filming the focusing screen, you'll also see a brief live image between continuous frames, allowing you to recompose if required – just like shooting continuously with the viewfinder.
Support this site by
shopping below

Now for the Speed Priority option. This started well, rattling-off frames like a machine gun, but after three seconds or so, our A550 would stutter, slowing the overall rate. During this initial burst, we managed 20 frames in 3 seconds, corresponding to a rate of just over 6fps, although not the 7 quoted. Over a longer burst of 50 frames though, the overall rate effectively worked out at around the same 5fps as before. It's also important to remember with the rate varying during this longer sequence, the spacing between individual frames could become uneven, which could be a serious issue if you're compositing action photos. Note you can use the Speed Priority mode during Live View at its maximum speed, but the screen goes completely blank, preventing you from composing or adjusting.
But while the Speed Priority mode disappointed in our tests, the normal Hi Continuous Shooting performed as quoted – indeed better than quoted in terms of numbers of JPEGs, as our A550 seemed happy to keep shooting while memory remained. It's also great to be able to shoot continuously in Live View with a live image between frames at a still respectable 4fps. You can see an example action sequence shot using Live View on the A550 in our video tour.
Indeed the A550 is quicker than any of its rivals: Canon's EOS 500D / T1i and the Olympus E-620 both shoot at 3.5fps, while Nikon's D5000 and D90 shoot at 4 and 4.5fps respectively. Next-up on the scale come the pricier Pentax K-7 at 5.2fps, followed by the Canon EOS 50D at just over 6fps. If you want faster still, you'll need to make a big jump in price to models like the Nikon D300s and Canon EOS 7D. So overall, the A550 delivers very impressive continuous shooting performance, although since the Speed Priority mode offered little benefit beyond very short bursts, the cheaper A500 becomes equally good – and even more impressive considering its lower price.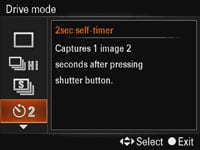 In terms of other drive modes, there's the choice of two or 10 second self-timers, but still no mirror-lockup facility. The drive menu is also where you'll find bracketing options, although as described above, they're fairly basic with the choice of shooting three frames at either 0.3 or 0.7 EV apart. Unlike the entry-level Alphas, White Balance bracketing remains available, recording three frames with High or Low increments.
Sadly the Remote Camera Control software which allows tethered operation of models like the A850 and A900 though is not supported on the A550. In terms of rival models, Nikon offers optional remote control software for the D5000 and D90, while Canon gives it away for free with every one of its DSLRs from the budget 1000D / XS up.
Now let's see how the Alpha A550 measures-up in terms of image quality in our Real-life resolution and High ISO Noise results pages.