Sony Alpha DSLR-A230 focusing, sensor and drive
The Sony Alpha DSLR-A230 employs an A-mount for lenses and is compatible with the complete range of Sony lenses and third party models designed for the Sony or Minolta AF systems, including Sony's DT models. Like the most recent Alphas, the polished metal surface of the lens mount extends a few millimetres beyond the trademark Alpha orange ring.
All lenses attached to the A230 can exploit the camera's built-in SteadyShot stabilisation, and since the A230 employs the same physically sized sensor as previous cropped-frame Alphas, all lenses effectively have their field of view reduced by 1.5 times.
| | | |
| --- | --- | --- |
| | Support this site by price checking below | |
The Alpha A230 is available body alone, or in one of two bundles with either the DT 18-55mm f3.5-5.6 SAM alone or this and the DT 55-200mm f4-5.6 SAM in a twin lens kit. Both lenses are new models introduced alongside the A230 and its siblings, with the DT 18-55mm SAM replacing the ageing DT 18-70mm inherited from the original Konica Minolta merger.
The new DT 18-55mm SAM looks, feels and operates much like rival 18-55mm kit lenses. As you zoom from wide to telephoto, the barrel retracts and extends again, with the physically shortest position around the 35mm focal length. There's no manual focusing ring to speak of, so like other kit lenses, you'll be grabbing and rotating the narrow end section. This section therefore also rotates during autofocus, which means users of polarising filters may need to readjust after focusing.
The big new feature of these latest lenses is the SAM designation, short for Smooth Autofocus Motor. This means there's an AF motor built into the lens, which suggests future Alpha bodies may dispense with their own AF motor to save money and weight, like Nikon's entry-level models.
Don't expect equivalent speed and operating noise to Sony's higher-end SSM lenses though – in terms of focusing speed and mechanical noise the DT 18-55mm SAM is pretty much the same as Canon's EF-S 18-55mm IS. See our results and gallery pages to see how this new kit lens copes with the demands of the A230, and check out our video tour to see and hear its AF speed in practice.
Sony Alpha DSLR-A230 SteadyShot Stabilisation

Like all Alpha DSLRs, the A230 is equipped with sensor-shift image stabilisation to combat camera-shake. This moves the entire sensor platform in two axes and is branded by Sony as SteadyShot. Like the previous generation, Sony claims the system is good for between 2.5 and 3.5 stops of compensation depending on the lens and shooting conditions, although it's now enabled or disabled from a menu option rather than with the physical switch of earlier models.
As with all sensor-shift stabilised solutions, the major benefit is that it works with any lens you attach, new or old, wide or long, prime or zoom. The downside is that you won't see the stabilising effect through the optical viewfinder, which can be annoying when framing at longer focal lengths. And due to the way Sony has implemented Live View on the A230, you won't see a preview of the stabilising effect on-screen either. Like other Alphas, there are at least indicators in the viewfinder (and in Live View) which show how hard the system's working, or when it's gone beyond its capabilities.
To test the effectiveness of the A230's built-in stabilisation we took a serious of photos with the 18-55mm zoomed-into an equivalent of 83mm where traditional photographic advice would recommend a shutter speed of approximately 1/80 to eliminate camera shake. Our sequence started at 1/80 and reduced by one stop each time until 1/5.
Support this site by shopping at Amazon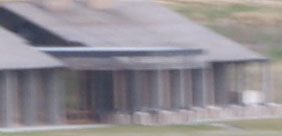 Sony Alpha DSLR-A230 with DT 18-55mm SAM: SteadyShot off / on

100% crop, 18-55mm at 55mm, 1/10, 100 ISO, IS off

100% crop, 18-55mm at 55mm, 1/10, 100 ISO, IS on
Under the conditions of the day, we required the recommended 1/80 shutter speed to avoid camera-shake with stabilisation disabled. With stabilisation enabled, the images remained almost 100% sharp down to 1/10, with significant blur only coming in at 1/5 and slower. As such, the degree of stabilisation achieved in this situation was three stops – halfway through Sony's quoted range of 2.5-3.5 stops.
As always, the success of any stabilisation system is highly dependent on the operator and the conditions of the day, but the three stops measured here is certainly not to be sniffed at. And while you may not be able to preview the effect of the A230's stabilisation through the viewfinder, you'll be able to exploit it on all lenses, including shorter primes. It's a highly valuable ally.
Sony Alpha DSLR-A230 focusing

The Alpha A230 is equipped with the same 9-point AF system as its predecessor with a centre cross sensor, and like earlier Alphas, the system can be started as you look through the viewfinder; this can indeed save time, but many DSLR traditionalists will prefer to switch it off and go for a half-press of the shutter release instead. As described on the previous page though, Sony's switched the previous line markings in the viewfinder for more conventional squares indicating each focusing point.
| | |
| --- | --- |
| | |
| | |
As before you have the choice of single-shot AF-S, continuous autofocus AF-C, or the default AF-A mode which automatically switches between AF-S and AF-C. Unlike the higher-end A700, there's no AF clutch on the back of the A230, so unless you're using a lens with full-time manual focusing capabilities, you'll need to switch from AF to MF manually. If the lens is a SAM model like the new kit lenses, you'll need to use the switch on the side of the lens barrel, otherwise you'll use the switch by the lens mount.
In use with the latest kit lens, the A230's AF performance felt similar to rival DSLRs fitted with their kit lenses. It's certainly adequate for general use, but nothing special, and like rival models you'll need to upgrade to a higher-end lens to enjoy quicker and quieter auto-focusing.
Sony Alpha DSLR-A230 metering, exposures and bracketing

The Sony Alpha DSLR-A230 offers the same three metering modes as its predecessor: 40-zone Multi-Segment, Centre Weighted and Spot. As before, we used Multi-Segment metering for all our sample images and found very few occasions when we'd want to apply any compensation.
The Alpha A230 offers shutter speeds from 1/4000 to 30 seconds plus a Bulb option; the fastest flash sync speed is 1/160. Like most non-pro bodies, there's no figures quoted for the longevity of the shutter block.
Exposure bracketing is available with three frames at either 1/3 or 2/3 EV apart. This is pretty basic, as while most entry-level models also don't offer more than three frames, they generally allow steps up to 2EV apart.
Sony Alpha DSLR-A230 anti-dust

Like all Alpha DSLRs to date, the A230 uses its sensor-shifting mechanism to double-up as an anti-dust system. This vibrates the sensor during power-off in an attempt to shake-free any foreign particles. The sensor filter also has an anti-dust coating.
Following our usual DSLR torture-test we left our A230 face-up without a lens, inside and outside for ten minutes each, before powering it up and down twice, then searching for dust; we can't know how much dust entered the body during this time, nor even how much was present to start with, but we know such a process would result in dust being a problem for most models.
We then took a series of photos at every aperture setting of a plain white surface at close range with the DT 18-55mm lens zoomed-in and focused to infinity. Dust marks normally become most apparent at the smallest apertures (eg f16 and f22), but it's also important to test at more common apertures.
Support this site by shopping at Amazon
Sony Alpha DSLR-A230 dust example at f22 / f8

100% crop, 18-55mm at 55mm, f22

100% crop, 18-55mm at 55mm, f8
At f22, a number of dust marks were clearly visible, and we've shown a 100% crop of a typical offender above left. As always, these marks became more diffuse and harder to sport at larger apertures, and by f8, the same mark had almost disappeared – you can see a crop of the same area above right.
This is a fairly average result for the A230. The sensor-shift system failed to displace a number of marks, forcing any owner who wanted a clean frame into flipping open the mirror for manual intervention with a blower. Interestingly the A380 actually performed much better in this process, although we believe their anti-dust system to be the same – so we can only assume this was either a lucky result for the A380, or of course an unlucky one for the A230. As always, dust measurement is not an exact science, and all we can do is gather anecdotal evidence to build up a bigger picture. But judging on this result alone, dust marks can be a problem for the A230 and anyone who swaps lenses regularly will need to invest in a blower – we recommend Giotto's Rocket, as seen in our DSLR Accessory Guide.

Sony Alpha DSLR-A230 sensor and processing

The Alpha A230 is equipped with the same 10.2 Megapixel CCD sensor as its predecessor, measuring 23.6×15.8mm. It generates 3:2 aspect ratio images with a maximum resolution of 3872×2592 pixels and there's the choice of two lower resolutions at 5.6 and 2.5 Megapixels respectively. A cropped 16:9 aspect ratio is available in 8.4, 4.7 and 2.1 Megapixels. The sensor is also exactly the same as that in the A330, with both cameras delivering identical image quality. The pricier A380 features a higher resolution 14.2 Megapixel sensor.
Images on the A230 can be saved with Standard or Fine JPEG compression, or recorded as a RAW file either by itself or accompanied with a JPEG.
Best quality Large Fine JPEGs typically measure between 3 and 4MB each, while RAW files typically measure 12MB each. There's no dedicated button for the quality settings, but it's easy to adjust them using the main menu as they're the first items on the first page.
As before, the sensitivity runs between 100 and 3200 ISO, with High ISO noise reduction applied by default at 1600 and 3200 ISO, although you can disable this if desired. Long exposure noise reduction is also enabled by default, applying to exposures of one second or longer, although again this can be disabled if preferred; you can see how the A230 performs across its sensitivity range in our High ISO Noise results.
Colour, contrast and sharpness are applied using a number of Creative Styles, chosen from the Fn menu system.
Along with the default Standard setting, you can choose from Vivid, Portrait, Landscape, Night View, Sunset and Black and White; in the colour modes you can adjust contrast, saturation and sharpness in a range of +/-3 steps, but there's still no filters for Black and White.
Like other Alphas, the A230 is equipped with Sony's D-Range Optimiser feature which can adjust the tonal range as you record the image. As before, there's three choices: D-R Off, D-R Standard, and D-R+. We used the default D-R Standard for all our test shots, although have presented two shots taken with it disabled and at the maximum D-R+ setting for comparison below.
Support this site by shopping at Amazon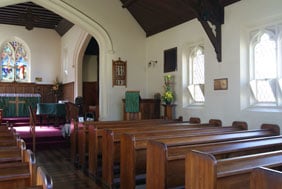 Sony Alpha DSLR-A230 / A330 Dynamic Range Optimizer: Off / D-R+

DRO: Off, 100 ISO, f8, 1 sec

DRO: D-R+,100 ISO, f8, 1 sec
The effect was subtle to say the least, and even examining the histograms reveals very little benefit for this particular composition; indeed rather than retrieving highlight detail, the windows are actually more washed-out on the D-R+ version. You may have more success with DRO on the A230, but in our tests it offered little which couldn't be achieved with careful exposure and tweaking in software later.
There's no evidence that the A230 corrects for coloured fringing or vignetting on in-camera JPEGs.
Sony Alpha DSLR-A230 drive modes and remote control

The Sony Alpha A230 offers one Continuous Shooting mode rated at 2.5fps; this is actually a little slower than the 3fps quoted for its predecessor the A200. Sony quotes a maximum buffer of three frames in RAW+JPEG mode, six in plain RAW mode, and no limit for recording JPEGs.
To put this to the test we fitted our A230 with a Sony Memory Stick Pro Duo card. We fired-off 50 Fine JPEGs (100 ISO / DRO Standard / AF-S) in 25 seconds, corresponding to a rate of 2fps. In RAW mode we fired-off 10 frames in five seconds before the A230 stalled – this works out at 2fps.
So the A230 (like its siblings) fell below the quoted rate for continuous shooting. It's much slower than the 3fps JPEG rate we measured from the Canon EOS 1000D / XS, not to mention the 2.7fps measured from its predecessor.
It's certainly not sufficiently quick for capturing action sequences, despite how the consumer Alphas are often advertised. If you're after something quicker in this respect, consider Canon's EOS 1000D / XS or the Olympus E-620 which deliver around 3fps in practice, or spend more on Nikon's D5000 which speeds along at its quoted 4fps. Or better still, go for one of Sony's mid-range A500 or A550 Alpha DSLRs which deliver 5fps, boostable on the A550 to 7fps if you're willing to sacrifice auto-focus.
In terms of other drive modes, there's the choice of two or 10 second self-timers, but still no mirror-lockup facility. The drive menu is also where you'll find bracketing options, although as described above, they're fairly basic with the choice of shooting three frames at either 0.3 or 0.7 EV apart. The White Balance bracketing of the earlier models is also now absent.
Now let's see how the Alpha A230 compares in terms of real-life resolution and noise levels in our results pages.