Sony Alpha A6000 review - Verdict
Verdict
The Sony Alpha A6000 is a confident mid-range camera that's great for shooting action – indeed it outclasses most rivals in this regard, whether DSLR or mirrorless. There's a lot to talk about, both good and bad, but the bottom line is if you want a camera that's confident with moving subjects, the A6000 is hard to beat for the money. It boasts confident AF tracking across the frame which even works at the fastest burst speed of 11fps, and the buffer is sufficiently large to capture around five seconds worth of action at this speed.
This degree of performance not only puts the A6000 ahead of most mirrorless cameras at any price point, but also beyond what you can expect from a DSLR in the same category. Nikon and Canon may also offer effective continuous AF, but you'll need to compose with their viewfinders alone, concentrate the action in the middle of the frame, and put up with bursts at about half the speed. So whether you're into sports or simply photographing your kids running around the park, the A6000 is one of the best cameras for the money to capture the action.
The A6000 is about more than speed though. It sports a 24 Megapixel APS-C sensor, 1080p video up to 50p / 60p, built-in Wifi with NFC and support for downloadable apps, along with a good viewfinder, tilting screen and decent set of controls. I'll go into more detail below and also compare it against two of its closest rivals.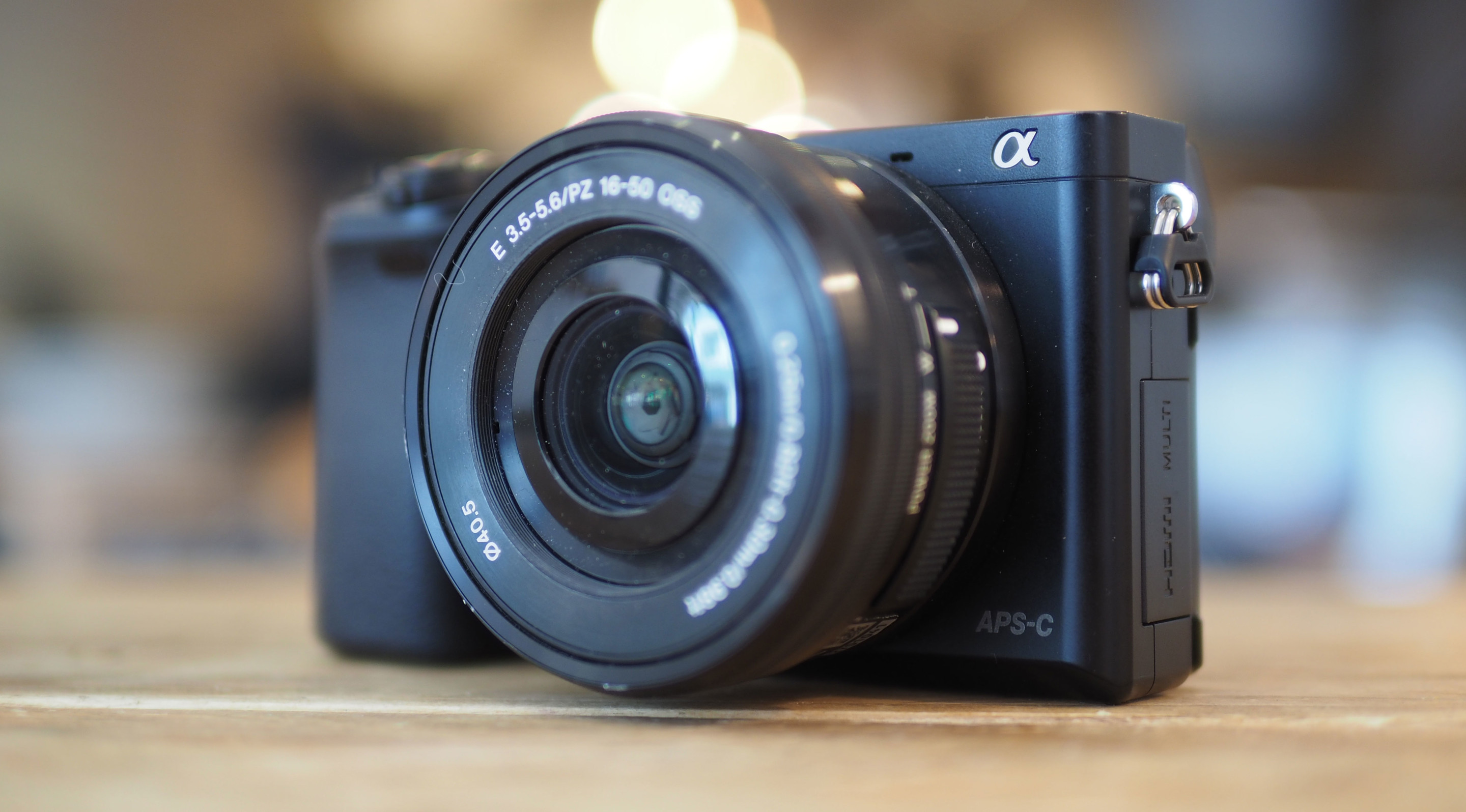 Autofocus performance is hard to quantify, but it is without a doubt the highlight of the A6000. Sony's spread the main imaging sensor with embedded phase-detect AF sensors, almost all the way to the edge. This means not only can the A6000 confidently track subjects approaching or receding, but from virtually anywhere on the frame. Compare this to most other cameras, DSLR or hybrid mirrorless, which concentrate their phase-detect AF sensors towards the middle of the frame.
And it really works too. I successfully tracked cyclists speeding towards me, along with my kids scootering around playgrounds with ease, and best of all the AF system continued to operate confidently even when shooting at the top burst speed of 11 fps. I initially tested the A6000 with the 16-50mm kit zoom, but later retested it with the FE 70-200mm f4G OSS and in both cases enjoyed a very high success rate. Couple this with a decent buffer that can capture several seconds of action at this speed and the A6000 quickly becomes one of the best choices for action shooting at this price-point, regardless of camera format. It's exciting not only to see the A6000 out-perform any other mirrorless camera in this regard, but also take on DSLRs at this price point which typically only shoot at 5fps and only track subjects near the middle of the frame, and also only when composing with their viewfinders. Only the Canon EOS 70D can compete with the A6000 for continuous AF in Live View, but it costs at least 50% more and only shoots at 7fps. (Although it does have a much more useful fully articulated touchscreen).
Since it's hard to describe continuous AF in a headline-grabbing manner, Sony has instead concentrated on pushing the A6000's AF speed, claiming it's the World's Fastest – the caveat being for cameras with APS-C sized sensors. I'd say it was certainly quicker than other APS-C cameras I've tested, mirrorless and DSLR alike, although when shooting side-by-side with Micro Four Thirds models from Olympus and Panasonic, the A6000 wasn't quite as quick. Importantly, the A6000, like other Sony cameras, also became less confident in low light, forcing me to use manual focus to capture city night scenes when the Olympus and Panasonic models autofocused without complaint under the same conditions. I'd also say Olympus has better face and eye detection, but it's important to note Micro Four Thirds only enjoys these advantages for Single AF modes. To date their Continuous AF has disappointed, and the A6000 leaps way ahead in this regard. So it's important to think about how you'll use your camera and buy one with an AF system that's optimized for the subjects you'll capture.
Sticking with the subject of autofocus, Sony could have made it easier to manually move the AF area. You first need to enter the Focus Area mode, select Flexible Spot and only then use the tilting wheel to reposition the target. Even if you assign Focus Area to a custom button and never change the AF mode from Flexible Spot, you'll still need to laboriously push the rear wheel to reposition it as desired. Had Sony employed a touch-screen, like Olympus, Panasonic (and Canon on selected models) this would have simply required a single tap. Why Sony is so touch-screen phobic right now is beyond me.
Moving onto the screen, the absence of touch controls is my biggest bugbear, but there's other annoyances too. The 16:9 shaped panel means 3:2 shaped photos aren't displayed as large as cameras with 3:2 or even 4:3 shaped screens. All screens become hard to view in direct sunlight, but again when shooting side by side with similarly-priced cameras, the A6000's was hardest to view. The solution is to boost the brightness, but this in turn will reduce the battery life. I'd also have liked the eye sensor to deactivate when the screen was flipped-out, but as it stands, you'll find the screen frequently switching to the viewfinder when shooting with it flipped 90 degrees up at waist level.
The main imaging sensor may boast the joint highest resolution for an APS-C model, but you'll need to ditch the kit zoom if you want to exploit the full 24 Megapixels. The 16-50mm kit zoom has been designed to be compact and convenient at the cost of quality, and as you'll see in my tests, the resolving power when mounted on the A6000 is really no better than 16 Megapixel models. I also found the edges were soft unless the aperture was closed to at least f8, and the geometric distortion at wide angle required significant correction in-camera. Maybe it's how I hold cameras, but I also found myself often nudging the zoom lever on the barrel by accident.
The movie mode makes great use of the camera's continuous AF capabilities and delivers an experience to rival the EOS 70D, at a lower price point, albeit without the fully articulated touchscreen. The A6000 does however go beyond consumer cameras by also letting you tweak the focusing speed and AF response time for movies. This is brilliant for choosing slow cinematic refocuses for some occasions, or quick tracking for others. Again though a touchscreen would have made it even better, and it's a shame you can't connect an external microphone other than a shoe-mounted Sony accessory. It also remains slightly odd not to see Sony let you apply a miniature effect to video.
Then there's the Wifi, now with NFC to ease negotiation with compatible handsets like my Samsung Galaxy S4. Browsing and copying images was fine as you'd expect, and thankfully a recent update now also lets you remotely adjust the exposure. But strangely unlike almost every other company, there's no official means to sync with a smartphone log to embed GPS co-ordinates.
Sony remains the only (non-Android powered) camera company which offers the chance to download apps to extend the functionality, but I can't help feel this is a concept still waiting to be fully realized. Most of the apps currently equip the cameras with capabilities that are already built-in as standard on rival models, like multiple exposures, timelapse and uploading to social services. I also don't see why we're paying to have Sony's Multi-frame Noise Reduction as an app when it's included on some of the company's previous models. And as for uploading direct from the camera, it's great to have Flickr and Facebook support, but what about Twitter and Instagram? I ended up forgetting about the camera apps and copying images to my phone instead where I had access to all the services I desired.
Sony's made some big improvements to the user interface, which is much easier to navigate than the horrendous one of the earlier NEX-6. The A6000 now inherits a more traditional tabbed page system from the A7 series with no vertical scrolling through options which works so much better. But I still got frustrated by options which were greyed-out due to me being in an incompatible mode. Yes I know I'm not in the Panorama mode Sony, but why not let me preset the quality and direction anyway so it's ready for when I spot an opportunity later? Why grey-out picture effects when I'm shooting in RAW+JPEG mode? Can't you just apply the effect to the JPEG and leave the RAW untouched like Olympus does? In day-to-day use I kept running up against these brick walls which rarely seem to crop up on rival systems.
Then there's the earlier NEX-6. While Sony's boosted the resolution and continuous AF capabilities of the A6000 beyond its predecessor, there's the undeniable fact it's downgraded the electronic viewfinder to one with a lower resolution and slightly smaller apparent image size. To be perfectly honest with you, I still found the A6000's EVF perfectly adequate and also in-line with other models at this price-point like the OMD EM10, but it is a little galling to find the new model less capable in any regard than the old one. Indeed if you don't need any of the new features on the A6000, you may bag a bargain by hunting down a discontinued NEX-6 – check out my Sony NEX-6 review for more details.
Sony A6000 vs Olympus OMD EM10
The Olympus OMD EM10 and Sony Alpha A6000 are both mid-range mirrorless cameras which share almost exactly the same price points – as such they're key rivals. Both share some aspects in common, including a viewfinder with the same 1,440k dot resolution and 3in vertically tilting screens, but there are important differences to weigh-up.
In terms of headline-grabbing features, the Sony A6000 wins with a 50% higher pixel count (24 vs 16 Megapixels), faster continuous shooting (11fps vs 8fps) and continuous autofocus which really can track subjects approaching or receding with much greater confidence and accuracy than the EM10 for both stills and movies. Their viewfinders may share the same resolution, but the A6000's image is slightly larger. Both have Wifi, but the A6000 also has NFC and supports downloadable apps to extend its capabilities. Both film 1080p video, but where the Olympus has a maximum frame rate of 30fps, the A6000 offers 50 or 60fps depending on region. Sony also offers a great panorama mode.
So the A6000 is the better camera, right? Only in some respects. In its favour, the Olympus EM10 features built-in stabilization that works with any lens you attach, and while its sensor has 50% fewer Megapixels, the real-life resolving power is similar if you're using the kit lenses. The A6000 may have far superior continuous AF, but the EM10 is quicker for Single AF and it continues to work in much lower light levels, while also offering better face detection too. The EM10 has a touch-screen which lets you simply tap to reposition the AF area instead of forcing you to press multiple buttons. The EM10 also lets you dial-in 60 second exposures (vs 30 on the A6000), allows you to trigger ones as long as 30 minutes in-camera without accessories, and lets you peek at long exposures as they build-up. The effects filters can be applied to JPEGs while RAW files are left untouched, there's seven frame AEB, a dual-axis leveling gauge (none on the A6000), and the smartphone remote control offers the chance to tag a GPS log.
So while the A6000 looks better for headline features, the EM10 fights back with arguably better handling, and the Micro Four Thirds system also boasts a far broader lens catalogue than the E-system. That said I think a lot will – and should – boil down to whether you value built-in IS as more or less important than effective continuous AF. Think carefully about your style of photography before making a decision, but both are great cameras.
See my upcoming Olympus OMD EM10 review for more details.
Sony A6000 vs Nikon D5300
It's important to compare similarly-priced DSLRs against mirrorless cameras, and when it comes to a rival for the A6000, Nikon's mid-range D5300 is a keen option costing only a tad more in most regions. Both sport 24 Megapixel APS-C sensors and the chance to record 1080p video up to 50p or 60p depending on region, but there are many differences to weigh-up.
Most obviously the biggest difference is the A6000 is a mirrorless camera whereas the D5300 is a traditional DSLR. This means the D5300 lets you compose optically with the viewfinder or electronically with the screen, whereas composition is entirely electronic on the A6000. There's pros and cons to both. The optical viewfinder on the D5300 or any other DSLR never becomes noisy in low light and always offers quick response even if you're panning to follow a subject. Meanwhile the electronic viewfinder on the A6000 delivers a bigger image with 100% coverage and the chance to overlay various guides and focusing aids. And while the D5300 does offer Live View composition with its screen, it's much slower to enter and focus than the A6000 in this mode.
In terms of definite benefits, the A6000 offers continuous AF that works equally well anywhere on the frame and whether composing with the viewfinder or screen, whereas the D5300 only offers effective continuous AF for subjects near the middle of the frame and only when composing with the viewfinder. The A6000 offers much faster continuous shooting (11fps vs 5fps) and its Wifi supports downloadable apps to extend the capabilities. The AEB isn't amazing on the A6000, but it is superior to the basic three frame capabilities of the D5300. The A6000 body and kit zoom is also much smaller and lighter than the D5300, although equally there's less to hold onto.
In its favour, the D5300 has a fully articulated screen which can twist and flip in any direction. It features a built-in GPS whereas the A6000 can't even use a log recorded by a smartphone, at least with the supplied software. If you shoot with the optical viewfinder on the D5300, the battery will be good for about twice as many shots, and there's also a standard 3.5mm jack to connect an external microphone, as oppose to the A6000 which forces you to mount a Sony accessory on the hotshoe. Finally, the D5300 has access to many more native lenses and while the kit zoom is larger than the A6000's, it is also better quality.
On the feature and performance front, I reckon the Sony A6000 enjoys the edge over the D5300, although if you prefer optical viewfinders, there's no contest and it's down to the Nikon.
See my Nikon D5300 review for more details.
Sony Alpha A6000 final verdict
The Sony A6000 is a good solid interchangeable lens camera with one major advantage over rivals: effective continuous AF which works pretty much anywhere on the frame for stills or movies. If you're shooting stills, it also works at the top continuous speed of 11fps, and if you're filming movies you can even fine-tune the AF speed and response time. This takes the A6000 beyond what any other mirrorless or DSLR camera offers at this mid-range price point, shooting it to the top of your shortlist if you're after a camera that can confidently shoot or film sports or even just your kids running around.
This alone is enough to sell the A6000 to many photographers, but it's of course equally capable in other situations with auto modes that take care of everything for you to full manual control if you prefer. It also features the joint highest resolution of any APS-C camera, has built-in Wifi with the chance to download apps to extend the capabilities.
It's not all good of course. I was constantly frustrated by the process required to move the single AF area and wished Sony had just fitted a touchscreen. The 24 Megapixel sensor has great potential, but to get anything more than 16 Megapixels worth of real-life detail you'll need to give up on the 16-50mm kit zoom straightaway at which point you'll realize other E-mount lenses are fairly large and limited in selection. The A6000's smartphone remote app really needs to exploit the GPS to tag images with their location. And while the continuous AF is fantastic, I found the Single AF was faster on Olympus and Panasonic models and importantly they continued to focus in much lower light too.
None of these downsides are huge issues, and following a very successful shoot across five days at the 2014 Tour de France, I'm happy to upgrade my initial rating of the A6000 to Highly Recommended!
Good points
Very high resolution 24 Megapixel sensor.
Most effective continuous AF in its class.
Fast continuous shooting at 11fps.
Fast single AF.
Good viewfinder and tilting screen.
1080p video with full manual control.
Built-in Wifi with NFC and downloadable apps.
Broad degree of customisation.
Bad points
Laborious process to set single AF area position.
No touchscreen. Screen only tilts, not fully articulated.
No GPS tagging built-into Wifi app.
Apps sometimes feel like reinstating features.
No 3.5mm microphone jack.
No leveling gauge.
No miniature effect for movies.
No silent shutter option.