Sony Alpha A5000 review - Verdict
Verdict
The Sony A5000 is an upper entry-level compact system camera with a 20.1 Megapixel APS-C sensor. It replaces the NEX-3N, the company having now dropped the NEX label. Sony describes the A5000 as being the World's smallest, lightest interchangeable lens camera with built-in Wifi – that's the case for models with an APS-C sized sensor, and impressively it also has NFC for hassle-free connection with compatible smartphones.
The new model has a 3 inch LCD screen which flips up and over into a forward-facing position, but there's no viewfinder and the lack of a hotshoe / accessory port rules out an add-on. For that you'll need to take a step up to the mid-range A6000.
The A5000 offers PASM exposure modes in additon to the usual Sony Auto modes with scene detection, Photo creativity slider-based controls, Picture Effect filters, and Sweep Panorama. It supports a composite HDR mode, basic 3-frame auto bracketing and Handheld twilight mode for low noise composites. It lacks Sony's Multi Frame Noise Reduction feature, but the A5000 supports Sony's downloadable Playmemories apps, so you can add it along with others from the growing collection available on Sony's Playmemories website.
The A5000 represents a smart choice for anyone looking to enter the world of interchangeable lens photography, but is up against competition from some very capable entry-level DSLRs. Below I compare it to two of its closest rivals, the Nikon D3300 and Canon EOS T5 / 1200D.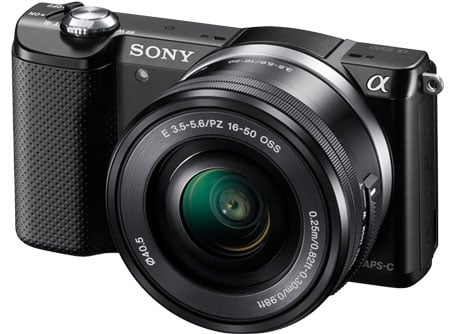 Compared to Nikon D3300

The Nikon D3300 is a DSLR with a 24.2 Megapixel APS-C sensor, an optical viewfinder and a 3-inch, 921k dot LCD screen. As a DSLR, the most obvious things that differentiate it from the A5000 are the optical viewfinder and the body size. There's no getting away from it, DSLRs are bigger and bulkier than compact system cameras. While the D3300 isn't large by DLSR standards, the A5000 is small by compact system camera norms and the D3300 dwarfs it. Add a few lenses and the gap will only grow.
Speaking of lenses, Sony currently offers 15 Native E-mount lenses for the A5000, whereas at the last count Nikon offerred 19 DX and 58 FX lenses all of which can be used on the D3300. Of course you can also fit third party lenses to the A5000 by way of an adapter, though you may lose some autofocus and metering functions.
The biggest difference in terms of handling is the D3300's optical viewfinder. If you're a fan of viewfinders, you're not likely to be considering the A5000 making the D3300 the clear choice between them. Having said that, for those upgrading from a compact or a phone a viewfinder might not be as important. The D3300 also offers a 3 inch, 921k dot LCD screen. It has a higher resolution than the 460k dot screen on the Sony, but is fixed, so the viewing angle can't be adjusted – less of an issue with an optical viewfinder available for composition. I should also say shooting in Live View on the A5000 is a lot faster than on the D3300, so if you prefer shooting with your screen, the A5000 is the way to go. Then again shooting with the optical viewfinder of the D3300 allows it to enjoy a longer battery life – there's pros and cons to both systems.
Both models offer the full range of PASM exposure modes in addition to scene detect auto and both offer a good range of effects modes, but the Sony A5000's Picture effects can be applied from the menu in most shooting modes, whereas the D3300's are special modes. Probably of more consequence though is that the D3300 lacks anything to compare with the A5000's auto HDR and bracketing modes.
The D3300 offers better options for movie shooting than the A5000 with a best quality 1080p50/60 mode compared with 1080i50/60 on the A5000. But the A5000 offers full PASM control for movies where the D3300 only allows changing of the ISO sensitivity and the shutter speed – not the aperture. And where the A5000 has built in stereo mics, the D3300 has only a mono mic built in, however, it does have a socket for attaching an external stereo mic. It's also worth bearing in mind that while the A5000's continuous AF does a good job in movie mode, the D3300 is so poor as to be virtually unusable.
Finally, the killer punch for the target market may be the Sony A5000's built-in Wifi with NFC which not only allows connection to a smartphone or computer for downloading images, but remote operation of the camera. Lack of Wifi on any camera is becoming hard to justify these days and it's one of the D3300's most serious shortcomings
One final factor is cost. The D3300 kit is around 25 to 30 percent more expensive than the Sony A5000 kit, so the latter is a less expensive route into interchangeable lens photography, but price isn't everything. You'll need to weigh the respective features of each carefully, though, as I've said, one of the biggest things that sets these two models apart is size and handling – particularly the viewfinder.
See my Nikon D3300 review for more details.
Compared to Canon EOS T5 / 1200D

As with the D3300, one of the biggest differences between the Canon EOS T5 / 1200D and the Sony A5000 is the form factor itself. The T5 / 1200D is slightly bigger and heavier than the Nikon D3300, so the difference between it and the diminutive A5000 is even greater. But though externally they're very different, on the inside both models are fitted with an APS-C sensor that's the same physical size. The difference here is that the T5 / 1200D's sensor has a slightly lower resolution – 18 Megapixels compared with 20.2 Megapixels on the A5000.
And like Nikon, one of the advantages Canon can offer DLSR users is a wide choice of lenses – 11 EF-S lenses specially designed for APS-C models and 46 EF lenses which can be used both on APS-C bodies like the EOS T5 / 1200D and on full frame bodies, so you can hang on to them should you upgrade.
As a DSLR, the T5 / 1200D also has an optical viewfinder, similar in coverage and magnification to that in the D3300. Personally, I'm a fan of viewfinders and I think this is a feature that scores heavily in the T5 / 1200D's favour, and it also allows the camera to enjoy a longer battery life. As I said before though, for those upgrading from a compact or a phone, a viewfinder might not be such an important feature. And as I noted above, the Live View experience on the A5000 is superior to that on the T5 / 1200D or D3300, so if you want to compose with the screen, the A5000 is the better choice.
The T5 / 1200D is fitted with a 3 inch, 460k LCD screen, the same resolution as on the Sony A5000. Ordinarily this displays exposure information, but switch to live view and, like the Nikon D3300, the T5 / 1200D's screen can be used for composition. I haven't yet tested the T5 / 1200D, but like the Nikon D3300, I'd expect it to be faster when employing phase detect AF through the viewfinder, slower when using it's contrast detect AF in live view. Note the Canon's screen is fixed in position, unlike the A5000's, which tilts.
The EOS T5 / 1200D offers 1080p HD movies at 30, 25 and 24fps. Compared with 1080i50/60 on the A5000 in addition to 1080p at 25 or 24fps on the A5000, there's not much to decide it one way or the other. Both offer a range of other lower resolution modes, but the EOS T5 / 1200D's MP4 QuickTime files are easier to manage than the A5000's AVCHD format. The fact that the A5000 can offer continuous autofocus in movie mode or the option of focus peaking if you decide to focus manually is a definite advantage for those looking for a capable movie camera.
Finally, the Sony A5000's trump card is its built-in Wifi with NFC which not only allows connection to a smartphone or computer for downloading images, but remote operation of the camera. Like Nikon, Canon has decided that Wifi isn't an important option on its entry level DSLR and I think that's a decision that they'll most likely regret.
One final factor is cost. Currently the price of the EOS kit varies from roughly equivalent to the A5000 to around 25 percent more. Partly it's region dependent, but as usual, it pays to shop around. If price isn't an issue once again it boils down to being realistic about the kind of photography you do and what really matters in terms of handling and features.
See my upcoming Canon EOS T5 / 1200D review for more details.
Sony A5000 final verdict
The Sony A5000 is a very tempting prospect for anyone buying their first interchangeable lens camera. Indeed in a lot of respects it's a lot more attractive than an entry-level DSLR: you get the same sized sensor as most DSLRs and the chance to swap lenses, but squeezed into a much smaller and lighter body. And unlike DSLRs at this price point, the A5000 also sports a screen which can flip up to face the subject, along with built-in Wifi for wireless transfer of images and smartphone remote control.
So the A5000 gives you DSLR quality in a smaller and lighter body with wireless connectivity and a flip-up screen. Why on Earth would an entry-level buyer go for a DSLR instead given the main rivals are the same price or higher? Well a lot boils down to whether you want a viewfinder along with the chance to mount external flashguns. Normally when comparing mirrorless cameras to DSLRs we'd be discussing electronic versus optical viewfinders at this point, but sadly the A5000 not only doesn't have a viewfinder of any description, but also has no means to connect an optional one as an accessory. Plus that lack of hotshoe / accessory shoe means no external flash units either. There's also no physical mode dial.
Is any of this a problem though? Only you can decide where your priorities lie, and while traditional photographers may desire the optical viewfinder, flash hotshoe and mode dial of a DSLR, I suspect many new entry-level buyers couldn't care less. If you're upgrading from a point-and-shoot camera or a phone, you'll be used to shooting exclusively with a screen, and in terms of the latter, all of your settings will have been adjusted without the benefit of physical dials. While the A5000 could have been even better for this market with a touch-screen, I reckon Sony has got the balance right given the budget. The tilting screen offers compositional benefits including shooting all-important self-portraits, while the Wifi means you'll easily be sharing those photos online. In these respects the A5000 is a lot more fun than the entry-level DSLRs from Canon and Nikon, and lest we forget it delivers similar quality along with the flexibility of interchangeable lenses in the smaller and lighter form factor. I should also note that having 100% electronic composition, the A5000 also enjoys the benefit of face and scene detection all of the time, which makes auto and portrait shooting very easy.
Ultimately I don't think the A5000's downsides will make much difference to the target audience – indeed unless you absolutely want or need a viewfinder, I reckon the A5000 makes a better choice than an entry-level DSLR for those upgrading from a phone or point-and-shoot camera. Don't get me wrong, the Canon EOS T5 / 1200D and Nikon D3300 are good, solid cameras, but a traditional DSLR is becoming less compelling at this end of the market.
Good points
Excellent image quality.
Low sensor noise levels.
Compact, lightweight body.
Articulated screen.
Built-in Wifi with NFC.
Downloadable apps.
Bad points
No built-in viewfinder or optional accessory.
No touch-screen.
No hotshoe / accessory port.
Very limited customisation options.