Verdict
The Sony A3000 is a mirrorless system camera styled like a DSLR. Based on the earlier NEX system with the same APS-C sized sensor and compatible with existing E-mount interchangeable lenses, it's an entry-level model with a budget price tag. As such it's targetted at improvers moving up from a phone or compact and is looking to poach sales from the entry-level DSLR market dominated by Canon and Nikon.
Though it looks like a DSLR there are some pretty fundamental differences, the most obvious being the lack of an optical viewfinder. The A3000 features (by today's standards) a fairly basic electronic viewfinder with a small and coarse image. It's revealing to note that while entry-level DSLRs also have relatively small viewfinders, those on the budget Canon and Nikon models are still larger and brighter than the little Sony finder. Sony's decision to use a 16:9 shaped screen also means that while HD video will fill the panel, still photos will only use a smaller portion, rendering them smaller during composition and playback than the DSLRs I compared to to. For me, composition is definitely the weakpoint of the A3000, although if you're upgrading from a phone or point-and-shoot camera it may be less of an issue.
With a 20 Megapixel sensor, fairly capable contrast-detect AF with face detection, face registration, Smile Shutter, sophisticated auto modes and all the usual Sony Gadgets like Sweep panorama, Creative Styles, and Picture Effects, the A3000 could actually provide a much better upgrade path for phone and compact shooter than a DSLR though, and the low price is definitely a big plus-point. Below you can see my comparisons with the Canonn EOS T5 / 1200D and Nikon D3300 followed by my final verdict.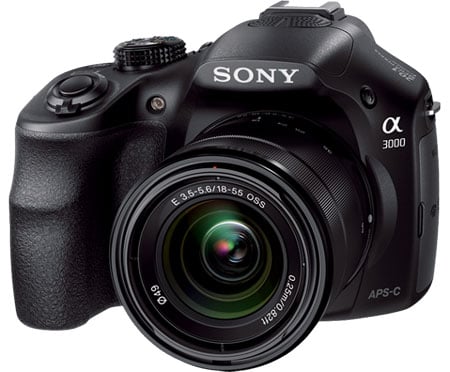 Compared to Canon EOS T5 / 1200D

As a mirrorless system camera, the Sony A3000 is a very different proposition to a DSLR like the Canon EOS T5 / 1200D. Externally, it's a lot smaller and lighter, but it retains the DSLR-like shape and styling – it looks a little like a T5 / 1200D that's shrunk in the wash and lost some of its buttons.
Inside, the A3000 has a 20 Megapixel CMOS sensor with 2 megapixels more than the T5 / 1200D. So you get a little more resolution, but with the same physical size APS-C sensor the two models are very closely matched in terms of image quality and noise performance.
In handling terms probably the biggest difference between the Canon T5 / 1200D and Sony A3000 is the viewfinder. The former has an optical viewfinder where you view light coming directly from the scene via a system of mirrors, the latter has an electronic viewfinder with a 201k dot panel. Modern high resolution EVFs are now competing with optical viewfinders to provide a similar experience, though both have their fans. But the Sony A3000's EVF is an inexpensive low resolution panel which is quite slow to respond to movement and not nearly as larger or bright as the T5 / 1200D's optical viewfinder. In its favour, the A3000's screen provides information and grid overlays and allows you to preview exposure settings and effects, so there's pros and cons to weigh-up.
Both models are equipped with screens and again, by modern standards, the A3000's is an inexpensive 230k dot screen with half the resolution of the 460k dot screen on the T5 /1200D. Though both are the same size, the wider 16:9 proportions of the A3000's screen make for a smaller viewing area and it suffers more from poor visibility in bright sunshine.
Like the T5 / 1200D the Sony A3000 offers the full range of PASM shooting modes, but its two auto modes are more sophisticated with scene detection and composite shooting for improved results. The A3000 also offers a good range of effects filters as well as a panorama mode – something never before seen on a Canon camera of any description.
Like all Sony models, the A3000 saves video in AVCHD and MP4 formats with 1080i50/60 and 1080p25/30 HD modes. As a mirrorless model, you can shoot video on the A3000 simply by pressing the record button, there's no need to first switch to Live view as on the T5 / 1200D. Both offer manual control over the exposure, but the A3000 provides continuous AF for movies which is reasonably quick to respond, accurate and unobtrusive.
As an entry level camera, I think the Sony A3000 has more to offer beginners than the Canon T5 / 1200D, so long as you can live with its relatively dim, low resolution EVF.
See my Canon T5 / 1200D review for more details.
Compared to Nikon D3300
The Nikon D3300 is the company's entry-level DSLR and, along with the Canon T5 / 1200D, is the competition the A3000 is out to beat. If you've read my A3000 vs T5 / 1200D comparison above you can apply many of the same points to the D3300. As a DSLR with an optical viewfinder the D3300 provides a much better, 'real light' view of proceedings rather than one mediated by a relatively low resolution electronic viewfinder. The view through the Nikon's viewfinder is bigger and brighter, although the A3000's has the benefit of electronic overlays and assistance, so there's pros and cons to weigh up.
The D3300's LCD screen is the same size as the A3000's, but is better proportion to fit 3:2 stills and therefore provides a bigger picture. It also has much higher resolution with 921k dots compared to 230k dots on the A3000, though this makes less of a difference to the viewing experience than the numbers might suggest.
Though it's not as customisable as the A3000, there's less need for it on the D3300 because it has more buttons, so the handling can be quicker and more confident. And with the optical viewfinder in use, the screen can be devoted purely to the display of exposure information and camera settings. Thanks to the optical viewfinder the D3300 also enjoys much longer battery life, sufficient for 700 shots compared with 460 on the A3000.
With a good range of scene modes and effects filters, a panorama mode and PASM exposure control, the D3300's shooting modes are broadly equivalent to those offerred by the A3000. It has a more sophisticated AF system for stills using the optical viewfinder, but in live view mode the A3000 beats it hands down, particularly for continuous AF when recording movies. The A3000 isn't a better all-round movie camera than the D3300 though. The D3300 offers a best quality 1080p50/60 mode against 1080i50/60 on the A3000 and a wider range of alternatives including film-look 1080p24. The A3000 offers fully PASM exposure control for movies while the D3300 lacks Aperture Priority; and both allow exposure changes during recording but the A3000 manages it noiselesssly, where the D3300 has a clicky dial. The A3000 has built-in stereo mics versus only a mono mic on the D3300, but both allow the connection of an external microphone, via a mic socket on the D3300 and the multi interface shoe on the A3000.
The D3300 offers faster continuous shooting at 5fp for a burst of 100 shots compared to 3.5fps for a meagre 8 frames. In my test the Nikon D3300 and Sony A3000 were also very closely matched in terms of image quality and noise performance, though I fancy the D3300 has a slight edge. It also has a higher resolution sensor of course with an additional 4 Megapixels over the 20 Megapixel Sony A3000.
Finally, though an entry level model, the Nikon D3300 is significantly more expensive than the A3000, so if you really are looking for the most economical route to interchangeable lens photography the A3000 is unquestionably it. As always, you need to be clear about what matters to you personally. The superior handling and better build quality of the D3300 could well be worth paying extra for.
See my Nikon D3300 review for more details.
Sony A3000 final verdict
The Sony A3000 is a budget, entry-level mirrorless camera that currently offers one of the most economical routes into photography with interchangeable lenses. A canny move by Sony to poach sales from the entry-level DSLR market, in a departure from other NEX models on which it's based, the A3000 is a mirrorless system camera in DSLR clothing.
The best things about the A3000 are its low price tag, excellent image quality, E-mount compatibility, range of feature modes and potential for customisation. But in its desire to keep the cost down Sony has had to make some big compromises, most notably in the quality of the electronic viewfinder and LCD screen. Arguably, people upgrading from a point-and-shoot compact or a smartphone won't be bothered, but a big, bright, responsive viewfinder is one of the joys of DSLR photography and it's one aspect where the A3000 falls woefully short.
If you really don't care about a viewfinder though, a smarter move could be to do away with it altogether. In which case the next model up from Sony, the Alpha A5000 with its smaller body, higher resolution screen plus built-in Wifi and NFC, is a much better choice – see my Sony A5000 review for more details. But if the low price is paramount and you still want a viewfinder of any description, then the A3000 is a good option: it delivers the ease of a point-and-shoot camera with the benefit of a big sensor for great quality images and the chance to swap lenses. As such it's recommended for beginners on a tight budget.
Good points
Inexpensive.
Excellent image quality and noise performance.
Highly customisable.
Manual focus with peaking assistance.
Auto panorama feature.
Bad points
Small low resolution EVF.
16:9 proportion low res screen not ideal for stills.
Playback button not in ideal location.
No Wifi, but then neither do budget rivals.
Miniature effect can't be applied to movies.