Sony VPL-XW5000ES 4k projector review so far
The Sony VPL-XW5000ES is a native 4k home theatre projector with a laser light source and 2000 lumen output. Announced in April 2022, it costs $6000, pounds or Euros, and replaces the bulb-based 290 or 325 ES as their entry-level model with native 4k resolution. Meanwhile, the higher-end VPL-XW7000ES launched alongside it, delivers a brighter 3200 lumen output and sports a higher quality lens, albeit at a comfortably heftier price of 14000 pounds. The arrival of both new models means Sony's entire native 4k home theatre projector lineup is now laser-based.
Sony invited me to their UK HQ to check out both models in person and in this article I'll let you know my first impressions, what's new and what's changed. I plan to update this with a full review based on using the 5000 model in my own home theatre in the near future.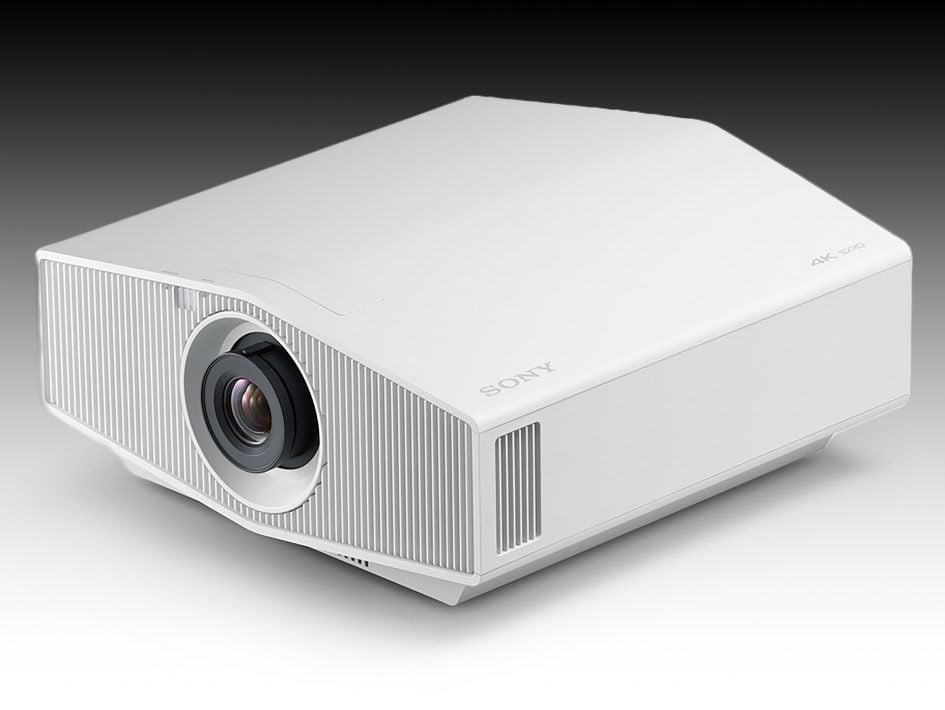 The major differences between the new and old models are the panels, light source, picture processing and exterior design. I'll start with the design as it's obviously the first thing you'll notice. Gone are the curves of earlier models and in their place is a more modern angular shape. Sony describes them as the most compact native 4k projectors, but they're still pretty large. At 460x200x472mm and weighing 13kg, the 5000 model is in a similar ballpark to previous Sony 4k bulb projectors like the 290 / 325 ES. The 7000 is the same width, but a little taller at 210mm to accommodate a new lens, longer at 517mm, and 1kg heavier. Both models are available in white or black.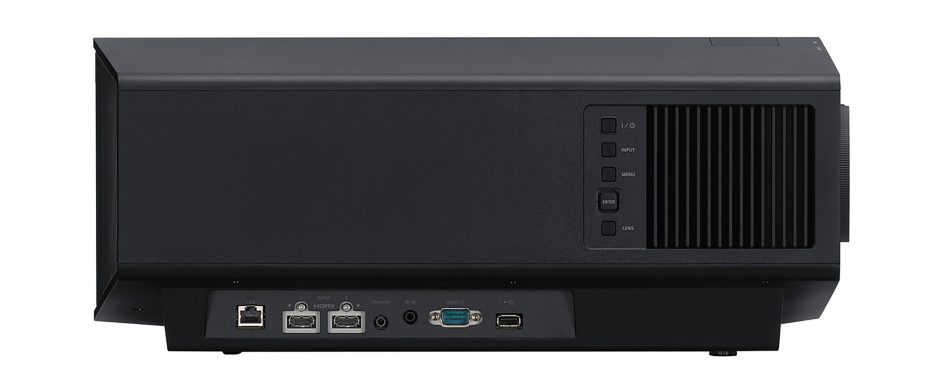 In terms of connectivity, both models have a pair of HDMI ports supporting HDMI 2.0b, handling signals of 4k up to 60p in 10 bit. Sony's not taken the opportunity to upgrade to HDMI 2.1, sadly ruling out 4k at 120p or variable frame rate support, but it has at least reduced the input lag from 27 to 21ms for 4k 60p, or down to 13ms for 2k at 120p. That's still slower than a dedicated gaming monitor, but similar to BRAVIA TVs and much faster than previous projectors. There's also a USB input, 9-pin DSUB remote, jacks for trigger and IR inputs, and a LAN port, although this is for configuration as like most projectors, there's no built-in streaming apps. As an aside, my preferred streaming appliance for projectors is the Apple TV 4k, configured to match the original frame rate.
Like the models they replace in the series, the 5000 and 7000 employ three SXRD panels with native 4k resolution, as opposed to cheaper models which simulate 4k with lower res panels and pixel-shifting. Sony's developed new 0.61in SXRD panels with 3840×2160 pixels each to deliver a 16:9 shaped UHD image, versus the slightly wider 4096×2160 DCi panels of the 290 / 325 ES. The change from DCi is due to most home content being delivered in the 16:9 shape and allows the projectors to display it without any scaling.
Arguably the biggest change is the switch from a bulb-based light source to laser even on the most affordable 5000 model. Sony's quoting 20,000 hours before the laser falls to around 50% of its original brightness, which in practical terms means it may last the usable lifetime of the projector itself. It's also brighter to start with, quicker to change intensity which in turn allows the kind of expanded dynamic range that previously required the active iris control of pricier models, quieter to cool, and more environmentally-friendly too with lower power consumption, no lamp or filter changes, and none of the mercury used in their earlier projector bulbs.
Moving onto image processing, the 5000 and 7000 are powered by Sony's latest X1 Ultimate for Projector which inherits technology from recent Bravia TVs. Arguably the biggest upgrades are Triluminous Pro for a broader colour gamut, and Object-Based HDR enhancement which goes beyond the frame-based enhancement of their predecessors to deliver the impression of a higher dynamic range.
Moving onto optics, the 5000 inherits the lens from the HW series, modified to handle 4k resolution. But this in turn means it now sadly lacks the motorised zoom, shift and focus of the 290 / 325 ES, not to mention its broader shift range. As such you're looking at a throw ratio of 1:1.38-2.21 with +/-71% vertical and +/-25% horizontal shift. So a downgrade from the 290 / 325 ES in this regard.
Meanwhile the 7000 boasts a new Advanced Crisp Focus, ACF lens, with sharper corners, a broader throw of 1:1.35-2.84, and +/-85% vertical shift or +/-36% for more flexible installations; plus all the optical adjustments on the 7000 are motorised too, leaving the 5000 feeling a bit basic in comparison with its manual adjustment dials.
Sony VPL-XW5000ES verdict so far
The demos at Sony UK with a combination of their own material and some of my own test discs proved both projectors could certainly deliver a detailed, bright and colourful image with an impressive dynamic range. The laser light source not only delivered brighter highlights, but its speed also allowed impressive black levels that would previously have demanded the expense of an active iris system.

The really important part for me though is the practical usability of this performance. On previous models you'd need to run the lamp high for meaningful HDR with a significant hit on lifespan and an obtrusively loud fan to keep it cool. As such in my own time with the 290 / 325 ES, I actually ran it on Low and missed out on its potential dynamic range. In contrast you can run the 5000 and 7000 at maximum brightness without worrying about the laser lifespan or indeed too much running noise. Sure, it's not silent, but it is quieter. This coupled with the extra brightness and darker blacks means you're more likely to be enjoying the new projectors at or closer to their best as opposed to reigning-in the older models.

It's not all good news though, with Sony making some cost-cutting measures on the 5000 in order to upgrade the light source without becoming too much more expensive than its predecessor. Most notably adopting the lens from the HW series means the 5000 loses the motorised controls of the 290 / 325 ES, not to mention its broader range of adjustments. It's not a huge deal since most installations will only configure the lens once, but it is a step-back in classiness.

The drop in panel resolution from DCi to UHD may make sense for most installations, but also means the projected image size from the 5000 isn't quite as wide as the 290 / 325 in its scaled mode. And speaking of 2.35:1, there's no support for anamorphic lenses, although given they generally cost as much as the 5000 projector itself, it's unlikely to impact many potential owners of this model.

Then there's the IMAX Enhanced certification which sounds exciting, but as far as I understand it, is simply just another option on the preset list. Selecting it doesn't appear to do anything different, so feel free to enjoy any of the 1.9:1 IMAX content from Marvel using any of the presets.

Arguably the biggest disappointment and surprise in terms of spec is the decision to keep the HDMI ports as 2.0b rather than upgrading their speed to 2.1, especially galling on the pricier 7000 model. This sadly rules out 4k 120 and variable frame rates, which means you won't be enjoying the ultimate gaming experience from the latest platforms. But while Sony has improved the input lag on both projectors, they're still arguably too slow for serious gaming anyway. Sure you can have a lot of fun gaming on a really big screen, but no projector is going to match the response of a dedicated gaming monitor.

And that's all I can say until I get a final production sample in my own home theatre for testing. In terms of the 5000, there may be some downgrades from its predecessor, but the use of a laser light source significantly improves the picture quality as well as greatly reducing running costs, and that's far more important to most of its potential owners.

Check prices on the Sony VPL-XW5000 ES at B&H. Alternatively get yourself a copy of my In Camera book, an official Cameralabs T-shirt or mug, or treat me to a coffee! Thanks!