Sony Imaging Pro Support review
As high-end cameras become faster, tougher and more feature-packed than ever before, you may wonder what's next in the industry. While some buyers are driven by pure technology alone though, professional photographers who rely on their equipment day-in and day-out place equal or even greater value on support. When equipment fails, they need it fixing as soon as possible. They need responsive call and walk-in centres, and loaners during longer repair periods. They want on-site support at events and the chance to borrow specialist lenses. In short, they need to keep working.
Canon and Nikon may be increasingly challenged on technology by their rivals, but they've remained dominant in the professional markets thanks to their established pro support networks. Any camera company that wants to break into those pro – especially pro sports – markets needs to offer their photographers a similar commitment to support.
Sony in particular is targeting pro photographers, so it was no coincidence its Alpha A9 sports body was announced in 2017 alongside a greatly enhanced support program. It's still early days, but Sony Imaging Pro support is now available in North America, Western Europe, Australia / New Zealand, and parts of Asia. To find out what's on offer, I spoke to Sony in the USA, UK and Australia about their respective programs, and got to experience a service centre first-hand during the 2018 Sony Open golf tournament in Hawaii. As a relatively new program, it's developing quickly, so I plan on updating this page with further information and experiences as it grows; I also hope to compare it with and write about other fledgling pro service programs.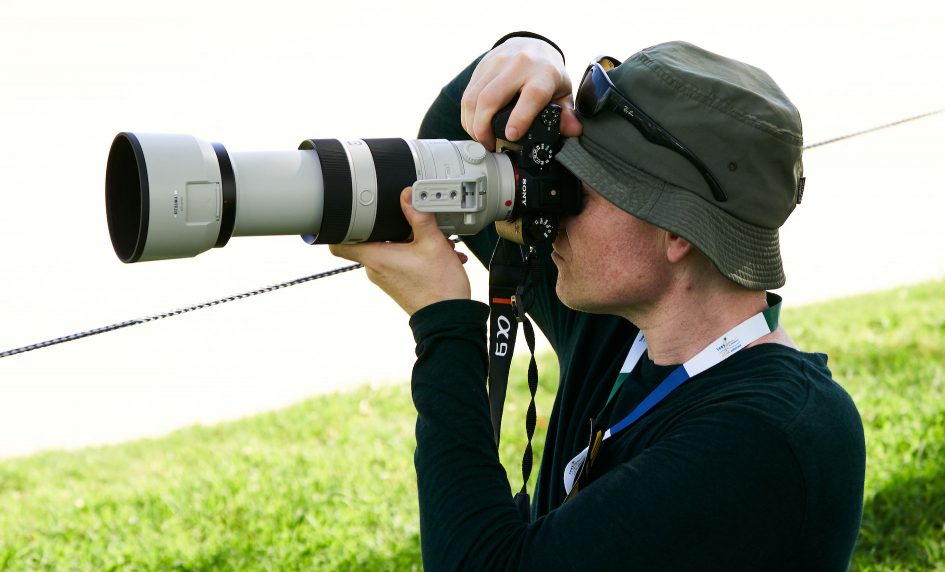 Sony Imaging Pro Support – member benefits
Sony announced its Imaging Pro Support programs in 2016, but only really began ramping them up in 2017 with the opening of a number of walk-in service centres in each region. Members are entitled to free repairs on products that are still in warranty, or discounts (typically 20%) on repairs that are out of warranty. Repairs under warranty are generally turned-around within three business days upon receipt of the equipment, shipping is free, and loaners are available if the repair period exceeds this.
Members also have access to a 24 hour remote helpdesk and are entitled to two or three (depending on region) complementary clean and maintenance services every year. Depending on your region, there may also be invites to special events and or loans of products to trial.
Members can also use the walk-in service centres in their region for potentially quicker turnaround on repairs. In the USA, there are walk-in centres in New York and Los Angeles. In the UK, you'll be heading to Fixation in London or the Technology Centre in South Wales. In Australia, the walk-in centre is based in Adelaide. Depending on the region, you may alternatively be able to drop-off your gear at a speciality camera shop; check the local program for details.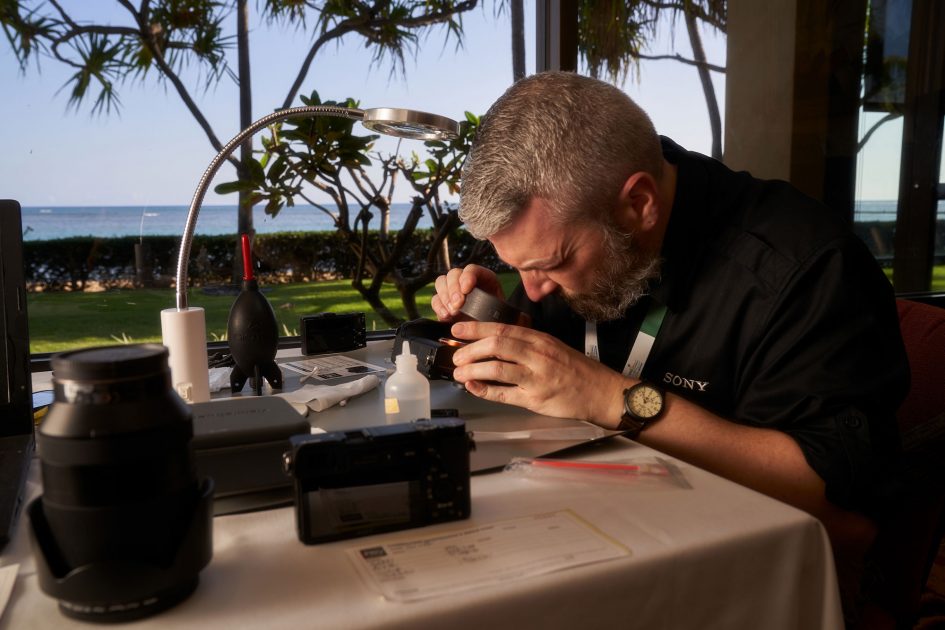 Sony is also offering walk-in support at (or near to) an increasing number of events which are open to all members. Right now, the scope and proximity are limited compared to the on-site support offered by Canon and Nikon, but it's something Sony is steadily working to improve.
As a snapshot of events near to the time of writing, Sony North America Pro Imaging Support was on-site at the 2018 Super Bowl, US Open Tennis Championship, PGA Championship, President's Cup, Sony Hawaii Open, Dew Tour, and will be at the 2018 NCAA Final Four. It also offered support at the FIG World Artistic Gymnastics Championship in Montreal and had a service centre in Pyeongchang for the 2018 Winter Olympics.
Sony UK provided a service facility outside the venue of last summer's World Athletic Championships in London. Sony Australia provided a service centre in Melbourne to offer support and loan gear to photographers attending the Australian Open, and also promised local support for the Commonwealth Games. While membership benefits are tied to local regions, any member would be supported for service at local or foreign events.



Sony Imaging Pro Support – requirements
At the time of writing, Sony only offered a single tier of membership with a number of requirements to qualify. All three regions I spoke to required a minimum amount of professional Sony camera gear, bought from authorized dealers in their region; gear bought outside their region wouldn't qualify.
In the US you need a minimum of two full-frame Alpha bodies and three premium full-frame lenses from the G, G Master or Zeiss ranges. In the UK you also need to own two bodies and three premium lenses, but one of the bodies can include the cheaper A6500. The ownership requirements in Australia are the same as the UK.
Further, to qualify for membership in the US and UK, you must be able to prove you're a professional photographer with active work. The US and Australian programs also required an annual fee of $100 USD and $150 AUD respectively, although at the time of writing the program was free in Europe for photographers who owned the qualifying equipment and could prove their employment as a pro photographer.
Sony Imaging Pro – thoughts so far
As mentioned earlier, Sony's pro support is clearly at the early stages, with on-site presence at major events growing but still limited compared to Canon and Nikon. This is something they're working on, but it's a chicken and egg situation where a major sporting event is unlikely to grant space on-site until there's sufficient demand. Sony's well aware of this and when a service centre can't be accommodated on-site at an event, they're trying to offer facilities nearby – the 2018 Winter Olympics is a prime example with a Sony service centre in Pyeongchang.
There's also opportunities to provide on-site support at events where space isn't as big an issue or at those not currently covered by Canon and Nikon. For example I attended the Sony 2018 Open golf tournament in Hawaii which offered a walk-in service facility. When I visited there were three staff available to repair or resolve issues, service products and provide loans. As you'd expect there was a wide array of gear to try out, and as well as borrowing an A9 and some big lenses, I replaced a battery I'd accidentally broken the day before. The centre was also happy to clean rival gear while of course taking the opportunity to loan a Sony alternative for them to try.

The other major limitation of the program at the time of writing is the cost of gear to qualify. The required ownership for this initial tier means it's hard to qualify unless you've spent in the region of $8000 USD or more on Sony gear from authorized dealers, which in turn sets the bar rather high. It rules out other owners who may use Sony gear professionally, but perhaps only own a single full-frame body or less than three premium lenses. Right now it's a high cost of qualification which also means product development and feedback from members is currently being driven by the highest-end pros.

Again this is something Sony is aware of and it hasn't ruled-out offering lower tiers – like Canon and Nikon – in the future to accommodate a broader selection of owners who may not demand the same degree of service. But it has to start somewhere and today is wise to focus on the smaller number of high-end owners while the program is developed, refined and allowed to grow.

So as of early 2018 the Sony Imaging Pro service programs may at an understandably smaller scale compared to Canon and Nikon, but Sony has already made a solid commitment and in my interviews with each region, there's a strong sense of a company that's hungry to succeed and very willing to listen. Whether you're a qualifying owner or not, I'd recommend contacting them with suggestions and feedback; indeed this willingness to listen could be their secret weapon, allowing members to shape a fledgling service when other established ones may have become complacent or unresponsive. It's also allowed products to be updated and refined faster than rival brands. As a new player building its service from scratch, there's also an opportunity to do something different: during the last US Open tennis tournament for example, Sony Pro Imaging was not only on-site, but stayed open during the entire Labor Day weekend when other support facilities were closed.

It's also important to remember Sony is moving towards increasingly electronic cameras with fewer and fewer moving parts. In contrast, a significant element of Canon and Nikon's service centers is devoted to spare parts and repairs of mechanical components that are less of an issue for mirrorless cameras, especially those designed to shoot with an electronic shutter.

Of course it's still early days for Sony's A9 body too, which was roughly only a year old at the time of writing. Will it end up being cheaper or easier to service than a comparable DSLR used in a tough pro sports environment? Only time will tell. But again as a new player, Sony has opportunities to do things differently, both with its products and approaches to support. It's an exciting time in a market due for a shakeup.

See my Sony A9 review, Sony A7r Mark III review and Best Sony lenses guide for more details.

Check prices at Amazon, B&H, Adorama, eBay or Wex. Alternatively get yourself a copy of my In Camera book, an official Cameralabs T-shirt or mug, or treat me to a coffee! Thanks!