Sony FE PZ 16-35mm f4 G review
Verdict
The Sony FE PZ 16-35mm f4 G is a compelling ultra-wide zoom lens for their full-frame mirrorless system, delivering sharp results across the frame and throughout the focal range. The lack of optical stabilisation is frustrating for anyone mounting it on a body without IBIS, but the lens is smaller and lighter than most rivals, sealed against dust and moisture, packed with controls including a de-clickable aperture ring, and reasonably-priced for the range and aperture.
Oh and it also has a motorised zoom. I've left that to last as I'm still in two minds about it. On the one hand, it's the smoothest power zoom lens I've tested, with consistent speed and none of the lurching or axial shift that plagues lesser models. It'll deliver great-looking zooms for videographers, or simply let you make adjustments from afar without touching it, invaluable for gimbals and drone users alike, but also useful if you're in front of the camera for a group shot, distant selfie or presentation. And unlike many Sony lenses, it's also almost bereft of breathing, especially at the long-end.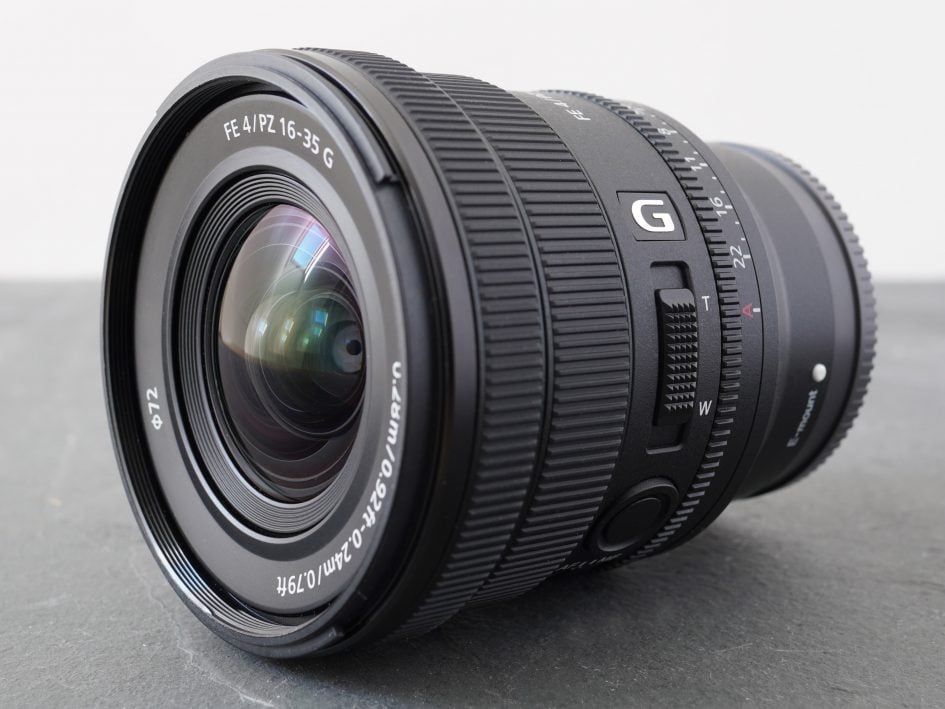 But despite its impressive speed and response for a motorised system, it's still slower than a traditional mechanical zoom which you can twist in a fraction of a second, while the free-spinning ring without hard stops or labelling can't help but feel more detached. If you're behind the camera mostly taking photos, I suspect you'd prefer the exact same lens but with a mechanical zoom instead. But that wouldn't be possible, since it's the power zoom that actually allows the lens to be so compact.

Ultimately as a videographer I really liked the PZ 16-35, found the power zoom useful and hope a similar approach is applied to a longer or standard range in the future. As a photographer, I'm torn. Again I'd have preferred a mechanical zoom, but there's no getting away from the size, weight, range and results, which all make for a highly compelling general-purpose lens. I wonder if Sony will deploy a similar strategy for a range of lightweight f4 power zoom lenses in the future?

Check prices on the Sony FE PZ 16-35mm f4G at B&H, Adorama, WEX UK or Calumet.de. Alternatively get yourself a copy of my In Camera book, an official Cameralabs T-shirt or mug, or treat me to a coffee! Thanks!