Sony FE 90mm f2.8 Macro review
Intro
The Sony FE 90mm f2.8 Macro G OSS was the first macro lens for E-mount corrected for full-frame mirrorless cameras, upon which it'll deliver up to 1:1 / 1x magnification from a distance of 28cm. It was announced in 2015 and followed by the Sony FE 50mm f2.8 Macro in 2016. Macro lenses with focal length around 100mm are popular for macro photography and general-purpose use as they offer more working distance than shorter focal lengths. This makes it easier to light your subject and less likely for small critters to shy away. Sony added optical SteadyShot (OSS) image stabilization to the lens, a focus limiter, an AF-lock button, and a dual MF mechanism: When you leave the focus-ring in the front position the lens has the usual focus-by-wire functionality with variable gearing for very precise focusing. But when you full the focus ring back it switches to linear gearing which allows for faster focus action.
The Sony FE 90mm f2.8 Macro G OSS is listed at 960 EUR / 1100 USD / 850 GBP.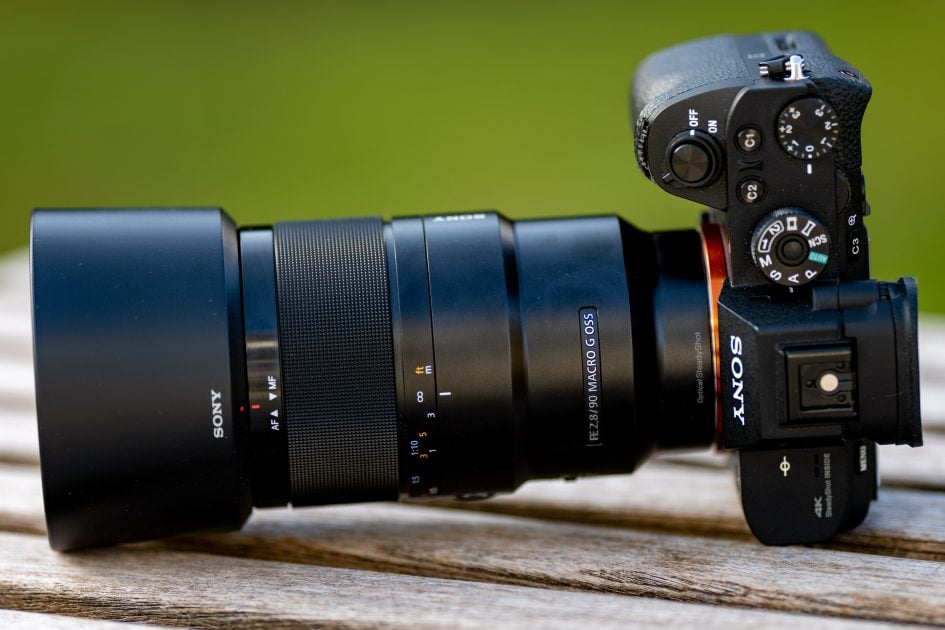 Facts from the catalog
Let's compare the Sony FE 90mm f2.8 Macro G OSS ("Sony" for short) to the Sigma 105mm f2.8 DG DN Macro Art ("Sigma Art"). As usual I've rated the features with a [+] (or [++]), when it's better than average or even state of the art, a [0] if it's standard or just average, and [-] if there's a disadvantage.
Size (diameter x length): At 79 x 131mm (3.1 x 5.2in.) plus 51mm for the lens hood (94mm diameter) the Sony is of similar size as the Sigma Art at 75 x 136mm + 57mm lens hood. Both are not small lenses. [0]
Weight: 602g (21 oz.) plus 43g for the lens hood. The Sigma is 708g + 47g lens hood. [+]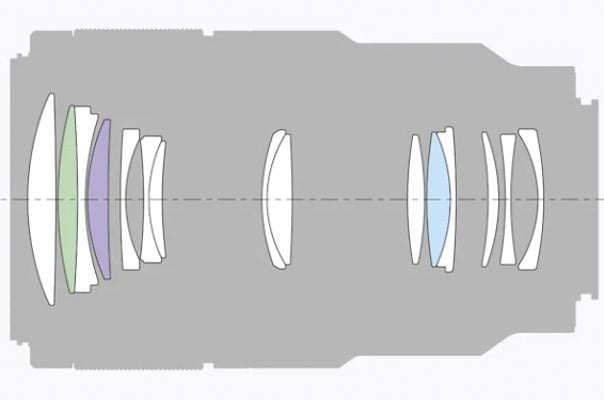 Optics: The Sony is a pretty complex design with 15 elements in 11 groups including one aspherical and two special dispersion elements. This is similar to the Sigma Art (17 elements in 12 groups) ). The Sigma Art has fluorine-coating on the front element to repel water, dust, and dirt and make cleaning easier – which the Sony seem to miss. [+]
Closest focus distance is 0.28m (0.92ft.) with a magnification of 1:1 which is what you come to expect from a macro lens. This results in a working distance of only 0.13m (0.4ft.). The Sigma Art achieves the same magnification at a slightly larger working distances. Both lenses do not extend while focusing and the Sony achieves a magnification of 1:10 at a distance of 1.07m (3.5ft.), the Sigma Art at 1.24m [+]
Use with teleconverters: No. The Sigma Art probably could be used with Sony's teleconverters (try before you buy). [0]
Filter-thread: 62mm, just like the Sigma Art. [+]
Image stabilization: The Sony has optical stabilization unlike the Sigma Art which relies solely on the built-in sensor-shift stabilization Sony A7 / A9 / A1 camera bodies provide. [+]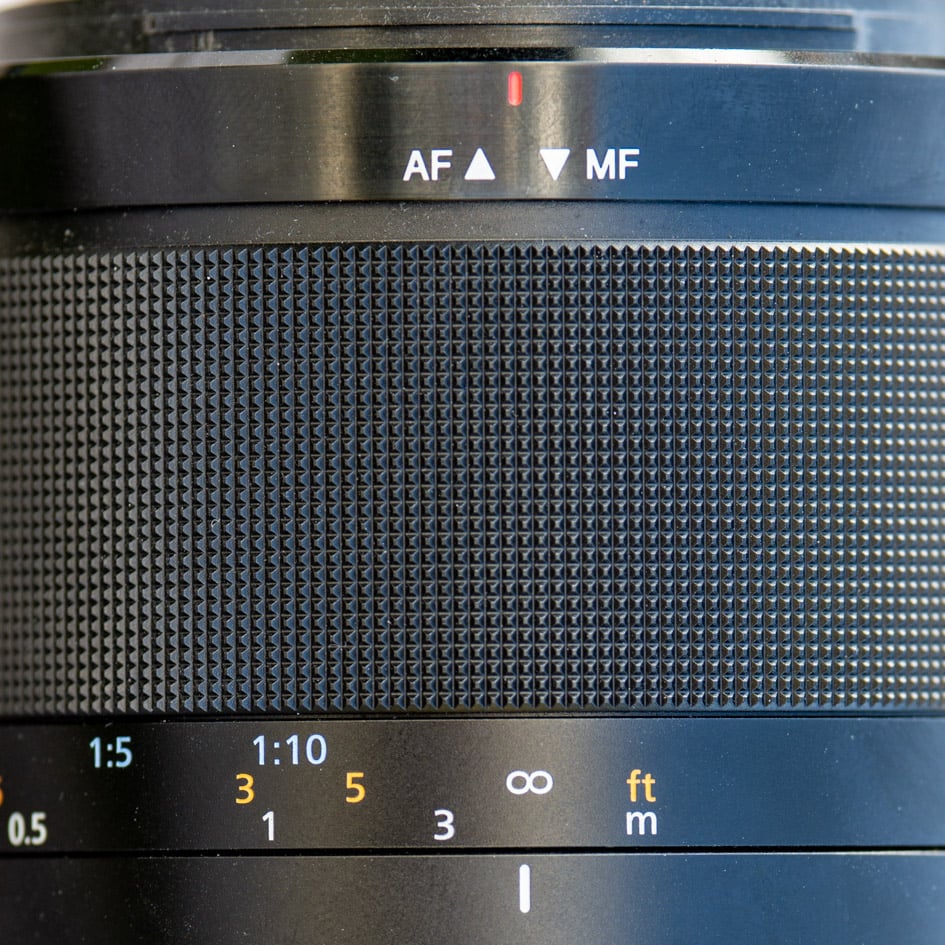 Auto focus: Built-in AF drive-by-wire. Manual-focus override is by simply turning the dedicated focus ring if the focus ring is in the forward position (marked "AF"). The focus ring has a variable gearing in this position which allows for very precise manual focus when turned slowly and is a boon when shooting macro photos. Pull the focus ring towards the camera (marked "MF", see above) the focus action switches to linear gearing (covering the complete focus range in 140 degrees) which makes smooth focus pulling for videographers easy and is much faster. In this mode the Sony shows focus distance plus magnification. Both the Sony and the Sigma Art also have an extra button on the lens which can be assigned many different functions (e.g. AF-lock) plus a focus limiter switch offering three position as you can see below. [+]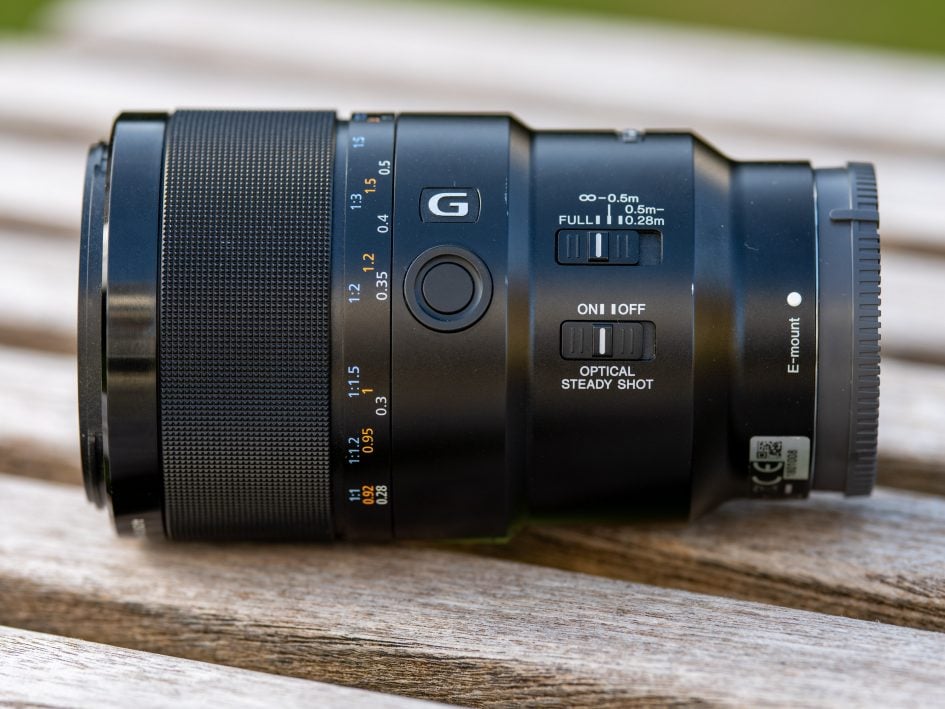 Aperture: The Sony has no aperture ring unlike the Sigma Art which has a de-clickable ring with 1/3 stop clicks. Focusing does not change the aperture-value of the lens, so even at a magnification of 1:1 the lens still shows f2.8 although it clearly darkens by 2 EV. That means that the effective aperture of the lens is f2.8-f22 at infinity and f5.6-f44 at minimum object distance. The Sigma Art is the same in this respect. [0]
Lens profile: The lens comes with a lens profile for vignette-, CA- and distortion-compensation which can be controlled from the camera. That's the same as with the Sigma Art. [+]
Covers full frame/FX or smaller. Same with the Sigma. [+]
Price: 960 EUR (incl. 19% VAT)/ 1100 USD / 850 GBP. The Sigma Art costs 749 EUR / 799 USD / 699 GBP. [0]
The lens comes with a soft pouch. The plastic lens hood is included and is reversible for transport. [+]
Sealing: yes, a rubber grommet at the lens-mount plus further special weather-sealing throughout the construction, just like the Sigma Art. [+]
The score in the "features-department" is 0[-]/4[0]/10[+]. The Sony FE 90mm f2.8 Macro G OSS offers a nice feature set. Noteworthy are the optical image stabilization and the dual focus action.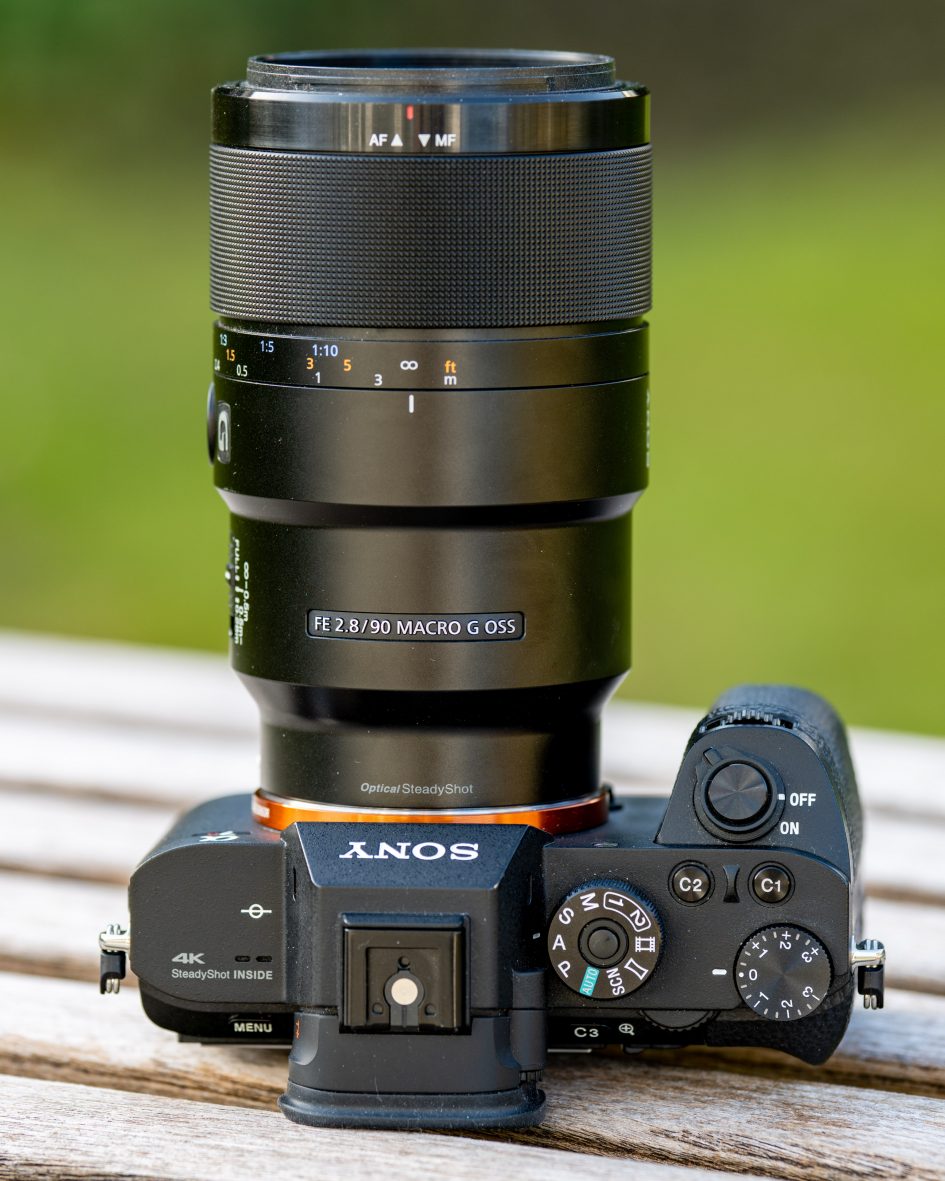 Alternatives
There are lot of macro lenses for Sony cameras. But if you want autofocus and a light telephoto reach there are really only three native mirrorless designs for E-mount:
Sigma has the 105mm f2.8 DG DN Macro Art from 2020. The lens is similarly sized but about 100g heavier than the Sony. And at 749 EUR / 799 USD / 699 GBP about 20-25% cheaper. The lens has a de-clickable aperture ring but no optical image stabilization.
Sigma also has the 70mm f2.8 DG Macro Art from 2018. The lens has a slimmer build and is a bit lighter than the Sony and at 500 EUR / 570 USD / 450 GBP also much cheaper. But it extends when focusing close and has a 22% shorter reach which probably also translates in shorter working distances at comparable magnifications. And it does not offer optical image stabilization or an AF-lock button.
From Tokina there's the FiRIN 100mm 2.8 FE Macro, an original mirrorless design from 2019. It costs 540 EUR / 600 USD / 580 GBP. It's a bit lighter and shorter than the Sony but extends when focusing. And it does not offer optical image stabilization or an AF-lock button.
Here is the angle of view that the Sony FE 90mm f2.8 Macro G OSS produces compared to the Sigma 105mm f2.8 DG DN Macro Art:


Focus
Focus accuracy and repeatability is critical to consistently produce sharp shots. Repeatability (the accuracy of focus on the same subject after repeated focus-acquisition) of the Sony FE 90mm f2.8 Macro G OSS is pretty good (measured 98.7% in Reikan FoCal) with no outliers over a series of 40 shots. There is almost no focus variation whether the lens focuses from a closer distance or from infinity and I detected very little hunting. The lens focuses in around 0.6 sec from infinity to 1.07m (1:10 magnification), which is just a little faster than the Sigma 105mm f2.8 DG DN Macro Art at 0.7 sec.
The focus ring is 30mm wide. Its metal surface is structured for better grip and can be operated with one finger. When you switch the focus-ring from AF to MF focus distance is immediately set to the last position in MF. That might be disturbing at times. But I think for macro work you'd use the MF position to quickly get the lens to focus and then switch to the AF position to manually fine-tune focus on your subject. AF-operation of the lens in photo-mode cannot be heard from the outside and if you record video with the built-in microphone AF is also silent.
As you pull focus, you'll notice quite some focus breathing: the image became 9% less magnified when I adjusted focus from infinity to 1.07m. This is visible and could be distracting when shooting videos.

Image stabilization
To test the effectiveness of the image stabilization with the Sony FE 90mm f2.8 Macro G OSS on a Sony A7R II camera body, I did a series of 120 test-shots hand-held with shutter speeds from 1/100 of a second down to 1/6 sec at 4.5m distance. I used the shots at 1/100 sec with SteadyShot=off as reference of how good my hand-holding was at the time of the test and Reikan FoCal did the chore of evaluating the sharpness of all shots.

Here's the results: With SteadyShot switched on the combo produced results down to 1/25 sec (2 stops) with a clearly higher rate of sharp shots than at 1/100 sec with SteadyShot=off. At 1/12 sec (3 stops) average quality became comparable. But at 1/6 sec (4 stops) results became very erratic with only a third of the shots usable. This is an advantage from the image stabilization of 3 stops.

I cannot judge how effective Sony's OSS is at closer distances but it might be better than image stabilization based purely on sensor shift. As you get closer to your subject the effect of shake is multiplied by the magnification and you should adapt shutter speed accordingly even with OSS – or use a tripod.

Next check out my quality results!

Check prices on the Sony FE 90mm f2.8 Macro at Amazon, B&H, Adorama, Wex or Calumet.de. Alternatively get yourself a copy of my In Camera book or treat me to a coffee! Thanks!