Sony FE 85mm f1.4 GM review - Verdict
Verdict
The FE 85mm f1.4 GM is Sony's flagship 85mm prime lens and a good match for Sony's mirrorless bodies. It is very sharp at portrait and longer distances and produces a nice soft Bokeh, rendering the background pleasantly blurred. But is also has some weaknesses: it focuses very slowly, has longitudinal CAs, some haloing around bright lights, and its resistance against flare and glare in strong contra light could be better.
Let's put this into perspective and have a closer look at how the Sony FE 85mm f1.4 GM compares to some alternatives.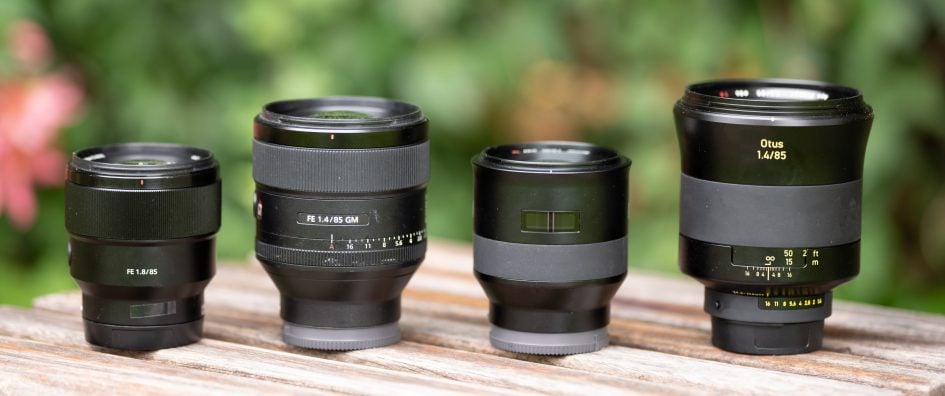 Compared to Zeiss 85mm f1.4 Otus
Four years ago Zeiss produced a large aperture prime that still is at the top of its game even with the latest 50MP full frame bodies: Sharpness, contrast, resistance against contra light, coma, loCA, purple fringing, Bokeh are all on a very good to exceptional level even at f1.4. This is a lens that you can use wide open with little to no compromise in optical performance and in that it is a unique short telephoto lens. It produces clearer shots than with any other 85mm lens I've seen. Plus there is its exceptional build: This lens exudes quality in every aspect of its physical presence that even a Sigma Art lens cannot reach. So optical plus mechanical quality make for a very compelling package. But it is manual focus only, its price is eye-watering, and it is larger and heavier than the Sony. Still the Zeiss 85mm f1.4 Otus has well earned a Highly Recommended. If you want to use it on a Sony E body best get the ZE version for Canon EF mount plus a Sigma MC-11 mount converter.
See my detailed Zeiss 85mm f1.4 Otus review.
Compared to Sigma 85mm f1.4 Art
The Sigma Art AF 85mm f1.4 DG HSM offers the best performing FF/FX-corners and the softest Bokeh of any 85mm lens I know. Plus it is astonishingly resilient against strong contra-light and has less coma and longitudinal CAs than the Sony GM. But it is a huge and heavy beast of a lens, similar to the Zeiss Otus: Including lens hood it is 205mm long compared to the 150mm of the Sony GM and it is 400g heavier. Which might in part be explained by the very good build quality. The 1/3 lower price also is a plus in comparison to the Sony GM.
For more details see my  Sigma 85mm f1.4 Art review where it earned a Highly Recommended.
Compared to Sony FE 85mm f1.8
The Sony FE 85mm f1.8 is the smallest, lightest and cheapest large aperture 85mm prime lens that autofocuses on Sony mirrorless bodies. It performs quite well but needs stopping down to f2.8 or f4.0 to reach the sharpness of the Sony GM lens. It gives you a nice Bokeh but not as soft as its larger sibling. Its f1.8 focal ratio also means that it lacks 2/3 of a stop of light gathering power. But for that it weighs only half of the Sony GM and only costs a third. All in all the Sony FE 85mm f1.8 clearly earned a Recommended! in my Sony FE 85mm f1.8 review.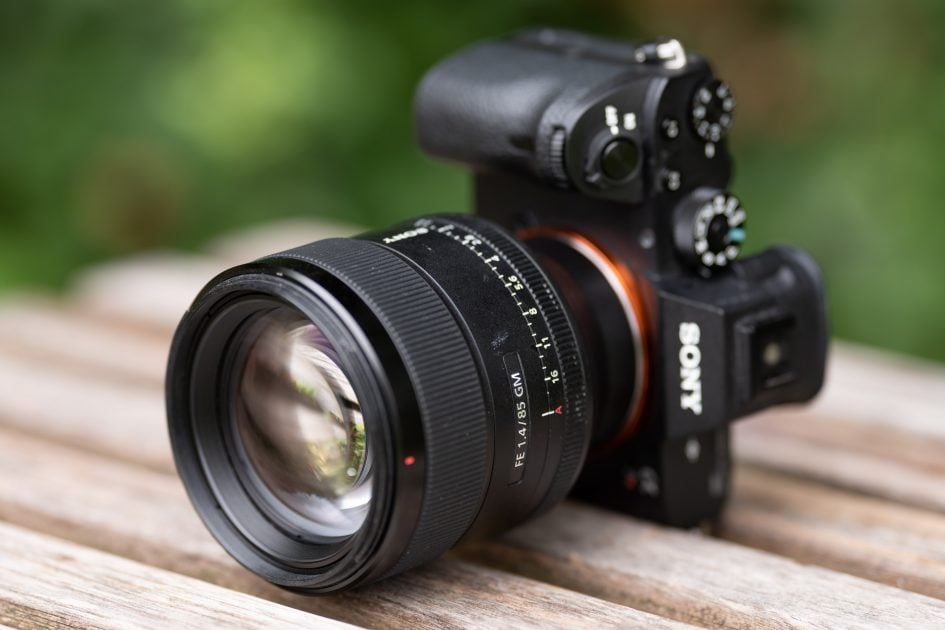 Sony FE 85mm f1.4 GM final verdict
The Sony FE 85mm f1.4 GM delivers a clear step-up over Sony's budget FE 85mm f1.8 lens, as you'd hope for the additional price and weight: With its f1.4 focal ratio it collects 2/3 of a stop more light while being sharper across the frame and offering better Bokeh. Optically its only weaknesses are noticeable longitudinal color aberrations and a low resistance against flare, glare and ghosting. Compared to other f1.4 lenses it is relatively small and light and offers the additional features of a de-clickable aperture ring, a lockable lens hood and a focus lock button. This together with its thorough weather sealing supports Sony's high end claim of the G Master series. Unfortunately that makes the FE 85mm f1.4 GM three times as expensive as the Sony 85mm f1.8. But all in all the Sony FE 85mm f1.4 GM earns a Highly Recommended!
Good points:
Relatively small and light for an f1.4 lens.
Very good resolution and contrast.
Low vignetting and minimal distortions (through lens profile).
Weather sealing, de-clickable aperture ring, lockable lens hood, focus-lock button.
Bad points:
Very slow to focus.
Longitudinal colour aberrations up to f2.8.
Low resistance against flare, glare, and ghosting.
High price.
Check prices on the Sony FE 85mm f1.4 GM at Amazon, B&H, Adorama, or Wex. Alternatively get yourself a copy of my In Camera book or treat me to a coffee! Thanks!