Sony FE 70-200mm f2.8 GM OSS review
Intro
The Sony FE 70-200mm f2.8 G Master is a professional telephoto zoom lens for Sony's Alpha mirrorless cameras. Announced alongside the FE 24-70mm f2.8 GM and FE 85mm f1.4 GM in February 2016, they launched Sony's flagship G Master lens brand that aims to deliver the highest resolution and best-looking bokeh – a combination that's traditionally hard to achieve.
The FE 70-200mm f2.8 GM, also known as the SEL70200GM, delivers a popular range that's ideal for weddings, events, portraits and close-range sports or wildlife, while the bright and constant f2.8 focal ratio allows you to achieve shallow depth-of-field effects to isolate the subject. The lens also became Sony's first to feature a floating focusing system that employs SSM and dual linear motors working together to maintain optical quality and AF performance from infinity down to the closest focusing distance of 0.96m. The lens also features optical stabilisation and is weather-sealed against dust and moisture.
The FE 70-200mm f2.8 GM was the second telephoto zoom designed for Sony's full-frame mirrorless cameras, following the original f4G version. It's heavier and more expensive, but enjoys that extra stop of aperture, along with the higher optical performance of a G Master lens. If you'd like more reach, Sony also designed 1.4x and 2x tele-converters to work with it, or you could opt for the FE 100-400mm GM or FE 200-600mm zooms. In this review I'll take an in-depth look at the FE 70-200mm f2.8 GM, comparing it to more recent rivals and seeing if it's still worth spending the premium price.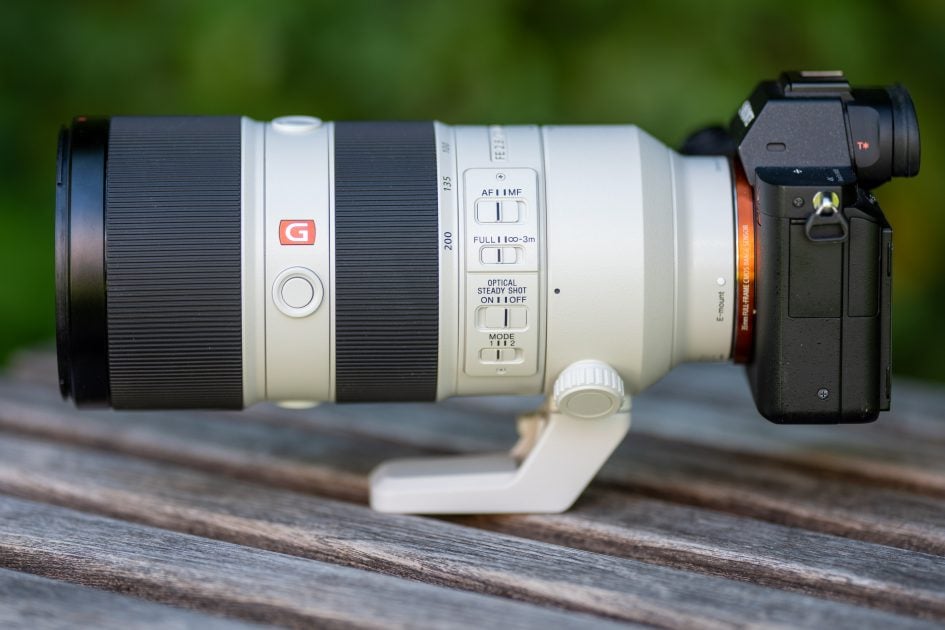 Facts from the catalog
Let's compare the Sony FE 70-200mm f2.8 GM OSS ("Sony f2.8 GM" for short) to the Sony FE 70-200mm f4.0 G OSS ("Sony f4 G") and the Tamron 70-180mm f2.8 Di III VXD ("Tamron III"). As usual I've rated the features with a [+] (or [++]), when it's better than average or even state of the art, a [0] if it's standard or just average, and [-] if there's a disadvantage.
Size (diameter x length): 88 x 198mm (3.5 x 7.9in) plus 83mm for the lens hood (113mm diameter). The Tamron III is much smaller than the Sony f2.8 GM at 81 x 149mm (3.2 x 5.9in.) + 46mm lens hood but zooming the Tamron III to 180mm focal length adds another 29mm in length. The Sony f4 G is 80 x 175mm (3.1 x 6.9in) + lens hood. [0]
Weight: 1473g (52oz.) plus 95g for the lens hood plus 78g for the detachable tripod foot. That's almost twice the weight of the Tamron III which is only 800g (28 oz.) + 46g lens hood. The Sony f4 G is 840g (30oz.) without lens hood or detachable tripod collar. [0]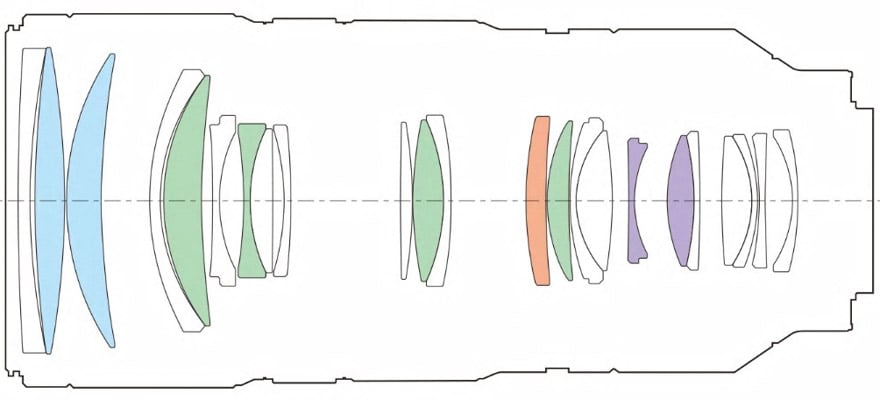 Optics: The Sony f2.8 GM has 23 elements in 18 groups including 6 special dispersion elements and 3 aspherical elements. This is a slightly more complex design than the Tamron III with 19 elements in 14 groups although the Tamron has the same number of special elements. Both lenses have fluorine-coating on the front element to repel water, dust, and dirt and make cleaning easier. The Sony f4 G has 21 elements in 15 groups and does not employ fluorine-coating. [+]
Closest focus distance is 0.89m (2.9ft.) with a very useful maximum magnification of 1:3.6 at 200mm focal length and manual focus. This leaves 0.67m (2.2ft.) working distance between front lens and object. Closest focus distance of the Tamron III is 0.26m (0.9ft.) at 70mm focal length with manual focus, 1:1.8 magnification, and a very short working distance of 9cm. At 180mm focal length closest focus distance is 0.85m (2.8ft.) with 1:4.1 magnification. The Sony f4 G goes down to 1:7.7 magnification at 1.00m distance.
How close do you have to get for 1:10 magnification e.g. for a very tightly cropped head-shot? At 200mm focal length the Sony f2.8 GM achieves 1:10 at a distance of 2.14m (7.0ft.) while the Tamron III has a shorter reach of 1.88m (6.2ft.) due to its shorter focal length. [+]
Teleconverter: The Sony f2.8 GM is compatible with Sony's 1.4x and 2.0x teleconverter SEL14TC, SEL20TC. But you cannot use those teleconverters with the Sony f4 G nor the Tamron III. And Tamron does not yet offer their own teleconverters for the Tamron III. [+]
Filter-thread: 77mm for the Sony f2.8 GM, 72mm for the Sony f4 G, 67mm for the Tamron III. [+]
Image stabilization: Both Sony zoom lenses have optical image stabilization OSS built in which works together with the body-based image stabilization of Sony Alpha mirrorless cameras. The Tamron III does not offer optical stabilization and relies solely on the image stabilization of the camera. [+]
Auto focus: Yes with built-in AF drive. Manual-focus override is by simply turning the dedicated focus ring. The focus ring of the Sony f2.8 GM has linear gearing with a turn of 100 degrees which makes smooth focus pulling for videographers easy. The focus ring of the Tamron III has a variable gearing which allows for very precise manual focus when turned slowly but cannot be switched to linear gearing. [+]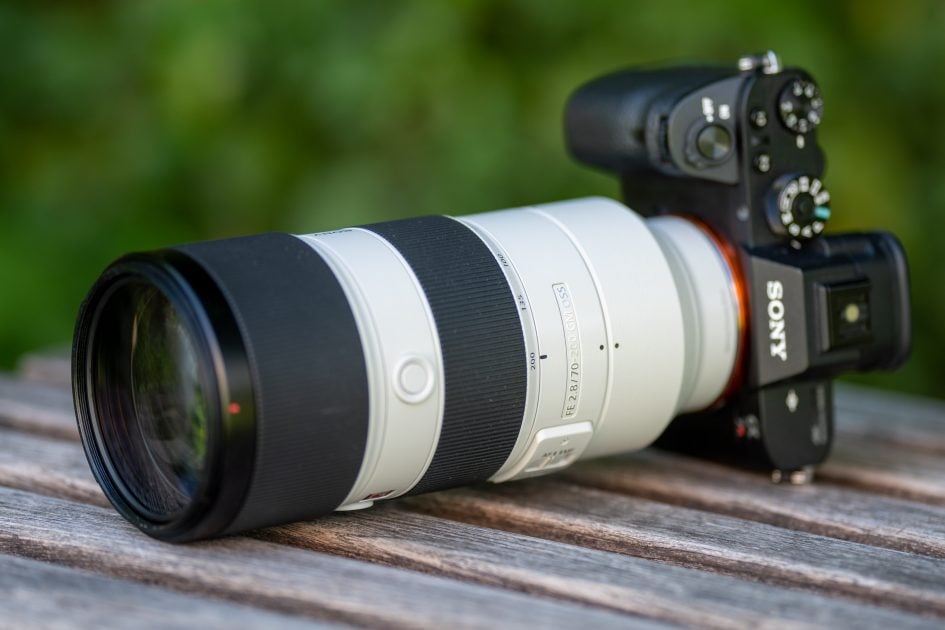 Lens profile: The lens comes with a lens profile for vignette-, CA- and distortion-compensation which can be controlled from the camera. Adobe's RAW converter (as of version 12.2.1) does not recognize the profile completely: vignette is compensated as it was set in camera (but you cannot switch between off and auto in post-processing) while CA-compensation is always ON, distortion compensation always OFF. To get rid of the distortions in RAW files you need to activate the Adobe supplied lens profile. Same for the Tamron III. [+]
Covers full frame or smaller. Same with the Tamron III and the Sony f4 G. [+]
Price: 2700 EUR (incl. 19% VAT) / 2150 GBP / 2600 USD. That is very expensive but in line with the professional f2.8 telephoto Z or RF zooms for mirrorless cameras from Nikon or Canon. The Tamron III is 1499 EUR / 1349 GBP / 1199 USD. The Sony f4 G can be had for 1100 EUR / 1280 GBP / 1500 USD. [0]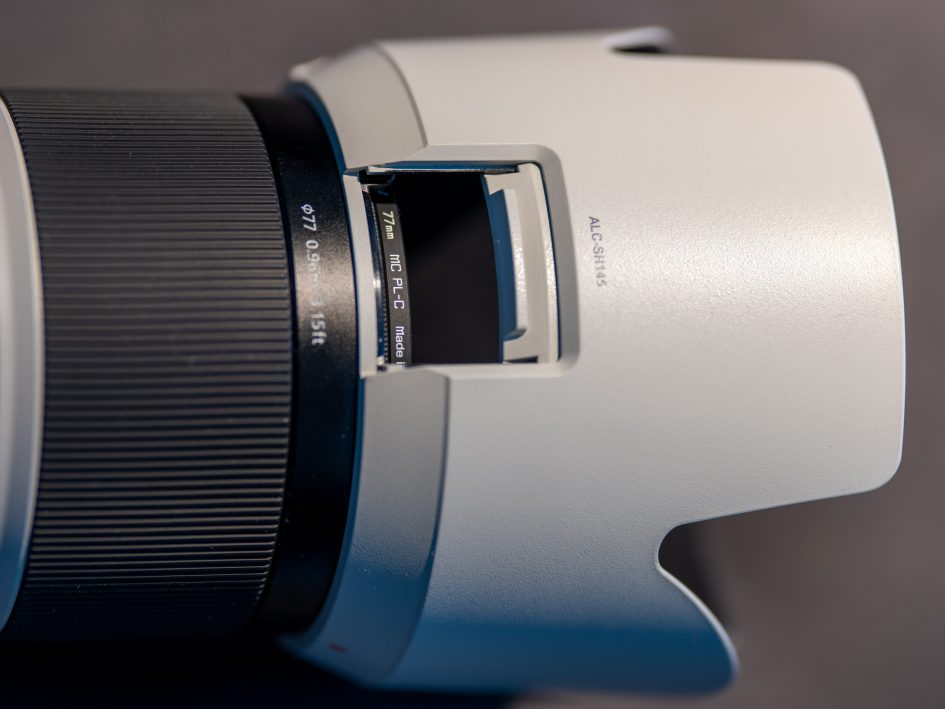 The Sony f2.8 GM has a nicely padded lens case plus strap and a tripod-collar with removable foot. Its lens hood has a slider through which a polarizing filter can be orientated. The Tamron III comes without a pouch or tripod-collar but the lens hood is included and reversible for transport. The Sony f4 G comes with a pouch and a removable tripod-collar. [+]
Aperture ring and other control elements: The Sony f2.8 GM has no aperture ring but offers a focus hold button, a focus limiter switch (full/3m) plus switches to control image stabilization and AF/MF. Same for the Sony f4 G. The Tamron III has neither an aperture ring nor the usual AF/MF switch but offers a zoom-lock to prevent the zoom from extending when in the 70mm position. [+]
Sealing: All three lenses compared here have a rubber grommet at the lens-mount plus further special weather-sealing throughout the construction. [+]
The score of 0[-]/3[0]/11[+] shows that the Sony FE 70-200mm f2.8 GM OSS may not be the smallest, lightest or cheapest f2.8 telephoto zoom lens but otherwise it is very well equipped.
Two f2.8 telephoto zoom lenses for E-mount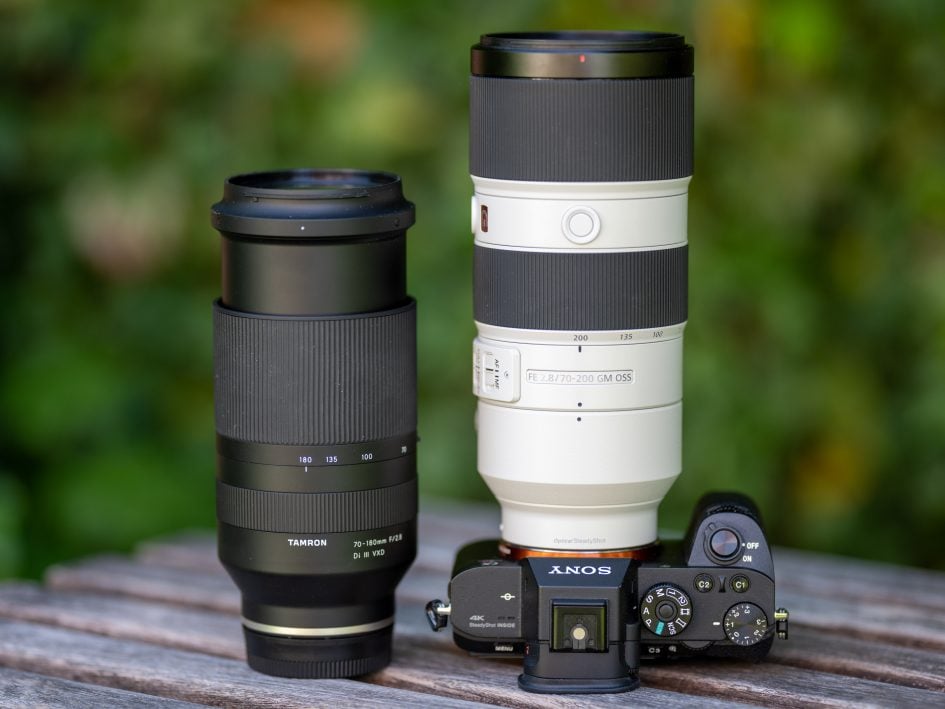 Alternatives
Currently there's only one other f2.8 telephoto zoom available for Sony's E-mount. Other alternatives all have a slower focal ratio or have to be used via adapter adding to the size and weight of the combo.
Tamron recently introduced the 70-180mm f2.8 Di III VXD (model A056) for 1499 EUR / 1199 USD. The lens misses 20mm at the long end and has no optical image stabilization but instead relies on the image stabilization provided by the Sony Alpha mirrorless cameras. It weighs only 800g and is 149mm short – but extends when zoomed to 180mm focal length. For more information see my Tamron 70-180mm f2.8 Di III review.
Sony has the FE 70-200mm f4.0 G OSS from 2013 which is similarly featured as the FE 70-200mm f2.8 GM OSS but at 175mm, 840g, and 1100 EUR / 1500 USD shorter, lighter, and cheaper than its f2.8 sibling. See Gordon's Sony FE 70-200mm f4G review for more details.
Sigma offers the stabilized Sigma 70-200mm f2.8 DG OS HSM Sports (1270 EUR / 1260 USD) from 2018. It is not (yet) available for E-mount but can be used via Sigma's own Canon EF to Sony E MC-11 mount-converter. It's a typical DSLR design with mechanically coupled focus ring, a focus and dof scale, focus-lock button, non-detachable tripod mount with an Arca-Swiss style interface, and optical image stabilization. It is 203mm long and 1.8 kg heavy (without converter). Check back soon for my upcoming Sigma 70-200mm f2.8 Sports review.
Tamron's stabilized SP AF 70-200mm 2.8 Di VC USD G2 for about 1200 EUR/USD is a DSLR design available in Canon and Nikon mounts and can be used via converter on a Sony Alpha camera. The lens has a removable tripod-collar with an Arca-Swiss style tripod interface plus a focus limiter. It is 194mm long, weighs 1.5kg (without converter), and earned a recommendation in my Tamron SP 70-200mm f2.8 VC G2 review.
The alternatives all reach 200mm focal length except for the Tamron. See the difference in coverage below. Here is the angle of view that the new Sony FE 70-200mm f2.8 GM OSS covers with its 2.9x zoom:

Compare this to the coverage of Tamron's 2.6x zoom:


Focus and zoom
Focus accuracy and repeatability is critical to consistently produce sharp shots. Repeatability (the accuracy of focus on the same subject after repeated focus-acquisition) of this lens at 200mm focal length is very good (measured 99.0% in Reikan FoCal) with no outliers over a series of 40 shots. There is no focus variation whether the lens focuses from a closer distance or from infinity and I did not detect any hunting. At 200mm focal length the lens focuses in around 0.7 sec from infinity to 2.14m (1:10 magnification), which is not overly fast but still better than the 0.8 sec of the Tamron 70-180mm f2.8 Di III.
The zoom ring turns through 70 degrees and has a 30mm wide rubber surface with a good grip. It turns rather stiffly and can hardly be operated with one finger. The focus ring is 39mm wide, located at the front of the lens, and moves smoothly. I personally prefer the zoom ring at the front where I normally hold such a long and heavy lens. This also minimizes the risk of inadvertently touching the focus ring and triggering focus magnifier.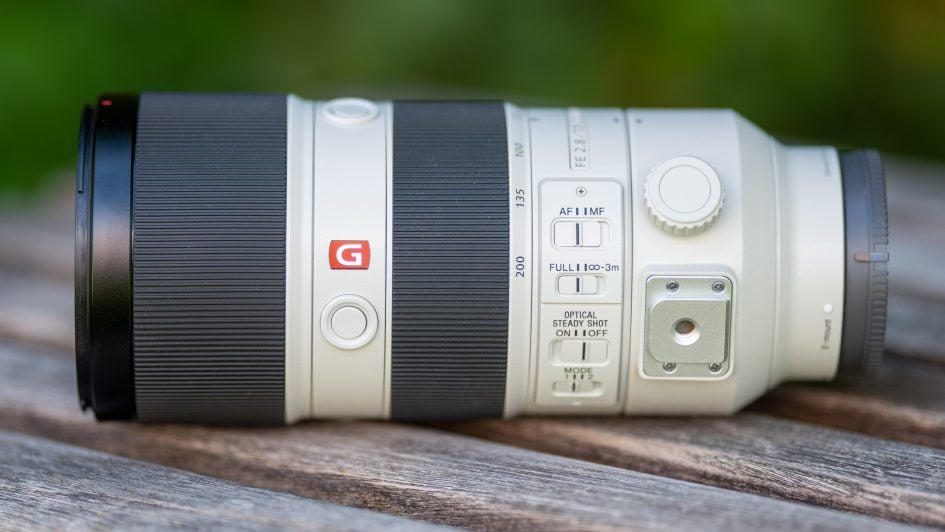 AF-operation and image stabilization of the lens is inaudible from the outside and if you record video with the built-in microphone neither the AF-drive nor the image stabilization produces any noise.
As you pull focus, you'll notice quite some focus breathing: the image becomes clearly more magnified at closer focusing distances. When I adjusted the focus from infinity to 2.14m at 200mm focal length, I measured a 11% increase in magnification. The same test at 70mm focal length still produced a 4% increase. This is much worse than from the Tamron 70-180mm f2.8 Di III with an increase of 4%/0.4%. Videographers are probably not happy.
I also tested whether Sony's zoom lens allows you to change the focal length without altering its focus. This characteristic is called parfocal. I manually focused the lens at 200mm and then slowly zoomed back to 70mm checking focus on the way. The FE 70-200mm f2.8 GM OSS did keep its focus perfectly. Just don't forget to focus the lens at the long end, not the wide end.

Image stabilization
To test the effectiveness of the image stabilization with the Sony FE 70-200mm f2.8 GM OSS on an A7R II body, I did a series of 140 test-shots hand-held at 200mm focal length. I tested with shutter speeds from 1/200 of a second down to 1/6 sec. I used the shots at 1/200 sec with SteadyShot=off as reference of how good my hand-holding was at the time of the test and Reikan FoCal did the chore of evaluating the sharpness of all shots.

Here's the results: With SteadyShot=on the combo produced results down to 1/50 sec (2 stops) which were at least as sharp as at 1/200 sec with SteadyShot=off. At 1/25 sec (3 stops) I had 3 out of 20 shots which were clearly blurred but 80% of the shots were very usable. At 1/12 sec (4 stops) results became quite erratic with 40% clearly blurred images and at 1/6 sec (5 stops) only 30% of the shots were usable – but only for smaller output sizes. This is slightly better than the 3 stop advantage which the Tamron 70-180mm f2.8 Di III enjoys (at 180mm) solely from the image stabilization provided by the Sony Alpha mirrorless cameras.

Next check out my quality results!

Check prices on the Sony FE 70-200mm f2.8 at Amazon, B&H, Adorama, or Wex. Alternatively get yourself a copy of my In Camera book or treat me to a coffee! Thanks!