Sony FE 50mm f2.5 G review - Verdict
Verdict
The Sony FE 50mm f2.5 G is a compact standard prime lens that aims for portability but also delivers on quality, even mounted on modern high-res bodies with the aperture wide-open. Details are sharp across the frame whether shooting closeups, portraits or landscape views, and the quality out-of-the-gate proves it's very practical to shoot at the maximum aperture. Sure f2.5 isn't as fast as most 50s, but that's the trade-off for a more compact size, and besides there's still a fair amount of blurring possible on a full-frame body.
The focusing is quick, precise and quiet, and it's also impressive to find a focus hold button, de-clickable aperture and weather-sealing all crammed into such a small barrel. Even the lens hood has been designed to minimise the physical impact. My only complaints are focus breathing (which will mostly only bother some videographers) and background rendering that's inevitably busier and less smooth than higher-end models. It is in short, a well-corrected 50 in a temptingly portable package.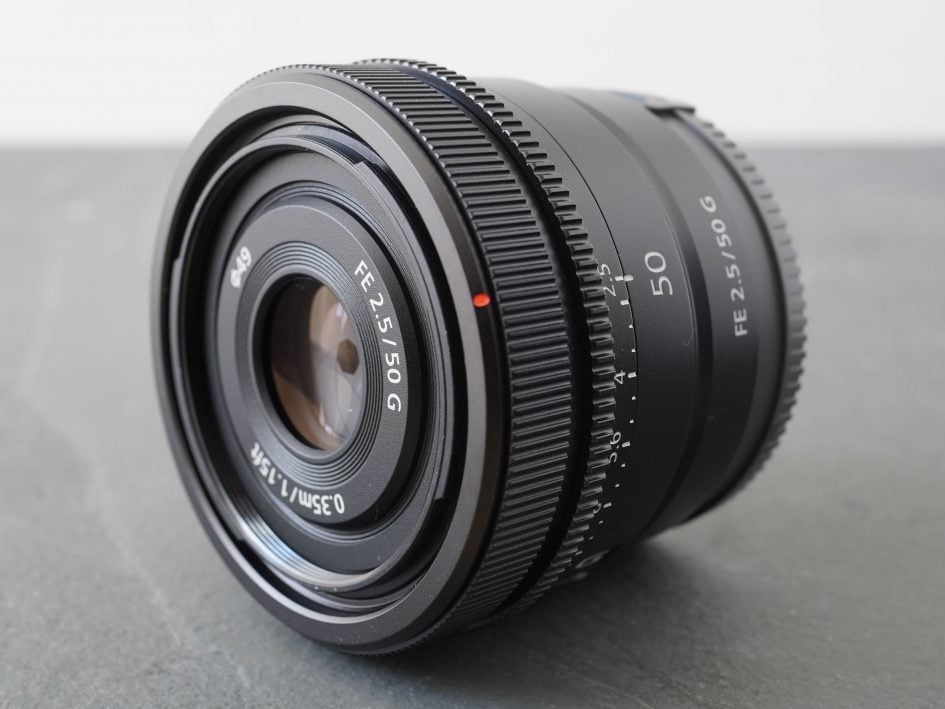 Compared to the budget 50 1.8, the new 50 2.5 G costs three times more and has an aperture that's a stop slower too, but it's noticeably shorter while also delivering faster and closer focusing, weather sealing and a big step-up in sharpness outside the centre; I'd say it's a solid upgrade if you're disappointed by the quality towards the edges of that lens. Meanwhile the older Zeiss 55 1.8 is an interesting rival that costs around half as much again as the 50 2.5 and again is one stop faster too. In my tests both lenses actually performed similarly though, with sharp details into the corners and also similar rendering with outlining and onion ringing. In its favour the new 50 2.5 is shorter, lighter, focuses closer, sports a focus-hold button, de-clickable aperture ring and is two thirds the price, Since the quality is so similar, I'd recommend existing owners of the 55 just stick with it, but if you don't have either model, I'd now go for the 50 2.5 in preference overall. Meanwhile if you're a bokeh fiend, there's plenty of faster options but with understandably heftier barrels and price tags. If you want a fast 50 and can't afford the fantastic new 1.2 G Master, I'd consider holding out for an updated Sigma 50 which surely must be coming in it the native DG DN series. That's pure speculation though at the time I made this review.

Overall the Sony FE 50 2.5 G stands out in a crowded market of standard primes by packing respectable quality and decent features into a compact barrel at a tempting mid-range price. It out-performs budget 50s and is sufficiently good to leave the more expensive models to perfectionists and bokeh fiends. Most of all I'm delighted Sony's finally got round to making some more small lenses – indeed arguably the biggest rival for the 50 2.5 is the 40 2.5 launched alongside it. Both are excellent general-purpose primes for anyone who values portability without compromising quality.

Check prices on the Sony FE 50mm f2.5 G at B&H, Adorama, WEX, or Calumet.de. Alternatively get yourself a copy of my In Camera book or treat me to a coffee! Thanks!