Sony FE 50mm f1.8 review - Verdict
Verdict
The Sony FE 50mm f1.8 is a very small, light and affordable "standard" prime lens which works with cropped and full-frame Sony mirrorless bodies – indeed it's one of the cheapest autofocus lenses available for the Sony system. Its optical performance is surprisingly good for the price but clearly below other – more expensive – alternatives. And its focal ratio of f1.8 does what it should: it collects more light and brings greater background isolation than typical zooms, whether budget kit lenses or even higher-end f2.8 models. As such it represents a great first prime for anyone exploring low-light or shallow depth-of-field photography on a budget. Its small size and weight also makes it a good match for any of Sony's mirrorless bodies. And while the corner sharpness is nowhere near as good as the pricier models, you may not notice for typical shots with the subject in the middle surrounded by a blurred background – video can be particularly forgiving in this respect as you can see in Gordon's Long Exposure Photography Tutorial where the exterior scenes around Brighton beach were filmed with the FE 50mm f1.8 on a Sony A7 III.
To put the overall performance into perspective let's have a closer look at how the Sony FE 50mm f1.8 compares to some alternatives.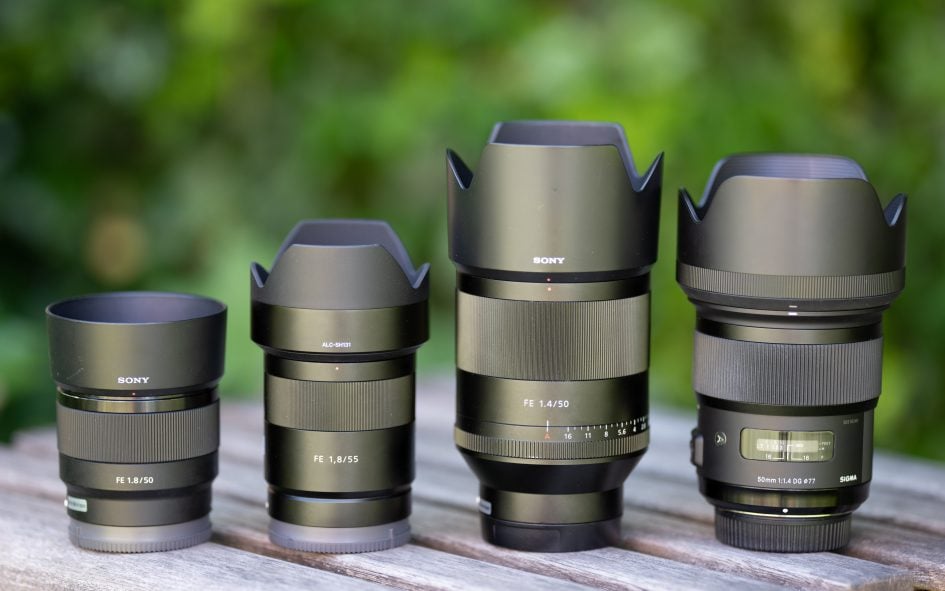 Compared to Sony FE 55mm f1.8 ZA
The Sony FE 55mm f1.8 ZA from 2013 is a very successful design: it is not much bigger and heavier than the FE 50mm f1.8 and it's very sharp across a 42MP full-frame sensor, with excellent resistance against flare and glare in adverse contra-light situations It may offer an f1.8 focal ratio like its smaller sibling but its slightly longer 55mm focal length and its nicer Bokeh produces a more attractive background isolation. It is also better protected against the elements than the FE 50mm f1.8. All-in-all the Sony FE 55mm f1.8 ZA is a well-rounded package but its price is four times that of the FE 50mm f1.8.
For more details see my Sony FE 55mm f1.8 ZA review.
Compared to Sony FE 50mm f1.4 ZA
Even more expensive is the Sony FE 50mm f1.4 ZA and much, much larger and heavier than the FE 50mm f1.8. What do you get for it? The most important benefits are a clearly better optical performance across a full-frame sensor with very good flare/glare-resistance, and a 2/3 of a stop brighter focal ratio which gives better background isolation and can be used for shorter shutter speeds and/or lower ISO. It also has a linear gearing between the focus ring and the focus action which makes it easier to smoothly pull focus, and a de-clickable aperture ring which are both features that videographers like. And the FE 50mm f1.4 ZA is sealed thoroughly.
For more details see my Sony FE 50mm f1.4 ZA review.
Compared to Sigma 50mm f1.4 Art
The Sigma 50mm f1.4 Art from 2014 may be one of the cheaper alternatives for E-mount with a focal ratio of f1.4 and auto-focus but it's performance does not look cheap: Sigma's lens has one of the best Bokehs of a standard lens and it produces a very sharp center with a gradual softening towards the corners – a characteristic that many prefer for portraiture. It has low longitudinal CAs and the added benefit of a linear focus gearing. Its biggest disadvantage is its bulk making the Sigma Art more than five times the weight of the Sony FE 50mm f1.8; it's also more expensive.
For more details see my Sigma 50mm f1.4 Art review.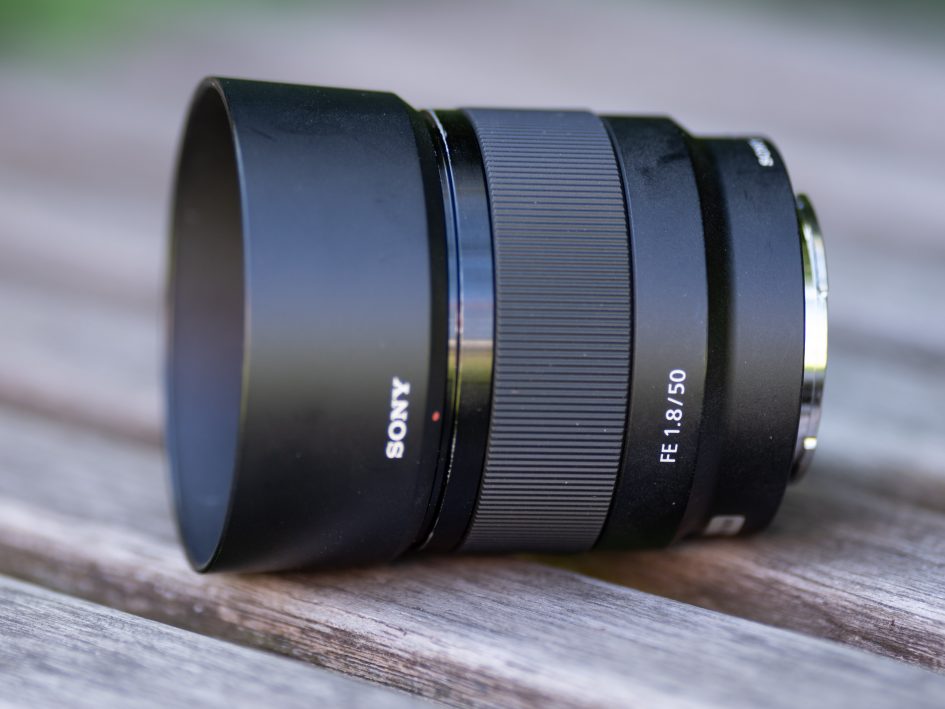 Sony FE 50mm f1.8 final verdict
The Sony FE 50mm f1.8 is an affordable standard prime lens for Alpha mirrorless cameras. It delivers standard coverage on full-frame bodies making it an ideal walk-around lens, and becomes a short telephoto on APSC bodies, equivalent to 75mm, making it perfect for portraits. Meanwhile the bright f1.8 focal ratio lets you shoot more easily in low light while also delivering shallow depth-of-field effects. Sony's lens catalogue isn't short of 50mm options with many higher-end alternatives available with better quality (especially regarding corner sharpness and rendering) and quieter focusing. But none come anywhere near the low price of the FE 50mm f1.8, making it a no-brainer for Alpha owners starting out in prime lenses. It's also possible to assemble an affordable threesome by adding the FE 28mm f2 and FE 85mm f1.8. All come recommended if you can't stretch to the higher-end options.
Good points:
Good resolution and contrast.
Minimal distortions (through lens profile).
Very small and light.
Very low price.
Bad points:
Very visible focus-breathing.
Strong coma.
Some magenta haloing at high-contrast edges.
Check prices on the Sony FE 50mm f1.8 at Amazon, B&H, Adorama, or Wex. Alternatively get yourself a copy of my In Camera book or treat me to a coffee! Thanks!