Sony FE 50mm f1.2 GM review
Intro
The Sony FE 50mm f1.2 G Master is a standard prime lens with a very fast aperture for full-frame e-mount mirrorless cameras. The 50mm focal length delivers familiar, natural-looking coverage, but the fast 1.2 aperture allows for very shallow depth-of-field effects, while Sony's latest G Master optics promise both high resolution and smooth rendering. Announced in March 2021 it costs around $2000 and I had a chance to shoot with a production-ready sample to bring you this review! As always everything you need to know is in the video below, but if you prefer to read a written version, keep scrolling!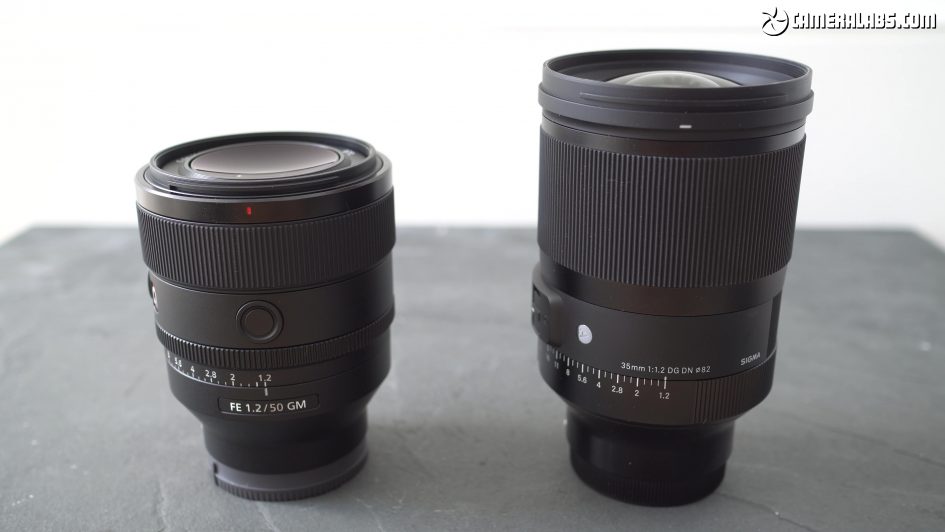 Above: Believe it or not, the 50 G Master is Sony's first f1.2 lens, whether in the mirrorless e-mount or even in the older DSLR A-mount. In fact in terms of native 1.2 lenses in the e-mount with autofocus, it joins a pretty exclusive club previously consisting of only the Sigma 35mm f1.2 DG DN seen here on the right.
Now there are a number of very fast third-party lenses available in the Sony e-mount, but these tend to be manual focus and often have less ambitious optical aspirations. If you want an f1.2 with autofocus and top-end performance, the market narrows dramatically.
What's Sony taken so long? Canon was famously late to the full-frame mirrorless party, but launched the EOS R with a 50 1.2 on day-one back in 2018, while the previous EF 50 1.2 for DSLRs is now comfortably into its teens. Maybe Sony was waiting until it could do it justice and as you'll see the new lens certainly doesn't disappoint.
While 1.2 lenses with autofocus may be rare in the native e-mount, there's no shortage of 50's in other apertures, including a bunch from Sony itself. Unless – or surely until – Sigma launches a native 50 DG DN, the closest model is Sony's earlier collaboration with Zeiss, the 50 1.4 ZA launched five years previously in 2016, and still available for around $1500. Unlike the 35 1.4 G Master which was pitched at a similar price to the earlier Zeiss 35, I think Sony's been careful to price the new 50 comfortably higher to protect the older version, but I still wouldn't be surprised to see prices on the Zeiss 50mm fall. I plan on making a direct comparison against the new G Master as soon as I can.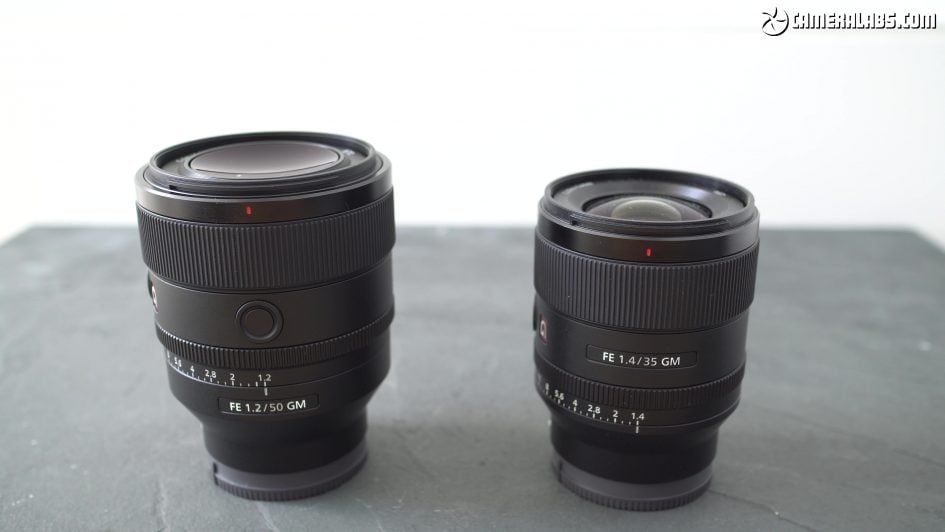 Above: In terms of design and build quality, the 50 1.2 GM on the left looks and feels similar to the 35 1.4 GM on the right. At 108x87mm and weighing 778g, it's unsurprisingly larger and heavier than the 35 but impressively almost identical in size and weight to the earlier Zeiss 50 1.4 despite a faster aperture.
Coincidentally, the Canon RF 50 1.2 is virtually the same size as the new Sony, although 172g heavier. Meanwhile Nikon's Z 50 1.2 is by far the heftiest of the three, almost half as long again at 150mm and topping the scales at 1084g. All three cost roughly the same though between $2000 and $2200.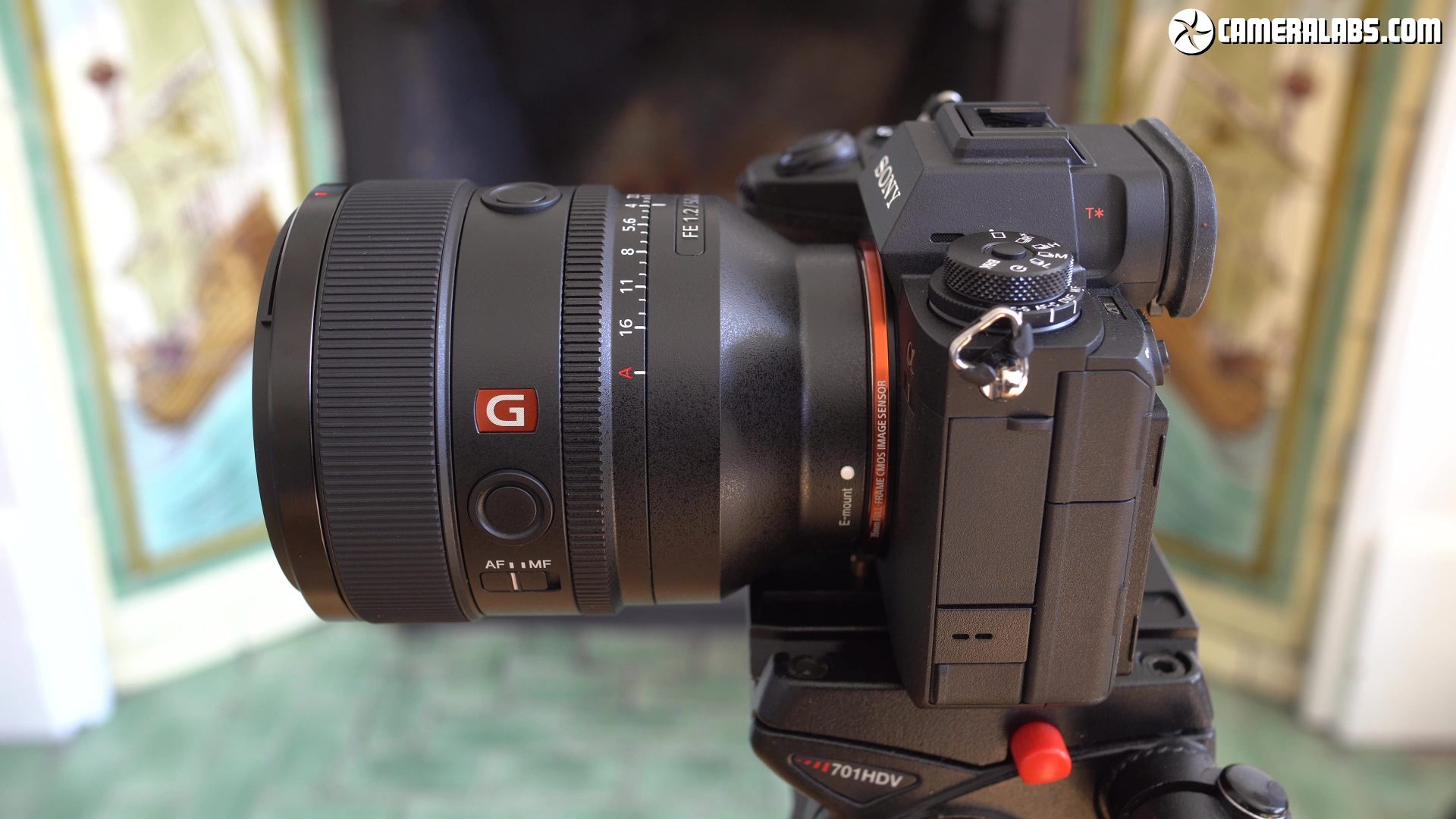 Above: In terms of controls the 50 1.2 GM has its aperture ring closest to the mount running between 1.2 and 16. There's two customisable focus-hold buttons and a very smooth motor-assisted manual focusing ring with linear response. At the end of the lens is a 72mm filter thread.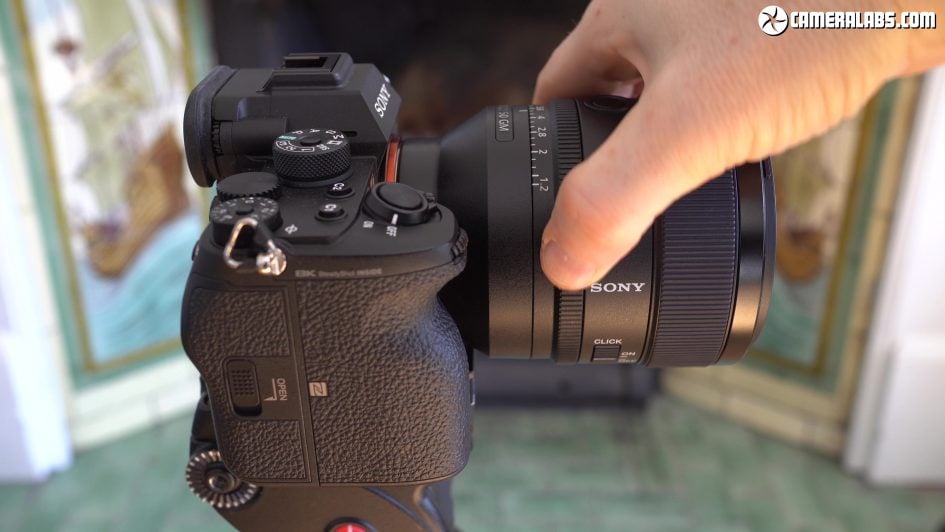 Above: Like most of Sony's new lenses, the 50 1.2 has a de-clickable aperture ring, allowing you to choose between traditional one-third increments with nice feedback, or completely smooth operation for the videographers.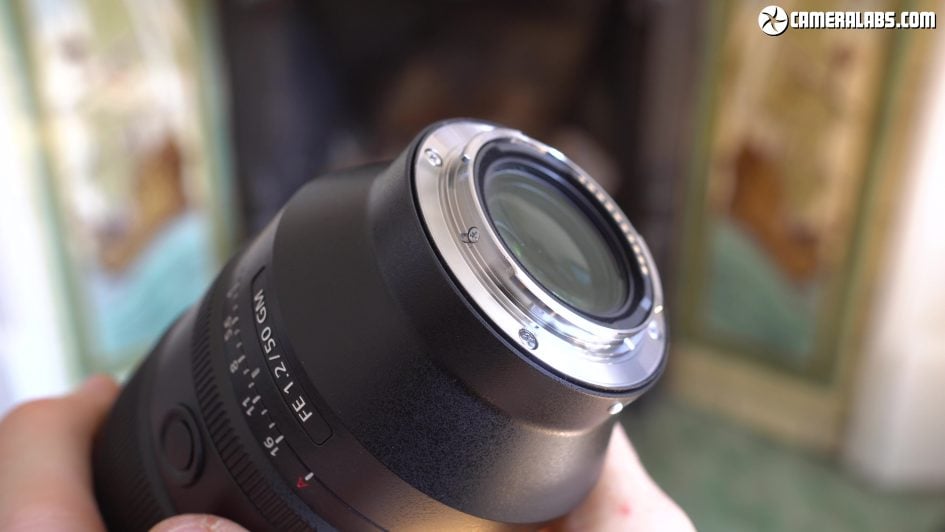 Above: Unsurprisingly for a high-end lens, the 50 1.2 is fully sealed against dust and moisture and unlike the Canon RF 50 1.2, the focusing takes place entirely within the barrel.
Above: The 50 1.2 is supplied with a generous cylindrical lens hood with a rubber-tipped end. This not only is more impervious to mild bumps, but allows you to stand the lens up fairly securely with reduced chance of slipping.
A pair of floating focus groups driven by XD linear motors deliver fast and precise autofocus in virtual silence. In my video review, you can see it pulling focus from close range at f1.2 where it's faster and quieter than Canon's RF 50 1.2.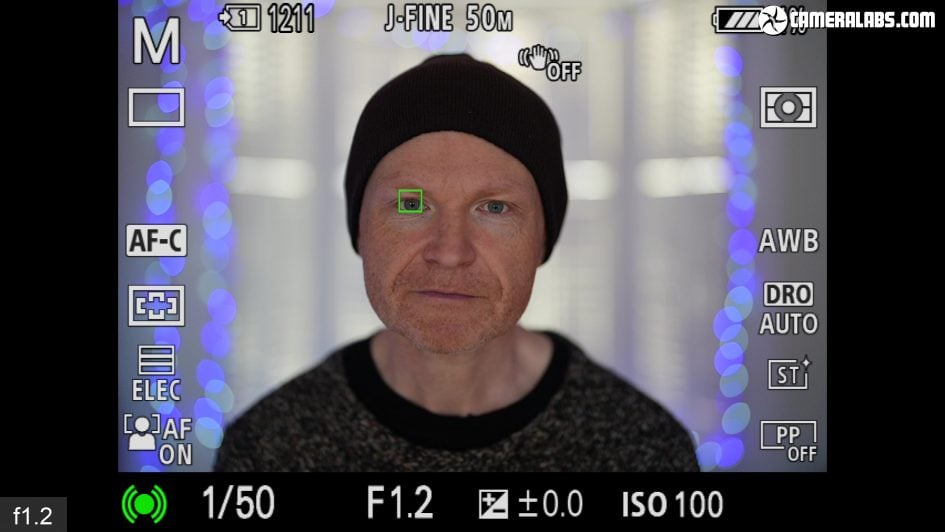 Above: As you'd expect the 50 1.2 works well with Sony's latest face and eye-detection, seen in my video on the Alpha 1 set to wide area and AFC. I'll show you some portraits in a moment, but for now just say the lens and body combination delivered a 100% hit-rate in my portrait tests.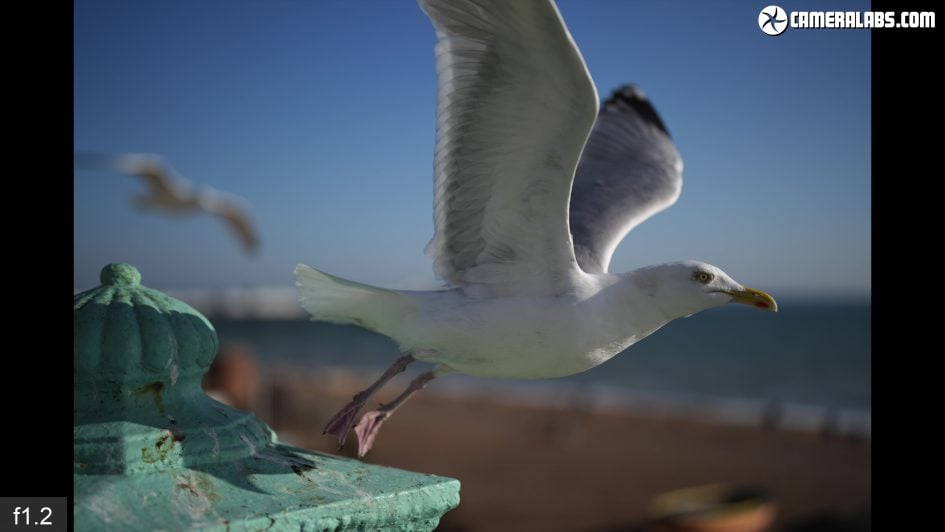 Above: But first, a sequence shot with the 50 1.2 wide-open on the Alpha 1 with bird eye detection enabled and using an electronic burst at 30fps. I can't think of many situations where you'd photograph birds with a 50mm lens, but there's a high hit rate here and when you pause to look closely at the eyes, the degree of detail from the Alpha 1's 50 Megapixel files can be tremendous.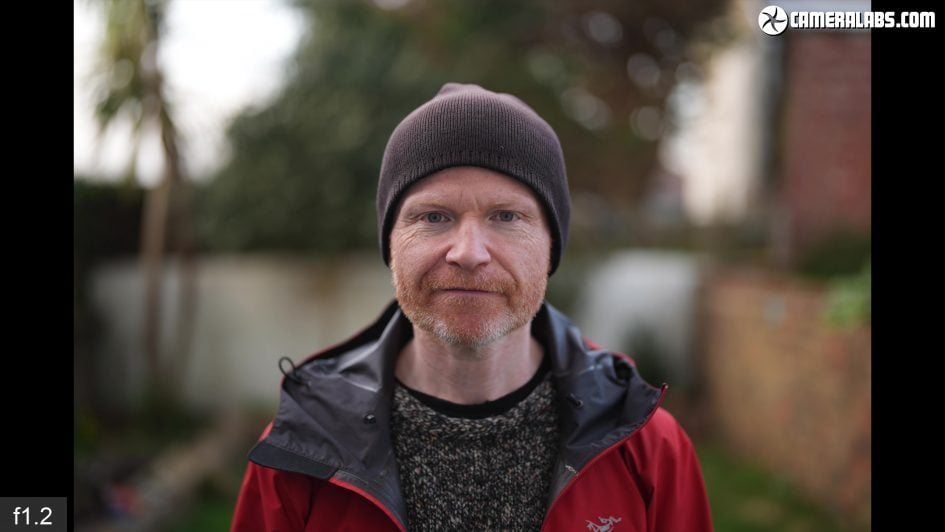 Above: Ok now for a portrait test of your's truly shot with the 50 1.2 wide-open on the Alpha 1 with human eye detection and the wide focusing area. As always I took a bunch of shots for security, but there was no need as every single one was pin-sharp on the eyeball.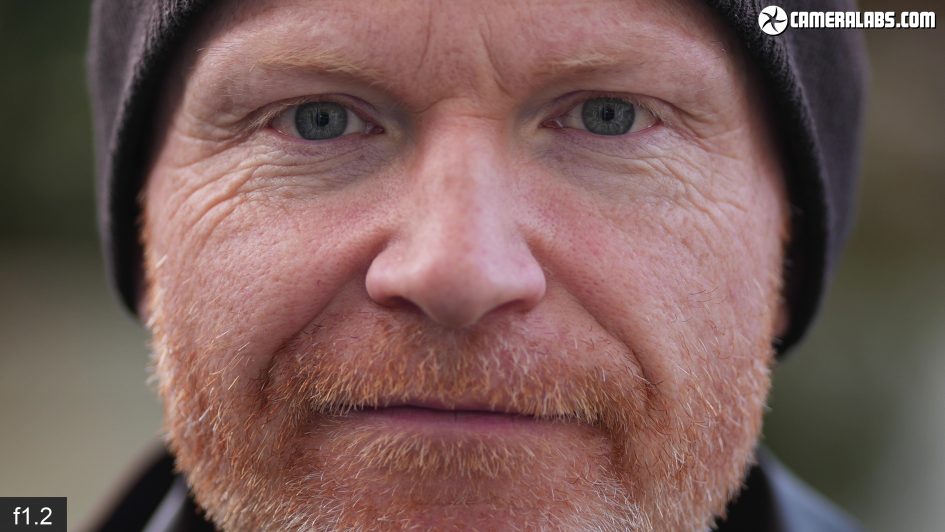 Above: Taking a close look reveals a high degree of fine detail from the patterns in my iris to the hairs on my chin – it's all bitingly crisp and does my ageing wrinkles no favours! Meanwhile the rendering of defocused areas in the background is smooth and bereft of distracting artefacts. In short, it's classic G Master optical design at work: razor sharp on the focused areas but pleasingly smooth on the blurred ones.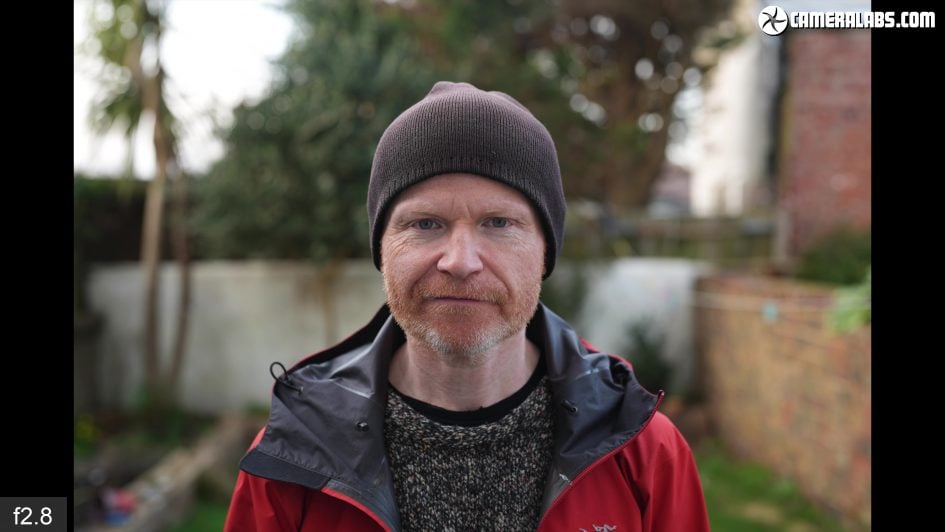 Above: For comparison here's the same lens and body combination, but closed to f2.8 where more of my face is in focus and there's obviously a slightly broader depth-of-field with less blurring in the background. With better-resolved details behind me, it's inevitably busier as a result, but when compared to lesser lenses, the 50 1.2 keeps the rendering smoother and more attractive. I shot a bunch of comparisons that I'll share in my next video, so keep an eye open for that!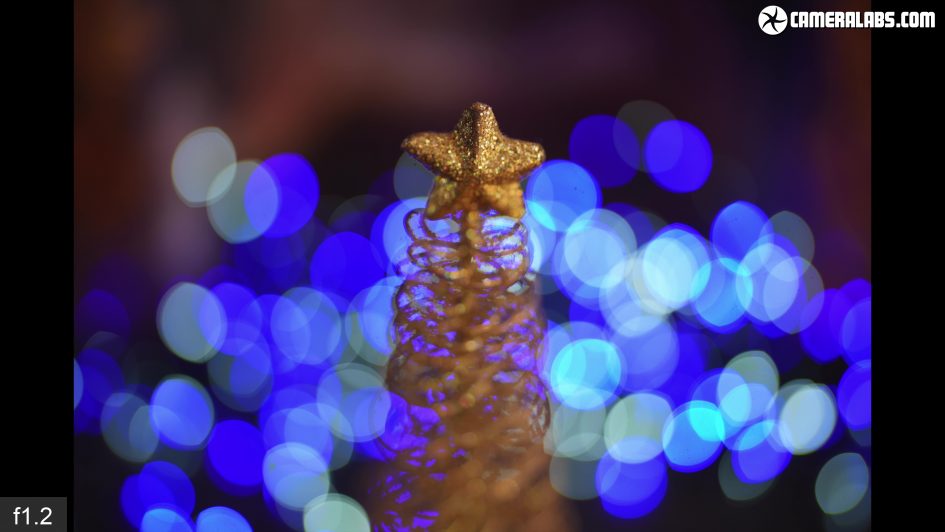 Above: The rendering style of defocused areas, especially point sources of light, is critical for a large aperture lenses so here's a sequence of bokeh balls shot from the closest focusing distance of 40cm. As you'd expect there's oval cat's eye shapes in the corners at the largest apertures, but by f1.8 onwards they've become almost circular across the frame. But arguably more importantly the 11-blade aperture system manages to stay out of the way and not influence the blobs with a geometric shape.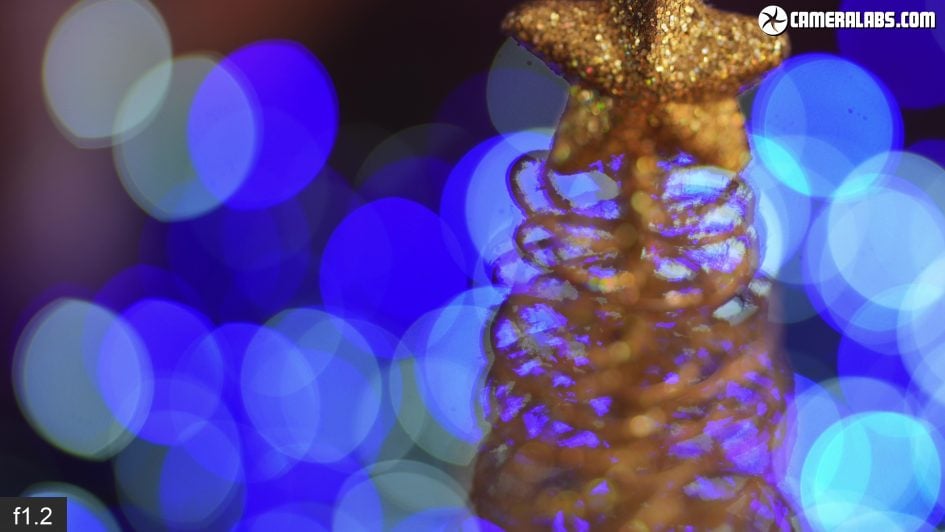 Above: Looking closer at the blobs also reveals minimal outlining and very clean interiors, bereft of concentric ring patterns, both undesirable artefacts that are typical on lesser lenses. In short, the rendering of bokeh blobs is very well controlled throughout the aperture range.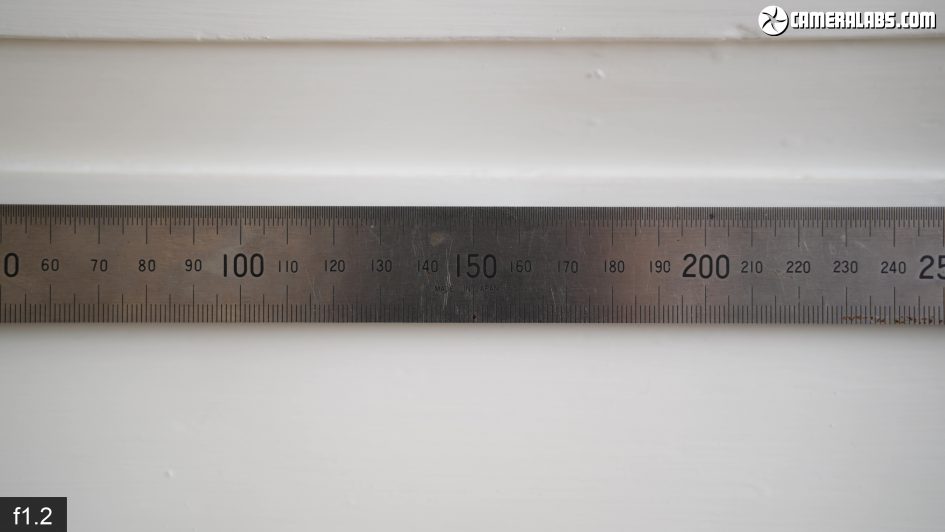 Above: Just before moving on, a quick look at the lens from its closest focusing distance, quoted as 40cm, although I was able to get a little closer in manual focus. Here I could reproduce a subject measuring almost exactly 20cm across the frame, and even at f1.2 the edges from this distance only become a fraction softer than the centre. This is a lens that performs well near and far.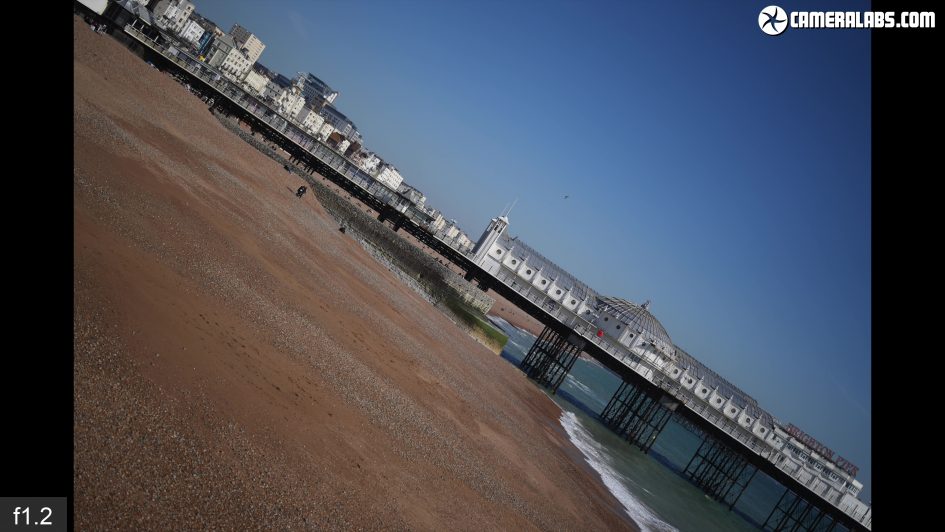 Above: Speaking of far, here's my standard landscape view with the camera angled so that details extend right into the corners. This is the view with the 50 1.2 on the Alpha 1 and the lens aperture opened to 1.2.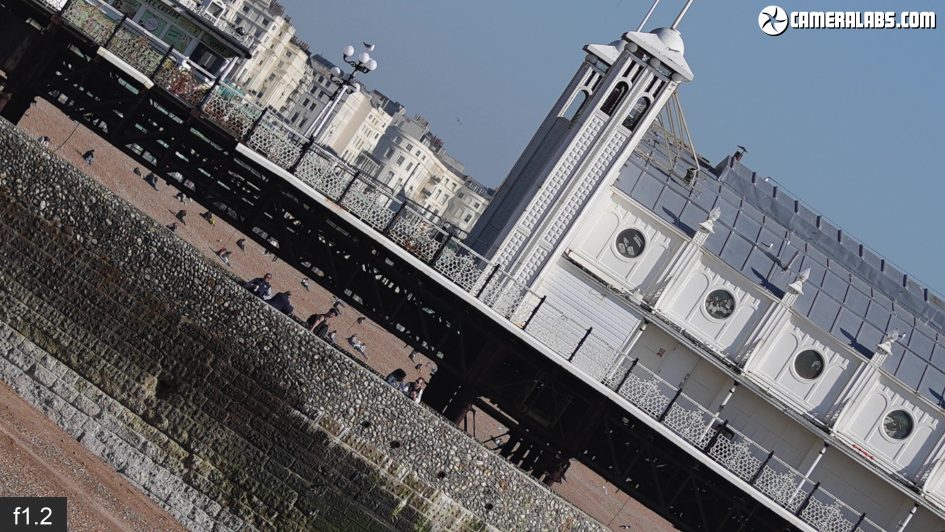 Above: Zooming-into the middle reveals, as you'd expect, pin-sharp details from the get-go with no perceptible benefit to stopping-down.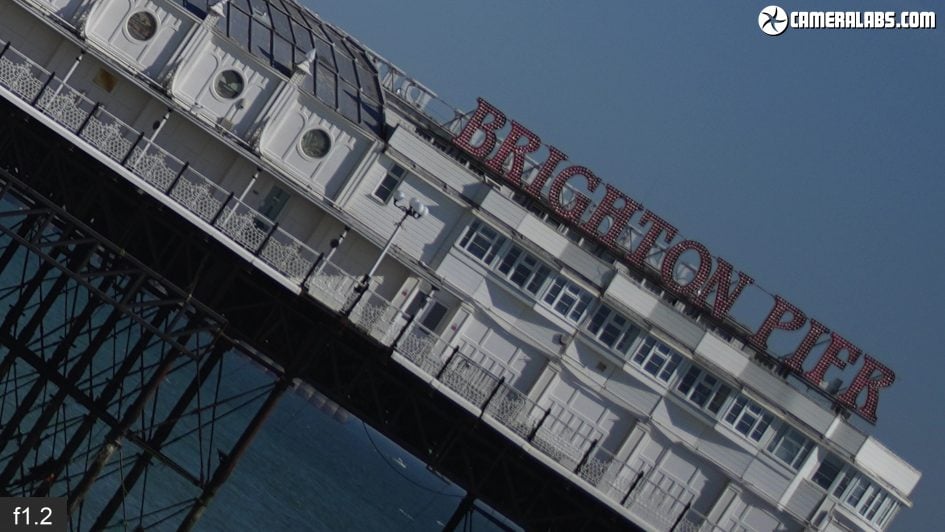 Above: Moving into the far corner, still at f1.2, shows the lens remains capable of delivering very sharp details. Unsurprisingly for a very fast lens, there's some vignetting, or darkening in the corners, but as you close the aperture down, even in one third stop increments, this goes away quickly. In this and other tests, especially with completely flat fields, the 50 1.2 performs very well in the corners even at its maximum aperture. At the other-end of the scale, the resolution remains very high up to f8 with a minor drop at f11 and diffraction only becoming visibly detrimental at f16. I'll have more comparisons coming soon, so keep an eye open for them!

Everything that makes the 50 1.2 good for stills photography equally applies to video, where the potential for very shallow depth of field effects can deliver dramatic results. In terms of video auto-focus, the lens adjusts smoothly, quietly and confidently, and felt more responsive than Canon's 50 1.2 on an R5.

It works well for continuous autofocus too, coupled with face and eye detection. It's a great lens for filming pieces to camera where you want to minimise the impact of distracting backgrounds, or even completely obliterate them.

To evaluate focus breathing, I manually focused between infinity and the closest distance and back again with the lens stopped-down to f16. You can see in my video review that as the lens focuses closer, it reduces the field of view quite noticeably. This is not ideal for videographers who often prefer lenses with minimal breathing, but it's something I've seen before on a number of Sony lenses.

Focus breathing aside though, the 50 1.2 can still be a magnificent lens for filming. I used it to film the Psion Series 5 palmtop computer for a retro review on my Dino Bytes channel – check it out if you're into vintage technology! – and I love how the extremely shallow depth of field can produce dreamy b-roll!

Check prices on the Sony FE 50mm f1.2 GM at B&H, Adorama, WEX, or Calumet.de Alternatively get yourself a copy of my In Camera book or treat me to a coffee! Thanks!