Sony FE 40mm f2.5 G review - Verdict
Verdict
The Sony FE 40mm f2.5 G is a simple but highly compelling lens. I've rarely shot at this focal length before but found it immediately appealing and surprisingly refreshing, ideal for anyone who finds 50mm a bit too long for general use but feels 35mm is either too wide or not wide enough. In contrast, the 40mm coverage feels very natural and of the three new Sony primes launched together, it's by far my favourite.
Like the new 24 and 50mm models, the 40 delivers respectably crisp results across the frame even wide-open – much better than the budget 50 1.8. The aperture is sufficiently large for mild blurring effects, and the focusing is quick and quiet. What makes all three really special though is their size, which transforms any Alpha mirrorless body into a very compact, portable camera system. Indeed I've often felt Sony had forgotten the charm and appeal of small lenses, instead preferring to chase the glory of high-performance and large aperture titans, so I'm delighted it's made not one but three new lenses for people who desire a more compact, discreet or portable option.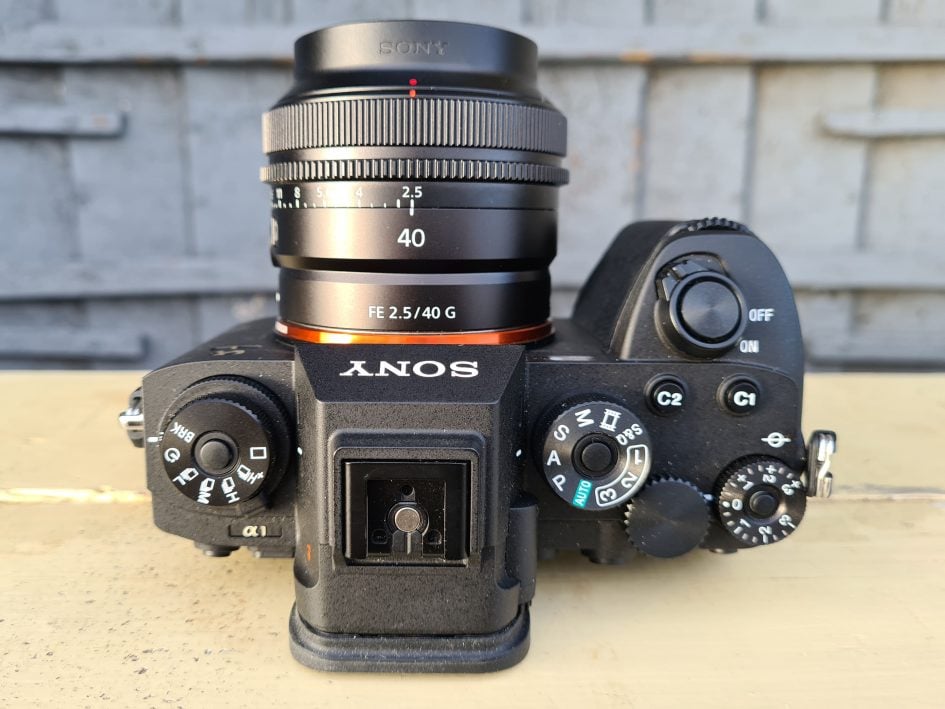 Unsurprisingly as a mid-priced compact lens, the 40 2.5 isn't perfect. Like most lenses at this level, the rendering of blurred areas is a little busy with more defined outlining and onion ring patterns that are generally absent on the bokeh blobs of high-end models. There's also quite noticeable focus breathing, although to be fair this generally only annoys some videographers and interestingly it's an artefact Sony's willing to overlook on even its best lenses.

There's also the fact that while Sony's been neglecting smaller lenses, companies like Sigma have spotted the opportunity and already produced four in the e-mount. Sigma's 45mm f2.8 DG DN is closest to the Sony 40 2.5 and both models are similarly-priced and similarly-sized, as well as delivering similar results too in many tests. The Sony edged ahead on sharpness in my portrait and macro tests, but the Sigma exhibited less focus breathing and sometimes more attractive rendering too. I personally feel the inclusion of a focus hold button and the ability to declick the aperture ring gives the Sony the edge overall, but I'd recommend comparing both closely.

To paraphrase the old saying, you wait all day for Sony to release a new compact lens and then three come along at once. I'm delighted Sony is finally catering once more to those who value portability, and the three new FE primes are fun additions to any kit. Of the three, my favourite once again is the 40 2.5, delivering coverage that feels both natural and yet refreshingly unique. It's the perfect walkaround prime lens and every Sony owner should consider it. More small lenses please!

Check prices on the Sony FE 40mm f2.5 G at B&H, Adorama, WEX, or Calumet.de. Alternatively get yourself a copy of my In Camera book or treat me to a coffee! Thanks!