Sony FE 24mm f2.8 G review - Verdict
Verdict
The Sony FE 24mm f2.8 G is an attractive mid-priced prime lens for anyone who enjoys wide-angle photography. The quality is sharp across the frame even at large apertures, the focusing quick and quiet and the lens well-featured with weather-sealing, a focus hold button and de-clickable aperture ring. Best of all, you're getting a decent degree of performance in a very compact and light-weight lens, making for a very portable combination with Sony's smaller bodies. Meanwhile APSC owners will enjoy milder but still useful 36mm equivalent coverage.
Like the 40 and 50 versions launched alongside it, my only complaints are sharper-edged and busier rendering than I'd like, along with quite noticeable focus breathing although the latter will only annoy some videographers and is also present on some of Sony's high-end lenses too. Regarding the rendering, I personally preferred the slightly softer style from Sigma's DG DN lenses, but at this price you're never going to get the smooth and outline-free bokeh of higher-end lenses. If you want the most attractive rendering at the 24mm focal length, I'd recommend Sony's 24mm f1.4 G Master, but that's a larger lens and double the price. Alternatively APSC owners have the old but still excellent 24mm f1.8 ZA with lovely rendering and very close focusing, but again at a higher price and of course without full-frame correction; as a side-note I use that lens for most of my product b-roll.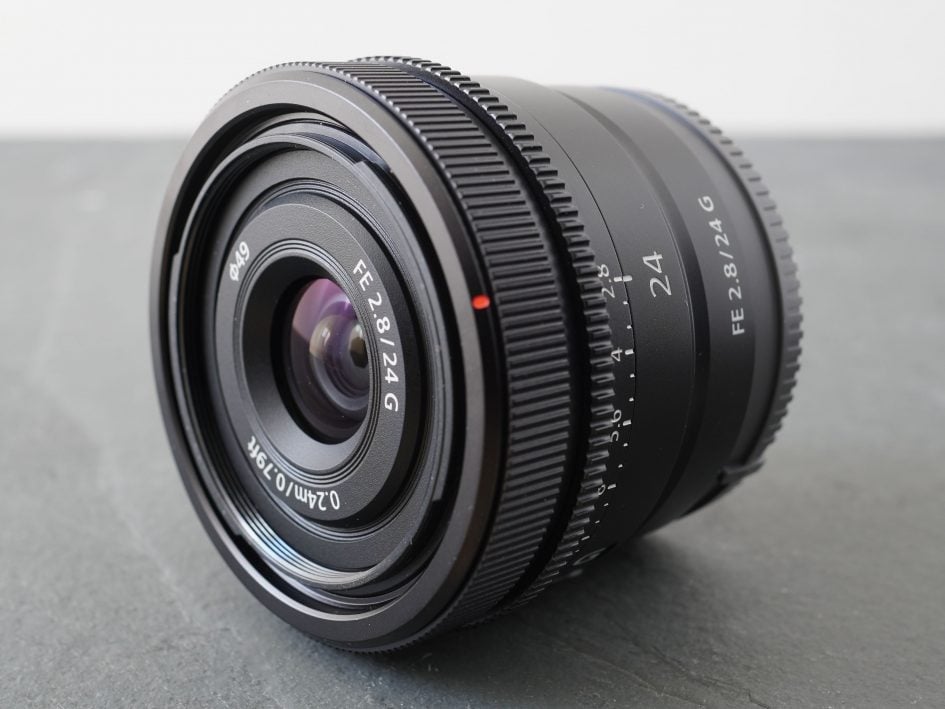 Overall the Sony 24 2.8 G is a solid choice for wide-angle photographers who value portability over the shallowest depth-of-field or smoothest rendering. It plays to its strengths, delivering sharp results even on the highest resolution bodies and fast reliable autofocus. Most of all I'm delighted Sony's made some new small lenses and hope more are in the pipeline. The e-mount catalogue now has something for everyone.

Check prices on the Sony FE 24mm f2.8 G at B&H, Adorama, WEX, or Calumet.de. Alternatively get yourself a copy of my In Camera book or treat me to a coffee! Thanks!