Sony FE 24-70mm f2.8 GM review
Intro
The Sony FE 24-70mm f2.8 GM is a standard zoom lens for its full-frame Alpha mirrorless cameras. The wide to short telephoto range and bright f2.8 focal ratio make it ideal for portraits, event and wedding photography, along with general-purpose use. Announced in 2016, the FE 24-70mm f2.8 was one of Sony's first G-Master, or GM, lenses, claiming the company's best optical quality to date. Like most lenses in the system, it relies on the camera body to provide image stabilization, and dispenses with the mechanically coupled focus ring for a focus-by-wire instead. Plus it has a customisable button which can be assigned various functions like AF-Lock.
For this review I tested the Sony FE 24-70mm f2.8 GM standard zoom lens on the 42MP Sony A7R II camera body. I compared it to the more recent Sigma 24-70mm f2.8 DG DN Art and Tamron 28-75mm f2.8 Di III as interesting – not to mention more affordable – third party alternatives. So if you're interested in which standard zoom lens to choose for your Sony mirrorless system, you've come to the right place!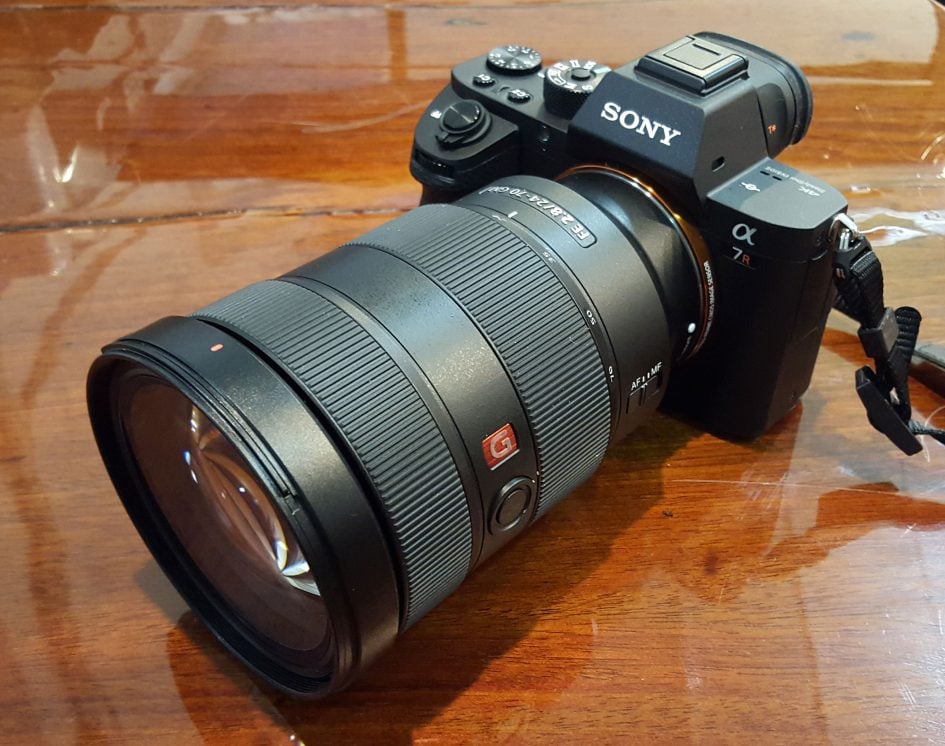 Facts from the catalog
As usual I'll have a look at the technical data of the Sony FE 24-70mm f2.8 GM first. I've rated the features with a [+] (or [++]), when it's better than average or even state of the art, a [0] if it's standard or just average, and [-] if there's a disadvantage. For comparison I use the Sigma 24-70mm f2.8 DG DN Art and the Tamron 28-75mm f2.8 Di III RXD. For short I simply use "Sigma" and "Tamron" in the comparisons below.
Size (diameter x length): 88 x 136mm (3.5 x 5.4in.) + 41mm lens hood which is 105mm in diameter. Zooming in to 70mm focal length extends the front-end of the lens (which is a single-barrel design) by another 31mm bringing the total length to 208mm (8.2in.). The Sigma is 88 x 125mm + 36mm lens hood + 34mm extension to a total maximum length of 195mm. The Tamron is the smallest lens at 73 x 118mm + 27mm lens hood + 25mm extension to a total maximum length of 170mm. [0]
Weight: 886g (31.3 oz.) plus 37g for the lens hood. The Sigma is 827g + 55g lens hood, the Tamron is much lighter at 540g + 25g lens hood. [0]
Optics: The Sony has 18 elements (including 2 special dispersion elements and 3 aspherical element) in 13 groups. That makes 26 glass/air surfaces where reflections can cause problems. Sony employs nano coating to reduce reflections. The Sigma has a slightly more complex design, the Tamron's is a bit simpler. [+]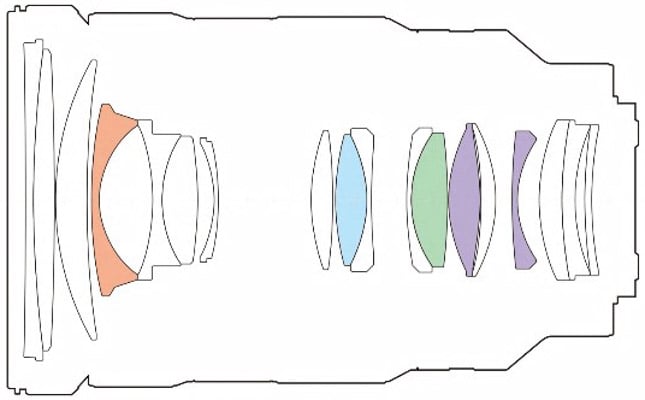 Closest focus distance is 0.37m (14.6in.) with a magnification of 1:4.0 at 70mm focal length and manual focus. The working distance is at least 19cm (7.5in.). A magnification of 1:10 is achieved at 0.8m (2.6ft.) giving a working distance of 0.57m (1.9ft.) with lens hood attached. This is pretty similar to the Sigma and Tamron at 70mm. But the Sigma is special as it allows to go even closer at 24mm focal length to a magnification of 1:2.6 – at a working distance only 2cm. [+]
Filter-thread: 82mm just like the Sigma. The Tamron uses cheaper 67mm filters. [0]
Image stabilization: None of the lenses in this comparison offers optical stabilization. But the full-frame mirrorless cameras from Sony provide built-in sensor-shift stabilization. [0]
Auto focus: Yes with built-in AF drive. Manual-focus override is by simply turning the dedicated focus ring at the front of the lens. The focus ring has a non-linear gearing which allows for very precise manual focus but makes smooth focus pulling for videographers pretty hard. As is usual with lenses for mirrorless cameras there are no distance or dof markings on the lens. The Tamron is similar while the Sigma has an almost linear gearing between the focus ring and the focus action. [+]
There's a focus lock button on the lens which can also be assigned a different function depending on the camera body. That's similar to what the Sigma offers. Both the Sony and Sigma also have a zoom lock switch arresting the lens at 24mm. But while you can unlock the Sigma zoom by simply turning the zoom ring the Sony zoom stays put. [+]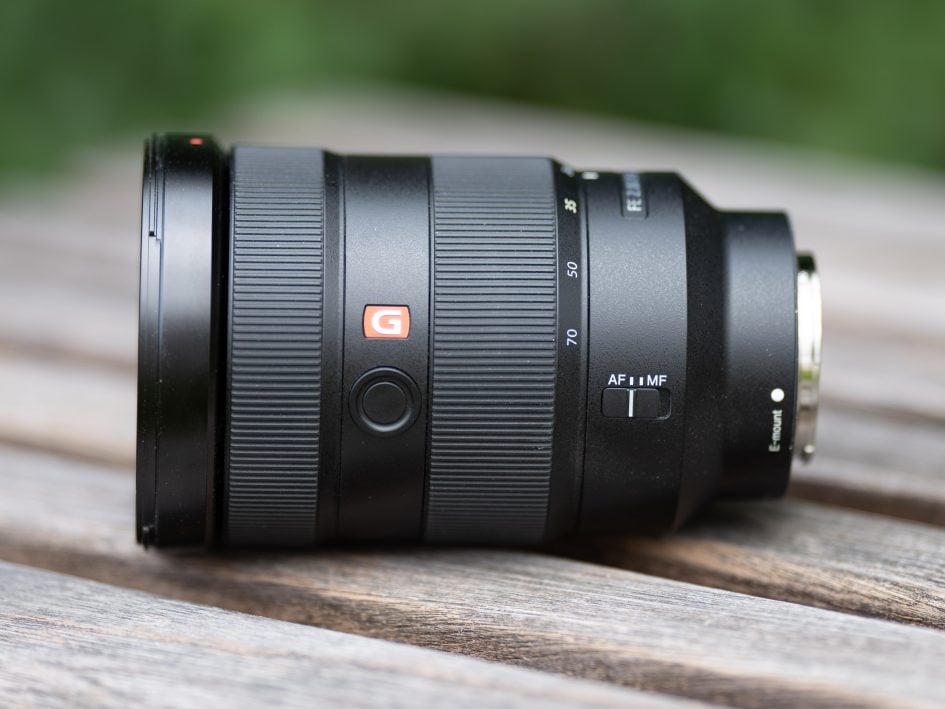 Lens profile: The lens comes with a lens profile for vignette-, CA- and distortion-compensation which can be controlled from the camera. Adobe's RAW converter (as of version 12.2) does not recognize the profile completely: vignette is compensated as it was set in camera (but you cannot switch between off and auto in post-processing) while CA-compensation is always ON, distortion compensation always OFF. To get rid of the distortions in RAW files you need to activate the Adobe supplied lens profile. [+]
Covers full frame/FF or smaller. Same with the competition. [+]
Price: 1900 EUR (incl. 19% VAT) / 2200 USD. That is pretty expensive but still cheaper than the professional standard Z or RF zooms for mirrorless cameras from Nikon or Canon. The Sigma is 1200 EUR / 1100 USD and the Tamron is cheaper still at only 730 EUR / 880 USD. [0]
The lens comes with a nice padded lens case plus strap, the lens hood is included, reversible for transport, and has a lock to prevent it from accidentally falling off. That's the same as for the Sigma. The Tamron comes only equipped with the lens hood. [+]
Aperture ring: No, just like the other lenses in this comparison. [0]
Sealing: yes, a rubber grommet at the lens-mount plus further special weather-sealing throughout the construction. The Sigma is similarly equipped while the Tamron only has a sealing at the lens-mount. [+]
The score of 0[-]/6[0]/8[+] shows that the Sony 24-70mm f2.8 GM may not be the smallest, lightest or cheapest standard zoom but otherwise it's quite well-featured.
Below I've shot two mirrorless systems with their respective professional 24-70mm f2.8 zooms side-by-side. Size-wise both combos look like a match.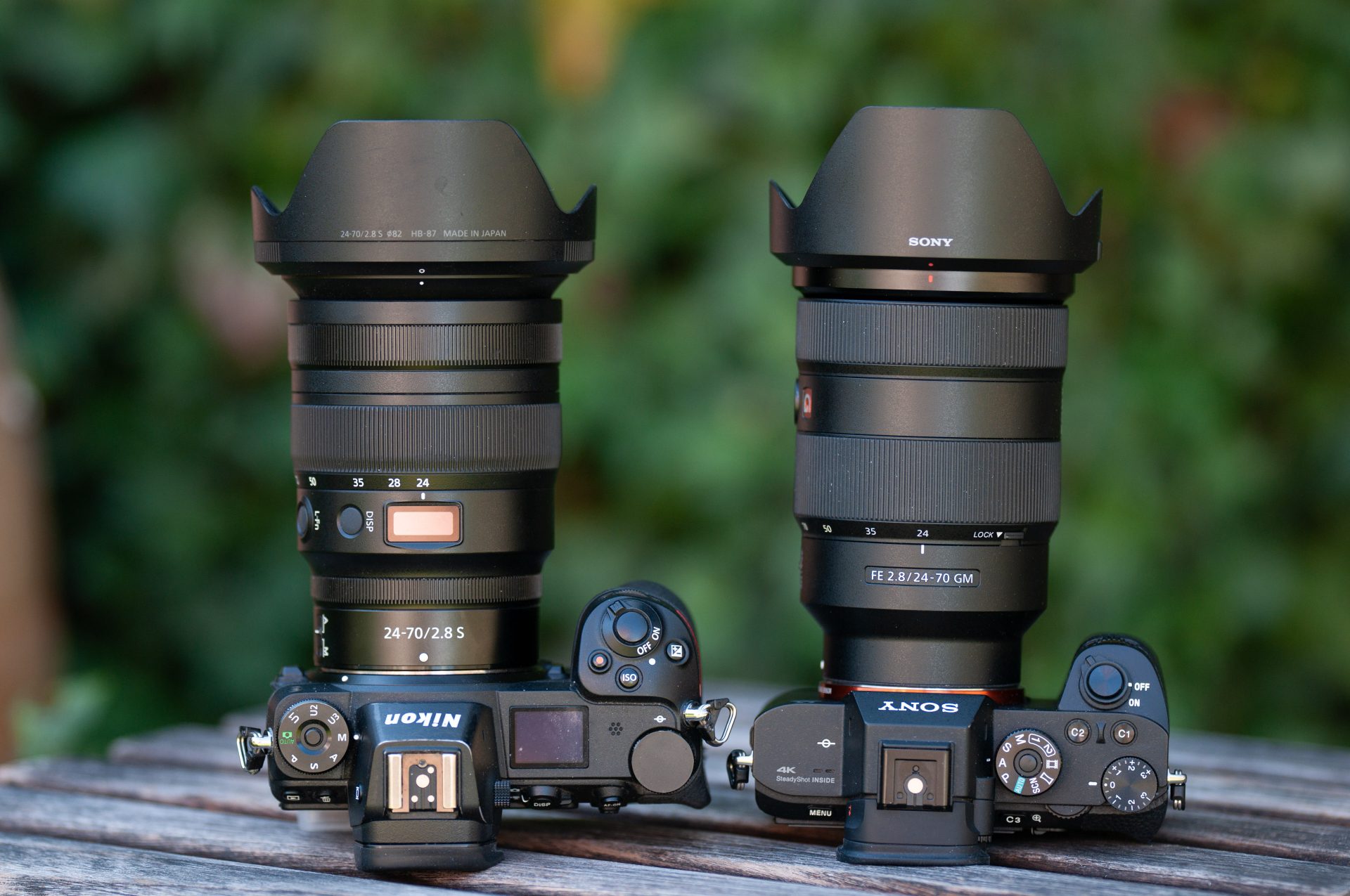 Alternatives
The market for full-frame 24-70mm zooms with a large f2.8 aperture is pretty crowded if you include optical designs that were developed for DSLRs and can be used via adapter on a mirrorless camera. But choices slim down once you focus on original native mirrorless designs:
The Sigma 24-70mm f2.8 DG DN Art from 2019 is similarly sized and equipped as the Sony but has two unique features: You can get your lens mount swapped (at a cost) between Sony E-mount and Leica L-mount (plus perhaps Canon RF and Nikon Z mount in the future) and it can focus closer than the other 24-70mm f2.8 standard zooms giving a 1:2.6 magnification at 24mm focal length. At 1200 EUR / 1100 USD it's also much cheaper than the Sony and earned a recommendation in my Sigma 24-70mm f2.8 DG DN Art review.
Tamron offers the 28-75mm f2.8 Di III RXD from 2018 for about 730 EUR / 880 USD. It starts at 28mm which might not be wide enough for some purposes (see comparison below) but it is smaller and 350g lighter plus costs less than half of the Sony. The lens earned a Recommended in my Tamron 28-75mm f2.8 review.
Here is the angle of view that the Sony FE 24-70mm f2.8 GM covers with its 2.9x zoom (with distortion compensation):
Compare this to the angle of view from the Tamron 28-75mm f2.8 Di III:

The classic 24-70mm focal range captures a visibly wider angle at the short end.

Focus and zoom
Focus accuracy and repeatability is critical to consistently produce sharp shots. Repeatability (the accuracy of focus on the same subject after repeated focus-acquisition) of this lens at 70mm focal length is very good when the lens is focusing from infinity but drops considerably in sharpness and repeatability when coming from a closer distance. In a mixed test Reikan FoCal measured 96.0% with no outliers over a series of 40 shots. That's not bad but average sharpness was 6% lower in shots where focus came from a closer distance with some shots 10% less sharp. You may not notice this under normal viewing conditions but it robs the lens of some acuity when viewed close. I didn't detect any hunting. At 70mm focal length the lens focuses in around 0.7 sec from infinity to 0.8m (1:10 magnification), which is as fast as the Tamron and Sigma.
The zoom ring turns through 75 degrees and has a 24mm wide rubber surface with a good grip. It turns stiffly and cannot be operated with one finger. The lens shows a little zoom creep but the lock at 24mm can prevent that. The focus ring is 18mm wide and is located at the front of the lens. It moves super smooth and is so sensitive to touch that I often accidentally switched the camera to focus magnifier which can be annoying at times.
AF-operation of the Sony is inaudible from the outside or if you record video with the built-in microphone. And as you pull focus, you'll notice only very little focus breathing: the image gets slightly less magnified by 1% at closer focusing distances. This should make videographers happy.
I also tested whether Sony's zoom lens allows you to change the focal length without altering its focus. This characteristic is called parfocal. I manually focused the lens at 70mm and then slowly zoomed back to 24mm checking focus on the way. The Sony FE 24-70mm f2.8 GM kept focus perfectly – until I hit the 24mm mark where the lens became visibly defocused:
Next check out my quality results!

Check prices on the Sony FE 24-70mm GM at Amazon, B&H, Adorama, or Wex. Alternatively get yourself a copy of my In Camera book or treat me to a coffee! Thanks!