Sony FE 24-240mm f3.5-6.3 OSS review
Verdict
The Sony FE 24-240mm f3.5-6.3 OSS is the only all-in-one zoom designed for Sony's Alpha mirrorless cameras which starts at 24mm focal length and covers a huge 10x zoom-range. Available since 2015 it is corrected for full-frame sensors but can equally be used on APS-C sensor cameras where it acts like a 36-360mm zoom lens on a full-frame sensor. With its 240mm focal length the lens allows you to capture very tight head-shots from 2.4m distance and close-up shots beyond 1:4 magnification at comfortable working distances of at least 0.6m/2ft. And the lens is pretty resilient in contra-light situations at the short end – where the risk of having a strong light source in the frame is highest. This all comes in a package that is smaller, lighter, and cheaper than the Sony FE 70-200mm f4.0 G OSS alone.
What's not to like? Its lowly focal ratio of only f5.6 from 75mm focal length onward (f6.3 from 105mm) not only limits background isolation and Bokeh but also means that you need higher ISO values if you want to stop moving subjects with short shutter speeds. And the optical image stabilization was not more effective in my tests than the stabilization of a A7R II camera body alone. I had expected more. And finally the lens is not very sharp once you're zooming beyond 105mm focal length. I was also quite surprised to see strong focus-shift on the lens – but that is of no relevance as long as you refocus after changing aperture.
Let's have a closer look at how the Sony super-zoom compares to the only available alternative in E-Mount from Tamron.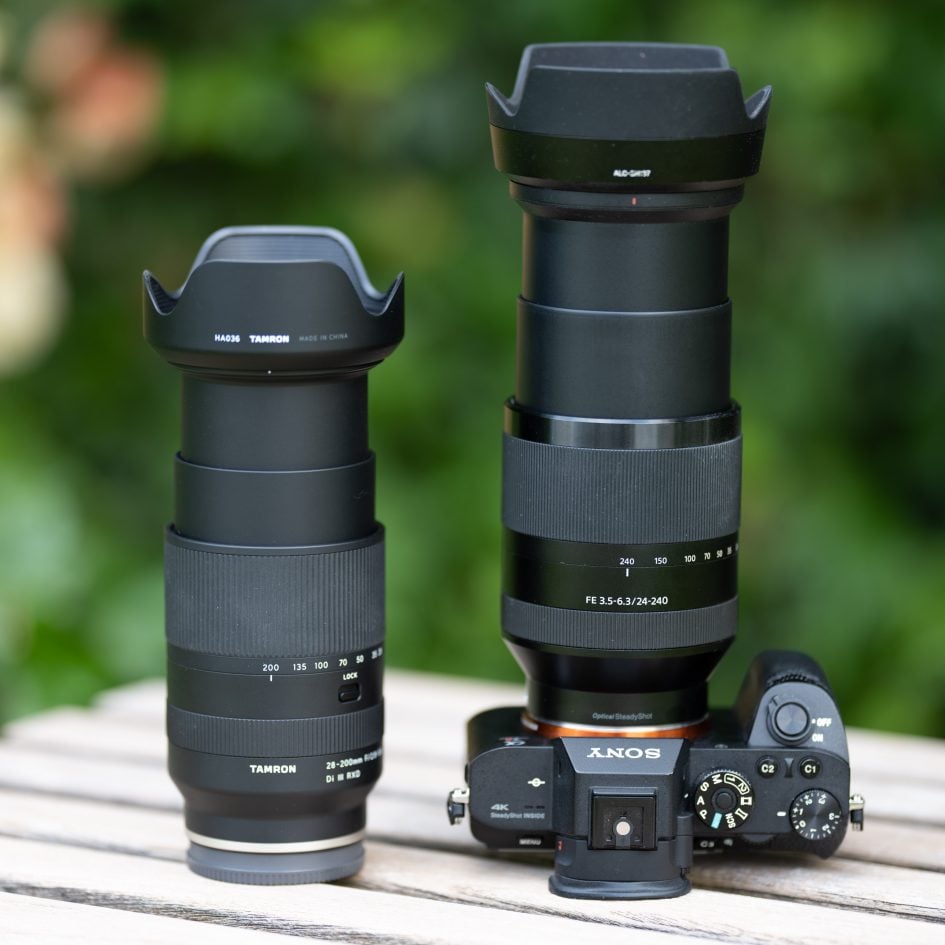 Above: Tamron 28-200mm f2.8-5.6 Di III (left), Sony FE 24-240mm f3.5-6.3 OSS (right)

Compared to Tamron 28-200mm f2.8-5.6 Di III
Tamron's 28-200mm f2.8-5.6 Di III is a 7.1x super-zoom which is a little smaller than Sony's 24-240mm, 200g lighter, and has a 2/3 of a stop brighter focal ratio over most of its zoom range. But it does not offer optical stabilization and only starts at 28mm focal length which results in a 9 degrees shallower angle of view than the Sony. The Sony also reaches 20% further at the long end but I wouldn't over-estimate the benefits of reaching 240mm focal length: The Tamron is sharp enough that you can easily crop to get the angle of view that the 240mm of the Sony gives. But at the short end there's no denying that in some cases you really need the coverage of 24mm which 28mm simply cannot deliver.
Regarding the benefits of optical stabilization: In my tests on a Sony A7R II camera body I couldn't find a significant advantage in stabilization of the Sony over the Tamron. And regarding image quality the Tamron was always ahead of the Sony in my tests especially at focal lengths of 105mm and longer where the Sony gets progressively softer.
Taking into account that the Tamron is 200g lighter than the Sony, has a brighter focal ratio, plus offers fluorite coating at the front lens everything looks like a recommendation of the Tamron over the Sony. Well yes, were it not for the missing 4mm at the short end. You could combine the Tamron 28-200mm with Tamron's own 17-28mm f2.8 Di III lens to cover the wide end but make no mistake: You may find yourself changing lenses when others simply zoom back to 24mm and get the shot.
For more details see my Tamron 28-200mm f2.8-5.6 Di III review.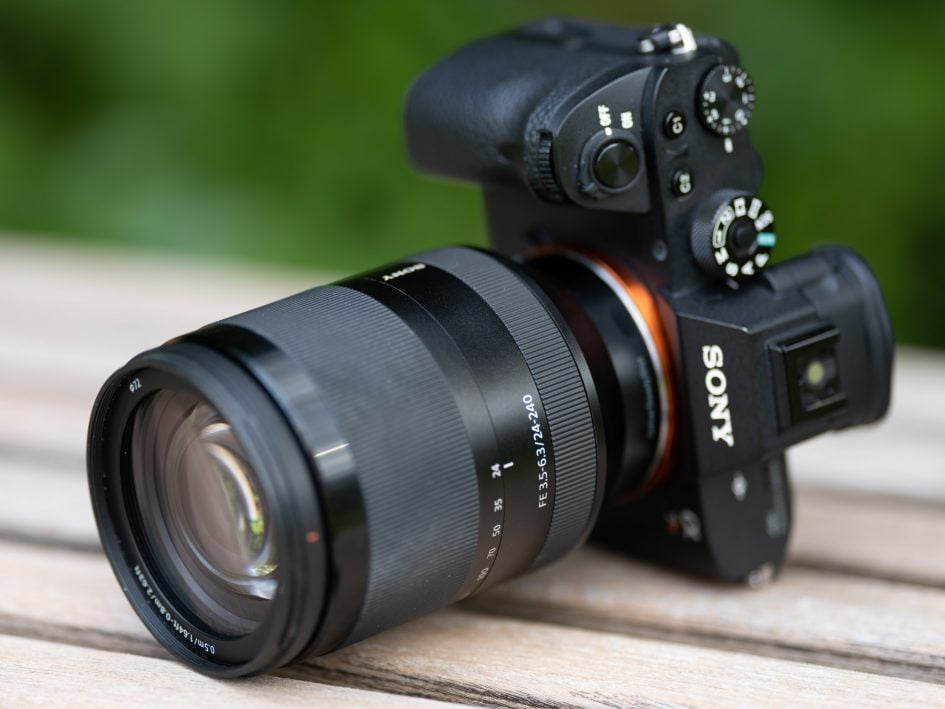 Sony FE 24-240mm f3.5-6.3 OSS final verdict
The Sony FE 24-240mm f3.5-6.3 OSS is a small and relatively light super-zoom which offers a huge 10x zoom-range with the wide end starting at 24mm focal length. Together with a useful 1:3.6 magnification the lens is an ideal travel companion which covers a wide array of photographic opportunities and isn't too expensive either. But I had expected more from the optical images stabilization which could partly compensate for the lowly focal ratio. And sharpness of the lens at focal lengths beyond 105mm is not a good match for todays high resolution sensors. But still: the versatility of the FE 24-240mm f3.5-6.3 OSS is unmatched which earns it a recommendation!
Good points:
Huge 10x zoom range.
Starts at 24mm focal length.
Small and relatively light.
Good to very good resolution within the DX image-circle up to 105mm focal length.
Usable close-up performance at 240mm focal length with a good working distance.
Weather sealing.
Reliable AF operation.
Bad points:
Optical image stabilization could be better.
Soft performance on high resolution sensors at the long end.
Lowly focal ratio.
Strong focus-shift.
Check prices on the Sony FE 24-240mm f3.5-6.3 at Amazon, B&H, Adorama or WEX! Alternatively get yourself a copy of my In Camera book or treat me to a coffee! Thanks!