Sony FE 20mm f1.8 G review
Intro
The Sony FE 20mm f1.8 G is an ultra-wide prime lens designed for Alpha mirrorless cameras and corrected for full-frame sensors. Announced in February 2020, it's the 34th full-frame mirrorless lens for Sony's Alpha system, although only the second prime lens to join the G series, which positions it between the standard non-G and high-end G Master models.
The FE 20mm f1.8 delivers an ultra wide field-of-view that captures comfortably more than a 24mm, making it ideal for expansive landscapes, tight interiors, wide astro photography, as well as vlogging or environmental portraiture. The FE 20mm f1.8 combines this coverage with a bright focal ratio that's ideal for low-light use and can also deliver shallow depth-of-field effects, especially when the subject is positioned close to the minimum focusing distance of 19cm. Use it on an APS-C body and its coverage is equivalent to a 30mm lens.
The FE 20mm f1.8 G is roughly similar in size to the FE 24mm f1.4 G Master, but lighter. Price-wise, the FE 20mm f1.8 G costs $899, making it a little more expensive than the FE 35mm f1.8 (at $749), but noticeably cheaper than the FE 24mm f1.4 G Master (at $1399); arguably the closest rival in the e-mount with autofocus is the Sigma 20mm f1.4 Art lens which shares the same $899 asking price, while boasting a brighter aperture, albeit in a heftier barrel and with an older design. Meanwhile if you're willing to forgo autofocus, there's the manual focus Samyang 20mm f1.8 in the e-mount for $599 (or cheaper with discounts), while the Viltrox 20mm f1.8 costs just $399. If you're happy with a smaller aperture, there's the Tamron 20mm f2.8 in the e-mount for just $349. Coincidentally, Nikon announced the Z 20mm f1.8 S for its own full-frame mirrorless system just two weeks earlier, although priced higher at $1050. Check back soon for our reviews of both lenses.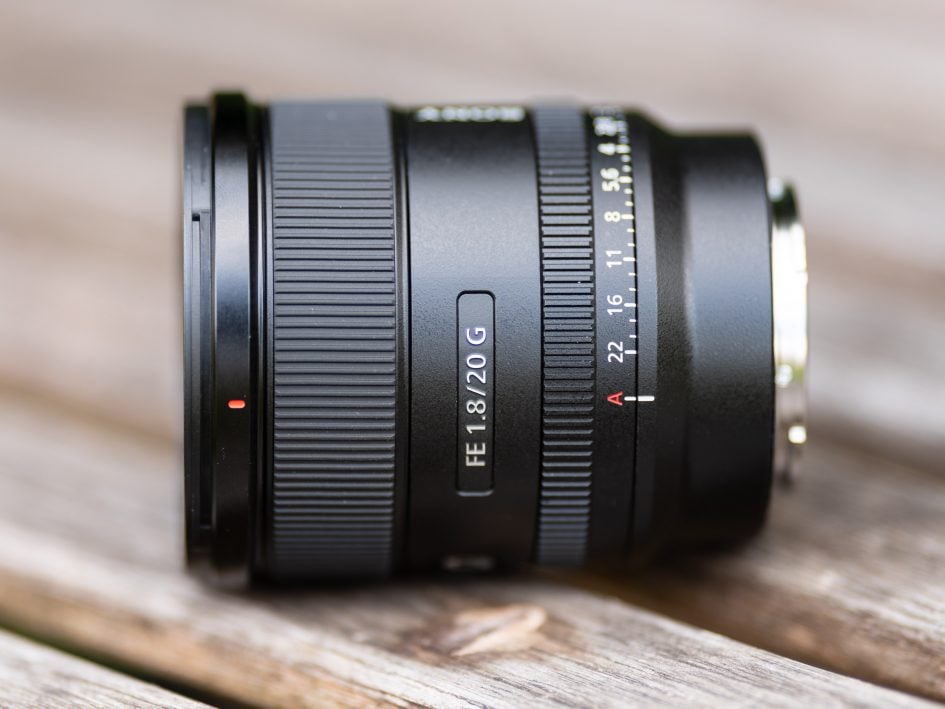 Facts from the catalog
As usual I'll have a look at the technical data of the new Sony FE 20mm f1.8 G first. I've rated the features with a [+] (or [++]), when it's better than average or even state of the art, a [0] if it's standard or just average, and [-] if there's a disadvantage. For this comparison I use the Sony FE 24mm f1.4 GM, Tamron 20mm f2.8 M1:2 ("Tamron" for short) and Sigma 20mm f1.4 Art ("Sigma"). Please keep in mind that the focal ratio of all lenses is different which influences size and weight.
Size (diameter x length): 74 x 85mm (2.9 x 3.3in.). The lens hood adds 22mm and is 83mm in diameter. The Sony FE 24mm f1.4 GM is a little longer at 75 x 92mm + 31mm lens hood while the Tamron is much shorter at 73 x 64mm + 19mm lens hood. Due to its origin as a DSLR design from 2015 the Sigma is the behemoth in this comparison at 91 x 156mm including the non-detachable lens hood. [0]
Weight: 373g (13 oz.) plus 17g for the lens hood. The Sony FE 24mm f1.4 GM is 445g + 33g lens hood while the Tamron is only 220g (8 oz.) + 21g lens hood. The Sigma comes in at a whopping 1050g (37 oz.) including lens hood. [+]
Optics: 14 elements (including three special dispersion and 2 aspherical elements) in 12 groups which is similar to the Sony FE 24mm f1.4 GM and Sigma. The Tamron is a less complex design with 10 elements in 9 groups. The new Sony FE 20mm f1.8 G uses Nano-Coating to reduce flare, glare and ghosting and there's fluorine coating on the front to repel water, dust, and dirt and should make for easier cleaning. [+]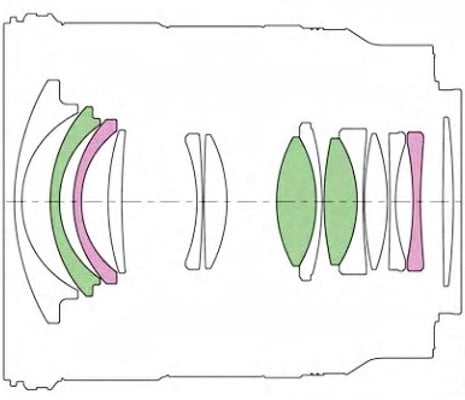 Closest focus distance is 0.18m (7in.) with a magnification of 1:5. In my test I was able to get down to 1:3.8 at 0.17m with manual focus. The magnification of the new Sony is not bad but you have only 7cm (3in.) of working distance at minimum object distance. A magnification of 1:10 is achieved at 0.28m giving a working distance of 16cm with lens hood attached. The Sony FE 24mm f1.4 GM goes down to 0.23m / 1:5.4 magnification while the Tamron achieves a very good magnification of 1:2 but the working distance is even worse at only 3cm (1in.). The Sigma goes down to 1:7.1 with a working distance of 11cm (4in.). [0]
Filter-thread: 67mm same as the Sony FE 24mm f1.4 GM and Tamron. The Sigma has no filter-thread. [+]
Image stabilization: The lens offers no optical stabilization. The Sony A7 Mark II bodies onward provide built-in sensor-shift stabilization. Same with the other lenses in this comparison. [0]
Auto focus: Built-in AF drive. Manual-focus override is by simply turning the focus ring. There is a focus hold button which can be assigned other tasks in the camera menu (same on the Sigma). The focus ring has a linear gearing with a long throw of 150 degrees that allows for precise manual focus and makes smooth focus pulling for videographers easy. The Sony FE 24mm f1.4 GM is the same while the Tamron has non-linear gearing which depends on the speed you turn the focus ring. Both Sonys and the Tamron have no distance or dof markings. Focus on the Sigma has a direct linear coupling and the benefit of a distance- and dof-scale. [+]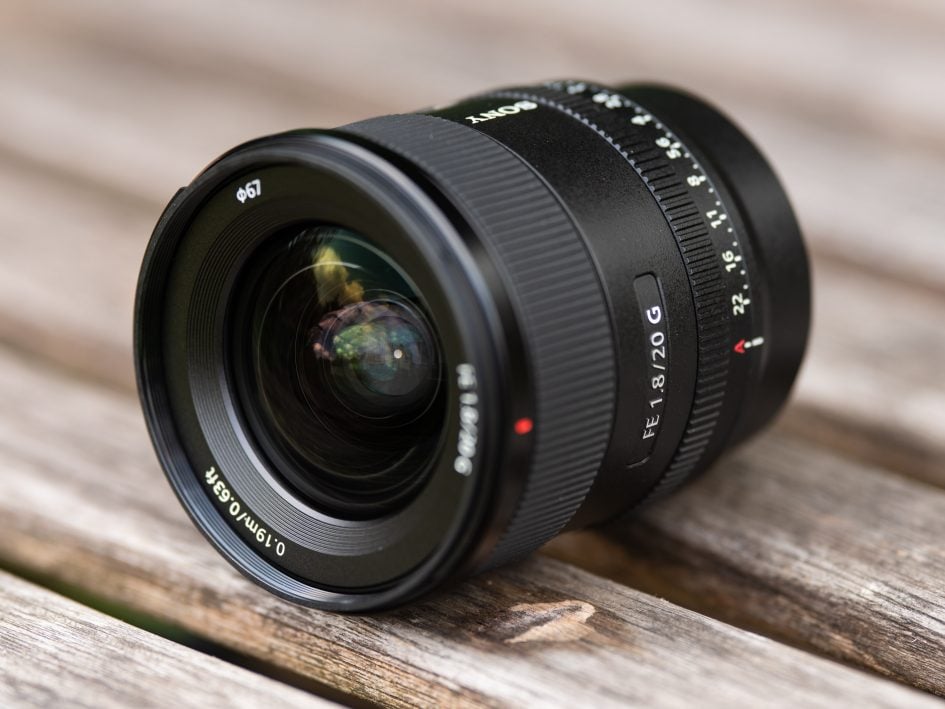 Covers full frame/FX or smaller. Same with the alternatives. [+]
Price: The lens is not cheap at a list price of 1100 EUR (incl. 19% VAT) / 899 USD. But the Sony FE 24mm f1.4 GM is more expensive at 1500 EUR / 1399 USD. The Tamron goes for 400 EUR / 349 USD, the Sigma is at 850 EUR / 899 USD. [0]
Comes with a soft pouch and the lens hood is included, reversible for transport. The Sony FE 24mm f1.4 GM has a well-padded lens case and its lens hood has a locking mechanism to prevent it from accidentally falling off. The Tamron has no pouch, the Sigma comes with a nice well-padded case. [+]
Aperture ring: yes, with 1/3 stop clicks which can be turned off for continuous, smooth, and noise-free operation. Set the ring to "A" and the aperture is controlled by the camera or turn it to set the aperture from the ring. There is no lock to prevent the ring from being accidentally moved from the "A" position. But even in its de-clicked state there is a clear resistance between "A" and f22. Same with the Sony FE 24mm f1.4 GM. Neither the Tamron nor the Sigma have an aperture ring. [+]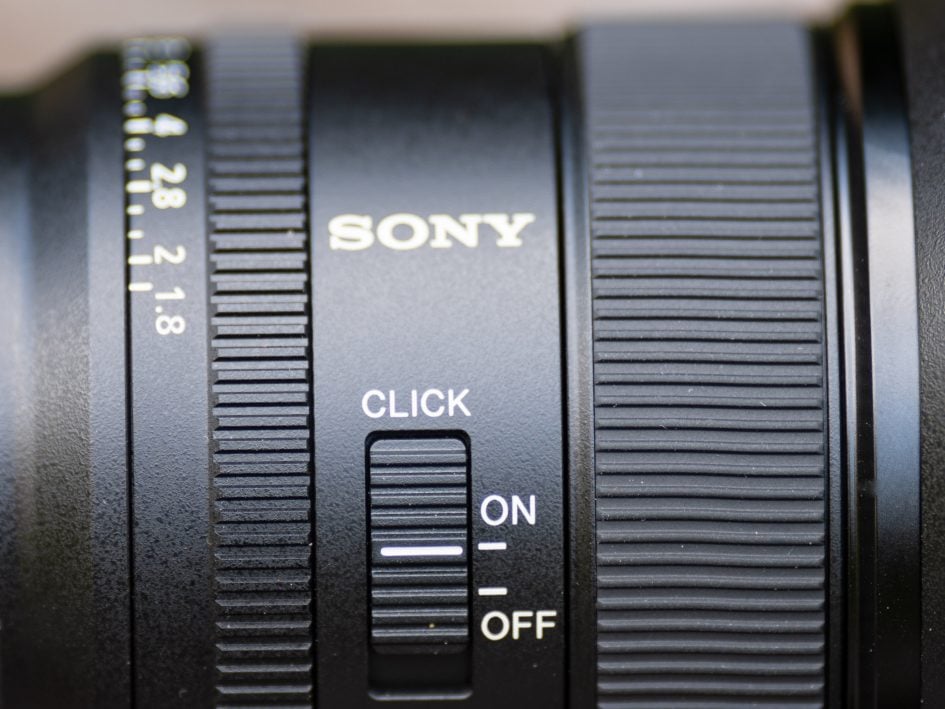 Sealing: yes, a rubber grommet at the lens-mount plus further special weather-sealing throughout the construction. Same for the Sony FE 24mm f1.4 GM and Tamron. The Sigma has no weather sealing. [+]
The score in the "features-department" of 0[-]/4[0]/8[+] shows that the lens has a good feature set with no real downside.

Two ways to go 20mm on Sony Alpha mirrorless cameras
Above: Tamron 20mm f2.8 M1:2 (left), Sony FE 20mm f1.8 G (right)

Focus
Focus accuracy and repeatability is critical to consistently produce sharp shots especially with large aperture lenses. Repeatability (the accuracy of focus on the same subject after repeated focus-acquisition) of this lens is very good (measured 99,3% in Reikan FoCal) with no outliers over a series of 40 shots. And there is no focus variation whether the lens focuses from a closer distance or from infinity.
The lens focuses in around 0.7 sec from infinity to 0.28m (1:10 magnification), which is pretty fast. Hunting didn't occur under the well-lit test conditions. The focus ring is 17mm wide with a rubberized surface. It moves super smooth and can easily be operated even with your pinky.
This is much better than the Tamron can do which takes double the time to focus and is hunting a bit around the point of sharpest focus.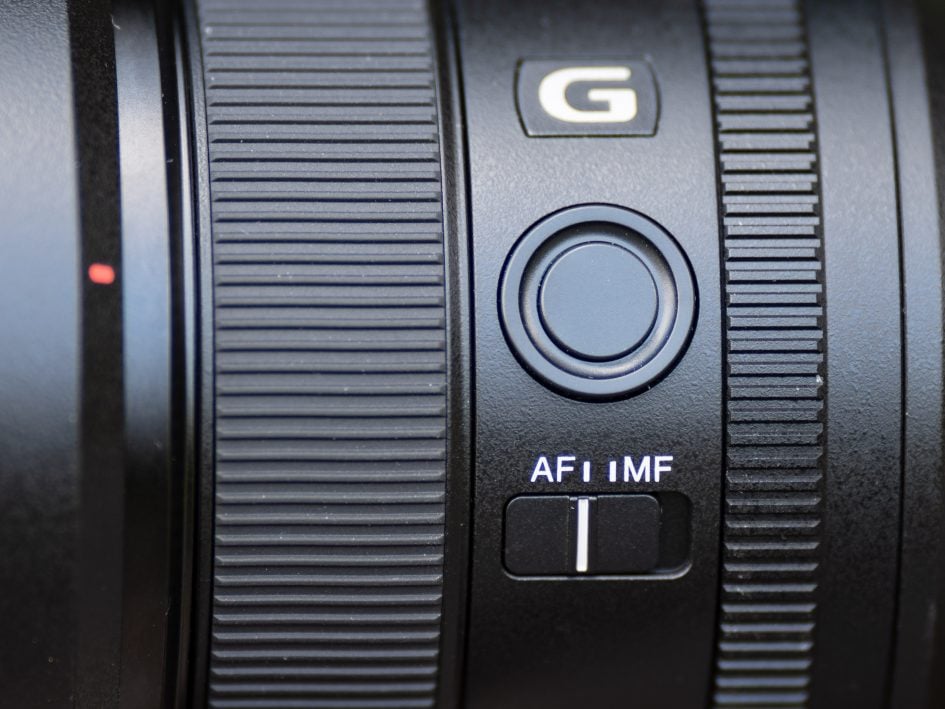 AF-operation of the lens is barely audible from the outside and if you record video with the built-in microphone the AF-drive cannot be heard. If you use the aperture ring in de-clicked mode it works smoothly and without noise. There was only one thing that annoyed me at first: When the lens is powered down the focus group inside the lens slides back and forth freely as the linear focus drive is not engaged. That makes a low thunking sound and you can feel the focus group moving around. Sony assures me that this floating construction does not incur a higher risk of damage from impact.

The lens shows some focus breathing: when I adjusted the focus from infinity to 0.28m on the new Sony, I measured a 4.7% increase in magnification. This is pretty visible and may not please videographers.

Next check out my quality results!

Check prices on the Sony FE 20mm f1.8 G at B&H, Adorama, or Wex. Alternatively get yourself a copy of my In Camera book or treat me to a coffee! Thanks!