Sony FE 16-35mm f2.8 GM review - Verdict
Verdict
The Sony FE 16-35mm f2.8 GM is a very good wide-angle zoom offering a practical range at a constant f2.8 focal ratio. It is not too big or heavy although there are smaller and lighter alternatives. With its extensive weather sealing, multi-purpose focus lock button, lockable lens hood and a nicely padded lens case the lens aspires to satisfy the professional user. Clearly its price reflects this claim. Regarding optical quality the Sony GM is very good at normal shooting distances where it stays pretty sharp right into the full-frame corners. Longitudinal color aberrations, coma, and resistance against flare and glare are on a very good level.
What's not to like? Well, the FF-corner and even the APS-C-corner are a bit soft on the long end when wide open and focused at infinity. Then there was the issue of a difference in focus quality I experienced depending on the distance the lens was coming from – but that may be a singular problem of my copy, and I hope to retest another sample in the future to see if it shares the same characteristics.
To put this into perspective let's have a closer look at how the Sony FE 16-35mm f2.8 GM compares to the Tamron 17-28mm f2.8 Di III.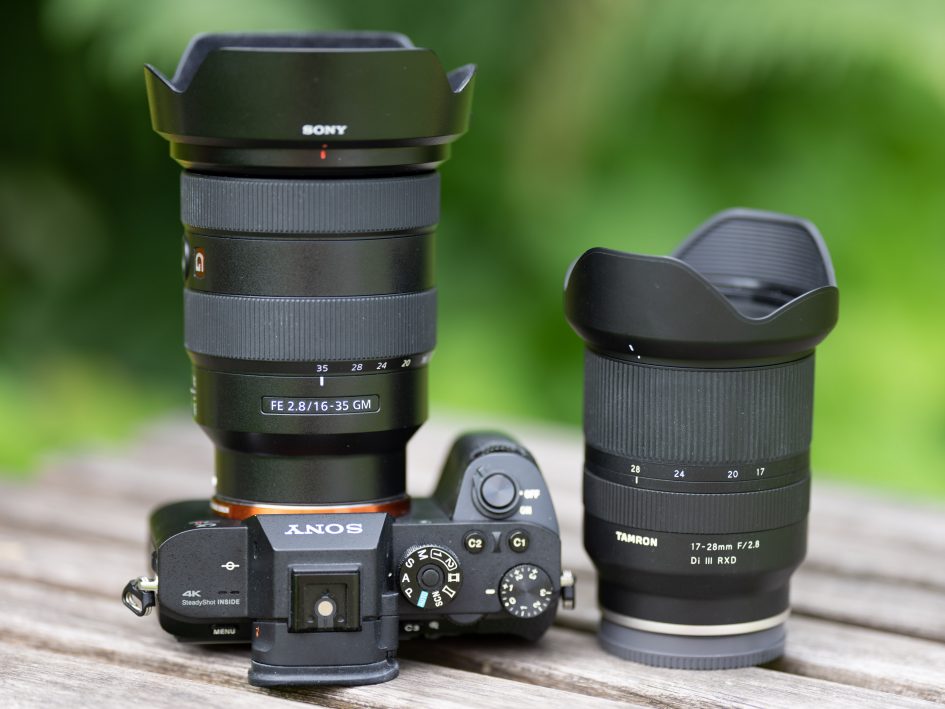 Compared to Tamron 17-28mm f2.8 Di III
Two for the price (and weight) of one? If you're looking for covering your wide to standard zoom-range with two f2.8 zooms the Tamron 17-28mm f2.8 Di III plus its 28-75mm f2.8 Di III sibling together cost less than the Sony 16-35mm f2.8 GM alone. And although the combined weight of both Tamron zoom lenses is some 300g more than from the Sony zoom alone it still only totals 1kg. Optically the Tamron 17-28mm f2.8 Di III is sharp and contrasty even under adverse contra-light situations and delivers very usable close-up performance too. It has a very short working distance for close-ups and may not be the sharpest lens in the full-frame corner at medium distances but it delivers very sharp landscape and architecture shots equal to or even sharper than from the Sony GM. Plus it has fast and reliable autofocus too. So if you can live with the somewhat limited 1.6x zoom range the Tamron is a very attractive alternative, even more so if you own or are considering the 28-75mm to work alongside it.
For more details see my Tamron 17-28mm f2.8 Di III review.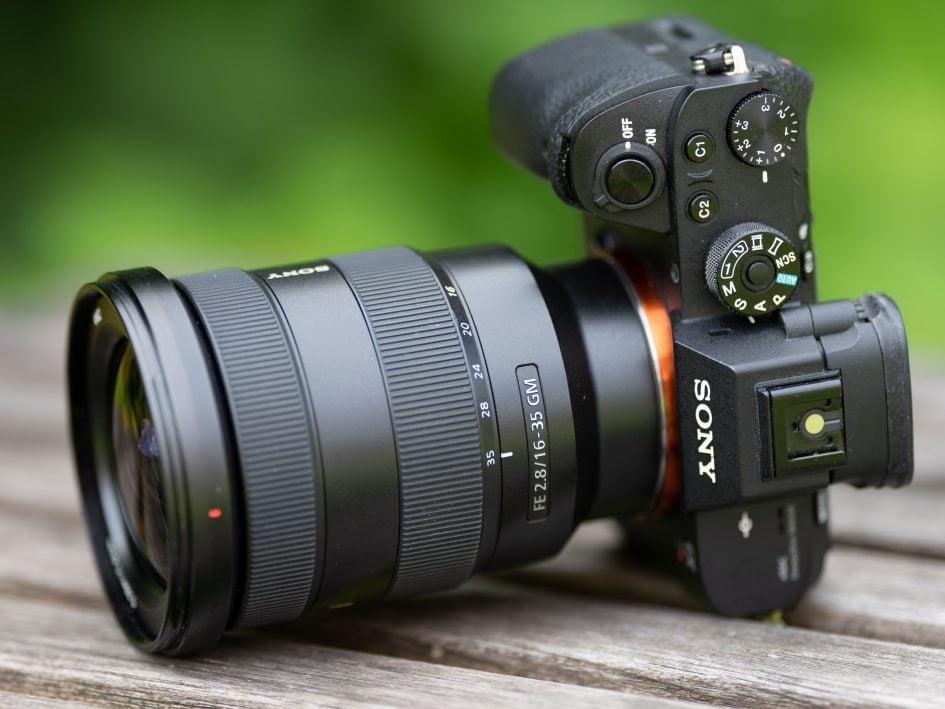 Sony FE 16-35mm f2.8 GM final verdict
The Sony FE 16-35mm f2.8 GM is an ultra-wide zoom that offers good to very good optical quality and a useful 2.2x range which at 35mm almost reaches "normal" focal length for general use. This means you'll be swapping lenses less frequently than you would with more extreme ranges, like a 12-24mm or 14-24mm. It also offers a constant and bright f2.8 focal ratio in a package that is well protected against the elements and not too big or heavy – plus you can use standard filters albeit of 82mm in diameter. What prevents this otherwise excellent lens from earning a Highly Recommended though is its softer performance outside the inner image circle between 24mm and 35mm focal length which is not in line with the hefty price tag of well over 2000 EUR/USD. This weakness prevents the lens from achieving our top rating. But the Sony FE 16-35mm f2.8 GM still easily deserves a Recommended.
Good points:
Constant f2.8 focal ratio on a very usable 16-35mm zoom-range.
Extensive weather sealing.
Very good image quality at medium distances.
Very good black levels in contra-light situations.
Good close-up performance.
Bad points:
Very expensive.
Becomes softer at the long end at infinity outside the center.
Short working distance for close-up shooting.
Not the smoothest background Bokeh.
On my copy of the lens: less then optimal focus accuracy when it focuses from a closer distance.
Check prices on the Sony FE 16-35mm f2.8 GM at Amazon, B&H, or Adorama, or Wex. Alternatively get yourself a copy of my In Camera book or treat me to a coffee! Thanks!>