Sony FE 14mm f1.8 G Master review
Verdict
The Sony FE 14mm f1.8 G Master is a unique lens and a valuable addition to the e-mount catalogue. There may be plenty of ultra-wide zooms available, but this is Sony's widest prime lens to date and shares the honour of joint-brightest 14mm with the Sigma 14 1.8 Art. But unlike the Sigma, the new Sony is a native mirrorless design allowing a lens that's not only smaller, but less than half the weight, making it not just more portable but much more practical for shooting from a gimbal, drone or star tracker.
As you'd expect for a modern G Master lens, the optical quality is excellent with sharp details across the frame and attractive rendering in blurred areas, while focusing is fast, smooth and silent. In my tests geometric distortion and vignetting were both kept to a minimum even on uncorrected RAW files, and I saw little to no evidence of chromatic aberrations, even the pesky ones in blurred areas of high contrast. You can boost the far corner sharpness by closing the aperture a stop or ideally two, and some focus breathing is visible as you rack from near to far, but otherwise this is another well-corrected and high-performing lens.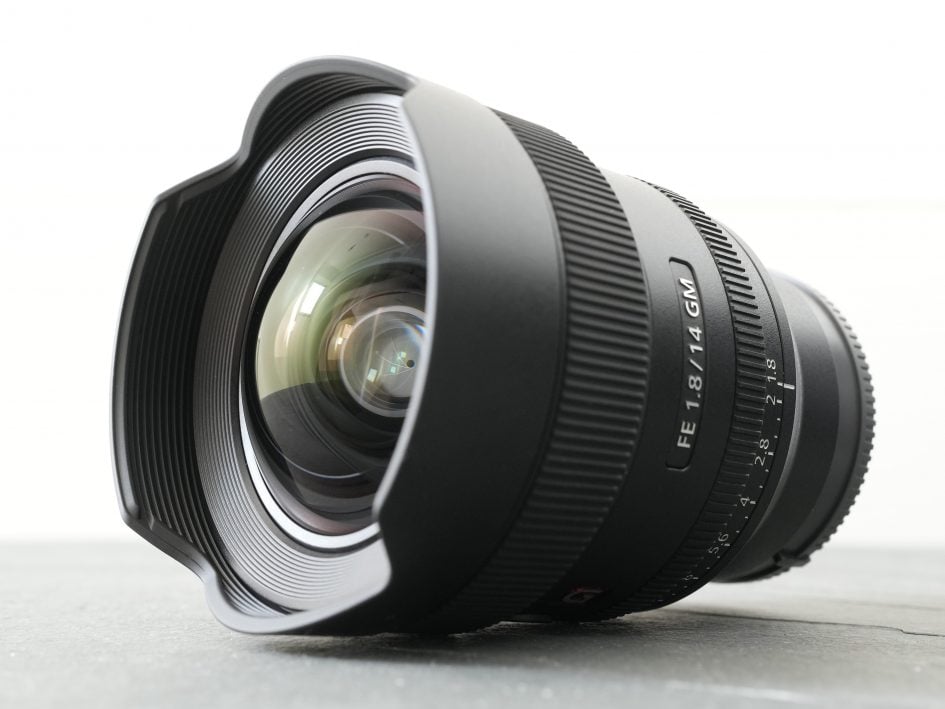 There may be no primes to match the coverage in Sony's catalogue, but 14mm is already available on two Sony zooms. The most recent Sony FE 12-24 2.8 G Master is an excellent performer, but larger, heavier, almost twice the price and over a stop slower. The earlier Sony FE 12-24 f4G is only a little more expensive, but again still heftier and in this case over two stops slower. Both obviously offer the flexibility of a zoom range that starts a little wider too, but trade it for portability, light gathering and price. The bargain ultra-wide zoom in the Sony mount is Sigma's 14-24 2.8 DG DN, costing a little less than the new 14 1.8 GM, but again it's larger, heavier and over a stop slower. Of course Sigma's own 14 1.8 remains an excellent lens, but Sony's is more compelling overall for a similar price.

Ultimately the Sony 14 1.8 will greatly appeal to anyone who desires high-quality ultra-wide coverage from a lens that's smaller and faster than a typical zoom, and in Sony's own catalogue, one that's cheaper too. As such it'll greatly appeal for traditional landscape, architecture and astro as well as low light and video work. I've long-campaigned for a high-end bright ultra wide prime from Sony and my wish has come true. Not only does the 14 1.8 GM deliver the goods across the board, it's considerably more portable than its only rival and roughly the same price too. Highly Recommended.

Check prices on the Sony FE 14mm f1.8 GM at B&H, Adorama, WEX UK, or Calumet.de. Alternatively get yourself a copy of my In Camera book or treat me to a coffee! Thanks!