Sony FE 14mm f1.8 G Master review
Intro
The Sony FE 14mm f1.8 G Master is an ultra-wide angle prime lens for the full-frame e-mount mirrorless system. Announced in April 2021, and costing between 1600 and $1800, it's not only Sony's widest prime lens for the system to date, but one of only two 14mm lenses in existence with a bright f1.8 aperture.
Sigma was actually first to produce a 14mm f1.8 lens a whole two years before Sony, or anyone else for that matter. Their 14 1.8 DG Art was a truly unique lens, comfortably brighter than Canon and Nikon's existing 14 2.8 primes, not to mention cheaper and employing a considerably newer design to boot. But while the Sigma lens is available in an e-mount version, it's an adapted DSLR design, whereas the new Sony is a native mirrorless lens, allowing it to be smaller and much lighter – in fact less than half the weight. In the video below I'll show you everything you need to know including full results for photos and movies, but if you prefer a written version of the highlights, keep scrolling!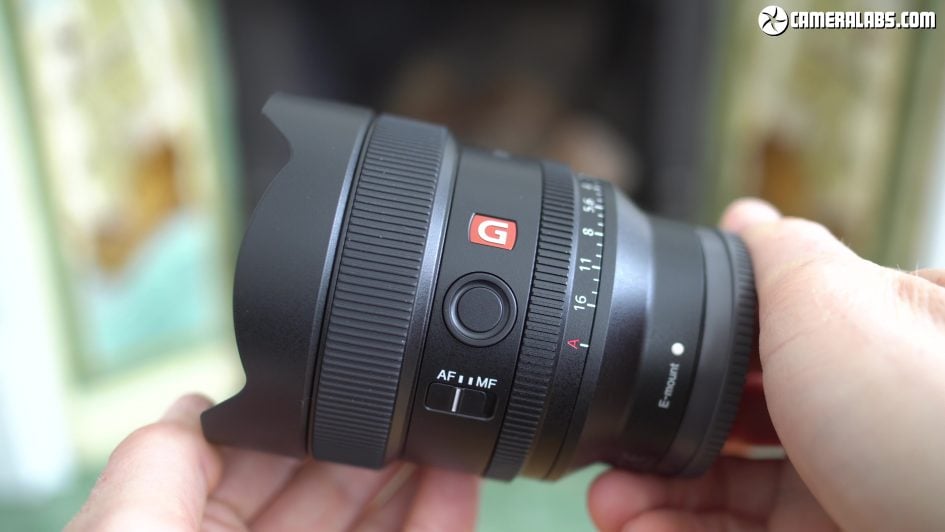 Above: The Sony FE 14mm f1.8 GM is comfortably smaller and lighter than the Sigma, measuring 83x100mm and weighing just 460g.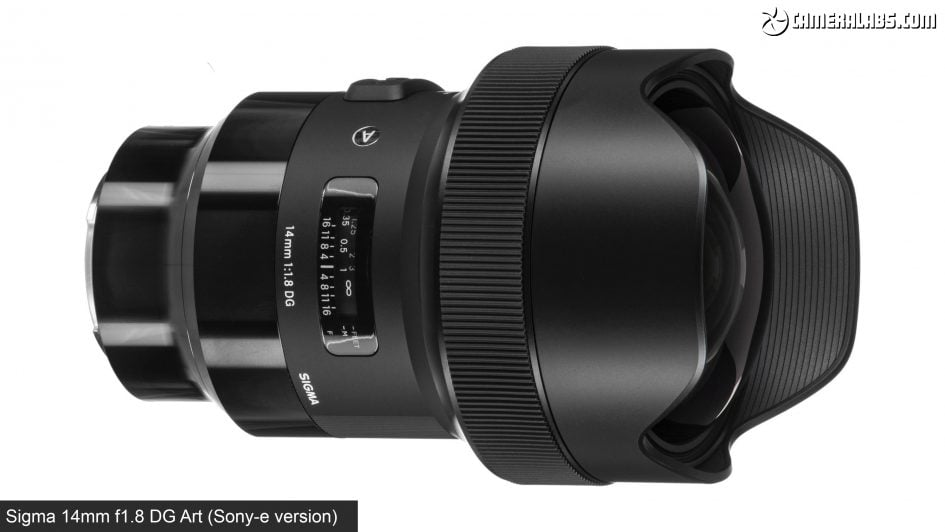 Above: In comparison the EF version of Sigma's 14 1.8 is 12mm wider, 26mm longer and over double the weight, while the e-mount version with the built-in adapter is even longer and heavier still. Sony's own 35 1.4 GM is a tad smaller than the 14 1.8 GM, but a bit heavier. The closest match in weight is the Sony 24 1.4 GM, itself an unusually light lens for its level of performance.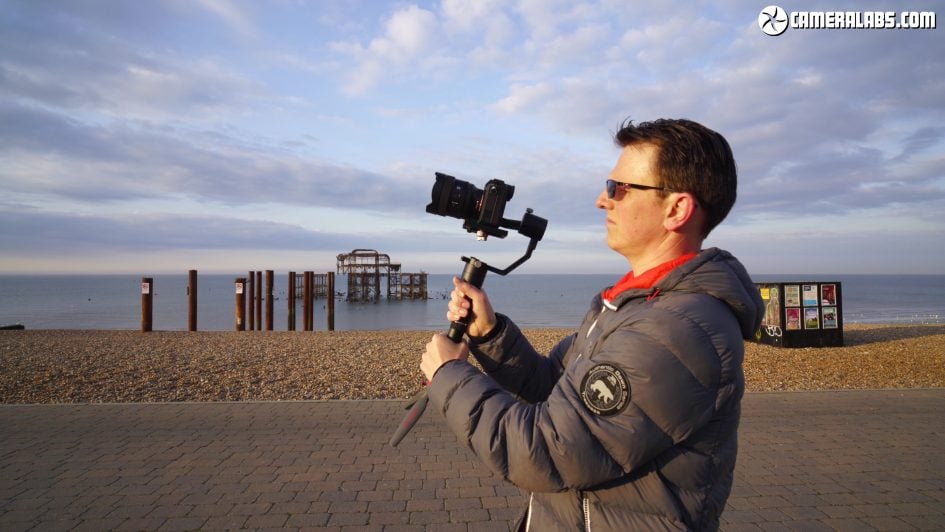 Above: The light weight of the new Sony makes it a much more practical option than the front-heavy Sigma for balancing on modest gimbals, not to mention drones or star trackers.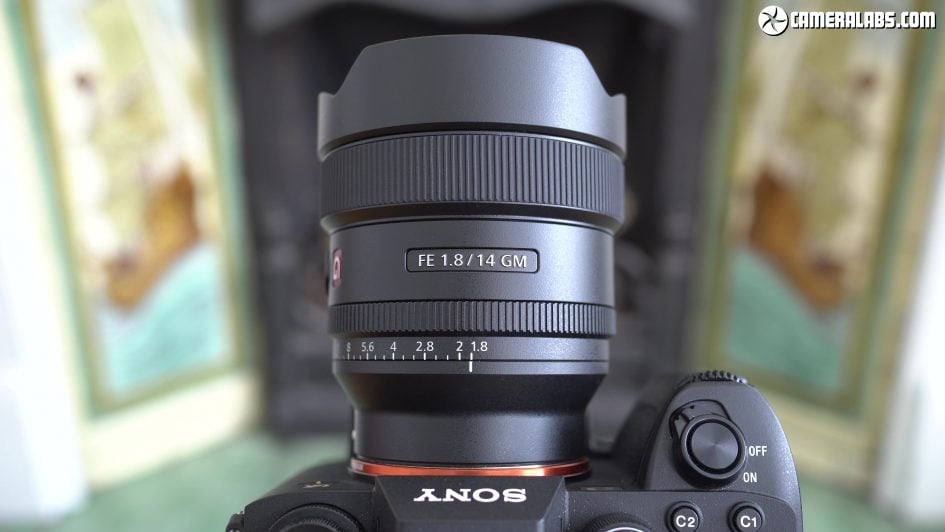 Above: In terms of controls, the Sony 14 1.8 has an aperture ring running from f1.8 to f16 with an A position for body control. Like most recent Sony lenses, the aperture ring can be de-clicked using a switch on the barrel for smooth and silent adjustments in video. Meanwhile there's a very smooth manual focusing ring, motor-assisted as usual, but very easy to adjust especially with peaking and magnified assistance; there's also a customisable focus hold button.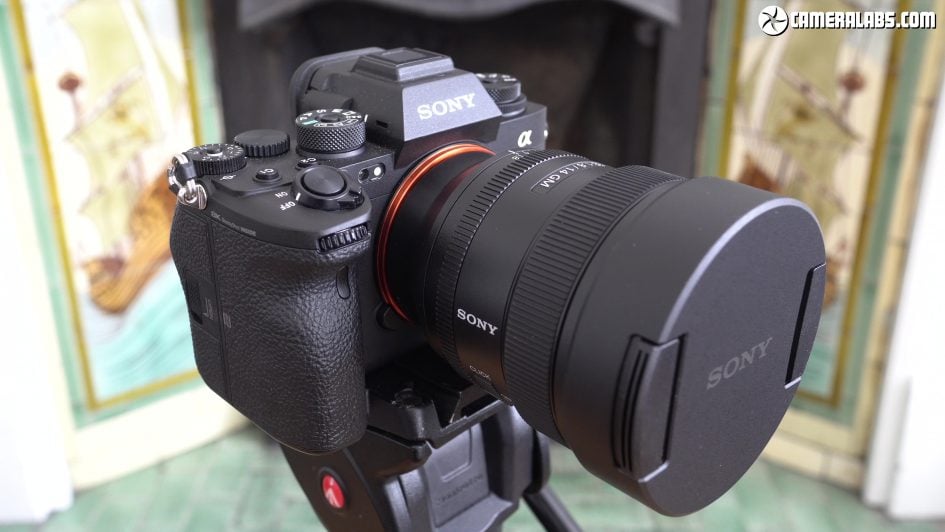 Above: Like most ultra wide lenses, the 14 1.8 employs a built-in petal lens hood with a chunky lens cap that slides on and stays in place using friction.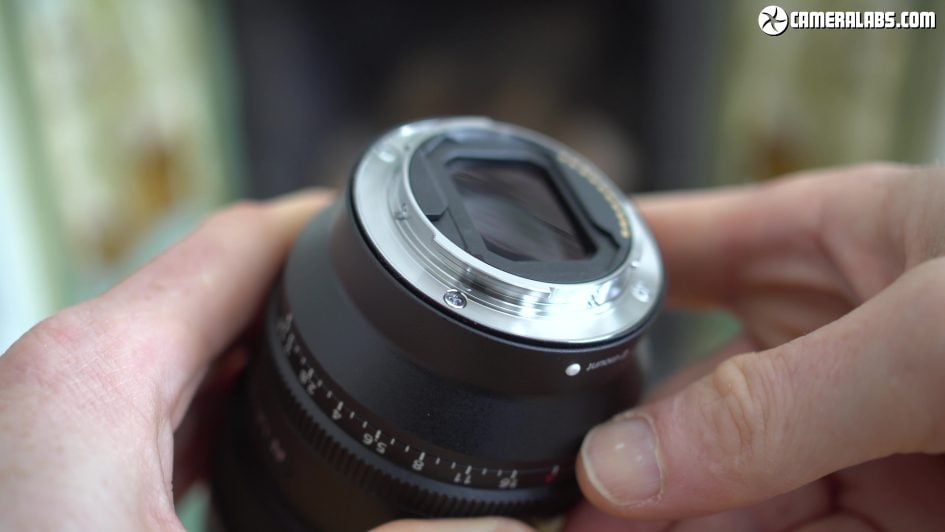 Above: Like other lenses with a bulbous front element and built-in hood, there's no chance to directly mount filters on the front, but you can fit them to the rear of the lens and Sony supplies a template for you to cut out your own. Like other G master lenses, the 14 1.8 is dust and moisture resistant.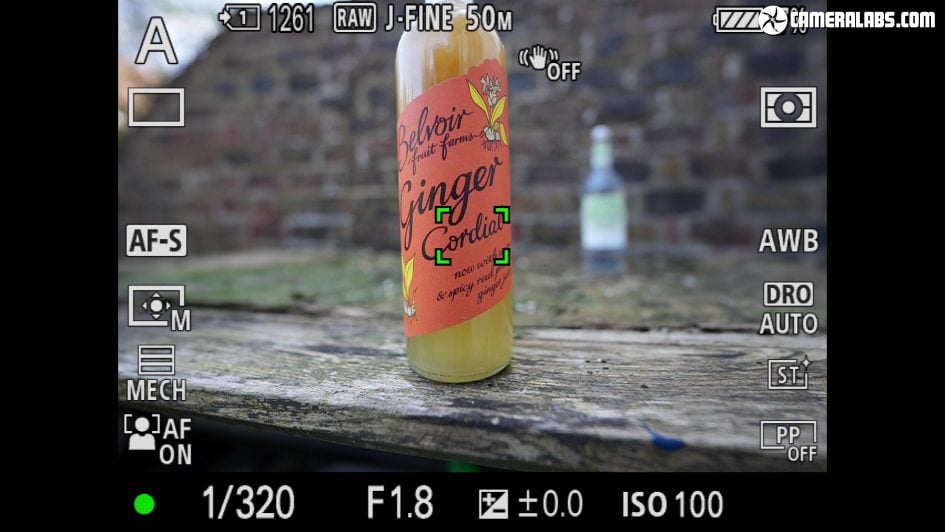 Above: Focusing is courtesy of two XD linear motors which allow the lens to refocus quickly, smoothly and quietly, perfect whether you're shooting extreme action or filming video. Like most Sony lenses, some focus breathing is certainly visible, albeit not the worst offender in the system. As you focus from infinity to the closest distance and back again on the Alpha 1, where breathing causes a magnification of the image as you focus closer.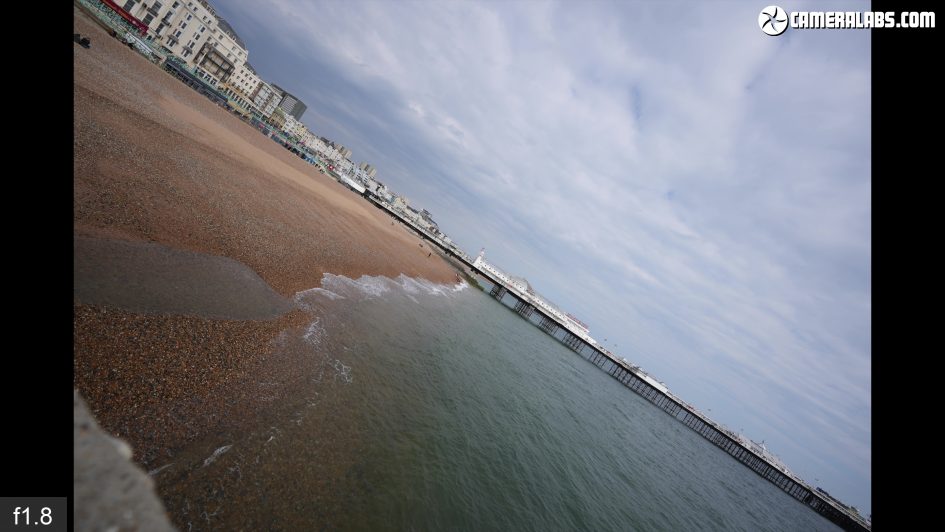 Above: Ok, now it's time for a distant landscape scene shot with the Alpha 1 angled so that details run into the far corners.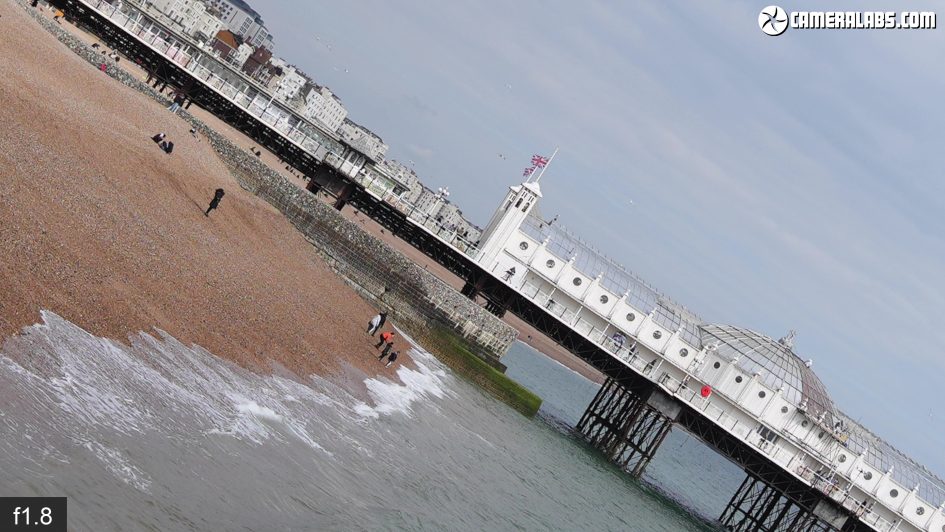 Above: Taking a closer look in the middle unsurprisingly reveals fine details right out of the gate at f1.8 with no real sharpness benefit to closing the aperture further.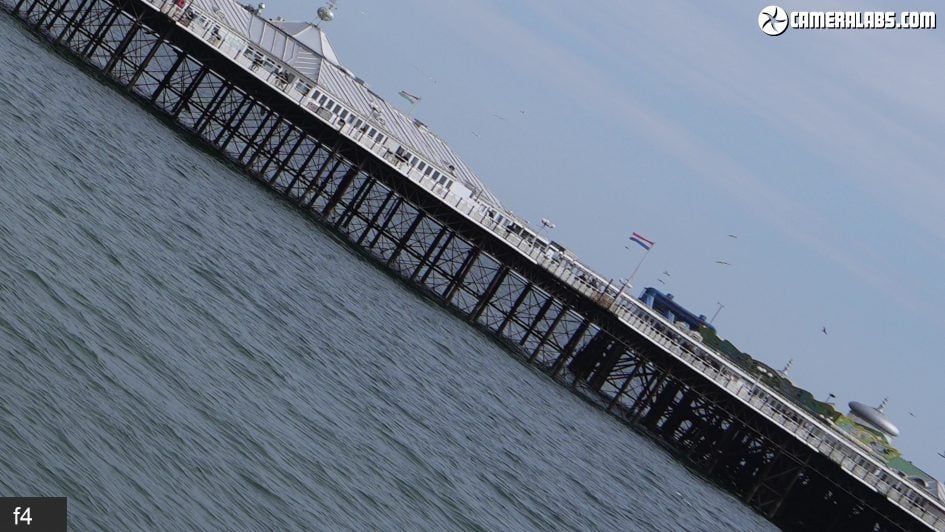 Above: Move out to the extreme corners and you'll see the lens maintains a high degree of detail with only minimal softening when the aperture is wide-open at f1.8. If you need to shoot wide-open, you'd be pretty happy with the results, but if you can close the aperture a little, you'll enjoy a boost in corner sharpness and contrast, with the lens looking excellent by f4.
Above: Bright aperture wide lenses are a popular choice of astro photographers, so I stayed up way past my bedtime to capture the horribly light-polluted skies near to Brighton. This is a four second exposure on the Alpha 1 at 3200 ISO with the lens wide-open at f1.8 and I've adjusted the RAW file in an attempt to maximise the stars. Zooming into the middle of the frame shows there are indeed some stars in this sky and they're looking nice and sharp, while as I move into the far corners you'll see the lens maintains their shape as tiny dots, avoiding the aberrations of lesser lenses.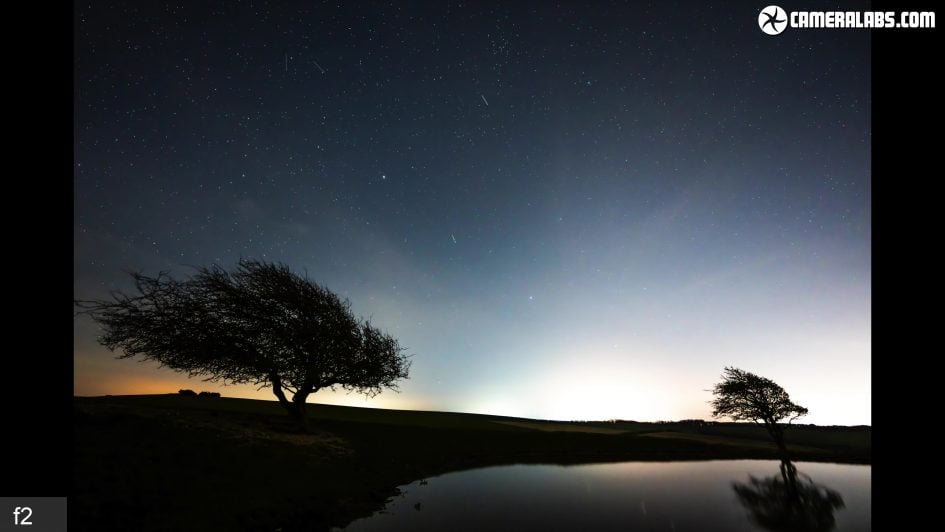 Above: Here's another astro shot I took from the same location and while I'd love to have captured the Milky Way under truly dark skies, these images do at least confirm the lens's ability to record well-behaved star images across the frame. I've no doubt the Sony 14 1.8 will become a classic for astro-photographers and until rivals can produce anything similar for their native mounts, it's a reason to choose the e-mount system.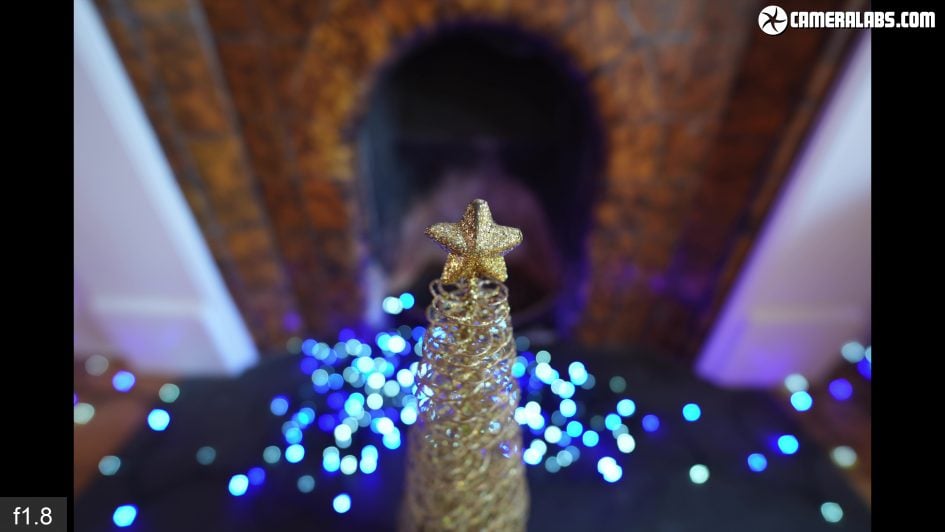 Above: That bright f1.8 focal ratio isn't just useful for night or low-light photography either, as it's possible to achieve some blurring effects in the background, especially from the closest focusing distance of 25cm. You're looking at the 14 1.8 focused as close as possible to the ornament and working through its aperture range from f1.8 to f16 and at the wider-end there was even some bokeh blob action.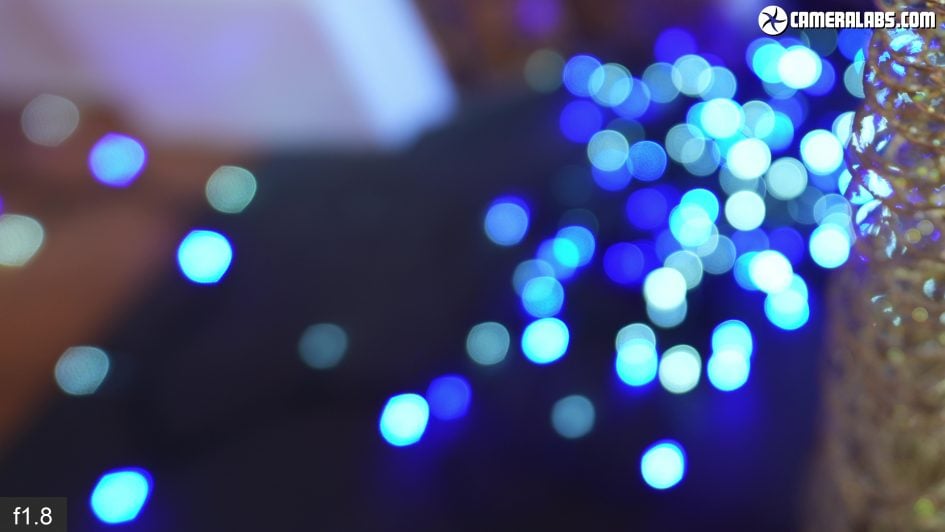 Above: Let's take a closer look at the rendering of those blobs where you'll see they're mostly rounded even at f1.8 and out towards the corners. At the extreme they take on a slightly squashed shape, but it's hardly the rugby or american football ball of longer bright aperture lenses. Meanwhile as the aperture is closed they maintain a rounded shape with minimal impact from the diaphragm system, and you'll also notice an absence of outlining and only the slightest textures within.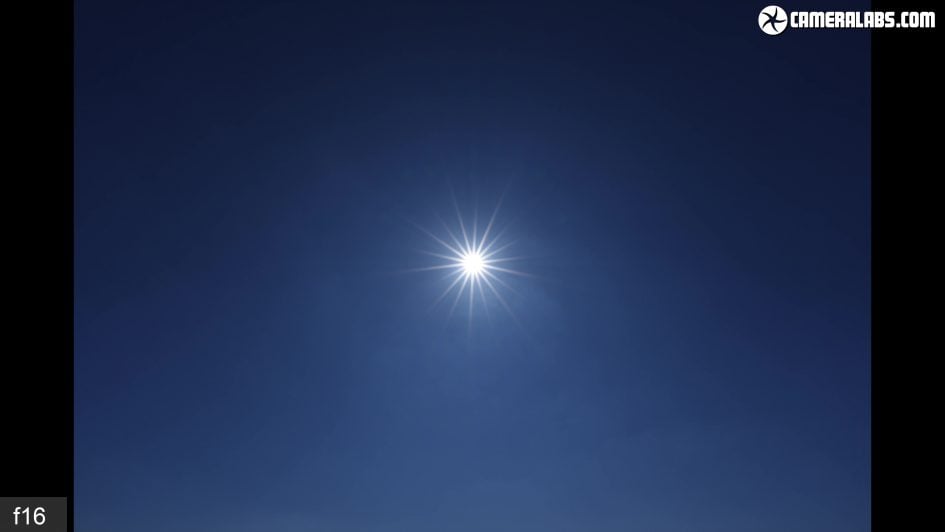 Above: The UK's typically hazy skies conspired against achieving the crisp sun stars of more favourable climates, but here's the lens none-the-less closed to its smallest aperture of f16. I look forward to trying it in crisper skies or for city night photography.
Above: Ultra wide angles are not your best choice for portraits unless the subject is distant to avoid distortion or deliberately close for special effect. Here I'm way too close to the lens for a flattering result.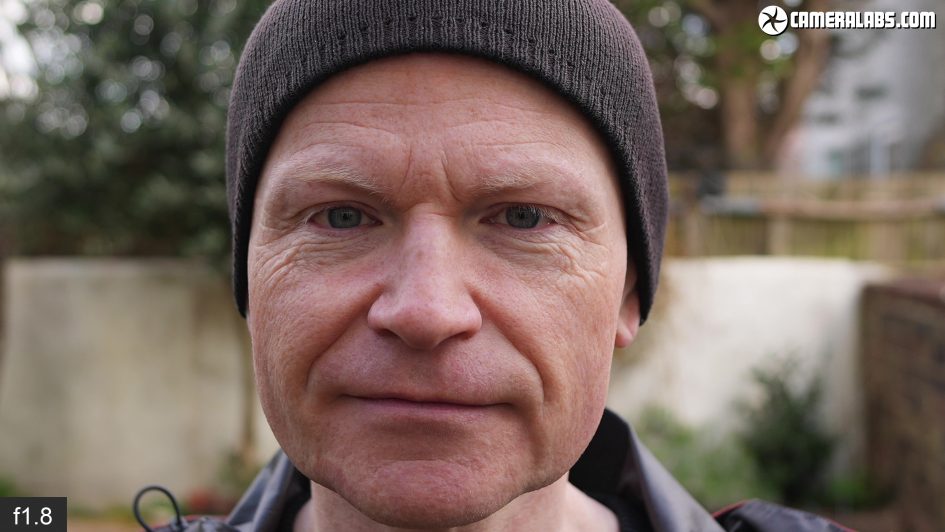 Above: But if you can stand taking a closer look, you'll see the lens is sharp on my eyes and renders a nice-looking background behind me at f1.8.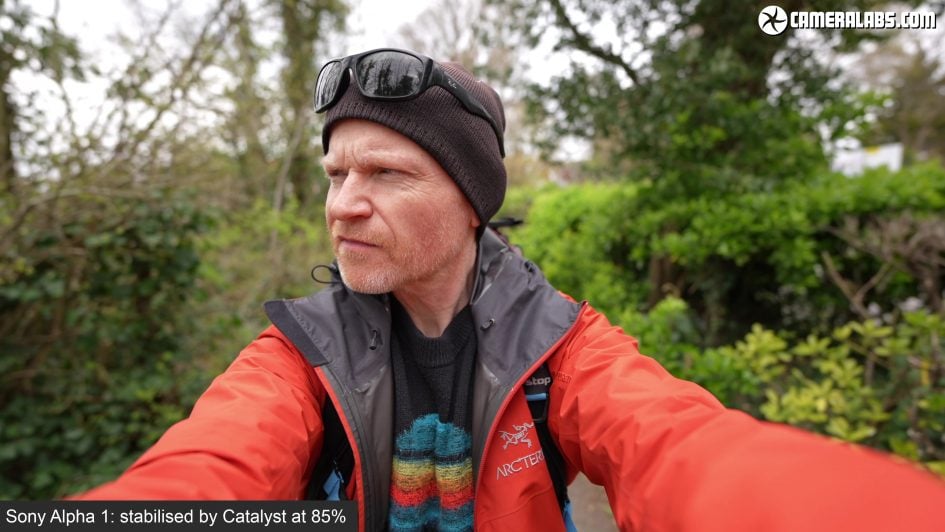 Above: It is however a great focal length for the vloggers out there who want to capture a very wide field of view to show their surroundings, and there's also plenty of latitude for cropping to provide additional digital stabilisation.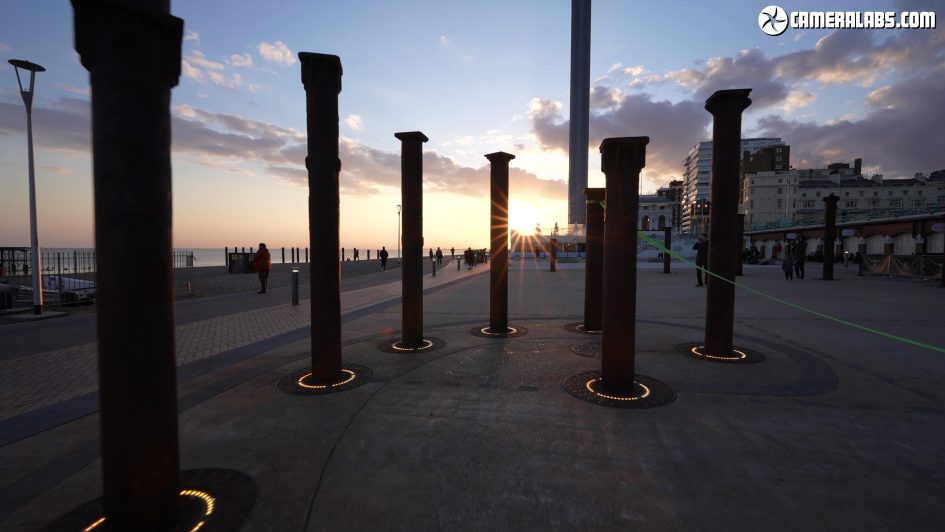 Above: Video is key application for the 14 1.8, especially now it can be balanced so easily on a gimbal, so I sent Ben out on his skateboard to try it out on the Alpha 1 with his Zhiyun Crane V2. You can see his compilation in my main review video at the top of the page.

Check prices on the Sony FE 14mm f1.8 GM at B&H, Adorama, WEX UK, or Calumet.de. Alternatively get yourself a copy of my In Camera book or treat me to a coffee! Thanks!