Sony FE 12-24mm f4G review
Verdict
The Sony FE 12-24mm f4.0 G delivers wide to ultra-wide coverage with the distinctive advantage of going down to 12mm which gives an extremely wide view of 122 degrees on a full-frame sensor and delivers visibly more coverage than lenses starting at 14mm. It's also a relatively small and light lens balancing well on todays small mirrorless cameras.
The lens has very good center resolution and performed well regarding contrast, colour aberrations, and coma, producing good image quality on a demanding 42MP Sony A7 R II body. Focus is relatively fast, focus breathing is minimized, and zooming does not change focus. Its features also include thorough weather sealing and a focus-lock button.
But there is no rear filter holder which would have been useful as you cannot use standard front filters. I also wish resolution at the APS-C-corner were a bit better. Mind you, the lens does not look outright soft there but the Sigma is the benchmark here. And there is a slight loss of contrast at 24mm in the center from haloing/blooming at f4.0.
Let's have a closer look at how the Sony FE 12-24mm f4.0 G compares to some alternatives.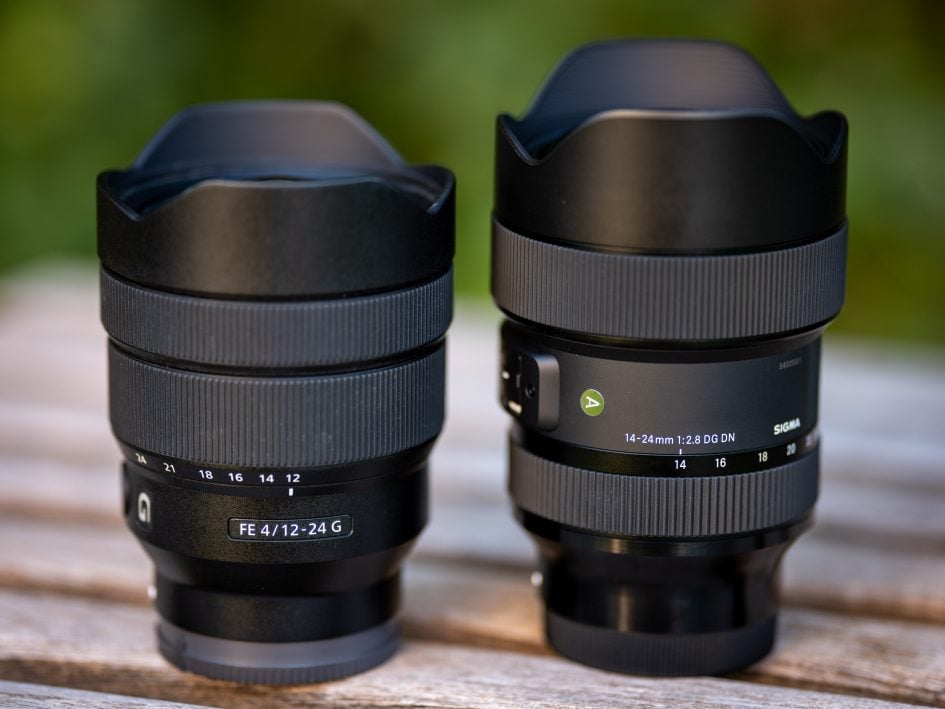 Compared to Sigma 14-24mm f2.8 DG DN Art
The Sigma 14-24mm f2.8 DG DN Art is an excellent lens and optically better than the Sony FE 12-24mm f4.0 G with regard to Bokeh, sharpness outside the center, coma, and resilience against flare and glare – although not by a large margin. The Sony on the other hand offers an 8 degree wider angle of view on the short end and is over 200g lighter and also smaller than the Sigma. But then it's also one stop less bright with its f4.0 focal ratio. With roughly comparable prices of both lenses the decisive question in the end is: Do you value the 8 degree wider field of view of the Sony FE 12-24mm f4.0 G more than the constant f2.8 focal ratio and better optics of the Sigma 14-24mm f2.8 DG DN Art?
For more details see my Sigma 14-24mm f2.8 DG DN Art review where it got Highly Recommended.

Compared to Sony FE 12-24mm f2.8 GM
Sony's FE 12-24mm f2.8 GM is twice as expensive as their FE 12-24mm f4.0 G. For that it offers a one stop brighter focal ratio and the option to use gels in a rear filter holder. But the lens is also bigger and 50% heavier than the Sony f4.0 G. Optically Sony's f2.8 GM is superior to its smaller sibling rendering images that are often sharper at f4.0 than from the Sony FE 12-24mm f4.0 G at f5.6. And with its brighter focal ratio it also produces a stronger background blur.
For more details see my Sony FE 12-24mm f2.8 GM review where it got Recommended.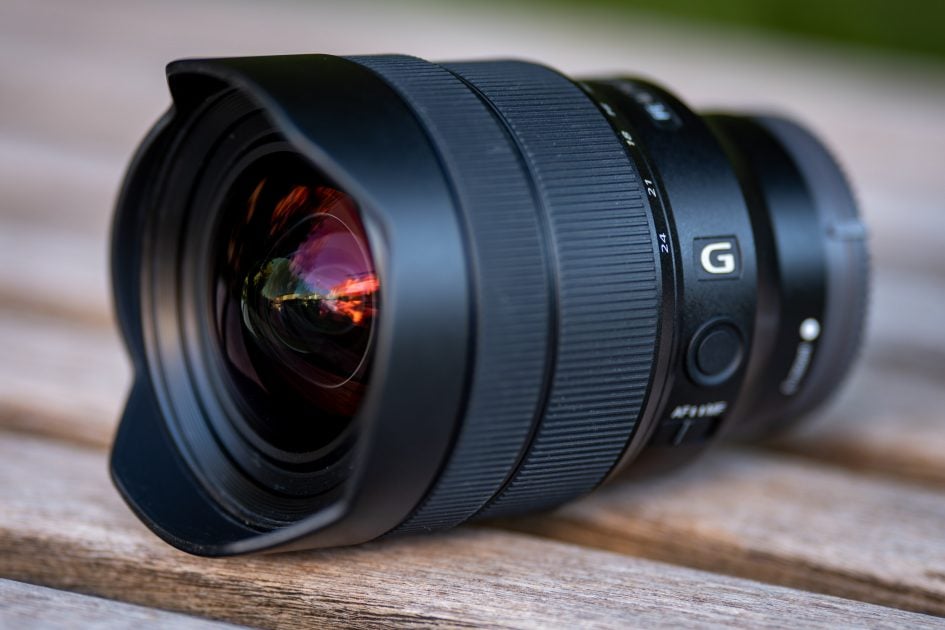 Sony FE 12-24mm f4.0 G final verdict
The Sony FE 12-24mm f4.0 G combines a 2x zoom range with an ultra-wide coverage starting at 12mm in a relatively small and light package. It has very high resolution in the center but acuity drops off visibly towards the corners. The lens copes well against strong contra-light, an important aspect of ultra-wide angle lenses. And focusing is fast, quiet, reliable, and shows little breathing or shift while zooming. Recommended!
Good points:
Extreme wide angle-of-view at 12mm focal length.
Relatively small and light.
Very sharp center and good resolution and contrast overall.
No longitudinal colour aberrations and only little coma.
Good resistance against flare, glare, and ghosting.
Low vignetting and minimal distortions at the long end (through lens profile).
Extensive weather sealing.
Fast, quiet, and reliable focusing with very little breathing.
Zooming does not change focus.
Bad points:
Focal ratio of f4.0 less bright than alternatives.
Cannot use standard filters, no rear filter holder.
Distortions on the short end not completely corrected through lens profile.
Check prices on the Sony FE 12-24mm f4 G at Amazon, B&H, Adorama, or Wex. Alternatively get yourself a copy of my In Camera book or treat me to a coffee! Thanks!