Verdict
The Sony RX100 IV is arguably the most powerful compact camera around, packing a wealth of features to delight still photographers and videographers into a genuinely pocketable body. The combination of high-end features in a small body are what makes the RX100 IV unique – sure, there are even more capable cameras with bigger sensors too, but their bodies are correspondingly larger, and while Canon has managed to squeeze the 1in sensor into a slimmer body with the G9X, its overall feature-set doesn't come close to the Mark IV.
The basics of the RX100 Mark IV may be inherited from the year-old Mark III, but remain impressive on this latest generation: the 24-70mm f1.8-2.8 lens, popup viewfinder, and tilting screen which angles forward to face the subject for selfies or filming vlogs. The viewfinder is the highlight, appearing as if from nowhere inside the body, but now packing a more detailed panel than before – it'd be good on any camera, but the fact it folds flush into a pocket body remains one of Sony's famous miracles of miniaturisation.
As before there's a ton of control over exposure and focus, complemented by numerous guides including focus peaking and zebra patterns. Dig a little deeper and you'll find a number of enhancements over the Mark III including a new electronic shutter supporting shutter speeds to 1/32000, deeper nine-frame exposure bracketing with a new self-timer option to trigger the burst hands-free, an expanded flexible spot focusing mode, and the chance to not only charge the camera over USB but actually shoot when powered by an external source, just like the latest Alpha A7 cameras.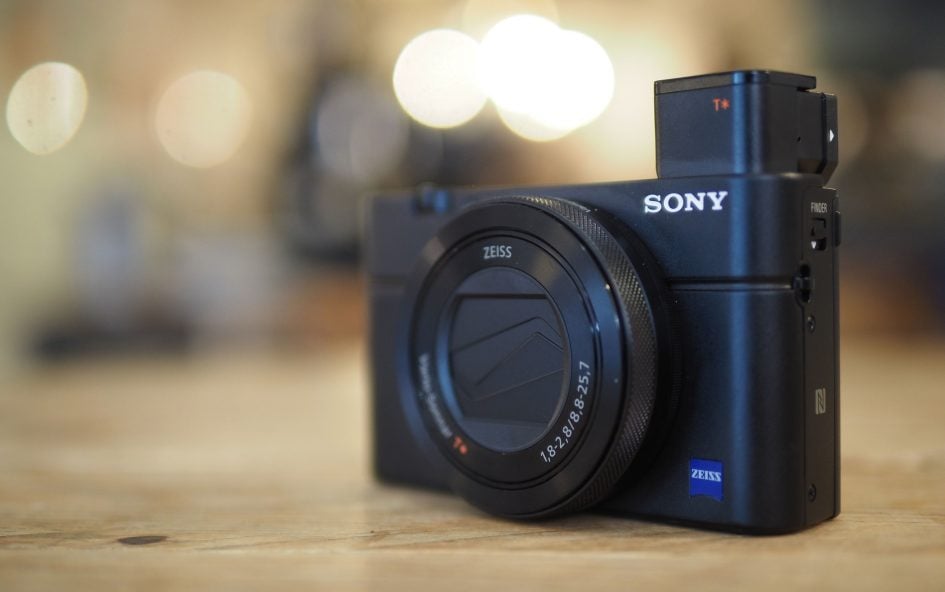 The major new feature though is the sensor, the first time Sony's deployed a stacked design on the 1in size used by the RX100 series. This allows DRAM memory to be integrated in its own layer, in turn allowing data to be read and processed considerably faster than before. This speed is what allows the RX100 IV to shoot continuously at 16fps with minimal blackout between frames and film video at 4k resolution or at very high frame rates for up to 40x slowdown.
In my tests it all works as promised too. The Mark IV really can fire-off very fast bursts and for several seconds too. Blackout is virtually non-existent in the fastest Speed Priority mode. The 4K video looks great and while the small body means 4K clips are limited to five minutes to avoid over-heating, it's still long enough for many situations. Another nice bonus of the higher speed data readout is less skewing when shooting with the electronic shutter – admittedly the Mark IV wasn't totally immune to skewing in my tests but it's a lot better than other electronic shutters I've tested.
The highlight of the sensor though has to be the High Frame Rate (HFR) movie modes which can slow the action by 10, 20 and even 40x. The best quality mode only captures a two second burst, and as the frame rate increases, the resolution decreases, but the 10x mode comes close to Full HD and the 20x mode is still very respectable. Only at 40x slowdown is there a significant loss in quality, although depending on the subject it can still be worth the sacrifice. Meanwhile if you demand genuine Full HD, you can shoot 1080p at up to 120fps for a 4 to 5x slowdown. Here's a compilation I filmed with the RX100 Mark IV.
Such features are undeniably impressive but would be pointless if the core image quality wasn't up to scratch. I'm pleased to report the RX100 IV delivers very good photo quality which represents a big step-up from compacts with smaller sensors; indeed Sony's familiarity with its own sensor technology also means the RX100 Mark IV's processing typically delivers crisper images with less noise than most other 1in compacts.
But while I stand behind my original statement that the RX100 IV is the most powerful pocketable compact to date, it's not without some issues. Most glaring for me is the absence of a touch-screen which makes positioning of the AF area or entering of text (for Wifi, copyright and sharing) unnecessarily convoluted. I tested the RX100 IV alongside Canon's G9X, an entry-level 1in compact costing half the price, and found it revealing the G9X was so much easier to control thanks to its touchscreen.
Then there's the small things which Sony seems in no hurry to address: no GPS-logging in the smartphone app, no miniature effect for movies, duplicate menus on the downloadable apps, and no way to say where or when the camera should autofocus for movies. All odd decisions or omissions on a camera of this class, although to be fair none are deal-breakers. I could also criticise the inability to stay focused on subjects approaching in a sporting environment, but this capability eludes other compacts in this category too.
The biggest issue of all though is the price. With each generation of the RX100 series, Sony adds more features and bumps-up the price to a point where the Mark IV's launch price was uncomfortably close to four figures in the US. That's serious money and makes you not only look more critically at the things that are missing, but also whether you really need the new features which brought us to this point.
Personally speaking I'd have preferred the Mark IV to sport a touchscreen and phase-detect AF points for more confident continuous AF in stills and movies. These two features would surely have given it more mass-market appeal than esoteric slow motion video.
It's certainly worth noting Sony's RX100 Mark III gives you the same body, lens, screen and viewfinder (albeit with a lower resolution panel) for around 20% less, so if you don't need the ultra slow motion video, 4K movies and handful of feature updates, it could be a better choice; indeed this is why the Mark III remains my featured compact in my Buyer's Guide.
Then there's the plethora of alternative 1in compacts to consider. Canon's really got behind the idea with four current PowerShots emplying the 1in sensor (albeit the previous generation to the RX100 Mark IV): there's the G3X with its long zoom, the G5X with its viewfinder and fully-articulated screen, and the G9X with its slimmer body. The original G7X remains the key rival to the RX100 series though with its longer zoom, touchscreen and compelling price. If you don't need the viewfinder, the G7X is a compelling compact for the money – see my Canon G7X review for more details.
Ultimately while the RX100 IV enjoys a number of upgrades over the Mark III, the major ones are the slow motion video and 4k movies. If you're only into stills, the upgrades are fairly minor. So if you're really not interested in these enhanced video capabilities, I'd recommend going for the RX100 Mark III or one of Canon's models above. If you'd like a tiny interchangeable lens camera, there's also some good deals on the older Panasonic Lumix GM1 to consider.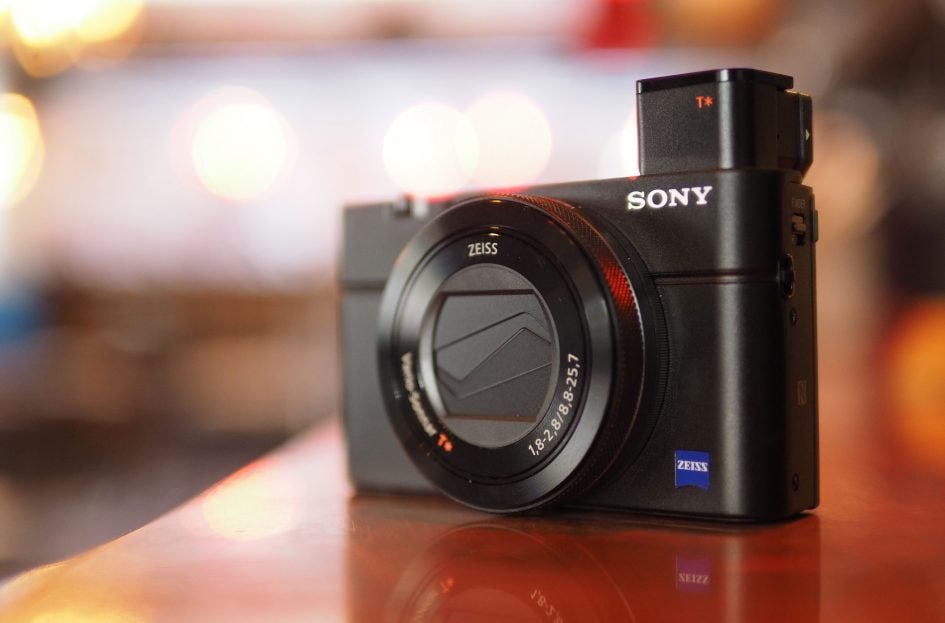 But if you are really into video, the RX100 IV will be your dream compact. The RX100 IV becomes one of the smallest traditional compacts with 4k video, and the slow motion modes from 4x to 40x are simply fantastic. Whether you're a film-maker, someone who analyses sports motion, or simply enjoys footage of your kids or pets running and splashing around, the RX100 IV delivers a combination of quality and features that hasn't before existed in this form factor. They enhance what was already one of the best compacts around and if you can exploit them, the Mark IV is the compact for you.
So while this latest generation of the RX100 series has become a more specialist rather than mainstream product, I'm still happy to award it a Highly Recommended. But if Sony's listening I'd really like the Mark V to include upgrades with greater mainstream appeal, such as a touch-screen, better continuous AF and the updated viewfinder housing of the RX1R II. They'll transform day-to-day shooting more than the ability to slow footage by 40x.
Good points
Pocket body with good quality 1in sensor.
Bright 24-70mm f1.8-2.8 lens range with ND filter.
Great quality viewfinder which folds into body.
4k video and fantastic slow motion modes from 4 to 40x.
Tilting screen flips-up to face subject for selfies and vlogging.
Can recharge and power the camera over USB.
E-shutter with 1/32000 max speed and low skewing.
Bad points
No touch-screen.
Too many button presses to reposition AF area.
Limited control over autofocus in movies.
No GPS logging in smartphone app.
Duplicate menus for downloaded apps.
4k video clips limited to five minutes.
High price compared to rival 1in compacts.