In depth
The Cyber-shot RX10 Mark IV is the update to Sony's high-end bridge super-zoom camera. Announced in September 2017, it retains its predecessor's 24-600mm f2.4-4 / 25x optical zoom, weatherproof body and OLED EVF, but inherits the latest 1in / 20 Megapixel sensor, front-side LSI and BIONZ X processor and from the RX100 Mark V, crucially equipping it with phase-detect autofocus for the first time in the series – indeed for the first time in any super-zoom bridge camera.
Phase-detect autofocus allows the RX10 Mark IV to quickly and confidently refocus, finally making the long lens practical for serious sports, action and wildlife photography, especially combined with the camera's 24fps bursts for up to 249 images. The PDAF system can also be exploited in 4k video which now avoids pixel-binning for higher quality; there's also Full HD at 120p and Sony's HFR modes which film short bursts at 240, 480 or 960fps for super slow-motion.
As before composition is with a large XGA OLED viewfinder or a 3in tilting screen, although the latter is now touch-sensitive for the first time on an RX series and can also be used as a touchpad when composing with the viewfinder. Meanwhile the Wifi and NFC are now complemented by Bluetooth for always-on connectivity with your phone and easy GPS tagging.
I had the chance to shoot with the RX10 Mark IV and have put together my detailed first impressions below. these include in-depth autofocus tests, a large selection of image and movie samples, and a new video / podcast interview with Doug Kaye where we discuss this exciting camera!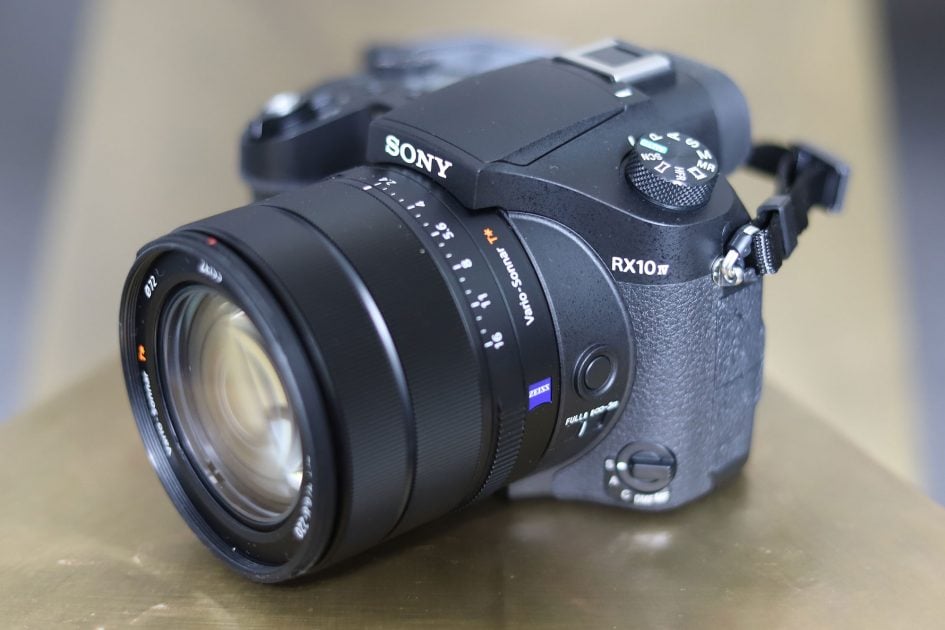 Sony RX10 Mark IV video review / podcast
In the video below, Doug Kaye and I discuss everything you need to know about the Sony RX10 Mark IV! I also have an audio podcast of this discussion below the video or you can subscribe to the Cameralabs Podcast at iTunes.
Sony RX10 Mark IV hands-on shooting report
I had the chance to shoot with a final production Sony RX10 Mark IV running firmware v1.0. In terms of design, controls and operation it's virtually identical to the Mark III before it, sharing essentially the same DSLR-styled weather-sealed body, XGA OLED viewfinder, screen articulation and optics. The only external difference is the addition of a focus limiter switch below the focus hold button on the side of the lens barrel, offering infinity to 3m or the full focusing range. Owners of the Mark III may also notice the dedicated aperture ring is now knurled all the way round the bottom, making it easier to turn when you're shooting with the screen angled up.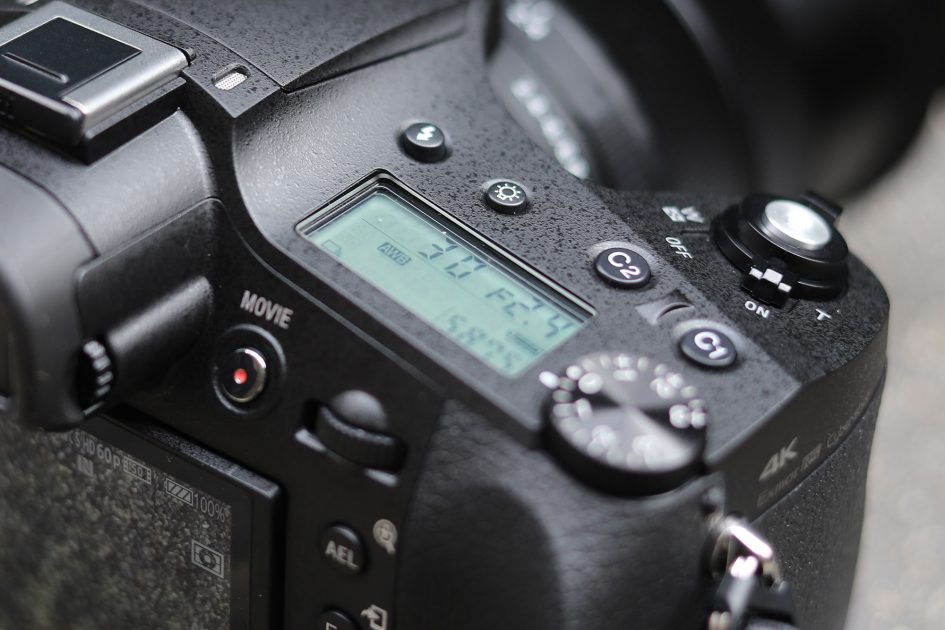 The touchscreen is new of course, but like other recent Sony cameras sporting the feature, you may not notice it in many situations. The menu system still can't be navigated by touch, even the Fn menu with its large icons is surely crying out for it. In playback you can't swipe, pinch or tap, limiting the touch functionality pretty much to moving the focus area during composition alone. As you'd expect, you can tap to reposition the AF area either for stills or to pull-focus while filming video.
Here's an example of it in a movie, where I used the feature to pull focus between the candles without over-shooting. You can also configure a touchpad feature where a portion of the screen can be set up to move the AF area while you compose through the viewfinder. In use it all works, but felt a tad unresponsive. Ultimately I'm delighted the touch hardware is now present on more Sony cameras, but the company really needs to broaden the scope of operation, as well as making the adjustment of the AF area feel more responsive.
Most of the really important upgrades are internal, although some are initially easy to overlook. The stabilisation algorithm has been improved, so while the degree of compensation remains roughly the same as before, the camera is much better at telling the difference between camera shake and genuine movements. In use you notice it straightaway, allowing you to frame, recompose and track much more easily at longer focal lengths. Sadly there's still no built-in ND filter though, apparently a significant challenge on this particular lens range.
The addition of Bluetooth is very welcome, and again like recent Sony cameras also sporting the feature, allows the RX10 Mark IV to pair with your phone to retrieve and automatically embed GPS locations on your images without effort. The initial pairing process takes a few steps and you'll need to make sure the camera is selected for location logging in the Play Memories app on your phone – and that the app is running too – but once configured it all works very well without further intervention.
In terms of movies, you can still film 4k in 24, 25 or 30p with a mild crop, or 1080 up to 120p; there's also Sony's HFR modes which allow you to capture at 240, 480 or 960fps, now with maximum recording times of four or seven seconds in Quality or Shooting Priority respectively. Here's a handheld clip showing the full 25x optical range of the zoom in practice in 4k at 24p.
Existing Sony owners will know their imaging pipeline has long had sufficient bandwidth to actually record two different video streams simultaneously if desired, perhaps to create an instant smaller version for sharing. The engineers have taken this concept further on the RX10 Mark IV so that the smaller 720p version can now share the same metadata and time-code as the original high resolution version, allowing it to act as a proxy file for easier editing; you can of course also use this smaller version for quicker sharing.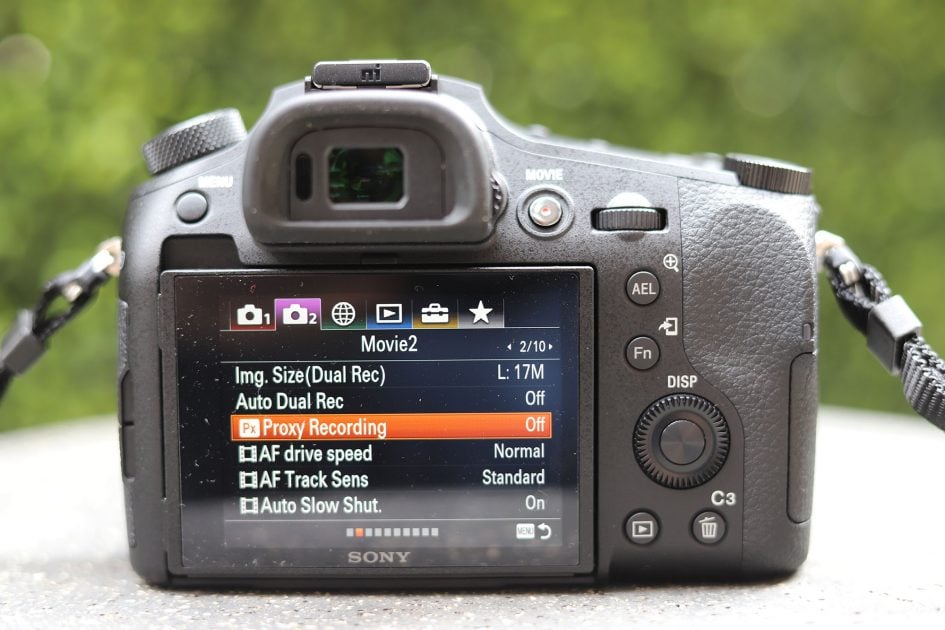 Focus peaking has been greatly improved thanks to the use of a higher resolution baseband image, allowing the camera to more clearly indicate the area in focus and do it more accurately and reliably too. Previously when only small patches of the subject would show peaking, now the RX10 Mark IV shows much clearer areas; indeed the focus peaking is superior to any Alpha to date. Pro video shooters will also appreciate the presence of both S-Log 2 and S-Log 3 via the Picture Profiles. Here's a clip filmed with Picture Profile 8 / S-Log 3 for subsequent grading.
The big news is of course the new sensor with the embedded phase detect AF system, inherited from the RX100 Mark V. Coupled with the front-side LSI, enhanced BIONZ X processor and AF algorithms which, according to Sony engineers, contain the essence of the A9, the RX10 Mark IV is transformed into a camera you can genuinely use to shoot fast action.
315 phase-detect AF points are embedded on the sensor, covering 65% of its total area, or roughly 80% horizontally and vertically; these figures make it sound like there's big gaps around the edges, but the rectangle of coverage almost touches the top and bottom of the frame, leaving a strip on either side.
The AF system is driven by similar algorithms to the flagship Alpha A9, including Sony's High Density Tracking AF Technology, which does a great job at identifying and keeping hold of the subject. There's a variety of zoning, expand or single area options, but in use, I found the Wide area mode generally locked-onto the desired subject wherever it started – and ended-up – on the frame. If you're shooting portraits, there's accurate Eye AF and you can also now configure one of the customizable buttons to offer AF-On functionality if you prefer to keep it separate from the shutter release. The RX10 Mark IV also inherits the excellent Recall Custom Setting During Hold option which allows you to configure three banks of custom settings including the AF area and shooting mode – brilliant for switching between your general and fast action settings.
The RX10 Mark IV also boasts considerably faster burst shooting than its predecessor, capturing full resolution images at 3.5, 10 or 24fps. The camera will shoot at the top speed of 24fps with full autofocus and auto exposure for up to 249 frames, giving you ten seconds of continuous shooting.
It all adds up to a camera that feels a lot like the Alpha A9, but with a fixed 24-600mm / 25x zoom. Of course the sensor's much smaller, but as you compose, track and capture fast action through the electronic viewfinder, you do feel like you're shooting with a higher-end interchangeable lens camera rather than a bridge super-zoom.
I used the RX10 Mark IV to shoot birds of prey, energetic dogs, soccer and sprinting, and in each instance it performed very confidently, even zoomed to its maximum 600mm equivalent focal length. For each test I shot with the RX10 Mark IV in Manual mode with a shutter of 1/2000, the largest available aperture and Auto ISO. I selected Wide area AF, 24fps burst shooting, and Fine JPEG quality.
To start with, here's a sequence of a sprinter running directly towards me. I performed the test twice, first with Wide Area AF and second with Face Detection, and in both cases I was shooting at the maximum 600mm; I've presented the full images and 100% crops from the latter sequence here.








As you can see, the RX10 Mark IV has delivered a very high hit rate where the majority of the images are in perfect focus; those that aren't spot-on are certainly very close. Of course 16 frames at 24fps represents less than a second of action, so to highlight the camera over a longer period, here's four frames from the same sequence but picked at regular intervals from a total of 82 shots, representing about three and a half seconds of action. Once again all are very good to perfectly sharp, proving the camera can successfully track a fairly quick subject over an extended period.


For my next test I photographed birds of prey, a subject I always find challenging even when a handler is having them fly from one point to another. Here the Wide Area AF did a great job at keeping the subject sharp wherever it ended up on the frame. I shot this sequence at around 350mm focal length. Below I've presented a selection of images around seven frames apart, so the sequence represents just over a second of action.


And finally – for now – an exuberant doggie who loved her job. Here I shot at 600mm with the Wide Area and have presented 16 frames without any gaps, so you're looking at around two thirds of a second's worth of action, although again the frames before and after were sharp too. Note there's a soccer net in the background that becomes increasingly blurred as the dog comes closer; it's not sensor banding!








That's all of my test results so far, completing the first part of this review. I plan to do many more tests with the RX10 Mark IV in the future and will update this review, but from my initial time with the camera I was very impressed. Super-zoom cameras have long delivered a reach that brings you tantalizingly close to sports, action and wildlife subjects, but so far most have failed to couple them with an AF system that can confidently track them. Now the RX10 Mark IV can get close to a subject and focus on it with a similar degree of success to a high-end mirrorless camera. For me this makes the RX10 Mark IV the model to go for if you want to capture sports and wildlife, and don't want to lug around an interchangeable lens camera with a huge lens on the front.

Check prices on the Sony RX10 Mark IV at Amazon, B&H, Adorama, or Wex. Alternatively get yourself a copy of my In Camera book or treat me to a coffee! Thanks!