Sony Cyber-shot HX90V review
Verdict
These days it's not enough to simply cram a massive zoom range into a tiny form factor, a successful compact super-zoom has to accommodate a lot more besides. With its earlier HX50(V) and HX60(V) Sony was already doing pretty well, but reducing its already tiny proportions while adding a flip-up screen and an electronic viewfinder it's not resting on its laurels.
Though it has the same 24-720mm range, the HX90V's zoom is upgraded from the HX50/60V's G series lens to a new Zeiss Vario Sonnar T* design and the stabilisation is also upgraded form a 3-axis to a 5-axis system which proved extremely effective in my tests.
The LCD screen is unchanged in terms of its size and resolution, but the 3 inch 921k dot panel is now hinged at the top so can flip up and over for waist-level and selfie shooting. But the really big news is the addition of a new pop-up electronic viewfinder. The 0.2 inch 638k panel is small, but big enough to be useful as more than just a sunny weather fall-back, though the overlays can be a strain to see.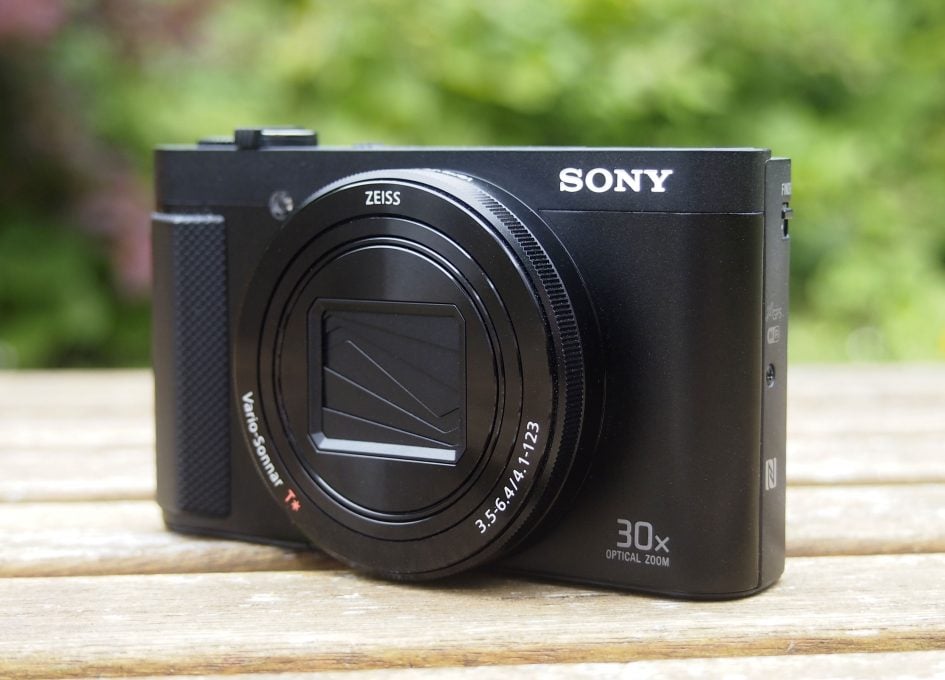 The reduction in size combined with the viewfinder and flip-up screen enhancements has necessitated the sacrifice of the earlier model's accessory hotshoe. This won't please everyone, but I think it's a trade-off that's well worth it. The built-in flash works fine for close subjects and fill in, and the number of occassions you're likely to want to mount a bigger flash is likely to be very small.
As before, the HX90V is equipped with Wifi, NFC and GPS, has the ability to download and install or update apps. and Sony has updated the remote shooting features. Though there's currently only a handful of apps available for the HX90V, this is one area where it has the potential to outrun the competition. That said, some of the apps offer features like time-lapse and interval shooting that you might expect to be included at no extra cost.
The HX90V faces strong competition from Panasonic's best-selling Lumix TZ70 / ZS50 which shares the same 24-720mm equivalent zoom range with a fractionally brighter f3.3-6.4 aperture than the f3.5-6.4 of the HX60V. Both models also have an EVF in common, and though the Sony's has a lower resolution it's a little bigger than the one in the TZ70 / ZS50. The HX90V also has the advantage of an articulated screen, where the TZ70 / ZS50's screen is fixed, but visibility is far better on the Lumix screen.
The other major difference between these two models is the sensor. The Lumix TZ70 / ZS50 has a 12 Megapixel sensor compared with 18.2 Megapixels in the HX90V. In my quality and noise tests, though it produces smaller images, the Lumix TZ70 / ZS50 produced significantly less noise, which is, after all, to be expected. Panasonic also allows you to record images in the RAW format, which may suggest it'll be appreciated by a higher-end audience, but it could be a red herring. In my tests with the TZ70 / ZS50, I couldn't extract any greater resolution or tonal detail from its RAW files, so the only real benefits were the ability to adjust things like the sharpening, contrast, saturation and subsequent compression. We all have different requirements, but for me the absence of RAW on the HX90V isn't the deal-breaker it may first appear. Finally, the TZ70 / ZS50 lacks a built-in GPS – though you can use your smartphone record a location track log which is subsequently used to tag photos. See my Panasonic Lumix TZ70 / ZS50 review for more details.
Nikon's COOLPIX S9900 is another strong competitor for the HX90V and is significantly cheaper. So is it a bargain alternative? Well the first thing you sacrifice for that budget price tag is the built-in electronic viewfinder, though the S9900 is equipped with a side-hinged 3 inch 921k dot LCD screen. The S9900 is quite a bit bulkier than the HX90V though and it doesn't look nearly as classy. The S9900 is equipped with Wifi and GPS but lacks NFC for easy connectivity and its image download and remote shooting features are more basic than those on the HX90V. It can display the location of your shots on a map display though. It lacks the higher end video modes of the HX90V with a top quality 1080 / 25p HD mode, though in its favour it has a couple of High speed video modes and Short Movie Show feature.
Finally, there's the Canon PowerShot SX710 HS to consider. Like the COOLPIX S9900 it offers a 30x zoom range at a more affordable price point than the Sony and Panasonic thanks to the absence of an electronic viewfinder. So if it's simply access to the big zoom in a compact body that you're after, Canon and Nikon will give it to you at a lower price. See my Canon SX710 HS review for more details. That said, if a viewfinder isn't a priority for you, earlier Sony models like the HX50V and HX60V could also prove to be a bargain buy.
For me though, an electronic viewfinder is a very useful addition to this type of camera – not only does it let you more easily compose in bright light, but the third point of contact allows you to hold the camera more steady, which is handy when you're handholding a 720mm equivalent zoom on a camera with a minimal grip. And if you decide you need an electronic viewfinder, then it becomes a two-way contest between the TZ70 / ZS50 and the HX90V. It's a very close contest too with little to separate them in terms of features and handling. The TZ70 / ZS50 offers RAW, which could be useful given the caveats above, along with the superior noise performance of its 12 Megapixel sensor and variety of high speed shooting modes. The HX90V on the other hand has built-in GPS, a slightly bigger (albeit lower resolution) EVF and is a little more compact overall. Both are excellent choices and come Highly Recommended.