The Sony Alpha A9 is a new flagship 24.2 Megapixel full-frame mirrorless camera, aimed at professional sports photographers. Announced in April 2017, it features the first full-frame stacked CMOS sensor which includes integrated memory and 20 times faster data readout compared to previous full-frame sensors. This allows the A9 to shoot at 20fps with autofocus for up to 241 RAW files or 362 JPEG images.
The A9 employs a fully electronic shutter to allow fast, silent and vibration-free shooting, shutter speeds up to 1/32000, and electronic composition with no blackout. Meanwhile faster speeds allow the A9 to deploy an anti-distortion shutter which claims to eliminate rolling shutter artefacts which have previously plagued electronic shutters. The embedded phase-detect AF system features 693 AF points spread across 93% of the frame, and operates at 60fps; Sony describes the AF speed as 25% faster than the A7r II.
The body becomes the first full-frame Sony mirrorless with dual SD slots (one exploiting UHS-II speed), and now features a new Z-series battery with 2.2x the life of W batteries, an AF joystick and touchscreen, along with dedicated drive mode and focus mode dials, an AF ON button, Ethernet port and a higher resolution quad-VGA (1280×960 pixel / 3686k dot) OLED electronic viewfinder with a 60 or 120fps refresh and again no blackout while shooting. Meanwhile there's built-in 5-axis stabilisation with five stops of compensation that works with any lens you attach, along with 4k video using the full-frame or Super 35 frames, or 1080p at up to 120fps. I tested a production-ready A9 with a variety of sporting events and have reported my initial thoughts below! Check back soon for many more updates, plus a bunch of images later this week when Sony's image embargo expires.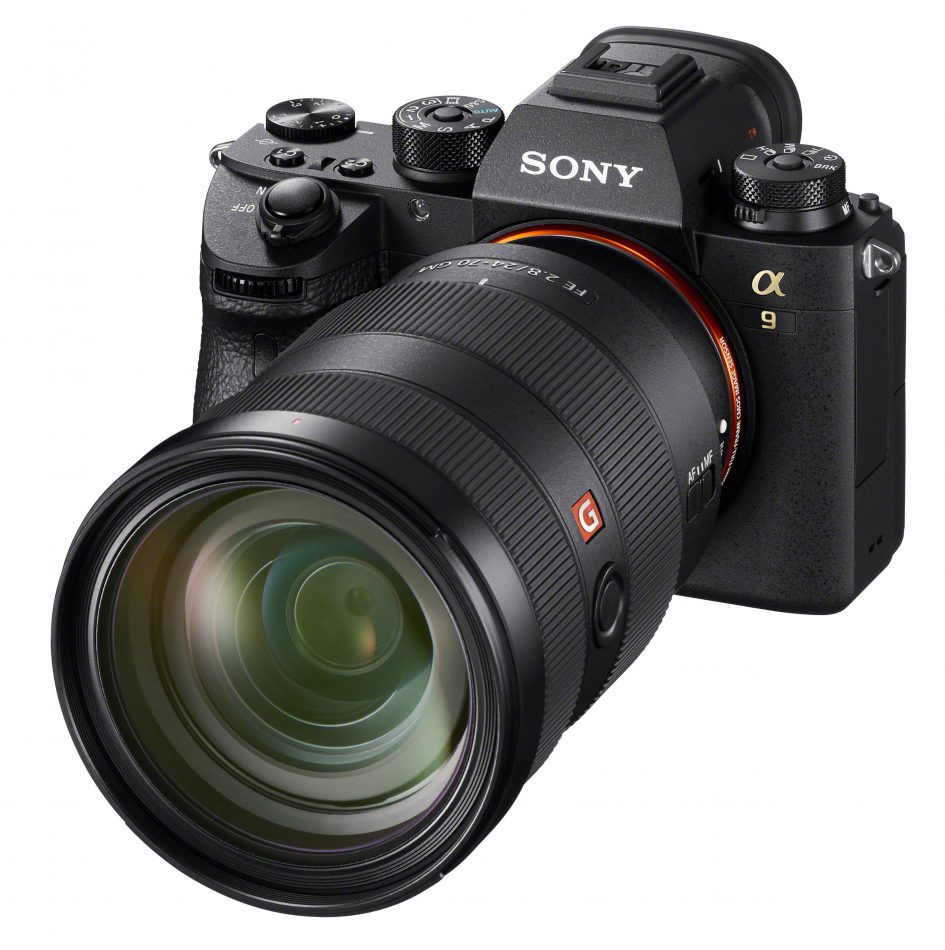 Sony Alpha A9 focus and continuous shooting
Sony's Alpha A9 features one of the most modern and sophisticated approaches to continuous autofocus and burst shooting around, exploiting the benefits of an electronic shutter system more than any other company to date. Deploying the electronic shutter allows the A9 to shoot long bursts of 24 Megapixel images at up to 20fps in complete silence, without any vibrations, at shutter speeds up to 1/32000, and with no viewfinder blackout either. A handful of other recent cameras have also exploited electronic shutters for fast burst shooting, most notably the Olympus OMD EM1 Mark II, but the Alpha A9 is the first full-framer to really get behind it for action photography – and I'm delighted to report it works extremely well, more of which in a moment.
Electronic shutters have always been able to shoot in silence at high shutter speeds and without vibration, but what makes the implementation of the A9 unique is the sheer speed at which its stacked CMOS sensor can retrieve data. This is what allows it to minimize the traditional risks of skewing from a rolling-shutter while also delivering a live image while shooting with no blackout or lag between frames. Sony also reckons its banished previous limitations on dynamic range when shooting electronically, although I should note it does limit the maximum sensitivity to 25600 ISO. The speed of the sensor coupled with the front-side LSI also allows Sony to claim impressive buffer depths of 241 RAW files or 362 JPEG images when using UHS-II cards.
While the A9 offers a mechanical shutter option (sensibly deployed with an electronic first-curtain only by the way), it's mainly reserved for compatibility with flash and other artificial lights, or to access the camera's maximum sensitivity of 204800 ISO. If you choose to shoot continuously with the shutter manually set to mechanical, you're looking at the A7r Mark II's fairly leisurely rate of 5fps with the usual viewfinder blackout and lag between frames. Set the shutter type to Auto and the A9 will select mechanical for single drive, but electronic for all the continuous burst modes, whether high, medium or low – and again all of these are delivered with no lag or blackout in the viewfinder. It's clear Sony is sufficiently confident about the performance of the electronic shutter on the A9 that it's effectively the default for burst shooting unless you go out of your way to circumvent it.
Whichever shutter you select on the A9, you'll be using it with Sony's best autofocus system to date, embedding a whopping 693 phase-detect AF points across 93% of the full sensor area. Compare that to the previous A7r Mark II which embedded 399 phase-detect AF points across 45% of its sensor area and it's clear how far Sony's progressed. Now the A9 can deploy the confidence and speed of phase-detect autofocus across almost the entire sensor, giving it the kind of frame coverage enjoyed by the A6300 and A6500, but with a much larger full-frame sensor area and the added benefits of zero blackout and 20fps bursts.
The A9's vast array of AF points sounds overwhelming compared to the competition with Nikon's D5 employing 153 AF points and Canon's EOS 1Dx Mark II offering a relatively modest 61. But as always it's important to understand not all AF points are created equal: a large number of the AF points on the Canon and Nikon are cross-type or even dual cross-type sensors which are sensitive to patterns in multiple orientations. In comparison, Sony has once again stuck with the simplest type of AF point, sensitive to a single axis only; interestingly Olympus is the only current mirrorless manufacturer to deploy cross-type sensors on an embedded array.
There's no winner in this particular regard as there's pros and cons to both approaches, but an advantage definitely enjoyed by the A9 is autofocus coverage. When shooting through their optical viewfinders, DSLRs employ separate phase-detect AF modules which concentrate their AF points into lozenge or diamond shapes, which on pro bodies occupy a roughly APSC area of the frame, leaving a thick border around it where the camera won't autofocus. In contrast, the A9's phase-detect coverage occupies 93% of the frame, allowing it to autofocus quickly and confidently track subjects even as they approach the extreme edges or corners of the frame; there's no need to AF lock and recompose as you would with a DSLR. And while Canon's Dual Pixel CMOS AF allows the 1Dx Mark II to autofocus in Live View across a similar area of the frame to the A9, it doesn't do so as quickly, nor does it support the fastest burst speeds either.
Sony also quotes the new AF system as working at light levels down to -3EV with an f2 lens, beating the -2EV of the A7r Mark II and the -1EV of the A6500. This also compares favourably with the competition with Canon's EOS 1Dx Mark II also working down to -3EV, leaving Nikon's D5 to take the lead in the pro bodies at -4EV, although I should add Panasonic's Lumix mirrorless cameras also work down to -4EV. Either way, it's great to see Sony lower the light levels under which the A9 will continue to autofocus as this was previously an area where it trailed behind the competition.
The A9's phase-detect system is complemented by Sony's usual 25 contrast-detect AF areas for alternative confirmation or backup. Like most recent Alpha bodies, the A9 employs phase-detect AF to get close in Single AF modes before zeroing-in with a contrast-based wobble, while in Continuous AF it relies completely on the phase-detect AF system.
In terms of AF areas, the A9 gives you the choice of Wide (which chooses for you across the entire array), Zone (which allows you to concentrate the AF on one of nine smaller areas), Center, Flexible Spot (which lets you manually position a single AF point of three sizes), and Expand Flexible Spot (which works like Flexible Spot set to the Small size, but also considers a small area around it).
If AF-C is enabled, you can also choose Lock-on AF which tracks a subject based on its shape and colour, surrounding it with an elastic frame that changes shape and size depending on where it is in relation to the camera. Lock-on AF is available with Wide, Zone, Center, Flexible Spot (small, medium or large), or Expand Flexible Spot. To kick-off you position the active AF area over the subject (or in the case of Wide and Zone, hope that it's automatically identified), then simply keep the shutter half-pressed for the camera to subsequently track it.
If Face Detection is enabled, it over-rides any of the AF area modes and focuses on the nearest human face instead, wherever it is on the frame, and in AF-C mode it'll do a good job at tracking people across the frame.
Like other recent Sony bodies, there's also Eye Detection which can be deployed with a separate button press once face detection has already framed a face. It works well with continuous autofocus, although I still hate having to hold a button down to enable it; surely it's better to go with a system like Olympus where you can pre-configure face detection to use eye detection automatically if desired (and detected), then just leave the technology to work its magic if the conditions allow.
So specifications out the way, how does the autofocus and burst shooting come together on the A9 in practice? To find out I attended a Sony event where I got the chance to shoot figure skaters and ice hockey on a rink, along with covering an entire athletics track meet. I also took the opportunity to perform further tests with cyclists. The bottom line? The AF performance was tremendous, the burst speed impressive and the blackout-free viewfinder while slightly odd at first, quickly proved addictive. Here's my experience.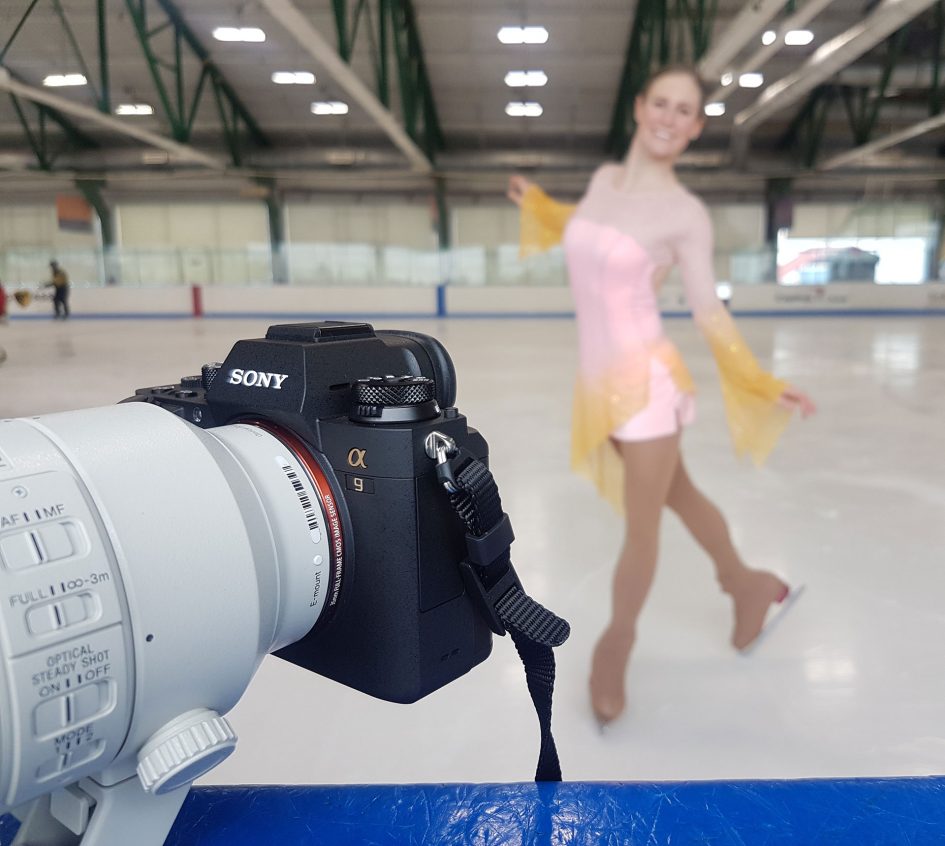 I almost exclusively shot with the electronic shutter and the Continuous High burst speed of 20fps, using a Sony G UHS-II 128GB card rated at 300MB/s read and 299MB/s write, and inserted into the slot which supports the speed of UHS-II. In terms of lenses I mostly shot with the Sony FE 70-200mmm f2.8 GM, but also tried the new 100-400mm GM as well as the older 24-70mm f2.8 GM for closer action. But before even getting to the performance of the camera's electronics, it's the physical changes Sony's made which you'll notice first.
On previous Sony mirrorless bodies, you were forced to enter menus to adjust the drive mode, AF mode and AF area; repositioning an AF area was also frequently convoluted. We all complained and finally Sony listened: the A9's new dedicated drive and AF mode dials make selecting the desired settings as straightforward as they should be, while the addition of an AF joystick and touchscreen mean you can reposition a single AF area or zone with ease. If you prefer to activate the AF with a back button, there's the long-overdue addition of an AF-ON button. Even better, it's now possible to configure function buttons to quickly deploy up to four banks of custom settings that can include AF mode, AF area and drive mode. Push and hold a custom button and you could immediately switch from, say, wide area with fast burst speed and continuous AF to a centre point with single AF and single drive. These controls and customisation literally transform the user experience over older Sony bodies that may have sported leading technology but frequently proved frustrating in use. It's a necessary step too for the A9 to be taken seriously as a pro workhorse and a viable alternative to Canon and Nikon.
In terms of AF areas, I generally found myself sticking with Expand Flexible Spot or Zone for approaching subjects like cyclists or runners, but found Wide could be very effective for close-range action. Meanwhile Lock-on AF worked well with the single area modes, allowing you to positively identify the desired subject before then letting the camera track it from that point onwards. As always – and in particular with Sony cameras – the trick is to experiment with all the settings to find combinations that work for your style of shooting with specific subjects.
I was also very impressed with face detection which successfully identified and tracked human subjects even when they were tiny on the frame, and often when the subjects were wearing helmets. There's a sense of relief when you see the square frame surround a subject as you know it's pretty much now going to be tracked with a high degree of success while it remains in the frame.
Whatever AF area I used, I was struck by the expanded coverage of the system. Unless you've used cameras like the A6500, there's an inevitable tendency to try and keep the subject near the centre of the frame where you know it will fall within the best-performing section of the AF system. With the A6500 though – and now the A9 – you can relax and let the subject approach the edges or corners of the frame, confident the camera will continue to track it effectively. This in turn opens up greater compositional flexibility, again with the reassurance you're not shooting with the AF locked or blind.
I was also impressed by the speed at which the A9 locked-onto a subject and stuck with it. I shot over 8000 frames with the camera (on a single battery charge too, see photo below) and barely noticed it struggling at any point. But again this is the level of performance the camera needs if it's going to compete with pro Canon and Nikon bodies.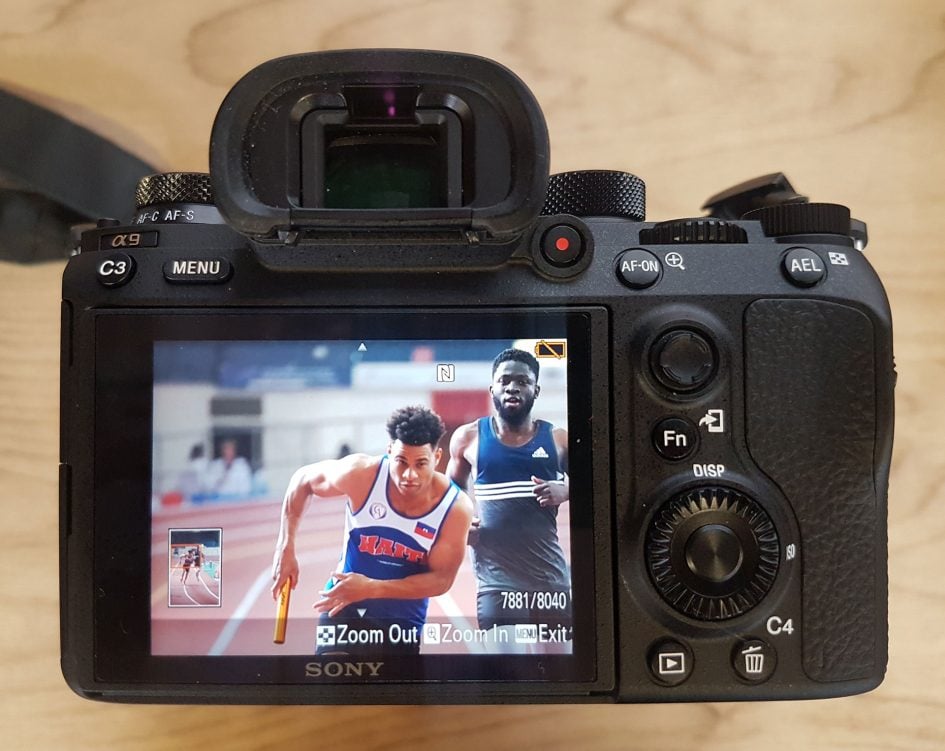 Having seen how far Sony's come with autofocus over recent generations, I wasn't entirely surprised to find the A9 performing as well as it did in my initial tests, but I was more sceptical over the electronic shutter experience. It certainly takes some getting used to with an absence of vibration, sound or viewfinder blackout; indeed if you don't have any of the shooting aids enabled, you can find yourself accidentally shooting a bunch of frames without even realising it.
So the first thing you'll probably want to do is enable one of the Shoot Timing Display options which superimpose visual aids to indicate when you're actually taking photos. I found the default thin grey frame worked well, flickering away to indicate the system working – you can see it in action in my video in a moment. I also found the Shoot Timing Display option useful, which indicated the buffer remaining with a decreasing vertical bar on the left side of the image. Then if the venue and situation isn't too quiet, you could also enable an electronic shutter sound, although of course if you're at a discreet event like a wedding or presentation, it's really nice to shoot silently. Anyone shooting video alongside you will be your new best friend.
But even with visual and audible feedback, it's still quite eerie to shoot with a viewfinder that shows a constant live image without any blackout or lag. It's something you get used to quickly though, and it's so refreshing to be able to follow a subject without the view ever disappearing. I filmed the following burst though the A9's viewfinder to indicate what the absence of blackout – and the flickering grey frame – look like when shooting at 20fps.
If you're familiar with electronic shutters you'll already know about the silence, lack of vibration and super-fast shutter speeds (up to 1/32000 on the A9), but you'll also know about their limitations so far. Most systems to date operated with a reduced dynamic range, some restrictions involving artificial lighting and worst of all, the risk of rolling shutter skewing artefacts. How well the A9 handles these will make or break the whole concept of shooting electronically. First things first: when set to the electronic shutter the A9 will limit the maximum sensitivity to 25600 ISO (versus 204800 ISO on the mechanical shutter) and also appears to disable any kind of flash sync whether via the hotshoe or sync port (I'm confirming this). In terms of my initial tests, I didn't personally notice any compromise in dynamic range or noise compared to the mechanical shutter, but it's something I'll be examining more closely in my next raft of tests.
As far as the rolling shutter is concerned, I tried making some very fast pans with the A9 at a variety of shutter speeds from 1/2000 up to 1/32000 and found evidence of skewing on vertical lines, like fencing and signage. It's definitely there if you look for it, but to be fair it's much better-controlled than any camera I've tested to date thanks to the faster readout of the sensor and it's also important to add I never noticed it in any of my actual real sports shots, including those where I panned to follow the subject. If you're shooting an aeroplane zooming past at an airshow or a racing car at a motorsports event, you may notice some skewing at the point of maximum panning speed, but for most situations – certainly those involving subjects approaching or receding – it will probably remain invisible. Again I intend to perform many more tests and also recommend seeing what others have reported under different conditions – it could be a deal-breaker for your desired subjects or a non-issue.
At this point you may be wondering where all my photographic examples are? The answer is on my drive, waiting for Sony's image embargo to expire later this week! Once I'm allowed to post example images, I'll update this article with plenty of them to illustrate everything I've discussed and you'll be able to see for yourself how effective the A9 can be for sports and action photography.
What I can do in the meantime though is provide more detail on the continuous shooting speed. To test the A9's continuous shooting in a more formal environment, I timed a number of bursts using different settings. In each case I used a shutter speed of 1/500, a sensitivity of 400 ISO and recorded onto a fast Sony UHS-II card fitted in the slot which exploits the full speed.
Starting with the electronic shutter with the quality set to JPEG Fine and the drive set to High, I fired-off 363 frames in 18.19 seconds for a speed of 19.95fps. Set to uncompressed RAW, I managed 122 frames in 10.2 seconds for a speed of 12fps. The JPEG performance meets the depth and speed quoted by Sony, but oddly the RAW performance fell short in speed and depth. Sony described the body as offering final production performance, but it was still an early sample so I will retest this with a later version and update as required. Either way though, the A9's no slouch when it comes to shooting JPEGs.
I'll also add that when switching to the mechanical shutter, the buffer clears in real-time for JPEG or RAW, effectively allowing you to shoot for as long as you like – albeit at the much slower speed of 5fps.
That's it for now, but check back soon for many more updates to my review-in-progress!