Sony Alpha A7r III review
In depth
Sony's Alpha A7r Mark III is a full-frame mirrorless camera with 42.4 Megapixels, 4k HDR video and 10fps continuous shooting with autofocus. Announced in October 2017, it's the successor to the A7r Mark II launched just over two years earlier. The new Mark III shares the same 42.4 Megapixel Back-Illuminated CMOS sensor as its predecessor as well as the same body shape, but inside there's a number of important differences, not to mention a few on the outside too.
Starting with image quality, the A7r III may share the same sensor as the Mark II, but couples it with improved circuit design and image processing to deliver a higher dynamic range: Sony claims 15 stops to the 14 on the A7r II, and 14-bit RAW is now available in both the mechanical and electronic shutter modes, including bursts of uncompressed RAWs. The built-in stabilisation has also improved to offer 5.5 stops of compensation and support a new Pixel Shift Multi Shooting mode which captures four frames (shifted up, down, left and right by one pixel each) that can be later composited in software to eliminate demosaic / false colour artefacts.
The sensor offers the same 399-point embedded phase-detect AF system, but complements it with a new 425 area contrast-based system (up from 25 on the A7r II), with Sony claiming AF speed, subject tracking and eye AF all operating twice as fast as before, and at light levels down to -3EV. The Mark III can also shoot bursts at up to 10fps (or 8fps with live feedback) using the mechanical or silent electronic shutter, both with full AF and AE. 4k recording is still available in full-frame or Super-35 modes (the latter still delivering better quality thanks to its oversampling of 5k data), but there's now the option of S-Log 3 and Hybrid Log Gamma HDR, as well as 1080 at 120p. And while the body shape is unchanged from the Mark II, Sony has impressively managed to squeeze-in the dual SD slots (one exploiting UHS-II), AF joystick, AF-ON button, PC Sync port, Quad VGA OLED viewfinder, and the NP-FZ100 battery pack (2.2 times the capacity of the old battery) from the Alpha A9. The screen is also now touch-sensitive and there's both USB-2 and USB-C / 3 ports, allowing you to power the camera with one and tether with the other if desired. Like the A9, there's no PlayMemories apps, so you'll be looking to a third party for an intervalometer. Here's my first-looks video review, followed by my thoughts, results and samples so far! I'm well-underway with my final review, so check back soon for lots of updates!
Sony A7r Mark III body and design notes
The Alpha A7r Mark III may share the body shape of its predecessor, but inherits a number of controls and other physical enhancements introduced on the larger A9. I really hoped they'd make an appearance here, but assumed it would involve adopting the A9 body. As it stands, Sony has managed to squeeze them into the smaller A7 II series body despite previously suggesting this wouldn't be possible. I also understand the weather sealing is a little better than the A7r II.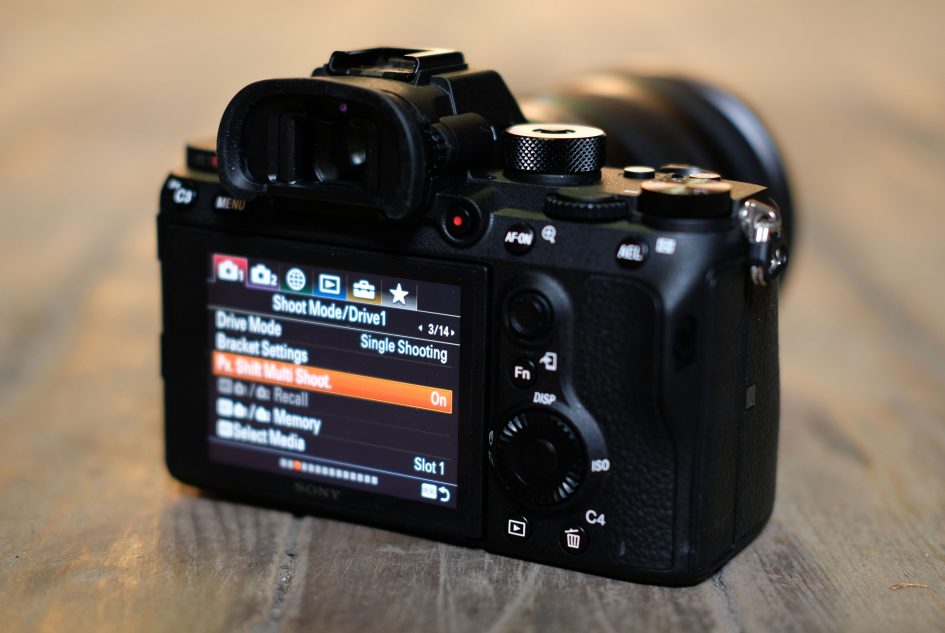 So while the A7r Mark III misses out on the A9's dedicated drive and focus dials and hard-wired ethernet port, it does gain the AF joystick and AF-On buttons, the larger and more tactile rear wheel, the more sensibly-located movie record button, the beautifully-detailed Quad VGA (1280×960 pixel / 3686k dot) viewfinder, dual card slots, PC Sync port, and best of all, the larger capacity Z battery with over twice the life of the earlier battery pack. Sony quotes 650 shots with LCD or 530 with viewfinder, although as I discovered with the A9, you can expect much more in practice when shooting bursts.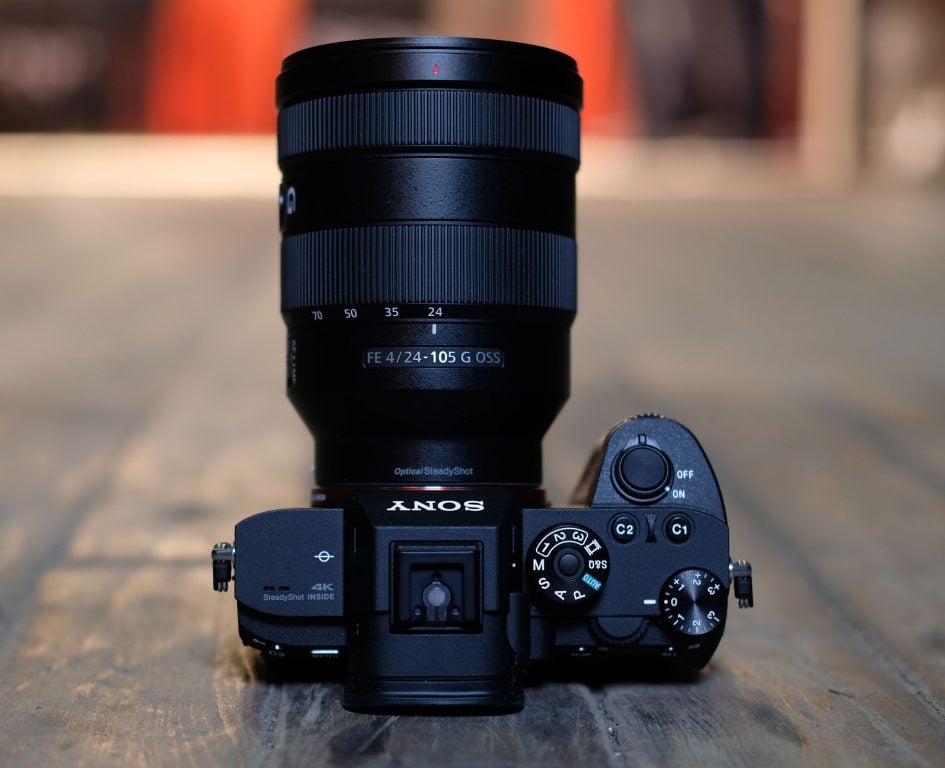 The Z series battery transformed the A9 and will do the same for the A7r Mark III, eliminating the annoyingly short life of its predecessor. Gratifyingly, the A7r Mark III is also compatible with the optional VG-C3EM grip for the A9 that accommodates two Z packs to double the life again. I should also add the dual card slots now support relay recording where RAW and JPEGs can be set to record to separate cards and movies can carry over to another card when the current one fills.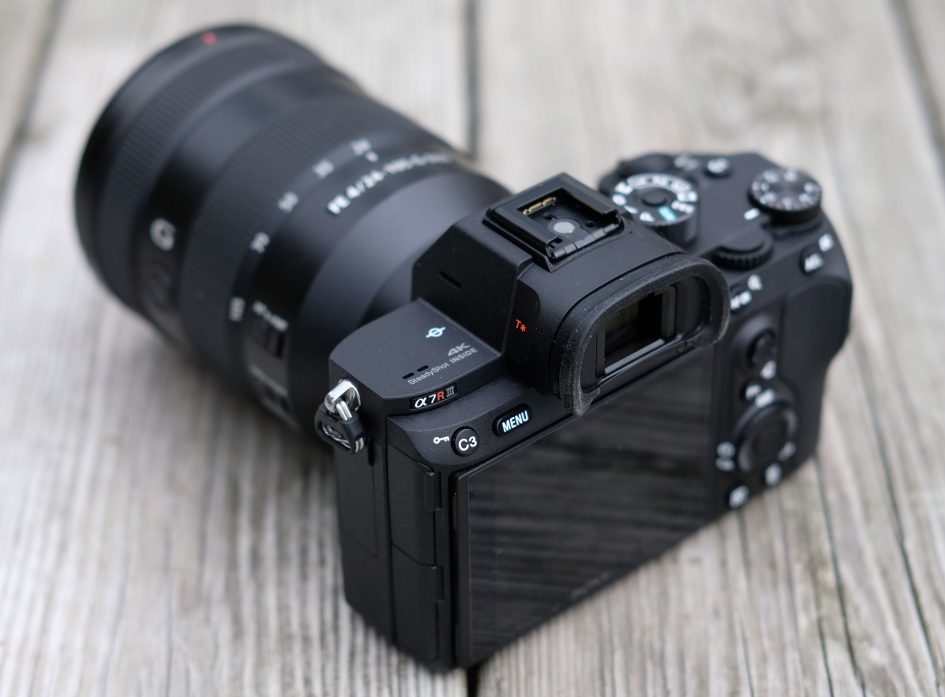 I'm also pleased to find the 'Recall Custom Setting during Hold' feature of the A9 is available here. This allows you to assign a number of settings to a custom button that are deployed as you hold it, but these can include the exposure, AF and drive mode, even specific shutter, aperture or AF area settings. I find this invaluable as I frequently find myself switching between groups of settings – for example going from Wide Area AF with Continuous AF to Flexible Spot with Single AF, or for having a backup set when another isn't working as hoped in a particular situation. Now I can assign up to three groups of settings and deploy them immediately by simply holding-down a custom button.

I'm also delighted to find a touchscreen on the A7r Mark III and while, like the A9 and A6500, it's still underused, you can at least now tap to reposition the AF area or pull-focus during videos. You can also use the screen as a touchpad AF if desired.

In a missed opportunity, the touchscreen still can't be used to navigate the menus or even the large touch-friendly icons in the on-screen Fn menu. And while you can enable a double-tap to enlarge in playback and push to scroll around for a closer look, you can't actually swipe through images. I think Sony needs to add more touch functionality.

The A7r Mark III also inherits the superb viewfinder of the A9. This delivers the same 100% coverage with a large 0.78x magnification as the A7r Mark II, but the OLED panel now features 'Quad VGA' resolution, boosting the detail from 1024×768 to 1280×960 pixels. The difference can be subtle, but look closely at the finest details, especially on text or distant grill patterns, and you'll notice the A7r III's viewfinder is crisper and better avoids any kind of moire, fuzziness or other electronic artefacts. The end result is an image that looks more real, while still enjoying the large immersive nature of its predecessors. You also get the wealth of shooting aids including a dual-axis leveling gauge, live histogram, alignment grids, magnification, zebra patterns and focus peaking.

The refresh is fast and smooth too: 60fps as standard, boostable to 120fps in a menu if desired. When shooting continuously, the viewfinder refresh falls back to 60fps, but the detail remains high.

In terms of connectivity, the addition of a USB C port running at USB 3 speed while retaining the older USB-2 port is a great idea. It allows you to tether the camera with one port while powering it with the other. And while the A7r III lacks the hard-wired Ethernet port of the A9, it still allows the same FTP functions, just over Wifi.

The A7r III also shares the same wireless capabilities as the A9 with Wifi complemented by NFC and Bluetooth for easier connectivity. Like the A9 and other Sony cameras with Bluetooth, you can also maintain a low-power link with your phone for seamless GPS tagging as you shoot.

Like the A9 and RX10 Mark IV, there's no longer any downloadable apps on the A7r Mark II, and like those models I'm not sorry to see them go as the access could provide infuriatingly convoluted at times. But unfortunately like those models, Sony has neglected to integrate any of the app's functionality into the user interface. So sadly the A7r III, like the A9 and RX10 IV, misses out on having an interval timer or any Bulb timers built-in – a shame for a camera of its class and something I think the company needs to address.

Sony Alpha A7r Mark III movie samples

Sony Alpha A7r Mark III Pixel Shift Multi Shooting notes

The Alpha A7r Mark III may sport the same 42.4 Megapixel sensor as its predecessor, but Sony has added a new Pixel Shift Multi Shooting mode. This captures four frames, shifting the sensor up, down, left or right by one pixel per frame. This saves four RAW files that can then be imported into supplied software to generate a single image where the effect of the Bayer mosaic pattern has been eliminated. The resolution of the final image remains 42.4 Megapixels, but the effect of the Bayer mosaic is eliminated, thereby delivering much higher colour resolution with no false colour moire artefacts.

The four frames are captured using an electronic shutter at intervals of 1, 2, 3, 4, 5, 10, 15, or 30 seconds, so the fastest possible capture period would be four seconds; note the half second option mentioned in previews was a mistake. With the prolonged capture period, the Pixel Shift mode is really aimed at studio / archival / product photography, or architecture so long as there's nothing moving in the frame. Sony expects it to be used in a tethered environment, so doesn't see an issue with the actual composite taking place externally in software. I would still have preferred an in-camera assembly option like Olympus, even if it takes some time to process, but it's still a mode with great potential for those who's subjects can exploit it.

Sony Alpha A7r Mark III burst shooting notes

The Alpha A7r Mark III's top shooting speed is 10fps, double that of its predecessor and unlike that model available for both the mechanical and the electronic shutter with full autofocus and auto-exposure. The ability to shoot in silence with the electronic shutter with continuous autofocus at the full 10fps speed, in full resolution and in 14 bit RAW (so long as you're in uncompressed mode) are a real benefit of the A7r Mark III and allow you to shoot discreetly without compromise – great for wildlife or ceremony photographers.

When shooting at 10fps / H+ mode, there's no blackout, but you are looking at the last picture taken so there's very minor lag. Reduce the speed to 8fps / H mode though and you can enjoy live feedback with minor blackout introduced to indicate the camera's firing bursts. In the 8fps / H mode, the A7r III works like the A6300 and A6500 in that a still image is displayed between frames, but in use it still looks like a live image and is makes it easier to follow action. Here's a demo of it in action, filmed through the viewfinder.

Sony quotes a buffer of 76 frames whether shooting JPEG Standard, JPEG Fine, JPEG Extra Fine or Compressed RAW, falling to 28 images if shooting uncompressed RAW. If shooting uncompressed RAW you'll also enjoy 14-bits with either the mechanical or electronic shutter, although if you select compressed RAW, the bit depth reduces to 12 bits for RAW.

Note when shooting at 10fps using the electronic shutter, the A7r III lacks the visual feedback options of the A9 which indicate it's actually shooting; I hope Sony can add this with a firmware update. That said, you can of course shoot with the mechanical shutter and enjoy feedback. Oh and I should add that after shooting a burst, Sony now allows you to enter the menus, although some menus will still be greyed-out while the buffer clears.

Sony Alpha A7r Mark III sensor

As you know, the A7r Mark III inherits the same 42 Megapixel back-illuminated CMOS full-frame sensor of its predecessor and delivers the same maximum image size of 42 Megapixels. But that's not to say the image quality is the same. Sony has coupled it with a newer image processor and front-side LSI to deliver what it claims are superior dynamic range, better colour reproduction (especially on skin tones), lower noise, and higher overall detail. Certainly from what I've seen so far, the colour reproduction is better than before, matching the enhancements introduced on the Alpha A9. It's early days of course and I will be doing a great deal of testing to evaluate and compare the image quality, but I wanted to note right now that don't assume having the same sensor means the quality has stood still since the Mark II.

Sony A7r III vs A7r II – should you upgrade?

I'll go into more detail soon, but for now wanted to briefly mention the main differences between the A7r Mark III and its predecessor the Mark II to help those considering upgrading. First of all, image quality. The sensor is the same, so the images contain the same 42 Megapixel resolution, but there's improved dynamic range and JPEG shooters will enjoy Sony's latest image processing which delivers better colour reproduction (especially on skin tones), lower noise, and higher overall detail. Anyone shooting static subjects from a tripod will also be able to exploit the new Pixel Shift Multi Shoot mode which can eliminate false colour and moire artefacts from the Bayer colour filter array. In terms of video quality, the A7r III gains S-Log 3 for grading, Hybrid Log Gamma HDR for compatible displays, 1080 at 120p, and claims slightly improved quality in the full-frame 4k mode.

The body may at first glance look the same as before, but inherits many enhancements from the Alpha A9 including a higher resolution viewfinder, twin SD card slots, a more tactile rear wheel, AF joystick, PC-Sync port and AF ON button, and most importantly of all, the Z-type battery with over twice the life. The Mark III also sports two USB ports (USB-C / 3 and USB-2) allowing you to high-speed tether and charge or power simultaneously. The built-in stabilisation is also a little more effective and there's additionally a touchscreen which lets you tap to reposition the AF area or pull-focus while filming. Sony's also included Bluetooth for easy Wifi initiation and seamless location embedding.

If you're into shooting action, the Mark III represents a big upgrade, doubling the maximum burst speed from five to 10fps. The silent electronic shutter mode can also now shoot at 10fps with continuous AF, allowing you to shoot action discreetly, and RAW files can now be recorded in 14 bit in burst and or electronic shutter modes. The autofocus array may be the same size and density as before, but it operates twice as fast and at light levels down to -3EV which makes for much quicker handling.

It's not all good news though. By abandoning PlayMemories apps, the Mark III may no longer force you through convoluted signups, but so far Sony's not provided any built-in replacements for the popular downloadable apps. So if you upgrade to the Mark III you lose out on a built-in interval timer or the useful touchless shutter.

Overall though, the enhancements to image quality, controls, battery life, burst speed and focusing transform the A7r Mark III in day-to-day use. It may not look that different from the outside, but feels and handles like an entirely different camera.

Check back soon for much more information!

PS – if you find my work useful don't forget you can support me when you shop for anything at B&H or Adorama using these links. Alternatively get yourself a copy of my treat me to a coffee! Thanks!