Intro
The Sony A7S III is a high-end full-frame mirrorless camera aimed at pro videographers and low light imaging. Announced in July 2020, it comes almost five years after the A7S Mark II, making it one of the most long-awaited upgrades in the A7 series. It'll cost around $3500 when it goes on sale in September.
The A7S III sticks with the 12 Megapixel resolution of its predecessors to maximise sensitivity, but employs a new back-illuminated sensor now with confident phase-detect autofocus and a wealth of movie modes including unlimited 4k up to 120p with 10 bit internal recording. There's also 1080 up to 240p and 16-bit RAW up to 60p over HDMI. It also debuts a bunch of firsts for the A7 series including a fully-articulated screen, brand new user interface with full touch control, twin slots that support both SD and CF-Express cards, a full-size HDMI port and the highest resolution viewfinder I've ever seen.
I got to shoot with a final body running near-final firmware for over a week and in this review I'll show you everything I've learned about the camera so far. I also shot with the A7S III alongside the Canon EOS R5, R6 and Lumix S1H, so look out for my upcoming comparisons if you'd like to see how their photo and video quality measures-up. As always I've filmed an in-depth video review below which shows you everything including video tests and autofocus demonstrations, but if you prefer to read a written version of the highlights, keep scrolling!
Above: Sony A7S III movie sample 4k 24p XAVC HS. Also available, Sony A7S III movie sample 4k 24p XAVCS, Sony A7S III movie sample 4k 120p XAVC HS, Sony A7S III movie sample 1080 24p XAVCS. And for the graders, Sony A7S III movie sample 4k 24p XAVC HS S-log 3. All were filmed with a near-final pre-production camera. Click the links to download my Sony A7S III sample movies – all are MP4 files if you need to add the file extension again.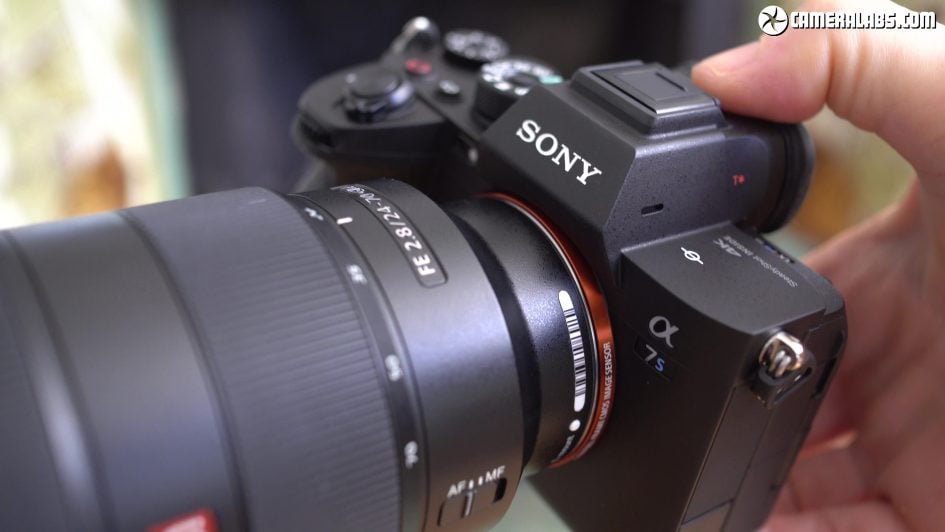 Above: The A7S III shares much of the design and controls of the A7r IV and A9 II, bringing the joystick, improved dials and larger buttons to the S-series – remember the previous A7S II was based on the A7r II body, so the A7S III's body has jumped-forward by two generations. You don't have to look far though to find a bunch of new features that make their debut on the A7S III.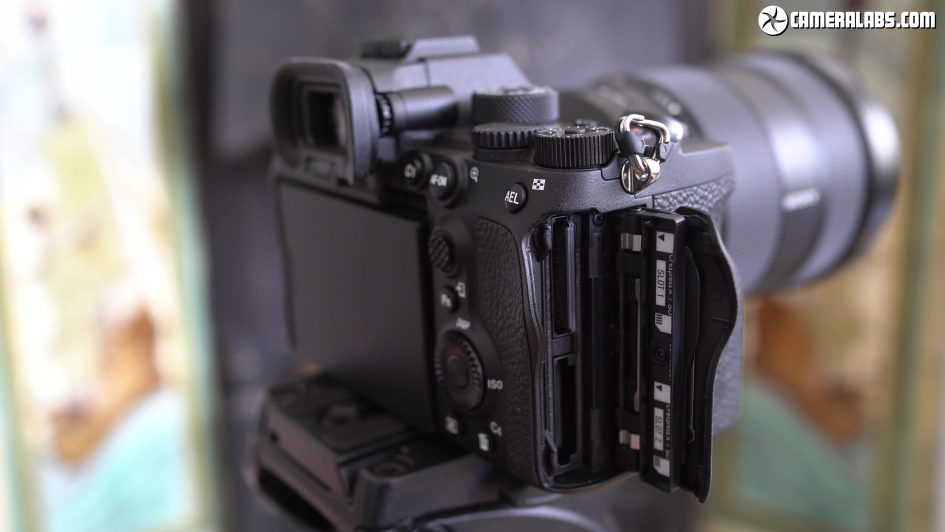 Above: Behind a substantial door on the grip side are twin memory card slots, but closer examination reveals each actually supports dual formats allowing you to insert either SD or brand new CF Express Type A cards which currently support write speeds up to 700Mbyte/s. Unlike Canon's EOS R5 though, you don't need CF Express for the best video modes on the A7S III – I used Sony TOUGH SD cards with 300Mbyte/s writes which supported all video modes. Also unlike Canon's R5 and R6, you can record video to both cards simultaneously for backup in an identical format.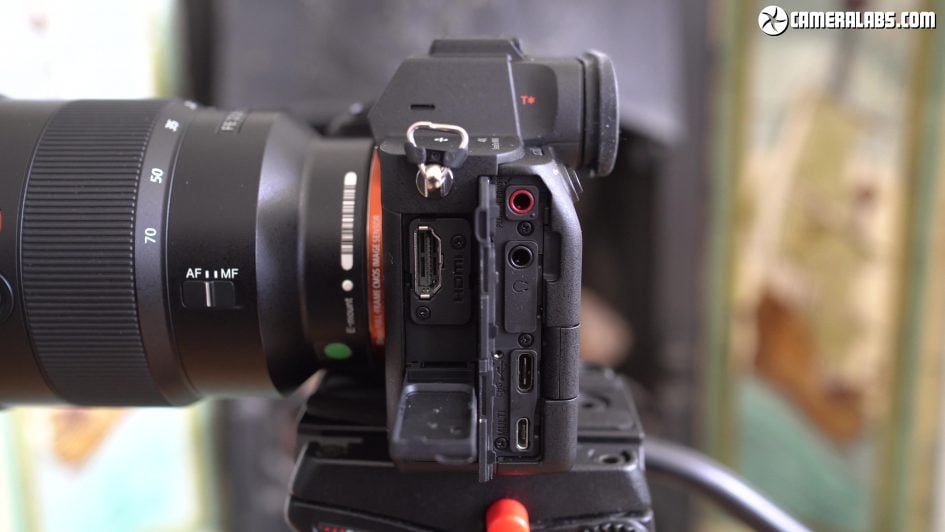 Above: The ports have received upgrades too, not least to their flexible doors. There's a 3.5mm microphone input that considerately clears the screen hinge mechanism, a 3.5mm headphone jack, a full-size Type-A HDMI port earning Sony bonus points over Canon who've annoyingly down-graded to Micro-HDMI on the R5 and R6, and both Micro and Type-C USB ports allowing simultaneous tethering and charging. The USB C port now operates at 3.2 speeds up to 5Gbps, supports USB tethering on mobiles and even works with USB to ethernet adapters for wired network connectivity. You can also charge or operate the camera over USB with a Power Delivery source, and it worked fine with my MacBook and iPad Pro chargers. There's also 2.4 and 5GHz Wifi along with support for FTP file transfer over wireless, USB or ethernet.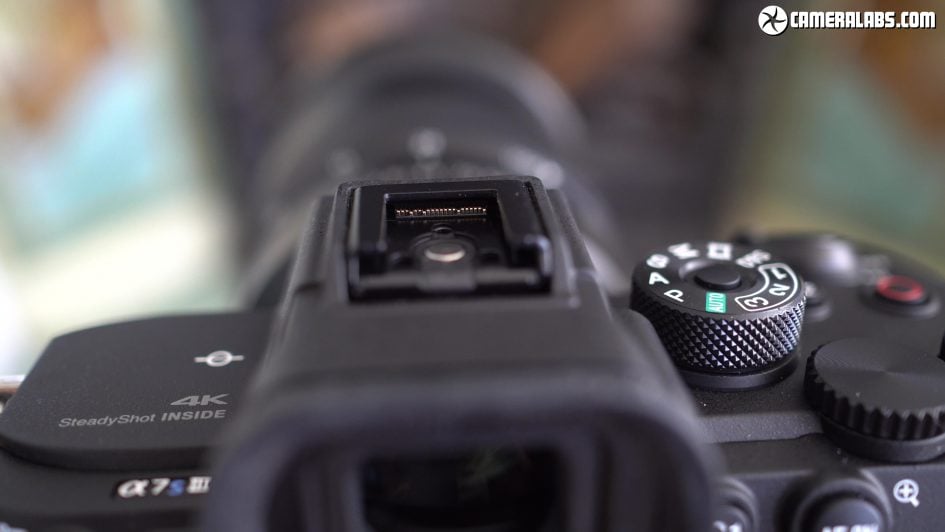 Above: I'm pleased to report the A7S III hotshoe supports the digital interface introduced on the A7r IV which means it'll work with the ECM-B1M microphone for a pure digital connection. Better still, it'll also allow the XLR-K3M accessory to support four channel 24 bit recording using stereo for the shotgun mic and mono for two additional XLR sources.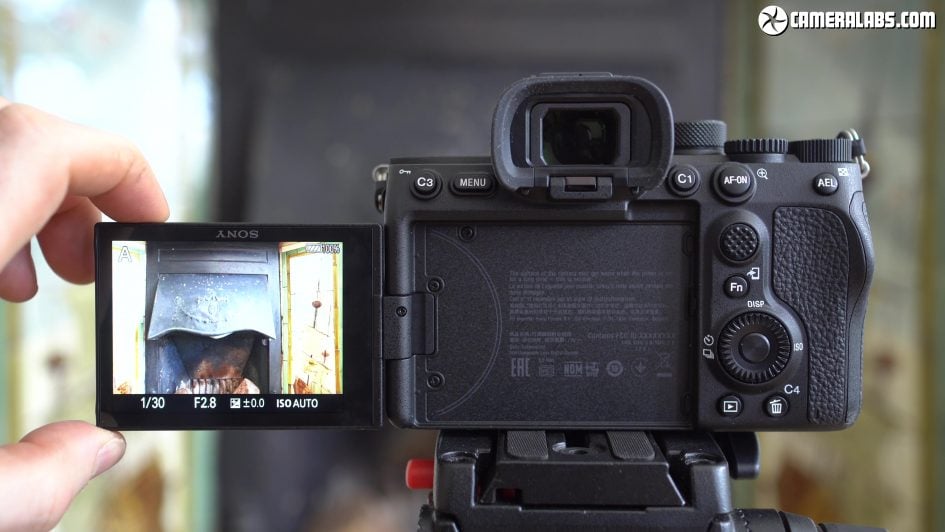 Above: And thank the maker! After years of requests, Sony has finally equipped an A7 camera with a fully-articulated, side-hinged screen. Now I know some of you prefer vertically-tilting screens, but this is a camera primarily aimed at videographers who will welcome the flexibility of a screen that can face-forward without being blocked by the hotshoe or viewfinder. And as I mentioned earlier, the mic input clears the top of the screen mechanism.
Above: The screen doesn't just now flip-out, it also debuts a new touch interface. As before you can reposition the AF area by touch, but in a long-overdue upgrade, the Function menu finally gains touch operation, allowing you to tap and drag the full range of settings from exposure compensation to focus and drive modes.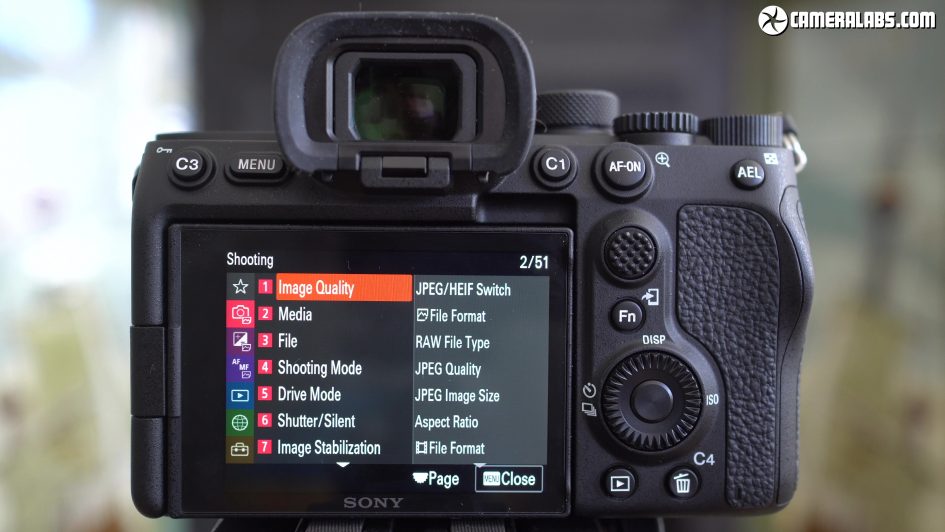 Above: Touch controls also now extend to the menu system, but the bigger surprise is discovering the brand new user interface, arguably one of the most overdue upgrades on all Sony cameras. The old horizontal structure has been swapped for vertical tabs, starting with seven main sections running down the left side. Each expands into sub-headings in the middle, with the actual settings for each on the right. There's 51 pages of settings for still modes or 49 for video modes, and all were easier to find and navigate than the previous system. You can operate it by touch or using traditional controls, and I liked how the three dials independently adjusted the three menu levels. The camera also remembers different settings for photos and video, allowing you to switch between formats without constant adjusting of exposure and focus. I'm delighted by the new UI and look forward to seeing it on future models – let's hope it also becomes available to older ones via a firmware update, although there's no news on that yet.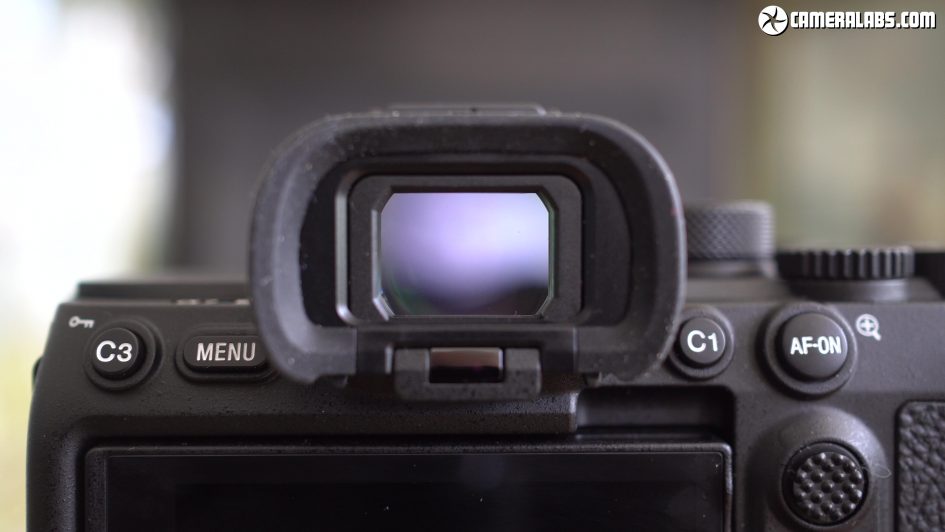 Above: You may be divided over touch controls and screen articulation, but I guarantee you'll love the new viewfinder which is the first to employ a 9.44 million dot OLED panel that already trumps the 5.69 million dot viewfinder on the R5, Lumix S and A7r IV. In real terms, it gives you 2048×1536 pixels versus 1600×1200 on those other models, giving it a comfortable step-up in detail and the most life-like image I've seen from an EVF. It's bigger than rivals too with 0.91x magnification, the refresh rate is switchable between 60 and 120Hz and it's an absolute joy to compose and focus with. My only concern is whether the high resolution has an impact on battery life, but so far the camera seems to be operating just fine.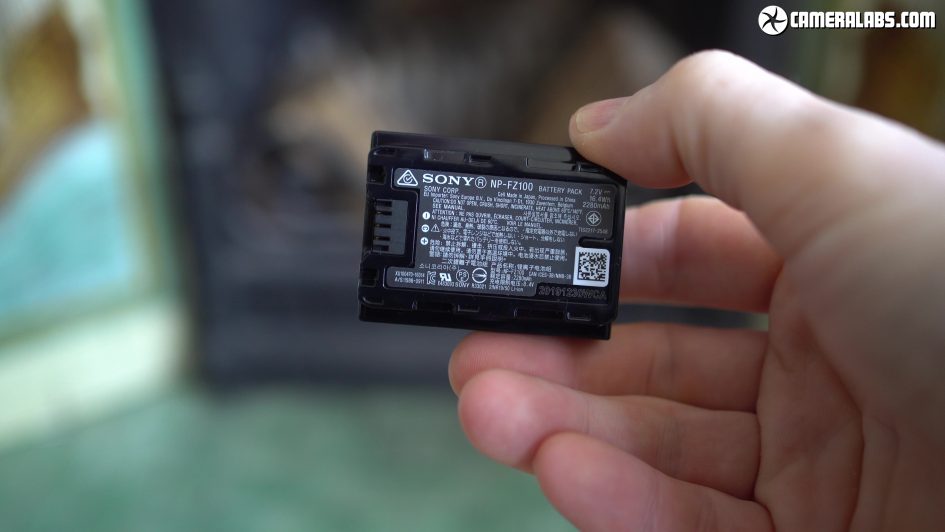 Above: Speaking of power, the A7S III employs the existing Z-series battery of recent models and again can charge it in-camera over USB. Sony's quoting 510 photos with the viewfinder or 600 with the screen under CIPA conditions which is a little less than the A7r IV squeezes from the same battery, but comfortably more than the A7S II and also Canon's EOS R5.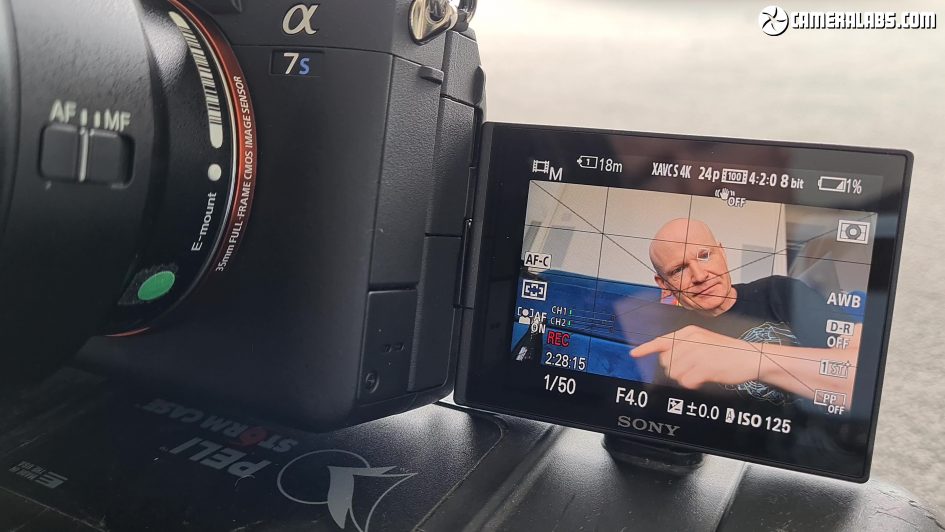 Above: In terms of video, I managed to record two hours and 40 minutes of 4k 24p on a single charge – and in a single clip with no overheating either, but more about that in just a moment.
Above: Now onto the sensor, which shares the same 12 Megapixel resolution as previous A7S models, but now employs a new back-illuminated design with double the readout speed and phase-detect autofocus across 92% of the area. The resolution may sound low compared to rivals, but it's still enough to capture 4k video and crucially by having fewer pixels in the same area, they can be larger and more sensitive to light.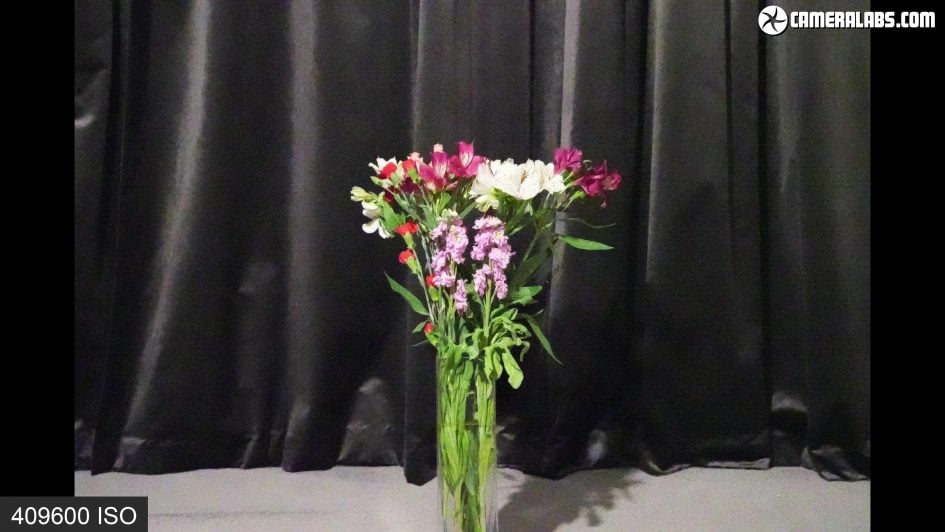 Above: Before delving into video, let's talk about photos. The actual resolution of 4240×2832 pixels won't come near to delivering the detail of higher resolution models, but there's a very satisfying crispness to the images which again are bereft of noise until the sensitivity becomes very high. Sony's also equipped the A7S III with a new visible light and IR sensor to better-evaluate white balance. starting with a run through the sensitivity range, and in the absence of RAW converters at the time I made this review, all my photos are JPEGs out of camera. The A7S III now has a standard sensitivity range of 80 to 102,400 ISO which can be extended down to 40 ISO at the low-end and 409,600 ISO at the high. The images still look very good at 12800 ISO, although unsurprisingly deteriorate at the highest values. Those nice fat pixels should also mean a nice high dynamic range and I have lots of RAW files to try this out when software becomes available. I'd hoped to also try some internal RAW conversions, but Sony doesn't support RAW processing in playback within the camera. In separate reviews I'll directly compare the photo and video quality against the R5, R6 and Lumix S1H.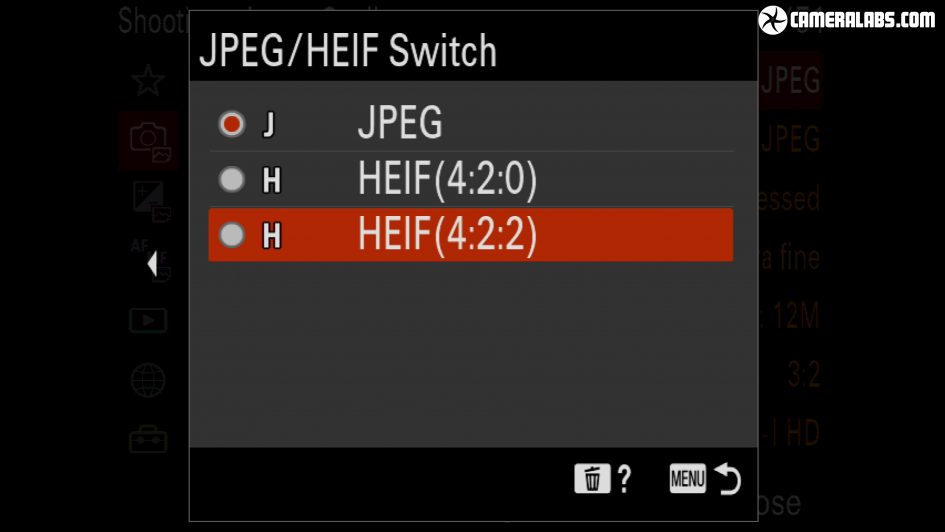 Above: The A7S III also joins Canon in allowing you to switch from JPEG to HEIF, and additionally offers the choice of 4:2:0 or 4:2:2 colour sampling. In theory, HEIF should allow a broader dynamic range than JPEG, but again I'm waiting for better software support before I can fully evaluate it. RAW is of course also available and can be set to uncompressed or compressed.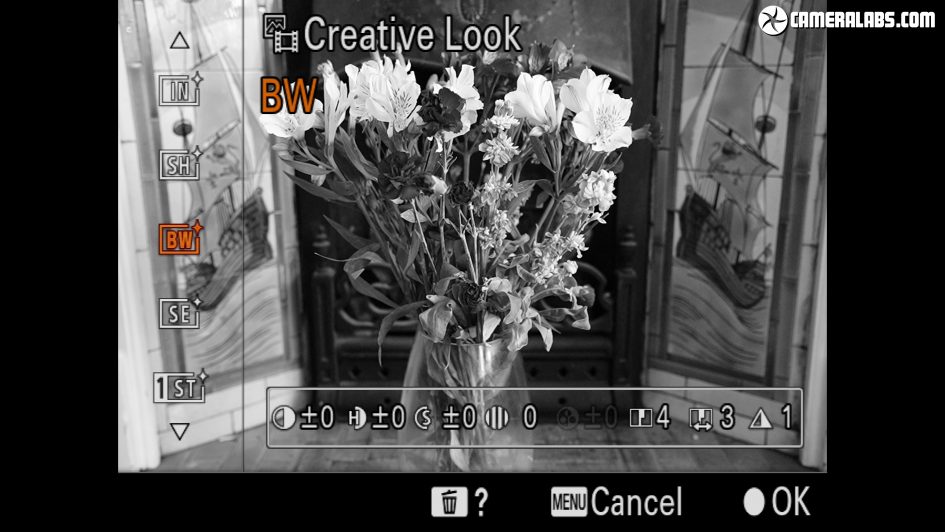 Above: You'll also notice Creative Styles have been rebranded as Creative Looks, with ten available for stills and movies, including vibrant and muted options as well as black and white and sepia.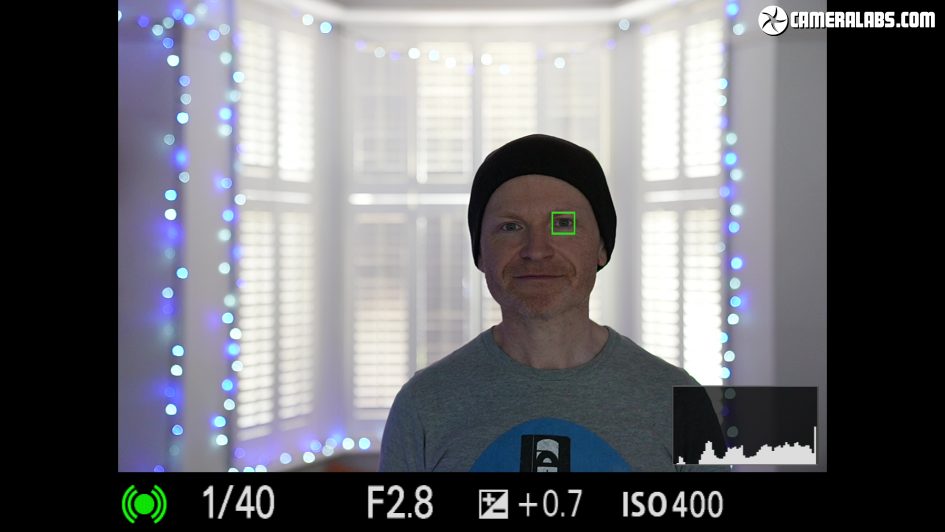 Above: The presence of phase-detect autofocus may be expected from a modern Sony body, but it transforms the usability of the camera compared to its predecessors which were contrast-only. Face and eye detection are always a highlight of Sony cameras, with the A7S III inheriting the latest tech, plus faster processing by its new BIONZ XR engine. Here you can see it easily following me around the frame using real-time tracking; I'd say the acquisition is faster than previous bodies for stills and video.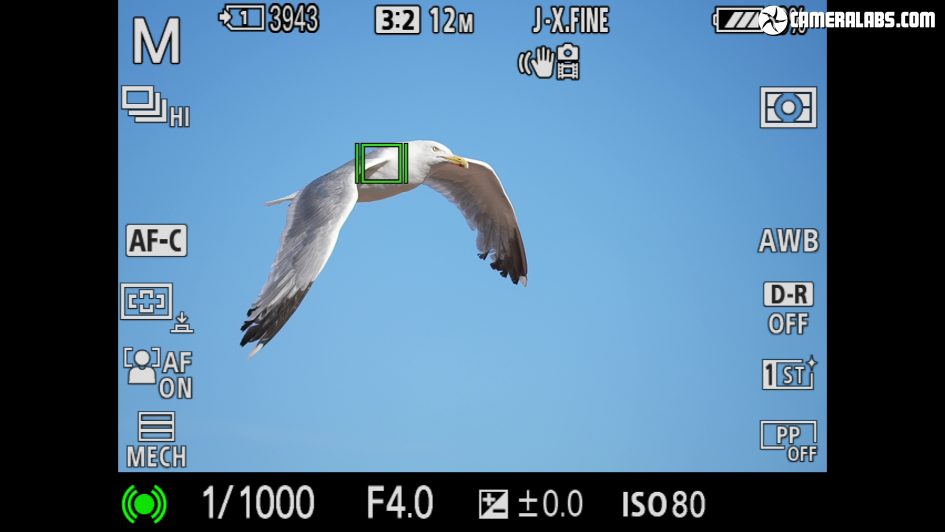 Above: The upgraded autofocus is also perfectly capable for tracking fast action, such as Brighton's seagulls in flight, here with the A7S III fitted with the FE 70-200mm f4 zoom at 200mm f4. Sony's animal detection may not yet include eye-detection for birds – a feature that works a treat on Canon's R5 and R6 – but the A7S III still managed to deliver a very high hit-rate with birds in flight. The viewfinder refresh was also fast enough for me to easily follow them as they darted around the sky.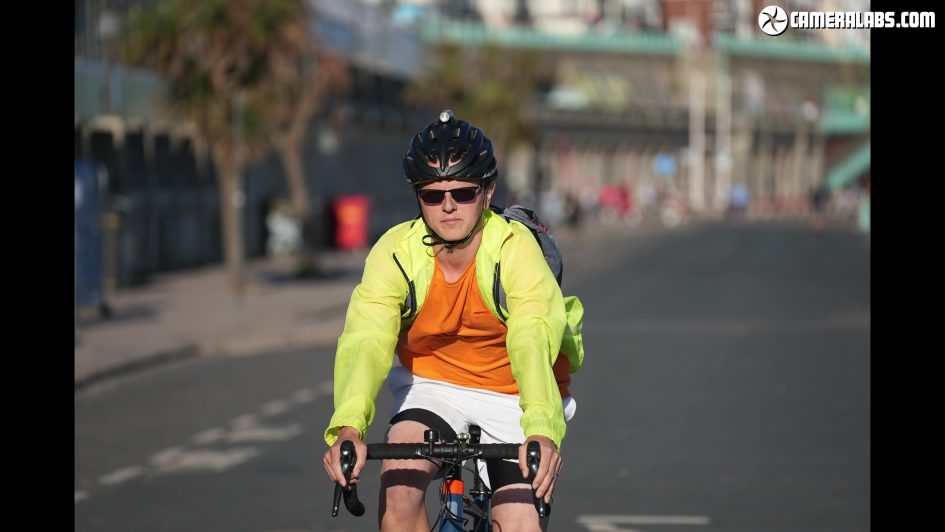 Above: Moving on, here's Ben, back on his bike, captured with real-time tracking autofocus, first at 10fps using the mechanical shutter and FE 70-200mm f4 at 200mm f4, where again I enjoyed an almost 100% hit rate. The shutter is inherited from the A7r IV and A9 II, and is fairly quiet in operation, but for complete silence you can switch to the electronic shutter in silent mode. While the sensor readout is twice that of the A7S II, it's still not a stacked design so falls short of the speed of the A9. As such, there's inevitably some risk of skewing when using the electronic shutter if the lens or subject are in motion, and you can see it as Ben approaches the edge of the frame, but it's still better than many I've tested.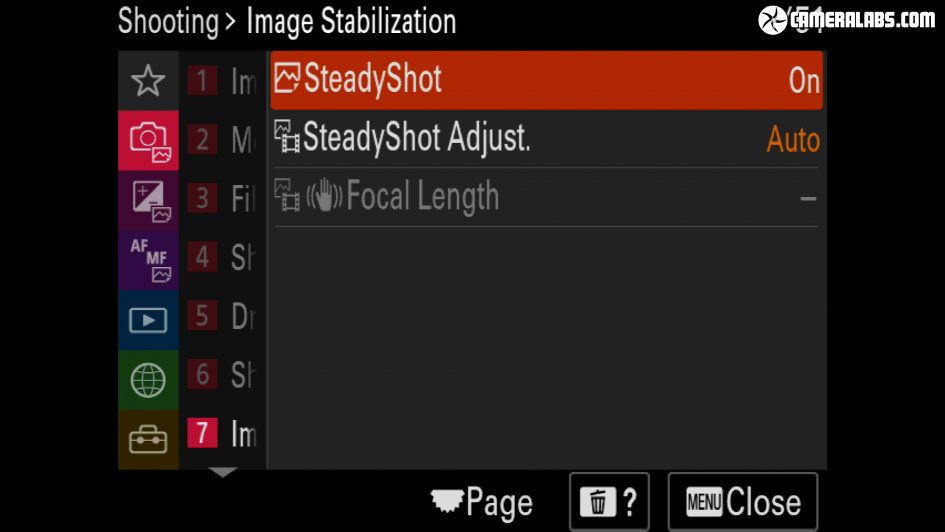 Above: Finally for my photo tests, the A7S III features built-in sensor-shift stabilisation. It's a five-axis system which Sony claims is good for 5.5 stops of compensation. In use I managed to handhold a sharp result at 70mm at 0.4 seconds, corresponding to about five stops over an unstabilised version.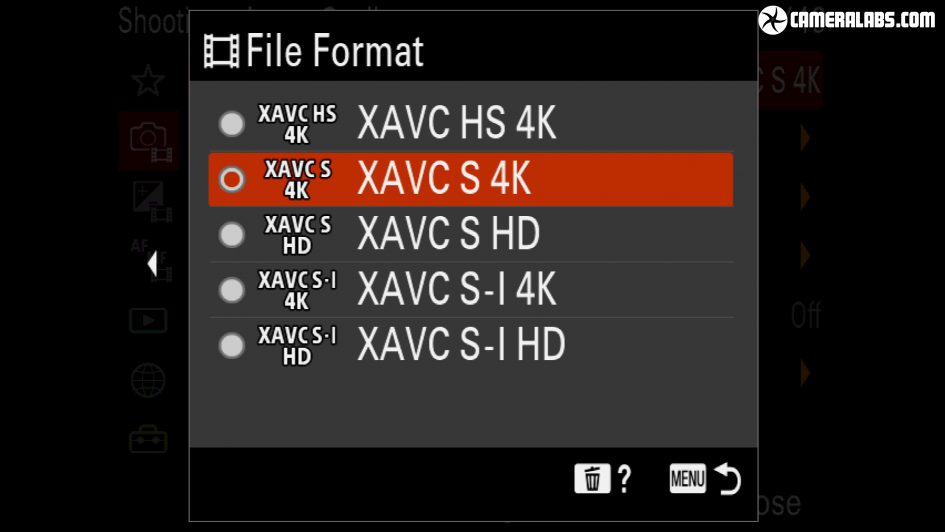 Above: Ok, now for movie recording which is of course the core focus of the A7S III, and Sony's made some big upgrades including 4k up to 120p, 1080 up to 240p, and new codecs supporting 10 bit 4:2:2 internal recording. There's no headline-grabbing 6k, 8k or internal RAW here, with Sony instead concentrating on delivering the best 4k it possibly can. In the File Format menu you'll find a choice of codecs, and Sony owners will recognise the continued availability of XAVC S in 4k or 1080, both using H.264, but now at frame rates from 24 to 120p including 4k, and in 10-bit 4:2:2 if desired. New to the A7S III are XAVC HS and XAVC S I. XAVC HS is 10-bit 4k only and uses the more efficient H.265 codec to deliver better quality than XAVC S at the same bit rates, although they'll need greater processing muscle for editing. XAVC HS is available at 24 to 120p, with a maximum rate of 280Mbit/s for 4k 120p 10-bit 4:2:2. Meanwhile the I in XAVC S I stands for All-intra, using very high bit-rates to encode 1080 or 4k up to 60p in H.264 10-bit 4:2:2; at 60p, you're looking at 222Mbit/s for 1080 or 600Mbit/s for 4k, and these are the only modes that demand faster SD cards, although bear in mind all of the A7S III movie modes are within the capabilities of decent SD cards, unlike the Canon R5 which requires expensive CF Express for 4k 120p and 8k. And unlike the Canon R5 and R6, you can also record duplicate backup video to a second card regardless of the format, or a lower res proxy if preferred.
1080 footage on the A7S III is uncropped at all frame rates from 24 to 240p. 4k footage is uncropped from 24 to 60p.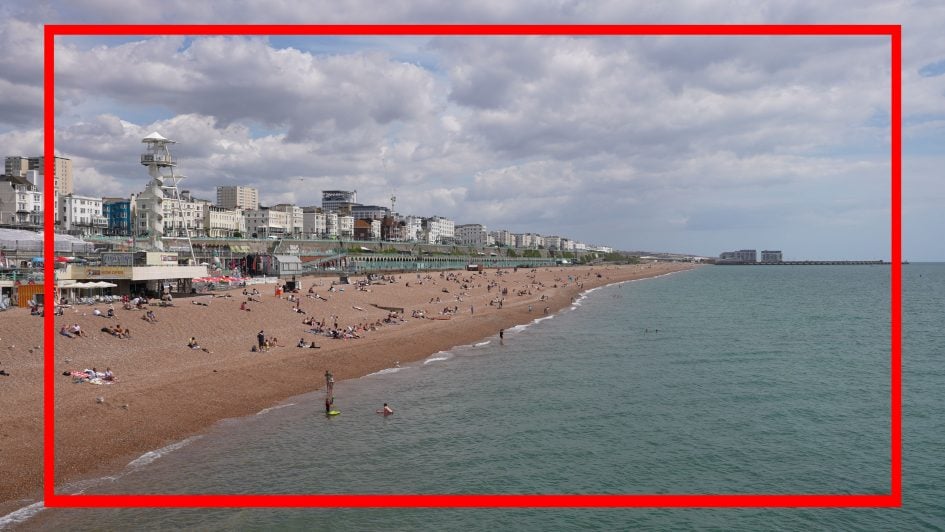 Above: 4k at 120p is the only mode on the A7S III to incur a crop, which I measured at about 1.1x, indicated by the outer edge of the red frame above. When filming 4k at 120p, the A7S III actually takes a 1:1 crop from the sensor without binning or scaling, whereas in all other modes it over-samples from slightly more data. Despite the very modest amount of spare pixels to over-sample with, I'd say 4k 24 to 60p was a tiny bit crisper than 4k 120, but it involves serious pixel-peeping to see the difference.

4k 120 on the A7S III supports autofocus and audio recording, giving them a lot of flexibility, although like other Sony 120p formats, you'll need to apply the slow-down yourself in the edit. Of course Canon also now offers 4k 120 with autofocus on the EOS R5, but there's no audio and as I mentioned a moment ago, a maximum clip length of 7.5 minutes and likely over-heating after about 15 minutes worth of footage whether you're recording big clips or lots of little ones. In contrast, the longer clip length and ability to film about an hour's worth before a short cooldown is required makes the A7S III much more practical in demanding filming environments. I was very impressed with the quality of 4k 120 on the Sony which virtually matches slower frame rates and only incurs a minor 1.1x crop. The autofocus was also sufficiently good for it to track fast action, and again the inclusion of audio makes it even more useful.

Drop the resolution to 1080 and you can film up to 240p, a speed that's beyond the two Canons, although on the A7S III you'll need to access it from the S&Q mode which slows the footage in-camera and doesn't record sound. On the plus-side, 1080 240p doesn't crop and autofocus is still available. For the maximum slow-down, you'd choose a frame rate of 240fps and a record rate of 24p for a ten times slowdown which is what I used for all the clips in my review video. In my resolution tests, 1080 footage on the A7S III peaked between 24 and 60p, losing quality at 120p and even more at 240p, although as you can see here the footage can still look good.

If you're into grading, you can apply the usual picture profiles with S-log 2 and 3 and Sony claiming up to 15 stops of dynamic range. The nice thing about the A7S III is 10 bit 4:2:2 sampling is available in any profile or colour mode, unlike the Canons which limit it to log and HDR modes.

You'll also notice all the internal video formats on the A7S III continue to record in the 16:9 shape, with no option to record in the wider Cinema DCI shape. Sony says it's monitoring demand for DCI, but among modern rivals it's now become the exception not to offer it. Offering some consolation though is the ability to output 16-bit RAW video over HDMI at 4264×2408 pixels up to 60p, from which you could scale or crop a full DCI frame. Details were scarce at the time I made this review, but I'm guessing external RAW recording will work with a firmware-updated Atomos Ninja V in the ProRes RAW format. Watch this space.

In terms of recording times, Sony's dumped the half hour limit of some rivals and designed the internals to better dissipate heat without the need for active cooling. Sony claims the A7S III can record an hour of 4k uninterrupted, but I found it could do much better in most modes. In fact the only time I experienced over-heating on the A7S III was 60 minutes into a single 4k 120p clip, when the warning popped-up and the camera shut-down about five minutes later. But compare a 65 minute 4k 120p clip on the A7S III with the EOS R5 which can only make 7.5 minute clips in 4k 120p and which under the same conditions shut down about six minutes into a second clip. The Canon R5 took way longer to cool-down too and after five minutes would only allow a 2 minute 4k 120 clip, compared to the Sony which was ready for another full shoot.

If you drop the frame rate to 60p or lower on the A7S III, you'll find the battery and memory becomes the limiting factor. In 4k 60p, I managed a single 107 minute clip before I filled my 128GB card, with 25% battery remaining and the camera happy to continue filming. The only other camera that can do this is Panasonic's Lumix S1H, which under the same conditions managed 117 minutes of 4k 60p before my 128GB card filled with 23% battery remaining – a very similar result to the A7S III, although the S1H applies a crop when filming 4k at 60p.

Moving onto stabilisation, the A7S III employs Sony's latest sensor-shift IBIS with two modes. The A7S III becomes the first A7 model to inherit Active SteadyShot from the compacts – it applies a crop when filming 4k, but the spare pixels on the sensor means it's still able to capture a full 4k image without scaling. You'll see it in action when vlogging in my review video.

How about rolling shutter? In my review video you'll see the A7S III in 1080 24p and again in another clip behaving pretty well. And also in 4k at 24p, again showing minimal skewing. There is a little, but it's pretty well-controlled.

Check prices on the Sony A7S III at B&H, Adorama or WEX! Alternatively get yourself a copy of my In Camera book or treat me to a coffee! Thanks!