Sigma DP1 - Sigma DP1 lens and sensor
Sigma DP1 lens and sensor
The Sigma DP1 is equipped with a fixed focal length lens which has an equivalent coverage of 28mm; the actual focal length is 16.6mm and the maximum aperture a relatively modest f4; a brighter aperture would of course have been preferred, but it's a necessary compromise for the camera's size and weight. The lens may not zoom, but physically extends by 23mm when the camera's powered up, and you'll need to remove the lens cap in order not to block its progress.
The DP1's lens cap can be a little annoying at times. In a world where most compacts feature built-in lens protectors which slide open and shut automatically, it seems a little inconvenient to manually intervene with a cap. It's also quite a tight fit and takes some practice to clip it on and off without any fiddling. Unlike most compacts with removable lens caps, there's also no cord keeping it linked to the body, so be careful not to lose it. Although to be fair, DSLR lenses have manually-fitted caps without cords, and the tight fit at least means the DP1's won't inadvertently fall off.
A bigger issue is the time taken for the camera to power-up and be ready for action. You're looking at a fairly leisurely four seconds or so between pressing the power button and the DP1 showing a live view on the screen. This is much slower than any DSLR and most compacts too, and as we'll see later in the review, the DP1 can be fairly sloth-like in other respects.
Like most compacts, there's no usable filter thread on the DP1's lens. If you'd like to attach anything, you'll first need to fit the optional HA-11 lens hood. This hood equips the DP1 with a 46mm filter thread and gives the camera a serious-looking appearance which will appeal to enthusiasts, especially when the optional viewfinder is also mounted. It does however make the entire camera considerably larger.
Sigma's choice of lens focal length for the DP1 has polarised many enthusiasts. Some would argue a 50mm equivalent would have been more appropriate for general use, or perhaps a 35mm would be a good all-round compromise. Then there's wide angle fanatics who perhaps quietly wished it had gone wider still to 24mm. But the fact is Sigma chose an equivalent of 28mm, and that's what you're stuck with on the DP1.
In use though it's actually pretty flexible. Landscapes, architecture, interiors and group shots are all accommodated with relative ease. Portraits can be more challenging, with closer head and shoulder compositions suffering from wide angle distortion. Stand a little further back though for a shot from the chest-up and you can get a fairly decent result. The wide angle lens and f4 aperture may not sound particularly conducive to small depths of fields, but since the sensor and actual lens focal length are bigger than conventional compacts, you can blur the background a little – see our Gallery for an example.
Closeups are harder though. The DP1's modest closest focusing distance of 30cm coupled with a wide angle lens means you can pretty much forget detailed macro work. If you're keen to get closer, you could buy the AML-1 adapter which clips onto the optional HA-11 lens hood and allows the DP1 to focus down to 20cm.
At this point we'd normally discuss image stabilisation options, but the DP1 doesn't have any. To be fair though with an equivalent focal length of 28mm, they're not particularly necessary here.
Sigma DP1 focusing

Support this site by shopping via these links
The Sigma DP1 is equipped with a 9-point AF system and it's possible to manually select the active point from the AF Area section in the menu. Pressing the upper cross-key switches the DP1 between three AF modes: Normal which focus with a range from 50cm to infinity, Full which extends the minimum focusing distance to 30cm, and manual focusing. Suffice it to say there's no Face Detection on the DP1.
Auto-focusing on the DP1, like powering-up, can be a fairly leisurely activity. You're looking at around one and a half seconds in Normal mode, or around two seconds in Full mode. If the conditions are dim, the DP1 can search for some time.
The manual focusing mode works quite well though. With MF activated using the cross-key, a scale appears on the screen which is adjusted using the dial at the top of the camera; we counted over 50 steps, which allows pretty fine adjustment. Of course the question is whether you can use the screen for reliable focusing. Pressing the Monitor button magnifies the central portion and gives a good impression of what you're going to get.
Sigma DP1 sensor and processing

The Sigma DP1's unique selling point is of course its sensor, which is not only DSLR-sized (indeed it's the same one used in Sigma's own SD14), but also employs a different technology to most other cameras. The DP1 uses a Foveon X3 CMOS sensor which measures 20.7×13.8mm. This may be a few millimetres short of the 23.6×15.8mm sensors (or thereabouts) used by most cropped-frame DSLRs, but is a significant leap over the size of typical compact sensors. In terms of surface area, it's about 7.5 times more than a 1/ 1.8in sensor or 11.5 times more than a 1/ 2.5in sensor, which in turn allows it to gather a great deal more light with less noise and a greater dynamic range – in theory anyway.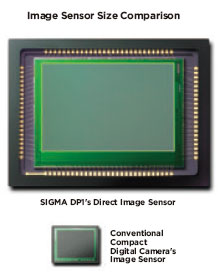 The DP1's sensor isn't just large, it also employs a different technology to most sensors in common use today. The vast majority of digital camera sensors are monochrome devices, which only capture brightness on each photosite. To generate a colour image, each photosite is covered by a filter. The common 'Bayer' pattern of filters takes groups of four pixels and covers one with a red filter, one with a blue filter and two with green filters. This pattern is repeated across the entire frame, then once the data is captured, the camera 'de-mosaic's the information and interpolates a full colour image out of it. Clearly this isn't an ideal approach and can result in undesirable artefacts, but it remains the most common system in use today.
In contrast, the DP1 employs a Foveon X3 sensor which uses clever layering so that every single photosite on the sensor captures full colour information. This means higher colour resolution and none of those nasty artefacts. In practice it really works too, but unfortunately the actual native resolution of the X3 sensors to date have been relatively low. The DP1's sensor employs a matrix with a relatively modest 4.69 megapixels.
Now there's actually three layers in the DP1's sensor, each with 4.69 Megapixels (for red, green and blue light), so in terms of total photosites, Sigma and Foveon can rightly claim 14.07 Megapixels. After all, other camera manufacturers also count the total number of photosites even though they're not capturing full colour.
This understandably leads to some confusion, but essentially if you're comparing a 14 Megapixel (4.69 Megapixel) X3 sensor against a 14 Megapixel Bayer sensor, the X3 version will capture higher colour resolution, whereas the Bayer model will capture higher monochrome / spatial resolution, albeit with some colour artefacts.
If the X3 sensor squeezed more pixels onto its surface you'd have the best of both worlds, but as it stands it's a case of swings and roundabouts. Images from an X3 sensor do have quite a unique quality to them though which you may prefer overall, and we've examined it in detail in our Results and Sample Images Gallery.
So back to the DP1 and its quality settings. The Image Size menu lets you choose between Hi (2640×1760 pixels), Wide (2640×1485 pixels), Medium (1872×1248 pixels) and Low (1312×880 pixels). So the maximum recorded image size on the DP1 is 2640×1760 pixels, or 4.69 Megapixels, in a 3:2 aspect ratio.
The Image Quality menu lets you record any of these image sizes in a choice of three JPEG compression levels, Fine, Normal and Basic, or as a 12-bit RAW file; annoyingly you can't record a RAW file with a JPEG at the same time though. Sigma supplies its Photo Pro software which offers decent RAW processing capabilities, including an option to output the image in a 'Large' format with 13.9 Megapixels. This of course involves interpolation, but can deliver surprisingly good results which prove how much detail the sensor's really capturing – you can see a comparison in our Results pages.
Best quality JPEGs measure around 3.3MB, while RAW files weigh-in at a hefty 15.4MB each, and sadly recording them reveals another weakness to the DP1's speed. With a Sandisk Ultra II SD card, you're looking at about five seconds between pressing the button to capture a Fine Hi JPEG and the camera freeing itself up for use again. In RAW mode it's also about five seconds before the live view returns and the light starts flashing to indicate data being recorded to the card – although you can take another shot at this point.
Five seconds between shots is pretty slow though for a modern camera and coupled with the leisurely AF speed, this certainly isn't a camera for someone who needs quick response.
In terms of sensitivity you might hope the DP1's larger sensor would allow higher ISO options, but surprisingly the maximum is just 800 ISO – there's not even a 1600 ISO option. The initial DP1 sensitivity range started at 100 ISO, but as we went to press in June 2008, Sigma released firmware version 1.03 which added a LOW 50 ISO option. We have included a sample image in our Gallery and updated our resolution results page.
White Balance settings consist of Auto, Sunlight, Shade, Overcast, Incandescent, Fluorescent and Flash, while a Colour Settings menu allows JPEGs to be recorded in a Sepia or Black and White format. Contrast, Sharpness and Saturation can be adjusted by five steps in either direction.
Sigma DP1 movie mode

The Sigma DP1 may have a DSLR sensor, but unlike all DSLRs to date, it offers a movie mode with sound. It is however more basic than those on modern compacts by offering just QVGA (320×240 pixel) resolution, albeit at 30fps. Additionally, while the video files have a resolution of 320×240 pixels, only 213 vertical pixels are actually used due to the 3:2 aspect ratio of the sensor fitted into the taller 4:3 aspect ratio of the video file. As such you'll see thin black 'letterboxing' bars above and below the frame.
When played on a PC, our test videos weren't as smooth as a good compact, and of course the QVGA resolution was comparatively low. Movies played on the DP1 itself disappointingly don't fill the screen, and instead only occupy a small thumbnail window in the middle.
It feels a little churlish to criticise the DP1's movie mode though since no current DSLR offers video recording, but it's certainly not in the same league as a decent compact with even just a VGA mode, let alone the increasing number with high definition capabilities.
Movies are recorded in the AVI format and consume about 0.5 MB per second; Sigma quotes around 30 minutes can be recorded on a 1GB SD card. Voice memos lasting up to ten seconds can also be added to still images.
Sigma DP1 drive modes

The Sigma DP1 offers one continuous shooting mode which can fire off three frames in one second. We confirmed this in practice with a SanDisk Ultra II SD card, although you'd better hope you got the shots you wanted in that short burst, as the DP1 will subsequently tie itself up for just over ten seconds before allowing you to take another photo.
Finally there's the choice of a two or ten second self timer. Now let's check out the image quality in our Sigma DP1 results pages.