Sigma DP1 design and controls
The Sigma DP1 is a plain but smart-looking compact with a black finish and little indication to what's housed within other than a small Foveon X3 badge in the bottom right corner. The main body measures 113x60x31mm (at its thickest point), while the lens housing protrudes a further 18mm from the front surface; the lens cap adds an extra 2mm. The weight is 250g without battery or card.
Support this site by price checking below


We've pictured the DP1 in-between Panasonic's Lumix DMC-FX500, a typical mid-sized compact and the Olympus E-420 with the 25mm pancake lens, which is currently the smallest DSLR kit on the market. The DP1 is clearly larger than many of today's premium compacts, although there's plenty of budget models which are similarly sized or bigger still. The DP1 is however comfortably smaller and lighter than even the most compact DSLR kit on the market, and even with its protruding lens housing is more pocketable. Note: Canon's enthusiast-friendly PowerShot G9 is a little narrower from the front, but its main body is taller and thicker at 106x72x43mm, although the DP1's lens housing does make this part of its body thicker than the G9 when the Canon's powered down.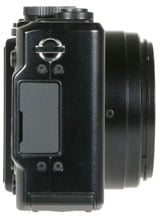 The DP1's minimalist exterior will greatly appeal to enthusiasts, although some may find the overall appearance less slick than high-end compacts from other manufacturers. Few will find any faults with the DP1's build quality though, with the DP1's mostly metal body feeling very solid and confident in your hands.
Like the G9, there's no grip to wrap your fingers round. Instead your middle finger and thumb rest against a series of raised dots on the front and rear, while a small bulge on the back stops your thumb from slipping. Subjectively we'd say the G9 is slightly more comfortable to hold, but there's not a lot in it. Both cameras greatly benefit from being held with both hands, and the target market is more likely to do so than just with one. Unlike the G9, there's no underwater housing option.
The DP1 features a number of controls to cater for its enthusiast audience, distributed on the top of the camera and to the right of its screen on the rear. To the right of the hotshoe (for the optional flash or rangefinder accessories) you'll find an indented power button, a mode dial, a decent-sized shutter release button and a wheel to adjust the manual focusing. More details on the exposure modes and focusing later.
Round the back of the camera are zoom buttons (for playback or the optional digital zoom only, remember there's no optical zoom here), buttons for exposure lock and compensation, playback and display mode, along with the usual four cross-keys with a Menu / OK button in the middle.
Many of these buttons are labelled only with engraved markings which can be hard to discern in low light, although of course once you become familiar with the controls, this is rarely an issue. It should however be noted that none of them offer direct access to common settings like the ISO, drive mode or White Balance, for which you'll instead need to delve into the menu system.
Sigma DP1 exposures and creative modes

The Sigma DP1 features the choice of Auto, Program, Manual, Aperture and Shutter Priority modes, along with voice and video recording, which we'll describe on the Features page. Reinforcing its nature as a serious camera, there's no scene presents. Screengrabs from Aperture Priority, Shutter Priority and Manual mode are shown below from left to right.
The Sigma DP1 offers shutter speeds from 1/2000 to 15 seconds, along with ten aperture settings from f4 to f11 at its disposal, and catering for its enthusiast audience you have complete manual control over both. Like many compacts though, there's some aperture restrictions when using the fastest shutter speeds. At 1/2000, you can only use the aperture from f10-f11. At 1/600 the range extends from f8 to f11, then from f5.6 at 1/1250. For the full aperture range down to f4, you'll need to shoot at 1/1000 or slower.
In Aperture and Shutter Priority modes, the left and right cross keys adjust the aperture and shutter speed respectively, while in Manual you can press the compensation button to toggle between adjusting the aperture or shutter. Depending on the display mode, both can be shown at the bottom of the screen or not at all.
There's three metering modes: Evaluative, Center-weighted Average and Spot. We used the default Evaluative mode for our test shots.
Exposure bracketing is available in a wide range of up to +/-3EV, and once set, all three frames are taken in succession with just one press of the shutter release.
Sigma DP1 Flash

The Sigma DP1 is equipped with a popup flash (Guide number 6) which is located on the upper left side of the body and activated by pushing a small lever behind it. With the flash popped-up you can use the down cross-key to cycle between always-on, red-eye reduction and flash compensation options, the latter from -3 to +3 EV. In P or A modes, there's an additional slow sync mode, although sadly no rear-curtain option.
A hotshoe on the top of the body can be used with the optional EF-140 DG SA-TTL, a compact flashgun with a Guide number of 14. It's a nice option to have and also compatible with the SD14 DSLR, although it's nowhere in the same league as being able to mount, say a Canon Speedlite 580 EX II on the PowerShot G9.

Sigma DP1 Screen and menus

The Sigma DP1 is equipped with a 2.5in screen with 230k pixels. This is a fairly average specification in today's compact and DSLR market where 3in models or those with higher resolutions are becoming increasingly common. The screen itself looks fine and remains fairly visible in bright conditions and you're able to adjust both its brightness and contrast, but as the surroundings get darker, the refresh rate falls and the picture loses saturation.
Take a photo in a dimmer interior like the bar in our Gallery shot and the live image becomes grainy and almost monochrome. This is a disappointment compared to most compacts or DSLRs with Live View which can still deliver a colour image for composition under similarly dim conditions.
If you prefer not to use the screen for composition, Sigma offers an optional VF-11 viewfinder which slots onto the hotshoe (although this will of course mean you can't use an external flashgun at the same time). The VF-11 delivers a nice bright rangefinder view, and you can save power by switching the screen off, although watch out – we found the frame markings didn't exactly match-up with what was shown on the screen and recorded in the images. This equally applied to subjects at infinity as it did with those closer-up. It's still however an option that fans of rangefinders will enjoy, albeit one with a reasonably high price tag.
Returning to the screen, if you press the monitor button you can cycle through various display options. First is the scene with shooting information in a black bar at the bottom, second is a grid (thankfully included from firmware revision 1.01 and as of version 1.03 showing shooting details), third is a clean image with no details and fourth switches the screen off. You'll notice there was no live histogram option there which is pretty unforgivable in a camera of its class and target market. We hope this can be included in a future firmware update like the grid view was. Indeed it seems unbelievable the version 1.0 DP1 offered neither.
| | |
| --- | --- |
| | |
| | |
While the DP1 makes it easy to manually adjust the aperture and shutter speed, it rather archaically forces you to enter the main menu system to change items like the sensitivity, white balance and drive mode. None of the buttons double-up to offer direct access and there's no superimposed quick menu system like those offered by Canon, Panasonic or almost any other decent compact manufacturer we can think of.
Press the Menu button in Program mode and you'll see two tabbed columns, one for shooting and the other for Setup. The Shooting menu offers 15 items over three pages, with the first page offering ISO, Image Size, Image Quality, White Balance, Colour Settings, Drive Mode and Metering Mode. The second page offers AF Area, Auto Bracket options, Digital Zoom, Image with Sound and adjustment of Contrast, Sharpness and Saturation. The third menu page offers just one option: Colour Space. We'll discuss these options in more detail on our Features page
In playback, the zoom buttons allow you to display a series of nine thumbnails or zoom in by ten steps and scroll around – the DP1 feels reasonably responsive during this, but don't expect any frills like the image rotating when the camera's tipped on its side. Indeed portrait images remain on their sides during playback, although at least they're occupying the entire screen as a result.
Pressing the monitor button cycles between a view of the image with date and file details, followed by a clean image, then a thumbnail with shooting details and a single histogram graph with separate lines for red, green and blue. There are of course slideshow options, but don't expect any music or effects to go with them.
Sigma DP1 Battery and connectivity

The Sigma DP1 is powered by a BP-31 Lithium Ion battery pack rated at 1300mAh. Sigma claims this is good for 250 shots and the camera's supplied with a mains charger for the battery. Battery life is indicated by a three segment icon on the screen. Like many compacts the DP1's battery compartment also houses the memory card slot, and again like most compacts the DP1 takes SD memory.
A rubber flab on the right side of the body hides a DC input for an optional AC adapter, and a combined USB and TV output. The latter is standard definition only.