Intro
The Sigma DP1 is arguably the most unique and long-awaited compact digital camera on the market today. First shown as a prototype back in September 2006, the DP1 offers something camera enthusiasts have wanted for years: a DSLR sensor squeezed into a compact body. This in turn should allow the DP1 to deliver DSLR image quality while avoiding the noise issues which increasingly plague modern compacts. Various issues delayed the DP1's public release, but now in 2008 the camera is finally on sale.
The DP1's sensor isn't just unusually large for a compact camera – like Sigma's DSLRs, it also employ's Foveon's X3 technology which unlike most sensors allows full colour to be captured on every photosite. Conventional sensors only capture monochrome brightness on each photosite and use a 'Bayer' matrix of coloured filters and subsequent interpolation to generate a full colour image from the captured data. Today Sigma is the only major company using Foveon's sensors, with the DP1 actually sharing the same chip as the SD14 DSLR.
Sigma and Foveon describe this sensor as having 14.06 effective Megapixels, but this figure is derived from a three-layer structure with 4.69 actual Megapixels on each: one layer for red light, one for green and one for blue. This is what allows the X3 sensors to capture full colour on every pixel location.
This means the actual native resolution of the DP1's images is 4.69 Megapixels. Describing the sensor as having 14.06 Megapixels may therefore sound like a bit of a cheat, but to be fair, other Bayer sensors count all their photosites even though they're not recording full colour. So in those terms, the DP1's sensor does indeed have a total of 14.06 Million photosites, but in terms of the native matrix and spatial resolution, it's delivering images with 4.69 Megapixels. Sigma's RAW processing software does however offer an interpolated mode which outputs images with 13.9 Megapixels, which as you'll see in our results pages, look better than you might think.
It's not just the sensor that makes the DP1 different though – it also shuns the zoom lens you'll find on most compacts for one with a fixed focal length that's equivalent to 28mm. Indeed the DP1's stripped-down approach to photography means it's also lacking several comforts you'd take for granted on modern compacts including image stabilisation, a high resolution movie mode and face detection to name but three. In its favour though are a flash hotshoe, manual focusing, full PASM modes with control over exposure, along with accessories which include a rangefinder and a lens hood which further reinforce its retro looks and enthusiast appeal.
It's fair to say there's nothing else like it on the market, and the specifications (along with delays) have created an enormous buzz in the enthusiast sector. One thing's for certain: while every other manufacturer continues to fit increasingly compromised sensors in their compacts, Sigma has been the first to do something about it and fit a decent sensor. The big question then is whether the DP1 really delivers DSLR quality in practice, or at least output that's measurably superior to a compact? Beyond this, how much do you miss the luxuries of a modern compact, or does the DP1 deliver an acceptable experience? Ultimately is it worth the asking price?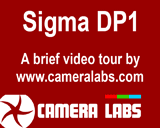 We'll answer these questions and more in our Sigma DP1 review where you'll see its mage quality pitted directly against a DSLR and a traditional compact camera. We'll also closely examine its other features and usability, again compared to other, more traditional options. So read on to find out if Sigma really has delivered a compact camera that can take on DSLR image quality, and as always check out our Sigma DP1 video tour for a demonstration of its highlights.
Many thanks to Hanafins New Zealand which supplied this camera for our tests. Readers in New Zealand please visit Hanafins's website.
Note: we tested a final production Sigma DP1 updated to firmware version 1.02. As we went to press in June 2008, Sigma released firmware version 1.03 which added a LOW 50 ISO option. This was too late for our noise tests, but we have included a sample in our Gallery and updated our resolution results page.