Sigma 85mm f1.4 EX review - Samples
Samples
The following images were taken with the Sigma AF 85/1.4 on a D800. Each image was recorded in RAW and converted with Lightroom 4 at camera standard settings. Noise-reduction is set to 0, sharpening to 70/0.5/36/10, no extra tone, color, or saturation adjustment was used. Some images have White Balance set to a standard daylight value to make them comparable. You can click on each image to access the large original. Please respect our copyright and only use those images for personal use.
The first image shows what you can achieve in a typical landscape situation. That may not be a typical use of this lens but the Sigma AF 85/1.4 is fully capable of producing images at infinity that are full of fine details and sharp right into the corners of a very high resolution FX-sensor. Only the need to tune focus a bit farther away for maximum sharpness produced the tell-tale magenta CA at f1.4 in the center. But that is already negligible at f2.8.
Unremarkables: Infinity shot with Sigma AF 85/1.4 EX DG HSM on a D800

f5.6, 100 ISO; Below: 100% crops from main image at different apertures

f1.4, 100 ISO

f2.8, 100 ISO

f4.0, 100 ISO
The next row shows 100% crops from the lower right corner. It's pretty impressive how this lens performs even wide open! And the vignetting is not that bad either.
Unremarkables: corner performance with Sigma AF 85/1.4 EX on a D800, 100% crops

f1.4, 100 ISO

f2.8, 100 ISO

f4.0, 100 ISO
My second shot, below, should give you an impression of the bokeh that this lens can produce wide open. Very important for applications like portraiture. The 50% crops are from the background, the sharpest point, and the foreground in the overall image. They show the smooth rendering of out-of-focus elements with some slight outlining in the background. How the Sigma AF 85/1.4 performs against the mighty (and expensive) Nikon AF-S 85/1.4G will be shown in my upcoming 85mm primes shootout.
Flowers: bokeh shot with Sigma AF 85/1.4 EX @f1.4 on a D800
Main image and all 50% crops: f1.4, 100 ISO
The next shot is a portrait at f2.8. It shows excellent sharpness and contrast with some slight purple fringing on the chain (last crop).
Portrait: shot with Sigma AF 85/1.4 EX @f2.8 on a D800
Main image and all 100% crops: f2.8, 100 ISO
Other images shot with this lens can be found on my flickr set here in full resolution. Have a look if you like.
Focus and build quality
Focus accuracy and repeatability is especially critical for large aperture prime lenses with their shallow depth of field. Repeatability (=accuracy of focus on the same subject after repeated focus-acquisition) is pretty good with no real outliers over a series of 40 shots. But there is a clear focus-difference on phase-shift AF when the lens comes from infinity vs minimum focus distance (MFD). The following image presents the typical difference: on the left side focus was coming from infinity, on the right side from MFD. It is a clear indicator that the combination of this lens with my D800 over-shoots the target distance a bit.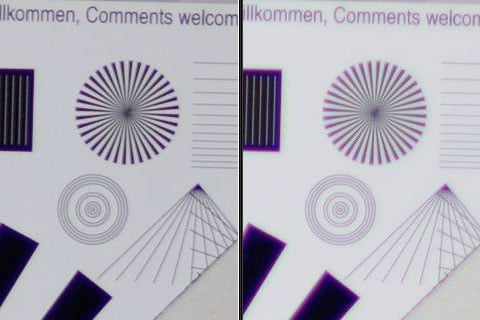 This makes it advisable to let the lens pre-focus to get in the right ballpark regarding focus-distance and then focus a second time to nail the shot. It also makes it a bit frustrating when you try to find the correct micro-focus adjustment: one adjustment is optimal for focusing forward (i. e. to a more distant subject) and another setting is optimal for focusing closer. Best thing is to set the micro-focus adjustment somewhere in between those two values and use pre-focus as described above. The lens focuses pretty fast: around 0.5 sec from infinity to 0.85m.
The focus ring of the lens turns about 90 degrees from infinity to MFD. This throw is a little on the short side for critical manual focusing (in live-view or movies) at large apertures and the movement of the focus-ring is a bit stiff. But there is no slack/play between the focus-ring and the focus-action and AF-operation is quiet. This is supporting the general impression of solid build quality that this lens conveys: Weighty, a rubber-coated exterior giving a good grip, metal lens-mount, and nine rounded aperture blades.
Overall Sigma's AF 85mm f/1.4 EX DG HSM delivers some impressive performance, so let me wrap things up in my Sigma AF 85mm f/1.4 verdict.