Sigma 24-105mm f4 OS Art review
Verdict
The Sigma 24-105/4.0 OS is an interesting standard zoom: with a 4.4x zoom range, a constant f4.0 aperture and optical image stabilization it is an attractive package for people looking at a go-to zoom for their full-frame body.
It delivers a pretty good overall performance too, with impressively high resolution in the APS-C image circle and very usable performance in the outer areas of a full-frame sensor. It certainly leaves one wanting in the corners of a 36 MP full-frame body like the D800 but with lower resolution bodies the deterioration in the corners is not as pronounced, and you can always stop down: at f8 you get a very decent performance across the full frame sensor and the very effective image stabilization gives you the means to cope with the resulting slower shutter speeds. Add reliable and fast AF, build-quality that feels very nice for a well-calculated price and you get a package that should go on your short list if you're looking for a "standard"-zoom for your full-frame body. From the perspective of an owner of a APS-C/DX-body the offer is a little less attractive as it lacks true wide-angle coverage and thus seems less flexible than dedicated zoom-lenses for the smaller sensors starting at 16 or 18mm.
The only thing making it hard to stand out for a lens like the Sigma 24-105/4.0 OS are the wealth of alternatives from the competition: both Canon and Nikon have identically (or similarly) specced zooms. If you're a bit more flexible with regard to the range you can also find very good 24-70mm zooms: Nikon and Canon both have f2.8 options, while Canon also offers one at f4. Or you may consider the Nikon AF-S 24-85mm f/3.5-4.5G VR zoom which offers a nice performance at almost half the price. Or you could go for longer alternatives that go far beyond the 105mm tele like the Nikon AF-S 28-300/3.5-5.6G VR depicted below which is similarly priced.
So the market is pretty crowded and the question is how does the Sigma compare to some of the alternatives.
A selection of three full-frame zooms starting below 30mm focal length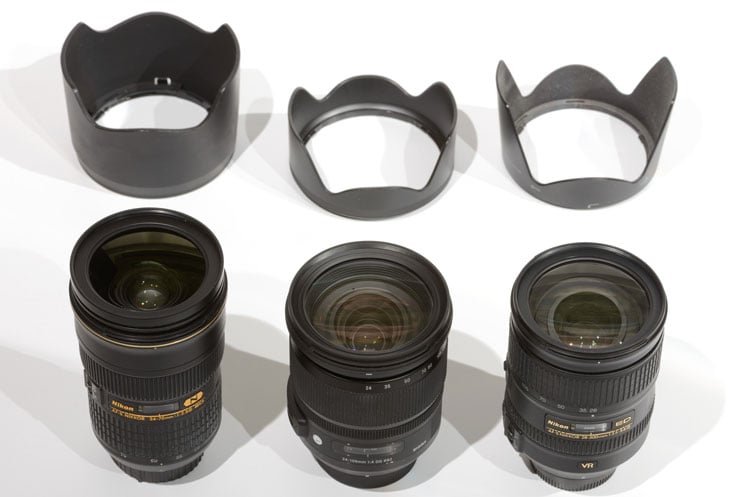 From left to right: Nikon AF-S 24-70/2.8G, Sigma 24-105/4.0 OS, Nikon AF-S 28-300/3.5-5.6G VR
Compared to the Nikon AF-S 24-85mm f/3.5-4.5G VR
I've reviewed this member of Nikon's family of mid-range zooms. It performs astonishingly well especially considering its price that is well below Sigma's. It takes cheaper 72mm filters and is lighter and smaller than the Sigma.
The Nikon performs similarly to the Sigma: it produces very good image quality in the DX image-circle but needs stopping down to f8 to produce good FX-corners. Its VR-system for image-stabilization plays in the same league as Sigma's plus the lens offers weather sealing at the lens mount. But it has only seven aperture blades and the build-quality feels much more like a standard kit-lens compared to the Sigma. It only goes to 85mm focal length and thus forces you to get some 20% closer to capture the same frame or you have to crop your image if you need to capture the angle of view of 105mm focal length. It does not offer a constant f/4.0 aperture but you get a maximum aperture of f/3.5 at the short end.
But to be honest, the differences in aperture are pretty small and I wouldn't base my decision on them. All-in-all the Nikon is a compelling package and consequently got a Recommended rating in my Nikon AF-S 24-85mm f3.5-4.5G VR review. If you are on a tight budget or want/need a smaller package this Nikkor is a serious alternative to the Sigma.
Compared to the Nikon AF-S 24-120mm f/4.0G VR
I also tested this 5x mid-range zoom which Nikon positions somewhat "up-market". It has a gold-ring, Nano-coating and costs almost 1000 EUR.
The 120mm focal length on the long end gives it a 14% longer reach which is not really decisive. Its image stabilization is one stop less effective than the Sigma (or Nikon's 24-85/3.5-4.5). Its performance is also weak in the FX-corners. In direct comparison to the Sigma it sometimes has a slight edge but in other settings the Sigma is ahead. If you consider the price/performance ratio the Sigma overall looks like the better choice.
See my Nikon 24-120mm f4 review for more details.
Compared to the Canon EF 24-105mm IS USM
If you're a Canon owner, the most obvious alternative to the Sigma is Canon's own EF 24-105mm f4L IS USM. The lens which was introduced as the 'kit' lens for the EOS 5D has since become the go-to general-purpose zoom for the 5D Mark II and II, along with the EOS 6D, so it's certainly a well-known and well-regarded option.
The 24-105mm range is identical, as is the constant f4 focal ratio. I haven't been able to compare them side by side, but in my tests the Canon was very sharp into the corners at 24mm, but no more so than the Sigma. Zoom the Canon to its longest focal length and the corners become quite soft, and while the Sigma also deteriorates I'd say it enjoys a slight edge. I'd need to perform more comparisons to really state if one out-performs the other, but looking back at my results for the Canon I'd say the Sigma is as good at the wide-end and slightly better at the long-end.
But the Canon has three things in its favour: some degree of environmental sealing (although Canon doesn't go as far as to describe it as being weatherproof), a smaller filter thread, and in some regions you may find it sold more cheaply. In particular look out for unbundled deals where the lens has been taken out of a kit so that it and the body can be sold separately. Technically it's a refurb and sold in a plain white box, but in most cases it won't have even been opened. If you can score a white box refurb, then the Canon looks better value, but if you have to pay full retail then it may work out more depending on region, at which point you have to weigh-up the sealing against the potentially sharper Sigma. I hope to publish a more comprehensive comparison in the future.
See my Canon 24-105mm f4 review for more details.
Sigma 24-105m f4.0 DG OS HSM final verdict
If this lens only could produce better full-frame/FX-corners it could have earned a Highly Recommended. But the clear drop in corner performance and the surprising light fall-off at the long end are the factors that you need to evaluate before buying this lens. Still the overall performance optically, the effective image stabilization, the good AF, and the solid build clearly earns the Sigma 24-105/4.0 OS a Recommended rating. Below I have listed the good and bad points of the Sigma 24-105/4.0 OS for you.
Summary

Good points
Very good image quality in the DX image-circle.
Effective image stabilization.
Quiet and fast AF operation.
Solid build.

Bad points
Needs stopping down to f8 to produce good FX-corners.
No weather sealing.
Rather strong light fall off even at the long end.
Quite prone to flare.
If you have any question, comment or suggestion regarding the review head over to our forum. A selection of my shots with this lens in full resolution can be found here.